Pete Sampras has lived a quiet life ever since he retired from professional tennis in 2002. The American former world No. 1 tennis player spends his time doing charity work or playing exhibition games. He has a net worth estimated at $150 million.
Pete Sampras' wife is Bridgette Leann Wilson, a former pageant winner, actress, model and singer. They got married in 2000 and have two sons – Christian Charles and Ryan Nikolaos.
Humble Beginnings
Petros Sampras was born on the 12th of August 1971 in Washington D.C. He spent the first seven years of his life in Washington D.C. and started playing tennis from the age of three. His family later relocated to California and the warmer weather there allowed him to play tennis regularly. Sampras' natural aptitude for tennis became quite apparent and his family signed him up to the Jack Kramer Club. The young boy continued his exploits there and many coaches at the club took him under their wings.
Sampras spent several fruitful years on the junior circuit and turned professional in 1988. In his very first professional match, the California native was defeated but he did not allow this to deter him. He rather worked on his game and just two years later, defeated several highly-ranked players to win the 1990 US Open. Sampras won the title at the age of 19years+, making him the youngest ever male champion in the history of the tournament. After his impressive 1990 US open victory, Pete Sampras never looked back but went on to win 13 more Grand Slam titles. They include seven Wimbledon titles, four more U.S Open titles and two Australian Open titles. He also won 50 more singles titles on the ATP tour and spent a total of 286 weeks as the world's number one male tennis player. Sampras also excelled at the national level, winning two Davis Cup titles with the American national team.
What Is Pete Sampras' Net Worth?
Pete Sampras has a net worth estimated at $150 million. His wealth largely stems from his career earnings as well as the juicy endorsement deals he nabbed during his playing days. An examination of his career earnings shows that Sampras earned a total of $43.2 million in prize monies from 1997 to 2002. This puts him at number five on the list of the highest-earning male tennis players of all times. Others who made it to the top echelons are British star, Andy Murray – ($60.9 million), Rafa Nadal aka The King of Clay – ($103.2 million), and Swiss great, Roger Federer – ($117.7 million). The number one honors goes to the indomitable Serbian player, Novak Djokovic, who has so far earned $119.1 million on the ATP Tour.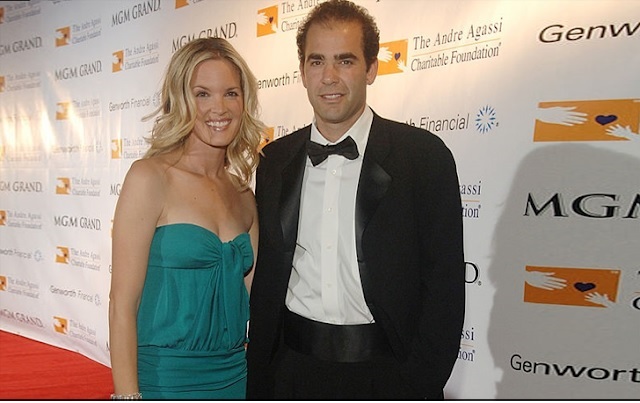 Family
Pete Sampras originally hails from a family of six. His father's name is Sammy Sampras while his mother's name is Georgia. The mom is a Greek immigrant while his father is the son of a Greek immigrant. The tennis legend also has two sisters namely Marion and Stella, and a brother named Gus. Stella is a college tennis coach while Marion is a teacher. Gus is a business manager as well as a tennis tournament director.
Pete Sampras' Wife and Kids
Sampras is enjoying marital bliss with former pageant winner as well as actress, model and singer, Bridgette Leann Wilson. Wilson is a native of Gold Beach, Oregon, and was born on the 25th of September 1973. She won the Miss Teen USA crown in 1990 and later dabbled into music as well as modeling. Wilson was also an actress and appeared in several movies and TV shows including The Wedding Planner, Santa Barbara, I Know What You Did Last Summer, Saved by the Bell, Extreme Ops, and CSI: Miami. There are no elaborate details about how the couple's relationship began but they tied the knot on the 30th of September 2000. Sampras and his wife now have two sons together, Christian Charles and Ryan Nikolaos, and they make their home in California.
What is Pete Sampras Doing Now?
Sampras called time on his playing career when the ovation was loudest. He retired in 2003 after winning the 2002 US Open title against all odds. Since retiring, the California native has dedicated himself to the two great loves of his life, charity, and tennis. Sampras has participated in several exhibition matches aimed at raising money for various causes. The tennis legend also supports several non-profit organizations. One of them is the Tim and Tom Gullikson Foundation for which he organizes an annual charity golf event known as The Pete Sampras Classic.