Regina Daniels's net worth is N580 million. She is a Nigerian actress, film producer, businesswoman, serial entrepreneur, and the wife of Ned Nwoko, the Nigerian billionaire.
Nollywood is evolving and has given room for many multi-talented actors and actresses to grace the scenes of its many produced movies. But despite the influx of new faces, the likes of Regina Daniels will always ring a bell. Not only has she made her way to become one of the biggest fishes in the movie industry, but Regina has also become one of the most talked-about people in the country.
Believe it or not, the young star is now listed among the richest Nollywood actresses, a list that includes the likes of Genevieve Nnaji, Mercy Johnson Okojie, and Omotola Jalade-Ekeinde.
How Regina Daniels's Net Worth Accumulated
Regina's huge financial earnings won't be surprising to many who are already aware of her talent and beauty. While much of her income comes from her acting career, the young actress is believed to have made some money from venturing into some other businesses. However, a higher percentage of her wealth is said to have come from her marriage to multi-millionaire businessman Ned Nwoko.
She Began Her Acting Career as a Child
Being a famous child actor takes lots of hard work. The time, dedication, and intelligence that a child actor must maintain in order to understand the finer points of acting deserve plenty of praise and celebration. But Regina was able to scale through it all and is now successful.
Born 10 October 2000 to a family in Delta State, Nigeria, Regina Daniels was raised by her mother Rita who is also a familiar face in the Nigerian film industry. Regina went on to make her acting debut at the age of seven, playing Onyinye in Marriage of Sorrow. As a child, the young actress had an eye for the big screen, hence her choice of Anjelina Jolie as her role model. Her first movie role earned her a take-home pay of about 10,000 Nigerian Naira.
Regina Has Grown To Become a BigTime Actress, Earning About N600,000 Per Role
It only took Regina Daniels a few years to become conversant with the rudiments of the arts. Her big break came in 2010 when she got the chance to feature in a movie titled Miracle Child. The movie not only got her sharing the screen with big shots like Chinwe Owoh and Chinwetalu Agu, but it also got her more financial income plus bigger roles in the movies.
Regina's involvement in the industry has since then seen her share screen time with popular Nollywood A-listers such as Yul Edochie, Tonto Dikeh, Ngozi Ezeonu, Mercy Johnson, and many others. A list of her most popular and successful film collection includes but not limited to the following:
Pains of Royalty
Queen Rebeca
The King and The Python
Resident Evil
Royal Covenant
Shakira: The Selfie Queen
Naked sacrifice
Eziama: Land of Blood
Royal Dreams
Regina Daniels is yet to win any award for her acting but she has earned a number of nominations. They include the Most Promising Actress (City People Movie Award), Best Supporting Actress of the Year 2016 (City People Movie Award), and Best Upcoming Actress of the Year 2017 (City People Movie Award).
Her Business Interests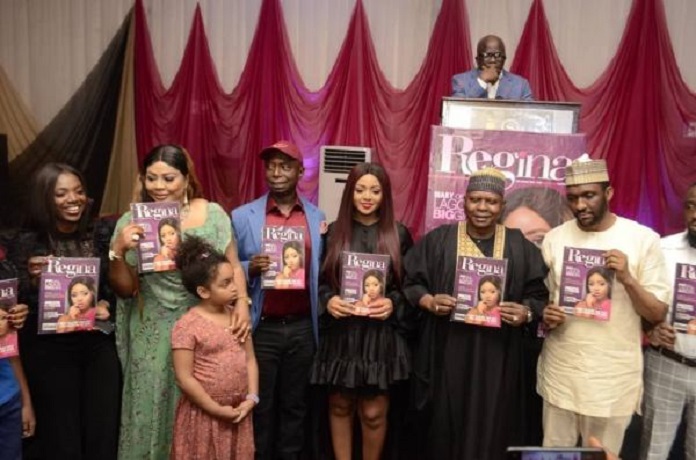 Regina Daniels may be popular as an actress but the beautiful star has some other business ventures that could have helped in securing her the huge amount she is worth.
In February 2020, the talented actress launched Regina Magazine which according to reviews, is a timely masterpiece that tells the story of the ingenuity and strong will of the Nigerian woman. Content of the magazine combines celebrity and entertainment news, fashion, style, poise, glamour, fascinating life stories, and sometimes a little dose of politics.
In addition to her magazine, Regina also has a collaboration going with a fashion accessory line called Sapphire Time. The actress herself advertised the business on her Instagram page and it appears to be very lucrative.
The actress has also set up a charity organization – Regina Daniels Foundation – which aims at giving back to the community and providing for the poor, orphaned, and physically challenged children. Regina and her staff organize big events every year as the world marks Children's Day to treat children to good food, clothes, learning materials, and much more.
Endorsement Deals
In addition to having a successful career in acting and her various business ventures, Regina Daniels makes part of her money from brand endorsements. In the past, she had signed endorsement deals with companies like Sapphire Scents, Blemiviv skincare, House of Lunettes, and Fizz Herbal Skin Care.
In January 2019, Daniels was appointed Atiku Abubakar's Youth Campaign Coordinator and in October 2020, she announced her success in signing a deal with one of Africa's well-known hair brands identified as the 30 under 30 Wig Store.
Sapphire Times
Blemiviv Skincare
House of Lunettes
Fizz Herbal Skin Care
30 under 30 Wig Store
Has Regina Daniels' Net Worth Increased Because Of Her Husband's Wealth?
Regina Daniels became the talk of the town in April 2019 when she got married to billionaire Ned Nwoko. At the time, Google mentioned her as the most searched actor in the country, topping superstars like Ini Edo and Genevieve Nnaji. Ned is a Nigerian lawyer, politician, and humanitarian whose net worth is estimated at $1.5 billion, an amount he amassed from his numerous businesses in Nigeria and abroad. He has interests in real estate, oil, tourism, agriculture, and the arts. He is the founder of Mount Delta, a tourism destination approved by the Delta State Government.
Marrying a person like Ned is definitely a big plus for Regina not minding the 38 years gap between them. Ned is known to love luxuries, he buys fleets of cars not only for himself but his wives as well, including Regina. It won't be a surprise if her wealth got a boost from her husband's massive wealth.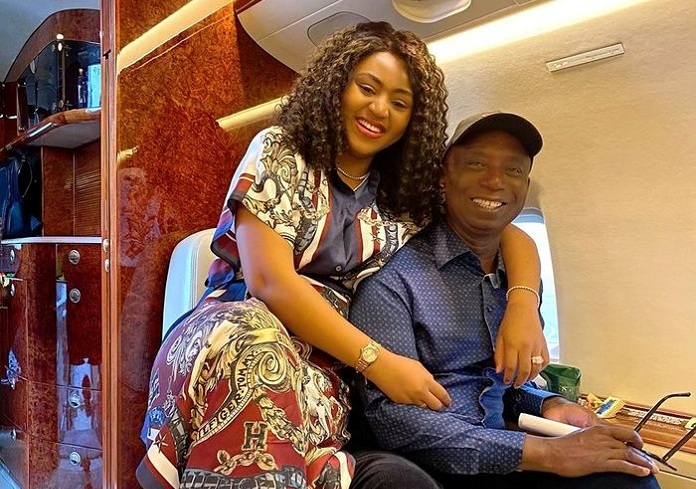 Here is a Look At Regina's Car Collection
Although it's difficult to state accurately the number of cars Regina has, what is sure is that the actress is a lover of Mercedes-Benz and her car collection is rich going by her frequent posts on social media. Let's take a look at her car brands and how much they are worth.
1. Lexus RX300
This is reportedly Regina's first purchased car. The actress gifted herself the Lexus when she got admission to study at the prestigious Igbenedion University in Benin where she studied Mass Communication. A brand new Lexus RX300 can cost up to $10,000.
2. 2016 Mercedes-Benz GL450
Regina's Mercedes-Benz GL450 which is worth nothing less than N20 million has a 3.0 Litre V6 turbocharged engine that produces 362 horsepower and 369 lb-ft of torque. It can go from 0 to 60 mph in 6.6 seconds.
3. Mercedes Benz ML 350
In 2019, the actress and mother of one bought herself this luxury car that costs up to N37 million. The luxury car runs on a V6 engine and it is in-built with top-notch features.
4. 2012 Mercedes-Benz C-class
In 2019, Regina Daniels bought a C300 4matic for herself and she captioned it "My mini baby is here" while posting it on her Instagram page for her fans to see. The car is said to have features like a leather steering wheel, power windows, climate controls, and passenger multi-adjustable power seats. Its price is estimated at N36 million.
5. Brabus Adventure Mercedes-Benz G-wagon
This luxury was bought by the actress in April 2019. It was, in fact, her third Mercedes Benz car acquired in 2019. The car is powered by a 6.0 liters V8 engine producing 838 hp and accelerates at 96 km/h in just 4.0 seconds with an impressive top speed of 260 km/h. To get this car, Regina Daniels would have spent nothing less than N110 million. The vehicle also has customized plate numbers reading "4 EVA 16"