Regarded as one of the greatest defenders ever in history, Sergio Ramos who is a Spanish football player who plays for Real Madrid and the Spain national team. He has won many titles and awards with the club since joining Real in 2005, which includes being a five-time La Liga Best Defender, a four-time European Champion, and 2005 La Liga Breakthrough Player of the Year. Throughout a career that has spanned over a decade, the Luis Aragones Award-winning center-back has amassed huge earnings from his salaries and endorsement which has constantly boosted his net worth. Widely Known as a physically strong player, his height and physique have undoubtedly contributed a lot to his successful career so far, as he has excelled both offensively and defensively.  Below is an overview of Sergio Ramos' net worth as well as his height.
What is Sergio Ramos' Height?
Sergio Ramos who serves as the team captain for Real Madrid and Spain national team is rated as a competent and aggressive tackler who excels in aerial duels. Ramos stands at 6 feet 0 inch (1.83 m) and has an accumulated body mass of 81 kg (178 lb).
Following his athletic and technical prowess, as well as his tactical versatility, he was named as one of the fastest football players in the world in the year 2015. He has also been critically lauded for his heading accuracy, thanks to his towering height which makes him a goal threat on a set-piece, having become one of La Liga's top goalscoring defenders.
What is Sergio Ramos' Net Worth?
Aside from being the captain of the La Liga giant, Sergio Ramos has also solidified his place in the Real Madrid team, having been in the team for more than ten years. He has signed several contract extensions as well as endorsement deals that have reflected on his net worth over the years. He currently has an estimated net worth of about $80 million which is likely to inflate depending on his performances on the field. His weekly salary with Real Madrid for the year 2019 is said to be about $ 264,100 which was also his estimated weekly salary for the year 2018.
Following his signing from Sevilla in 2005 at a transfer fee of $33,000,000 which was then a record fee for a Spanish defender, Ramos moved on to impress during the 2006-07 season as he netted five goals that season. In the next season, he was named to the 2008 UEFA Team of the Year as a result of his performance. Then in 2012, he began earning a weekly salary of about $178,290, having been named La Liga Best Defender of the season and equally being selected to the UEFA Team of the Year and FIFA FIFPro World XI Team.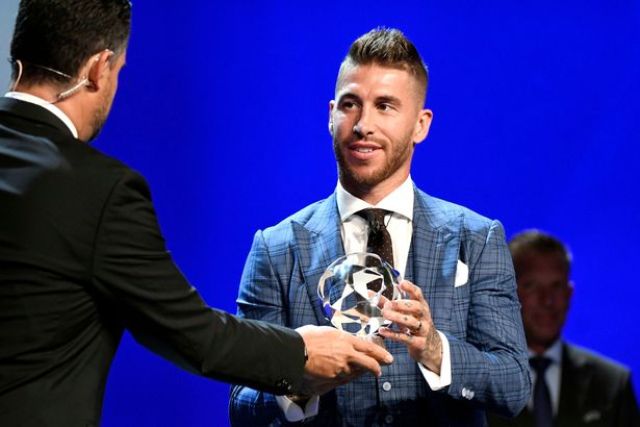 In the following year, Sergio Ramos was named to the team selection that played during the 2013 FIFA Confederation Cup. He made his 100th appearance for his national team during the qualifying match for the 2014 World Cup which made him become the youngest player across Europe to have reached such landmark. He played every match in the Confederation Cup and equally in the World Cup. With his national team, Ramos has clinched two European Championship and one World Cup. He was named FIFA Club World Cup top scorer in 2014 and also claimed the Golden Ball for the tournament in the process.
As a professional player, Sergio Ramos' net worth increases almost every year as he earns a massive sum for his basic salary per year. For instance, his basic salary for the year 2013 was estimated at $5,940,000 while in the year 2015, he earned a basic salary of about $17,960,000. Similarly, in 2017, Sergio Ramos earned $25,220,000 with Real Madrid.
See Also: Who Are Jon Jones' Brothers (Chandler And Arthur) In The NFL?
Aside from his basic salaries, he has also made a bank through his endorsement deals as he signed a $9,350,000 worth of a four-year sponsorship deal with Nike in 2016. He also serves as a brand ambassador for Pepi, Gatorade and Hugo Boss. He has also made investments in multiple corporate institutions which have been said to worth abo $30 million.
Sergio Ramos owns two mansions in Spain reported to be above $10 million in worth. He also has a residential home that is situated in Madrid City. His car collection is quite exotic as it includes Range Rover, Bentley, Porshe, Mercedes- AMG G 63, and others.