Jackson Mathu is widely believed to be older than his wife Kambua but the age difference is not exactly known. This is because the date of birth of the businessman turned pastor is not public knowledge. While we know that the beautiful Kenyan singer and TV host was born on the 10th day of November 1986, making her 36 years old, such details about her husband are not known.
Kambua's job as an entertainer means she is always in public space and, by implication, always in the court of public opinion. This reality put so much pressure on her after her marriage especially because she took quite a while to get pregnant and fans took it upon themselves to monitor her every move, asking why she was yet to conceive and whether her husband's perceived old age had anything to do with it.
How Old Is Kambua?
Kenya's top gospel artiste, Kambua is still a young woman. The singer was born on the 10th day of November 1986, in Nairobi, Kenya. Apparently, the musician is 36 years old and at the peak of her career.
However, it is interesting that considering how good and flawless she looks, some people have found it hard to believe that Kambua is 36 years old.
One general thing fans agree about Kambua is that her youthful looks belie her true age. On several occasions, followers on her social media account have asked her what she does to keep looking so good. Apparently, Kambua sure knows how to take care of her skin.
Is The Age Difference So Much Between Kambua And Her Husband?
So much has been said about the age difference between Kambua and her husband, Jackson Mathu. For some time, the general public opinion among Kambua's fans has been that her husband was a little too old for her and that she should have settled for someone less aged. Some even argued that her husband is almost as old as her father.
Interestingly, Jackson Mathu's real age is not something the general public knows about for sure. The man's date of birth has not been publicly revealed, so it is quite curious to see people claim he is really old. It is noteworthy that most of the people insinuating that the age difference between Kambua and Mathu is too much, only say so judging by Mathu's grey beard, since the man's age is not public knowledge.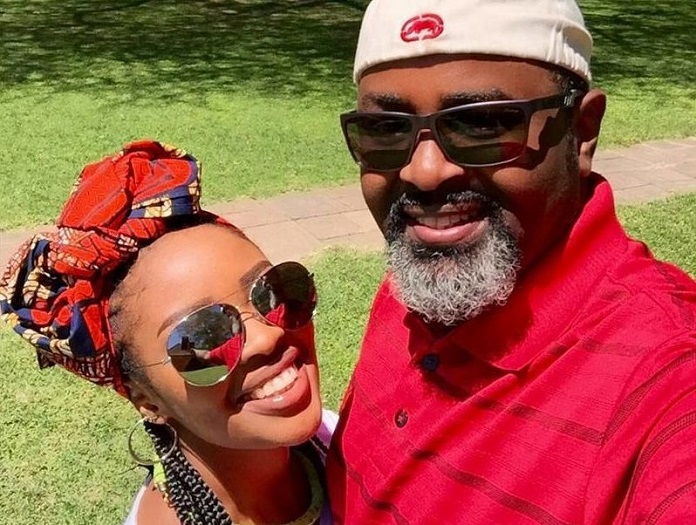 This notwithstanding, Kambua has given insight into how old her husband really is. In a 2018 interview with The Trend, she explained that her husband is not as old as people are making him seem to be. According to her, Mathu is barely 10 years older than her. So he is definitely not as old as her father, as some people claim.
So, judging from Kambua's statement, we can conclude that her husband, Mathu is in his 40s at the moment considering the fact Kambua herself is in her 30s. Apparently, at the time they got married, Kambua was in her 20s and Mathu in his 30s.
Kambua's Reaction To Criticism About The Age Difference
Kambua is known to be very cheerful and very optimistic about life. It is this cheerfulness that she has approached all the criticisms from people about her husband being too old for her to marry. Addressing the situation in the interview with The Trend, Kambua explained that people think her husband is too old because of his white hair. She insisted that he is not that old.
She also revealed that she loves her husband's white hair the way it is. She went on to explain that her husband is the best thing that has happened to her and that would love him with all her heart. According to her, what people say does not matter at all because she is head over heels in love is happy with the man in her life.
All About The Man In Kambua's Life
Kambua's husband, Jackson Mathu is a Kenyan pastor who also doles as a businessman. Considering the fact that Kambua is a gospel musician who sings about Christian values, this seems to be a perfect match made only in heaven. And so far, the couple has proven this with how much they have remained in love since their wedding.
Kambua and Mathu tied the knot as husband and wife in 2012 in a ceremony that was quite exclusive. It was a garden wedding and only close friends and family members attended the event. The marriage took place at the Windsor Golf Hotel and Country Club before a colorful reception followed at another venue where fellow musicians performed.
Does Kambua Have A Child With Her Husband?
Kambua and her husband Jackson Mathu have a son together. Their son, whom they named Nathaniel Muhoro Mathu, was born on the 10th of August 2019 to the incredible delight of the happy parents. Their joy had to do with the fact that the baby took a long time to arrive.
Kambua and her husband, Mathu did not have their baby soon after their wedding. As a matter of fact, they had to wait seven long years to have their son; they got married in 2012 and did not have a child until 2019.
The waiting period was very hard for Kambua. She had expected to be able to give birth months after their wedding, but she never conceived year after year and the emotional trauma became really severe. This was made worse by the fact that she watched as other women got pregnant and had more than one baby while she continued to try to get pregnant.
Reliving these events, Kambu explained that she attended countless baby showers for other people and always wondered why her case was different. In the midst of all this, there were criticisms from the public and people who follow her on social media. These people constantly questioned her, asking when she was going to get pregnant. Some even joked that she could not get pregnant because her husband was too old.
Kambua revealed that at some point, she just resigned to fate and made peace with the situation, accepting that she may never have kids in her lifetime. However, it was at this time that God came through and she got pregnant. She was ecstatic. According to her, God has honored and lifted her head from shame and the mockery of people.
Interestingly, Kambua has become pregnant with their second baby. She revealed this information in an Instagram post in October 2020.
The Criticisms Failed To Cripple Their Love
Despite all the criticisms they faced from people, Kambua and her husband never let the matter get in the way of their love. The singer, in an interview with The Trend, explained that she loved her husband with all her heart and that her husband loved her back.
She explained that Jackson Mathu never fails to tell her, every morning, how incredibly beautiful she looks. It was their decision to keep their love very much alive despite all the challenges they faced.