Cynthia Morgan is a Nigerian singer, songwriter, actress, and record label owner. The female artist whose style of music is a fusion of several genres like hip hop, pop, rap, and dancehall was born in Edo State, Nigeria, where she started her singing career. Cynthia had the advantage of being raised by a mother who is musically inclined. After she launched her professional career in Lagos, The singer cum rapper had her big break with the release of the singles Lead Me On and Don't Break My Heart.
The Edo-born singer and actress was a signee of Northside Entertainment Inc owned and managed by the elder brother of the defunct P-Square duo Peter and Paul. Cynthia's four-year contract with the record label did not go down well as it engendered so many legal issues that led her to not only change her stage name but caused her disappearance from the music scene for a very long time.
Profile Summary Of Cynthia Morgan
• Full name: Cynthia Ikponmwenosa Morgan
• Date of birth: September 23, 1991
• Age: 31 • Nationality: Nigerian
• Education: Secondary school Level
• Parents: Sherifat Morgan
• Occupation: Rapper
• Years active: 2007 to Date
Cynthia Morgan is the Daughter of a Gospel Musician
Though the German Juice hitmaker was named Cynthia Ikponmwenosa Morgan at birth, she preferred to use just Cynthia Morgan when she launched her music career. The singer's place of birth is recorded as the capital of Edo State, Benin City and she was born on the 23rd of September 1991.
The identity of Cynthia's father is not known, according to reports, he already left the scene before the singer was born. Consequently, she never set eyes on the man who gave her life until seven years later. The actress herself revealed this in a 2015 interview session as she talked about the psychological effect that goes hand in hand with growing up with a single parent. Cynthia said children who are exposed to such upbringing don't usually come out normal, only a lucky few like her have made it and she has vowed to make her mother proud by becoming a huge success.
Her mom on the other hand goes by the name Sherifat Morgan – a popular Benin-based gospel artist. Cynthia's religious mother takes the credit for her upbringing and also exposed her to the world of music by the tender age of three; Sherifat made Cynthia a back-up singer in her own band. She also registered her with the local church choir where the little girl started singing on the children's side; Cynthia became part of the youth choir as she grew older and ultimately earned a spot on the Christian Union choir.
Growing up in Benin City, Cynthia Morgan completed both primary and secondary education there. It is believed that the female rapper never went for further academic qualifications after the completion of her secondary school education as no record was found regarding any university qualification. She rather preferred to focus on pursuing a music career.
She Began Composing Music at Age 16
Unknown to many, Cynthia Morgan was already well on her way to becoming a local sensation as of 2007. It was thanks to this popularity that she came across someone like Olayiwola Ibrahim Majekodunmi, who also goes by the name General PYPE. She began composing her own music at age 16, and collaborating with General PYPE at 18. The singer dropped her first official single entitled Dutty Stepping in 2009.
The quest to further her career took the blossoming artist to Lagos where she collaborated with Jhybo (Adura Elijah) on the evergreen rap song, Ejo Le Fe Ro, which came to light in 2010. During this time, Cynthia Morgan went under the moniker Killa Marshall, releasing additional two singles, Ojoro and High High High before landing her first major record deal.
Her Time With Northside Entertainment
Among the music managers she met in Lagos was Jeff who introduced her Joy Tongo. On seeing how connected Joy was, Cynthia Morgan trusted the lady with her career. When Joy eventually realized Morgan's full potentials, she decided to link her with the chief executive officer of Northside Entertainment, Jude Okoye.
In 2013, she inked a four-year deal with the record label, releasing a plethora of hit songs that have etched her name on the global map. Important to note that Jude Okoye was not her only option at the time as the young artist also got an offer from Peter Okoye of the defunct P-Square but preferred to go with Jude. According to reports, Cynthia's reason for not going with Peter was because she wanted to only do original sounds while Peter wanted her to concentrate on doing samples.
She Earned Fame Under Northside Entertainment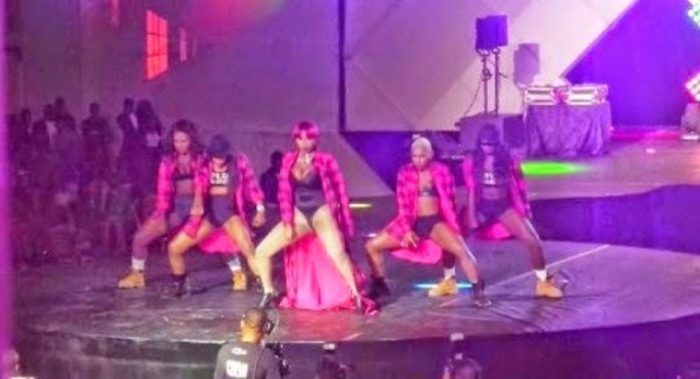 Her deal with Northside Entertainment Inc was signed precisely on the 23rd of August 2013. Within a couple of months, she dropped two chart-topping singles – Lead me On and Don't Break My Heart. The two tracks earned positive reviews and the former went on to become a nominee at The Headies for "Best Reggae/Dancehall Single in 2014. In January 2014, she dropped another song I'm Taken.
As her popularity grew, Cynthia began to receive positive reviews, both from fans and the general public. Other award nominations followed suit; she was nominated for South-South Music Awards and Nigeria Entertainment Awards. Mainstream fame also beckoned as the name Cynthia Morgan began to earn a mention whenever music fans and critics stage discussions about the Nigerian music industry.
The female rapper's most popular song to date is the track German Juice which hit the music stand on the 7th of February 2015. The hit song was released under the management of Northside Entertainment Inc and belonged to the production portfolio of Tony Ross. In 2015, German Juice emerged winner of the Best Reggae/Dancehall Single award at The Headies. Also featured in that same category was Bad Girl Special (Remix) – Mr. 2Kay's track, featuring Sheyi Shay and Cynthia Morgan.
She dropped several other singles in 2016 following which speculations began running rife about her upcoming debut album. However, it was precisely at this time that her issues with Northside Entertainment Inc came to the fore, leading to a plethora of unprecedented issues. These issues were what made her suddenly go off-grid and consequently stopped dropping new hits. It is quite unfortunate that the proposed Cynthia Morgan's album never came to fruition, but perhaps that is about to be remedied as the female artist seems set to do some serious exploits this time around.
Below is a list of her selected singles:
Dutty Stepping (2009)
E jo lefero by Jhybo ft Cynthia Morgan (2009)
Right Move (2011)
High High High and Ojoro (2012)
Don't Break My Heart and Lead Me On (2014)
I'm Taken (2014)
Popori (2014)
German Juice (2015)
Come and Do (2015)
Simati Niya (2015)
Baby Mama (2015)
Olowo (2016)
Bubble bup (2016)
No camera's (2017)
This is Why Cynthia Morgan Changed Her Stage Name to Madrina
After the popular name Cynthia Morgan disappeared from the spotlight to be replaced by Madrina, fans were naturally full of questions, wanting to get to the root cause of the sudden change. Speculations were already running rife regarding her name change in September 2017. The rapper cum singer later joined Sandra Ogbebor in an Instagram Live Chat (@msvanila7) to clarify issues; this happened on the 23rd of May 2020.
According to Cynthia, the change of name became a necessity because of her former stage name and its surrounding legal issues. The artist also said that the legal issues were with the CEO of Northside Entertainment, Jude Okoye (The elder brother and former manager of the defunct P-Square duo), and are yet to be settled. Her other reason for opting for the name change was after her YouTube Vevo account proved impossible to access and it goes without saying that the name change will affect her brand but the singer is determined to return to her former glory.
Cynthia did not just lose her VEVO account, the Nigerian female artist lost several other essential paraphernalia of her music career, including her Instagram account, royalties, followership, and many more. She was only able to make an Instagram post on the 25th of April 2018 after the whole issue settled down.
The Singer's Issue With Northside Entertainment Inc Maybe Deeper Than You Think
In a 2017 article by PUNCH, there were claims that Morgan was facing serious persecution from the wife of the CEO of Northside Entertainment Jude Okoye. Allegedly, the problems started sometime in 2016 following speculations that the female rapper was involved in a clandestine affair with the boss of her record label. Even as all the rumors ran rife, no evidence was found to back them up and they may end up being untrue. Besides, neither Jude Okoye nor Cynthia Morgan deemed it necessary to come up with any confirmation or denial; the duo just preferred to keep mute on the issue.
When the real legal problems started emerging, Cynthia came up with claims that Jude Okoye and the record label did not give her enough exposure and promotion as their interest seems to lie more with shooting videos. It was said that Peter Okoye must have envisaged these issues as he was exiting from the record label. Peter requested that Cynthia join him in his new company but she refused, believing that Jude had a better understanding of the business.
Even after what is believed to be the real issue came to the fore, it came with several angles. From what was put out, each person was busy portraying themselves as the injured party which left us with a jumble of what appears to be facts but with the crux of the matter obviously missing. While Cynthia Morgan was putting herself in a positive light, Jude Okoye was doing the same and the truth seems even more difficult to unravel. Other artists have since aired their opinion on the matter, especially those who had issues with Northside Entertainment.
For your information I was staying in their boys squatters with their driver and their cook just one room all of us shared a toilet and I had big songs and also the other side of their twin duplex was empty! Now! I slept on brand new television carton used my shirt as cover cloth

— May D #MolatiwaE (@MisterMayD) May 24, 2020
Cynthia Morgan Also Stopped Singing For a While; Here's The Reason
It all started in 2016 when the German Juice hitmaker began having major issues with the CEO of Northside Entertainment where she was a signee. From what Cynthia Morgan shared, Jude Okoye allegedly wanted a contract renewal with her. The allegations also revealed that Okoye was reluctant to shoot more of her videos.
These issues led to the deterioration of their working relationship, consequently, Cynthia was denied access to her YouTube and other social media accounts. The duo also engaged in a public showdown as they apportioned blames to each other regarding the reasons for their fallout. With all these issues, the rapper just had to take a break from the entertainment scene.
Apart from work-related troubles, there were other reasons that orchestrated the long break for Cynthia Morgan. The female artist fell sick amidst some family issues and had no choice but to move down to her hometown in Edo State, Benin, to be precise. The nature of her sickness was described as a severe breakdown which deteriorated into depression. For her mental well-being, the singer had to seek emotional support in Benin. She later came on UPFRONT WITH SANDRA to talk about her case.
Cynthia Morgan will be live on the program "UPFRONT WITH SANDRA" a mental health and well being program trageted at real people surviving real issues hosted by msvanila7.
Join us there by 8pm.
Venue: msvanila7 IG… https://t.co/J7JdUFL71L

— AY COMEDIAN (@AYCOMEDIAN) May 22, 2020
Cynthia Morgan was Alleged To Be Enmeshed in a Financial Crisis in April 2018
When it rains, it pours and the troubles were already pouring hard on Cynthia Morgan since 2018. It was in April that the news of her financial crises filtered out to the public arena. According to a report from PUNCH, the female rapper had an ongoing court case with her landlord in Omole Lagos, for her failure to meet up with the payment of her bills up to a year; the money was calculated to the tune of N1.3 million. The report went on to say that, the artist was previously on a six months grace period which she already overshot.
Digging down, it was discovered that Cynthia was not only indebted to her landlord, but the Edo-born singer is equally not meeting up with her tax payment, the last time we checked, her indebtedness was as much as N3.584 million. Cynthia's situation aroused so much sympathy from fans who went ahead to organize a GoFundMe account in her favor. Donations that went into the account were targeted towards her return to business and people like Adesua Etomi-Wellington took to Twitter, calling for Morgan's return to the music industry. Afrobeats Superstar Davido was among the celebrities who weighed in on the issue; he asked that Cynthia contact him for a collaboration.
For a woman who really believes in hustling, the financial crisis was a really big blow to Cynthia, but she seems to be coming out of it gradually.
The New Face of Cynthia Morgan's Singing Career
Her long absence from the music industry prompted so many questions from fans who wished to know what has become of Cynthia Morgan. Their answers were not long in coming as the dancehall artist herself answered all their questions by returning to the world of showbiz with a resounding bang. Madrina as she is now called floated her own imprint The Cynthia Morgan Company (TCMC); this is also part of her rebranding strategy.
After she established The Cynthia Morgan Company record label, the Edo-born artist didn't waste time in releasing a new song titled Billion Dollar Woman on the 8th of May 2018. The single came with an accompanying video and was situated on a beautiful beach where she was seen looking very fresh and successful, as the real Billion Dollar Woman.
She already started publishing tracks on her brand new YouTube account and from what is perceivable; the ensuing years are set to be bright for Cynthia Morgan. For those asking about her recent whereabouts, the rapper is currently in Nigeria with her nose to the grindstone working on multiple projects. Her EP is expected to drop soon, however, Cynthia has appealed to fans to exercise patience and consider the fact that she just resurfaced on the music scene.
Cynthia Morgan is Also An Actress
The Edo-born singer's talent does not just end with singing, rapping, and writing songs, she has equally proved that she can hold her own in the Nigerian movie industry. Cynthia has registered her presence in Nollywood on the set of a few productions, notable among them are The Wrong Number from the directorial portfolio of Saint Joseph Ovensehi and Ay's A trip to Jamaica.