The Kenya National Examinations Council (KNEC) is the governing body responsible for collecting registrations and organizing the yearly examinations for primary and secondary school students. The Kenya Certificate of Primary Education (KCPE) is an annual exam specifically designed to test primary school students who have completed eight years of primary education. On the other hand, the Kenya Certificate for Secondary Education (KCSE) is uniquely for the senior students who have completed four years of secondary school learning and are ready to graduate before moving on to tertiary education.
Registering students for both exams fall on the headteacher and principals, respectively, and registration must be done correctly to avoid mistakes. Some guidelines seek to reduce errors and oversights, which we have compiled in this article.
Registration Procedure for Both KCPE and KCSE Examinations
The KCPE and KCSE examinations are a yearly occurrence, and each year, KNEC releases the dates for the exams to take place. As mentioned earlier, accurately registering the qualified candidates for both exams falls on the respective institutions' headteachers and principals. In the build-up to the examinations, school heads must submit registration details of candidates for the KCPE and KCSE exams to KNEC.
Doing so entails logging in to the online registration portal provided by KNEC and filling in candidates' personal and academic details. Once done, the school heads must verify that the information provided is correct and accurate. Afterward, the candidates' list is downloaded, signed, and stamped before submission to the county officials. This list is officially known as the Nominal Rolls. It contains the name of every candidate successfully registered for the exam. The portal to visit for the registration process is www.knec-portal.ac.ke.
Amongst the registration requirements are colored passport size photographs of each candidate (300 x 300 pixels). Specific guidelines act as pointers for how the registration process should go. Every school and head of the institution must stick to these guidelines to avoid disqualification.
Failure to heed these guidelines might qualify as incorrect registration and the inability of one or more students to sit for the exam. The Ministry of Education usually shoulders the cost of the KCSE and KCPE exams. Therefore, no primary or secondary school candidate should make any payment during the registration process. There is an exception for external candidates, though, and the following have to pay to sit for the exams:
Private KCPE and KCSE candidates
Prison candidates
Teacher education candidates
Business and technical examinations candidates
KNEC Guidelines and Requirements for KCPE and KCSE Examinations Registration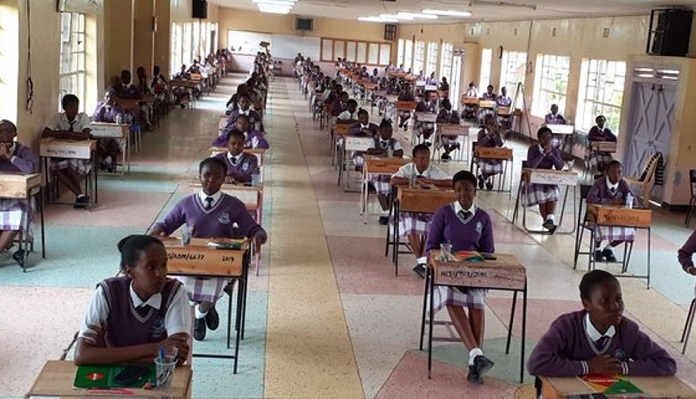 Every year before the registration process for the KCPE and KCSE exams begins, KNEC releases its guidelines which are models of what they want from each institution. It is expected to guide the institution's heads during the registration process. For the 2020 KCPE and KCSE examinations registration process, these were the guidelines:
1. Every candidate for the KCPE and KCSE exams should register at the school they have been learning. It means that primary school heads should ensure that KCPE candidates, i.e., form eight (8) students have been learning at their institution since Class 7. Secondary school heads should register form four (4) KCSE candidates that have been learning since form three (3).
2. All school heads are advised to avoid double registration of candidates in two separate centers. Doing so will be treated as a form of examination malpractice. In the memorandum circulated by KNEC, double registration of KCPE and KCSE students is a crime punishable by law and will attract penalties. School heads are therefore warned to be extra careful.
3. In previous years, candidate index numbers were issued according to performances in continuous assessment tests. In 2020, the index numbers for KCPE and KCSE students will be based on their admission numbers.
4. Any school with 6 to 15 candidates for the KCPE and KCSE exams will be hosted by another examination center determined by the sub-county director of education. However, the hosted school will retain its code during the registration process. The new examination center will fall within the same sub-county.
5. Schools with less than five (5) candidates for the exams are advised to register their candidates in another KNEC-approved examination center.
Registration Status of a Candidate is Verifiable via SMS
A lot of things can go wrong before an exam commences. One such thing is the failure to find your name on the list of registered students, despite registering for the exam. To avoid such from occurring, KNEC has made it possible for candidates or their parents to verify their registration status through a pretty simple SMS process.
By sending the candidate's index number and type of exam to 20076, a candidate or parent can know definitively that they are registered for the upcoming exam. The index number and exam type should be written together with no space before you hit send to 20076.
For example, if the index number of a candidate is 234567891 and they are to write the KCSE exam, send '234567891kcse' to 20076. Once done, the sender will receive an immediate reply containing the candidate's full names, year of birth, and the list of subjects the candidate is sitting for. This reply means that the candidate has been successfully registered and their registration status is secured.
Registering a Private Candidate for the KCSE Exam is a Little Bit Complex
Things may have happened in life that cost certain individuals the chance to sit for their KCSE exams when they should have. The Kenya National Examination Council is providing second chances for those that wish to do so now. These candidates are called private candidates, meaning they will not be in uniform and will not attend classes.
The process to register private candidates for the KCSE exam is not so straightforward, though. There are a few hurdles to get past. Before the registration can even begin, there is a list of requirements to meet. They include:
Must have sat for and passed the KCPE exam and have a certificate
A birth certificate
Previously sat and passed a test administered by the KNEC
A letter of confirmation from the head of school of the institution you wish to write the KCSE exam. This letter will approve your place on the registration list.
A school leaving certificate from the last school you attended
Two passport-sized photographs
Three years or more should have passed since you last sat for the KCSE
For private candidates repeating, not more than two years should have passed since your last KNEC exam
As a private candidate, you must register for a minimum of seven KCSE subjects and a maximum of nine.
The number of papers you register for determines the amount you are to pay. Seven papers cost Ksh 3200, while nine papers cost Ksh 3600.
To register for KCSE as a private candidate, you need to do the following:
Visit the URL https://www.knec-portal.ac.ke/
Download the registration form, fill it correctly and accurately
Submit at any recognized KNEC center. KNEC provided these registered and recognized centers for private candidates to complete their registration.
If you do not meet the above requirements, KNEC will not recognize you as a private candidate even if you paid the registration fee.