Kgaogelo Moagi, professionally known as Master KG, is a South African singer and record producer who has accrued a net worth of $600,000.
One of the most popular names out of the South African music scene in 2021 was Master KG whose exploits as both a musician and record producer allowed him to amass a net worth estimated to be around $600,000. The talented young man has released a number of hit tracks since he began his career and has won several accolades for his incredible body of work. He is widely known as the pioneer of the "Bolobedu" dance and is now internationally famous especially for his monster hit song, "Jersusalema".
It is a globally recognized fact that the music industry in any place is a very lucrative one. Musicians and other practitioners in the industry rake in so much money over time with which they show off as part of their show business. Master KG is not left out in this money-pulling spree as he has managed to rake in quite some fortune for himself. His wealth affords him a life of luxury complete with beautiful houses and exotic cars like BMW 3 Series, Porsche 718 Boxster GTS, Ferrari FF and Mercedes Benz A-Class.
Breakdown Of Master KG's Earnings Through Music
Music is Master KG's biggest income source. Born on the 31st of January 1996, Master KG, whose real name is Kgaogelo Moagi, began to play with beats when he was just about 13 years old using a computer that his late uncle bought him. He became so curious and fascinated with beats that, as he kept growing up, it became clear to him what he wanted to do with himself.
KG eventually kick-started his music career in 2016 at the age of 20 after he got in touch with DJ Maebela, a South African disc jockey, and started to experiment with music software. They specifically experimented with FL Studio and Master KG began to learn how to make music beats and create his own sound.
Some Of Master KG's Monster Hit Songs
In 2016, Master KG released his first single titled "Situation" after much practice on FL Studio. The song was well received all over South Africa and launched KG to fame. In 2017, he got signed to the Open Mic Productions record label, and this was when his biggest hits started to arrive.
1. Skeleton Move
In 2018, Master KG released his single "Skeleton Move". The song became a massive hit in South Africa and beyond, spreading around the African continent. Its intriguing and very catchy instrumentals gripped any listener from the word go. The song, which features South African singer, Zanda Zakuza, became a chart-topper, dominating charts in South Africa.
On September 21, 2018, Master KG released his debut album Skeleton Move to some excitement among his many fans. Later that year, in December 2018, the album's lead single of the same name was voted Thobela FM's song of the year, establishing him as one of the stars to watch in the country even though he was still very new in the game. It also won the All Africa Music Award for Best Artiste, SABC Summer Song Award for Song of the Year, and Limpopo Music Award for Best Dance Song.
2. Jerusalema
In December 2019, Master KG recorded and released the single "Jerusalema". The song, which featured South African singer Nomcebo Zikode, became an internationally successful single. It first went viral in mid-2020 and quickly began to chart internationally. Eventually, it spawned a remix with Grammy-award winning Nigerian singer, Burna Boy. The remix got even more massive recognition around the world, putting Master KG's name on millions of lips.
"Jerusalema" was later certified diamond by FRA and went atop the Billboard Hot 100 chart. It later earned the South African singer different awards, including the MTV Europe Music Awards and NJR Music Awards in France. It also won the Feather Awards and African Muzik Magazine Awards.
Master KG has since released other hit songs, including his single "Shine Your Light" with David Guetta and Akon.
He Has Large Streaming Numbers
Because of his massive popularity and the monster hits he has produced over the years, Master KG has been pulling large streaming numbers since he started out making music because people from all around the world have continued to view and stream his music on streaming platforms. As a matter of fact, his body of work has now been streamed hundreds of millions of times across different streaming platforms on the internet, earning him a lot of money.
In 2018, Master KG recorded a whopping 143 million streams on Spotify alone. Jerusalema pulled in more than 9 million streams and his other songs also pulled large streaming numbers. Since then, the singer has been pulling in even more streaming numbers as more people keep streaming his songs. In fact, Jerusalema and the remix now have nearly 500 million views combined on YouTube alone. His other songs have also pulled millions of views as well. Combined, Master KG now has more than 550 million views across all his songs on YouTube.
Research shows that 500 million streams on YouTube can fetch the owner of a channel about $300,000. This means that, with his 550 million views on YouTube, Master KG is probably raking in more than $300,000 from the video streaming platform alone. Also, with more than 200 million streams on Spotify, the singer is believed to have raked in more than $600,000 from the platform. Master KG also has countless views on other streaming platforms like Deezer. It is clear that with his massive streaming numbers on streaming platforms, he rakes in quite a lot of money from the internet alone.
Master KG Also Earns Large From Performances
Apart from the money he makes from the streaming numbers he pulls in from around different music streaming platforms, Master KG also makes money from his stage performances. As expected, the singer has performed countless times on stage since his career began. Because of his popularity, he has performed all over his native South Africa and has also been invited to several countries to perform for fans. He has further visited different countries, including the nations of Tanzania, Botswana, Malawi, Nigeria, and Zambia, where he has performed. He has also performed in the UK and Dubai, stunning fans with his stage presence each time.
It is not clear how much the superstar earns per stage performance or how much he is paid to visit another country for shows. However, considering how huge he has become, it is expected that he gets paid millions to appear on stage and at other events.
The Musician Also Earns From Royalties and Endorsement Deals
Apart from the money that Master KG gets paid to appear on stage for performances, he also gets paid other royalties. It is noteworthy that when he released the song Jerusalema and it went viral, the song kickstarted a dance challenge that became very popular on the internet. Soon, everyone was doing the dance challenge, thereby increasing the song's popularity. Even the South African President, Cyril Ramaphosa, personally urged people to join the dance challenge because it was one way to celebrate their 'South Africanness'. Of course, many more South Africans promptly joined the challenge. Also, workplaces joined too, and soon, the challenge was a global phenomenon.
Seeing how popular the song and the challenge were, different companies decided to use the opportunity to promote themselves by using the Jerusalema tune and tagging themselves using the dance challenge's hashtag. Apparently, they were making money from this but they were doing it without paying Master KG any royalties for using his song. Eventually, this development got to the singer's attention and his management did something about it.
Master KG's management promptly demanded that all companies using the Jerusalema tune to promote their business must pay royalties. This was because, even though the dance challenge was such a huge rave, it was not meant to be used for business or gains by companies. The demands for royalties made headlines around South Africa and beyond and companies became more cautious when using the Jerusalema tune. They were forced to pay royalties and were made to acquire a license upon a fee to use the song in future business promotions.
The singer has also had prestigious appointments. In July 2020, Master KG, along with other artists, were appointed to serve as Ambassadors to the World by the South African Minister of Arts and Culture, Nathi Mthethwa. This was a very prestigious appointment, one that was highly treasured by the singer. The appointment meant that Master KG and the others would be touring different countries as representatives of South Africa to perform and showcase their creativity.
How Master KG Spends His Growing Net Worth
Like all other music artists, Master KG does not only earn money, he also spends the money he makes on things that make him happy. It turns out that KG is a lover of cars and he has done well to spend his money on some of the automobiles befitting of his superstar status.
Master KG's Fleet Of Cars
1. Volkswagen Golf 7R
Master KG is the owner of a beautiful Volkswagen Golf 7R. The car is reported to cost about R600,000. The singer reportedly bought the car for himself just a few weeks before his 23rd birthday. It is not clear if this is his first car.
Volkswagen Golf 7R Specs:
Some of the specifications of the Volkswagen Golf 7R include;
150 Hp @ 3000-4000 rpm maximum horsepower
76.2 Hp/l Power per litre
320 Nm @ 1750-3000 rpm. 236.02 lb.-ft. @ 1750-3000 rpm torque
Front, Transverse engine location
2. Audi A6 Avant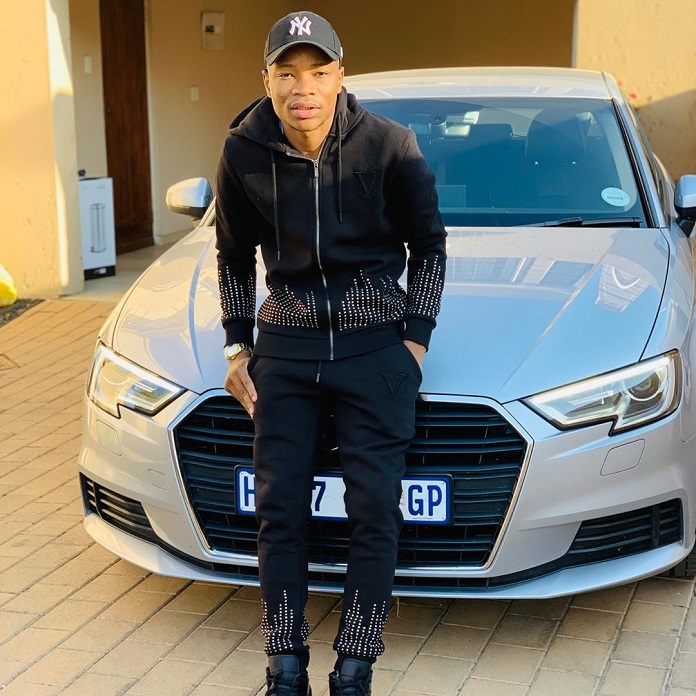 Master KG also owns an Audi A6 Avant which is considered to be a very practical large estate car. It is not clear when he bought this car, but it is right there in his garage among his many automobiles. The Audi A6 Avant reportedly costs about R889,600.
Audi A6 Avant Specs:
Some of the specifications of the Audi A6 Avant include;
The vehucle can accelerate from 0-100 km/h in 7.8 seconds
400 (295.0) / 1750 – 3000 Max. torque in Nm (lb-ft) / at rpm
150 (204) / 3750 – 4200 Max. power output in kW (hp) / at rpm
241 (149.8) Top speed in km/h (mph)
3. BMW 3 Series
Master KG is also the owner of a BMW 3 Series. The globally famous South African singer bought himself the car to celebrate after Jerusalema hit 100 million views on YouTube. He was so ecstatic that he decided to buy himself the car and promptly showed it off on social media for his fans to see. It is this car that he is often pictured with these days.
BMW 3 Series Specs:
Some of the specifications of the BMW 3 Series include:
250 Top speed in km/h
Can accelerate from 0 to 100 km/h (62 mph) in 5.8 seconds
Twin-power turbo four-cylinder engine
4. Mercedes Benz A-Class
Master KG also owns a Mercedes Benz A-Class. This is one of the cars he is fond of mainly because he has always been a fan of sporty cars. The vehicle reportedly costs about $33,650.
Mercedes Benz A-Class Specs:
Some of the Mercedes Benz A-Class specifications include:
5. Ferrari FF
Master KG owns a Ferrari FF and, it is also one of his most used cars at the moment. The singer bought the car in September 2020 and quickly showed it to his many fans on Instagram after Jerusalema got 150 million views on YouTube. He apparently got himself the car to celebrate the stunning feat.
Ferrari FF Specs:
Some of the Ferrari FF specifications include:
Can accelerate from 0 to 100 km/h (62 mph) in 3.7 seconds
Maximum Speed of 208 mph
Naturally aspirated 6.3L V12 Engine
6. Porsche 718 Boxster GTS
Master KG also owns a Porsche 718 Boxster GTS. The singer bought the expensive car just two months after acquiring his Ferrari FF. He reportedly splashed an amazing R1.5 million for the new Porsche.
Master KG Owns A Beautiful House
Master KG does not just own cars, he also owns a house. In 2019, the musician bought himself a double-story home and promptly shared the news with his fans on social media. At the time, his song "Skeleton Move" was beginning to gain traction on YouTube.
Talking about the house, Master KG explained that it had always been a dream of his to own a property like the one he bought and that he was very proud of the house. The house is located in Midrand, Gauteng and it is a massive property.
He Also Bought One Of His Fans A House
It is noteworthy that Master KG is not just interested in buying cars and houses for himself; he is also a kind-hearted man who is interested in helping to put a smile on the faces of other people.
In January 2012, the singer bought a house for one of his fans. The impressive thing about the whole affair was that Master KG himself never announced it online. It was the fan who was gifted the house that went to social media to announce that KG had bought him a house. He expressed deep gratitude to the singer.
Soon, many other fans of the singer flooded his pages on social media to thank him for what he did and urged him to continue doing good for others as God keeps blessing him.