In sports, there are always going to be the stars that impress us with their exemplary athletic skills, and Anthony Rizzo definitely falls into this category. The talented young man has been described as one of the greatest baseball players ever and his sterling track record does speak for itself. The Cubs player who has also played in Major League Baseball for the San Diego Padres is an American first baseman and a three-time All-Star who is known to have survived cancer as a child. With all these remarkable feats in his field, Anthony stands today among the most revered baseball players of all time.
Anthony Rizzo Was Interested In Numerous Sports Before Deciding To Focus On Baseball 
Anthony graduated in 2007 from Marjory Stoneman Douglas High School and during his time there, he was active in numerous sports activities. However, it is known that he didn't set out to be a professional baseball player during his early years. In fact, he had no idea he was a skilled player until people began to compliment his skills and mentioned to him that he could get signed and play baseball professionally.
After the suggestions, he began to take baseball seriously and became driven to get drafted and play in the major leagues. While Anthony was planning and heading for Florida Atlantic University, he was chosen in the sixth round of the 2007 MLB draft by the Boston Red Sox and became a top minor league prospect.
Anthony Rizzo would, later on, play for different clubs in the Red Sox Organization which include, Salem Red Sox, Gulf Coast League Red Sox, Portland Sea Dogs, and the Greenville Drive. He hit 12 home runs in 2009 and 25 home runs in 2010 before his team traded him alongside 3 others to sign the first baseman, Adrian Gonzalez. As at then, Rizzo was assigned the best power-hitting prospect in the Red Sox organization.
His Move To The San Diego Padres Established A Good Foundation For His Major League Career   
Anthony Rizzo's began playing with San Padres in 2011. He performed at the beginning for the minor leagues but would quickly be called to play for the big league once he hit .365 with a 1.159 OPS along with 16 home runs and 63 RBI in 200 at-bats over 52 matches.
That year, the talented baseball player was dubbed 'the most celebrated Padres call-up' by the San Diego Union-Tribune a title which was given to Roberto Alomar back in 1988. However, for the rest of the season, Rizzo struggled to keep his stats up but he was eventually included in the major league on September 4th, 2011. He would, later on, end the season with  .141 hits, 46 strikeouts in 128 at-bats.
Anthony Has Also Made A Name for Himself With The Chicago Cubs
Anthony was traded to the Chicago Cubs in 2012 and it was where he developed into an All-Star Player, winning various awards and even the World Series. He hit 3 game-winning RBIs during the first 5 games with the club and became the first person in the history of the Cubs to do that. Throughout the season, with 32 hits, 17 RBIs, and 55 total bases, he led the National League and was second in NL rookies.
In 2013, he was nominated for the National Heart and Hustle Award. He placed second for the first basemen's Gold Glove medal. The next year, Rizzo continued his impressive wins and by July 2014, he won his first Player of the Week award. The subsequent years leading to 2019 also proved to be quite successful as the player achieved numerous remarkable feats as he became a 3 time Gold Glove Awards winner, a World Series Champion, and a 3-time All-Star winner amongst others.
The Baseball First Baseman Is A Wealthy Man
With such impressive stats and awards, Anthony has won, there is no doubt that the has garnered quite an impressive net worth over the years. As of 2020, the baseball star is estimated to have a personal value in the tune of $27 million. He reportedly signed a $41 million deal to last for the period of 7 years with The Chicago Cubs in 2013. Thanks to the deal, Rizzo earns an annual salary of $11 million.
The baseball star is also making some bucks in real estate. Sometime back, a property which he owned in Parkland, Florida, was listed on the real estate market for $2.4 million. He also has numerous lucrative endorsement deals with notable brands including BodyArmor, additionally, Anthony owns his own breakfast cereal called Rizzo's. All these many interests have greatly contributed to his massive net worth.
He Is The Founder Of The Anthony Rizzo Foundation
Being a childhood cancer survivor has taught Anthony several life important lessons. He has learned to appreciate the opportunity of every new day and has looked for ways to help alleviate the burdens of families that are going through the trauma of having kids that are fighting cancer.
The Anthony Rizzo Family Foundation was established in 2012 in Florida. The aim of the organization is to raise money for cancer research and provide (financial and emotional) support to families battling cancer. It is majorly run by Anthony's family members, close friends, and a management team. The foundation has donated over $5.5 million to the Lurie Children's Hospital and Anthony often visits the hospital with his wife to support children going through treatment.
Anthony Rizzo And His Wife Have Such A Beautiful Love Story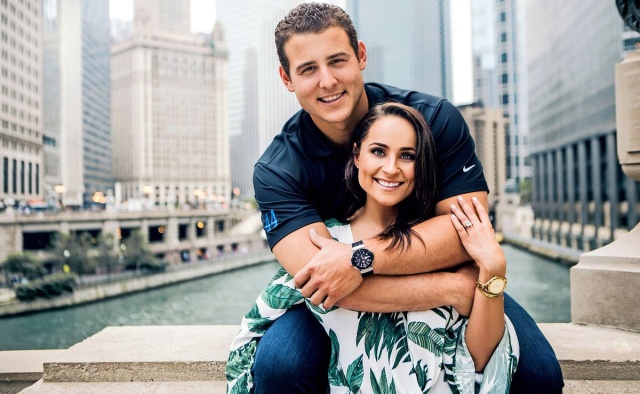 Way before he met his stunning wife, Rizzo has been linked with many other ladies in the past including Chelsea Smith but he revealed in an interview in 2014 that it was difficult for him to ask females on dates, and as a result, he downloaded the dating app Tinder. Nevertheless, Anthony summed up the courage after he encountered Emily Vakos back in 2016. His team, the Cubs, were on a spring training road trip in Arizona and Emily Vakos was an intern with the nutrition team at the time.
Well, as expected in most pre-dating scenarios, it wasn't love at first sight for the duo and Emily blew him off a couple of times before giving him her correct phone number. They kept in touch and went out a couple of times before they began dating and as their love intensified, the pair took it to another level when they got engaged in June 2017. Rizzo and Emily then tied the knot in a star-studded ceremony on the 29th of December, 2018.
All There Is To Know About Anthony's Stunning Wife- Emily Vakos
Emily was born in Dallas, Texas on the 9th of January 1994. Not much is known about her early life and education but she did attend Arizona State University where she graduated with a degree in Nutrition and Food Management. Despite being with a wealthy spouse, Emily has had her hand in a couple of things. She has worked with the Scottsdale United School District as a nutritionist. She also worked as an associate salesperson at the Mal Malouf Boutique.
The smart young lady is also a real estate broker for @Properties firm and she owns a blog with the name 'The Food 1-1 where she shares her college project, opinions on health-related studies, articles, and food recipes. Being with a man like Anthony has definitely brought out the best in Emily. The couple is yet to have children but adopted a dog in 2020 which they named Kevin.