Formerly seen as an underdeveloped continent, great strides have been made to modernize Africa, including the construction of world-class shopping complexes and malls. There has been a high influx of large shopping malls springing forth all over Africa, which has further attracted first-class companies, as well as world-class brands. Despite all these, some doubting Thomas' are still skeptical about anything 'Africa'. Some are still plagued by the single-story syndrome and believe that Africans are still a primitive bunch.
Others, on the other hand, have come to realize that the world is really dynamic, and Africa is no more where it used to be. This set of people are curious about the good things emerging from Africa and would definitely want to know what malls are here, and which is the biggest mall in Africa? See the 12 largest shopping centers in Africa below.
1. The Mall Of Arabia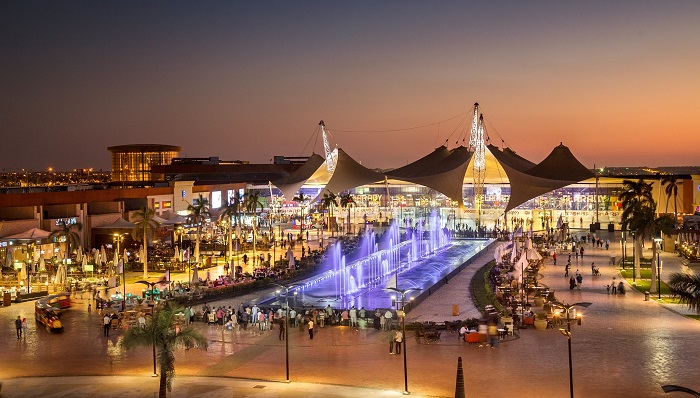 Capacity: 267,000 square meters
Number of stores: 400
Year Built: 2017
Address: Al Giza Desert, Giza Governorate, Egypt
Town or City: Cairo
Opening and Closing Times: 10am – 10pm
 This magnificent masterpiece is carefully situated within the vicinity of 6th of October City Located about 11 miles to the north of the Egyptian pyramids. The area boasts of a technology park, the center of the Egyptian film industry, Dreamland amusement park, and many upscale hotels, including Hilton Pyramids Golf Resort. The Mall of Arabia is sitting in this magnificent city. Ranked as the largest shopping mall in Africa, a Saudi organization called Fawaz Al Hokair owns the mall, and it has a 9,000 car parking space built to accommodate the influx of tourists and visitors. Situated in Juhayna Square, it has a total of 12 entrances and houses luxurious hotels and a modern international cinema, snow park, gym, casino complexes, and shops offering global products.
2. The Gateway Theater Of Shopping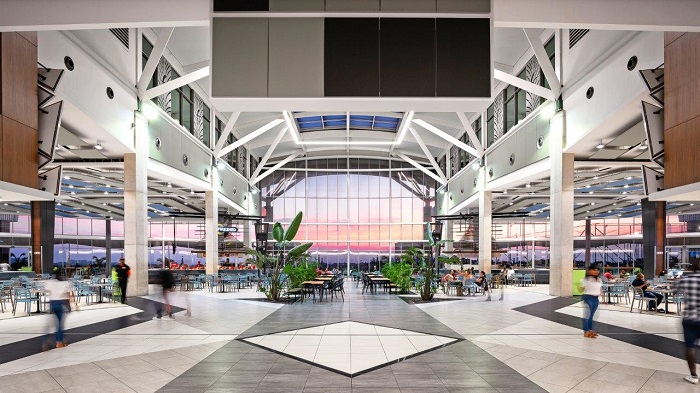 Capacity: 220,000 square meters
Number of stores: 460
Year Built: 2001
Address: Al 1 Palm Blvd, Umhlanga Ridge, Umhlanga, 4021, South Africa
Town or City: Durban
Opening and Closing Time: 9 am to 7 pm
The Gateway Theater of Shopping is a large modern mall built in about a four years period by Old Mutual Properties. Its architectural design was borrowed from America. It has 12,000 parking spaces. About two million people visit the mall each month to sample the cinemas, 90 restaurants, skate parks, Africa's tallest fountain, and the science theme park situated there. Gateway has 18 movie theatres, 6 Nouveau Theatres, an arcade and theme park, indoor funfair, a 4000 sq. meter skate park designed by Tony Hawk, 2 Flow Riders, a gym, and also valet parking.
The area where it was built was originally a sugar cane plantation, establishing the gateway theater on the site has led to developing a new town center, commercial and residential developments within the region. There is also a hotel (GatewayHotel) attached, which is operated by the Three Cities Group.
3. Sandton City Mall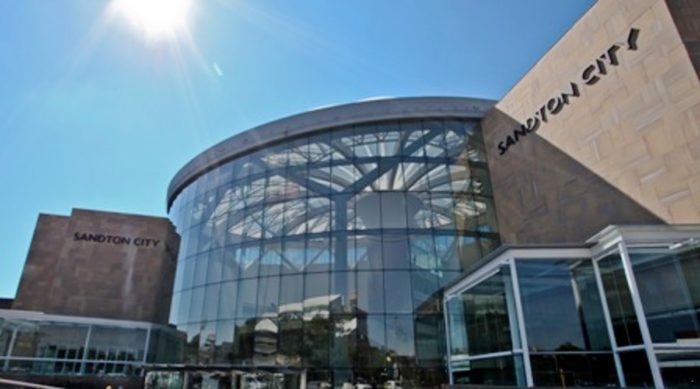 Capacity: 215,000 square meters
Number of stores: 300
Year Built: 1973
Address: 83 Rivonia Rd, Sandhurst, Sandton, 2196, South Africa
Town or City: Sandton
Opening and Closing Time: 9 am – 8 pm
Sandton City mall boasts as one of the most gigantic shopping malls situated in Sandton, Johannesburg, South Africa. Rapp and Maister in partnership with brothers Hilliard and Eli Leibowitz development company own the property. Liberty Life (now part of Liberty Holdings Limited) took control of it after some time.
Sandton City and the adjacent Sandton Square ( now Nelson Mandela Square) form one of the largest retail complexes in Africa with shops such as Gucci, Louis Vuitton, Prada, Dolce & Gabbana, and other premium boutiques – it is sometimes called "the richest square mile in Africa".
Just outside the center itself is Nelson Mandela Square, complete with a massive bronze statue of the former president of South Africa, and various restaurants. Sandton has international chains and market leaders like Louis Vuitton and Apple, coupled with local boutiques, specialty stores, and an enormous variety of restaurants and coffee shops.
4. Morocco Mall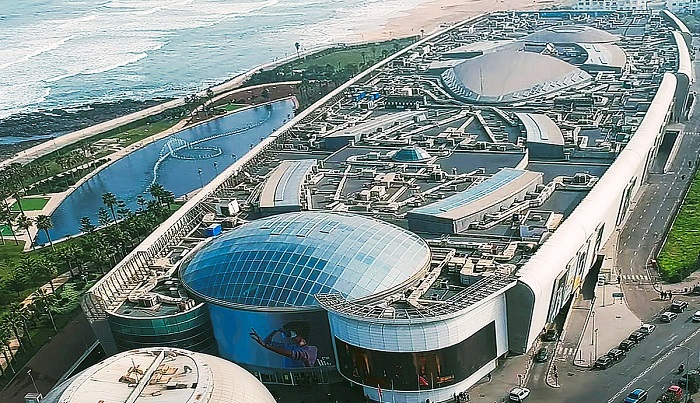 Capacity: 190,000 square meters
Number of stores: 350
Year Built: 2011
Address: Angle Boulevard SidiAbderrahmane, Boulevard de Biarritz, Casablanca, Morocco
Town or City: Casablanca
Opening and Closing Time: 10 am – 9 pm
Morocco Mall is the first-ever and remains standing as the only destination mall in the Mediterranean and Africa. The mall is known for gathering a large variety of brands many of which opened their debut store in Africa. Some of them include IMAX cinema, FNAC, and Galeries Lafayette. Considered one of the top 5 destination malls, it also boasts of the 3rd biggest musical fountain globally, a giant aquarium crossed by a panoramic lift, and most notably 'the largest in-store shop façade in the world.' The project contextualizes its surroundings and employs an architectural language that respects the area's natural elements, namely the sea and the beach.
This landmark building has a unique shape that evokes a sea-shell's connotations to create a highly contemporary yet natural shape and form. Its 628-meter long building envelope is clad in light fabric and glass, which ultimately seems molded by the strength of the wind, sand, and water.
5. Cairo Festival City Mall 
Capacity: 158,000 square meters
Number of stores: 300
Year Built: 2013
Address: Ring Road, New Cairo، Cairo Governorate 11385, Egypt
Town or City: Cairo
Opening and Closing Time: 10am – 10pm
Egypt's new Cairo Festival City is built on 70,000 acres to ease congestion in Old Cairo. A large 1656 seat theater was commissioned in 2015 within the festival city. Cairo Festival City Mall is adorned with world-famous hypermarkets and restaurants. It has numerous stalls that stock products from world-class companies. The magnificent mall has three levels, and is home to many amazing brands, including but not limited to IKEA, Marks & Spencer, Debenhams, and H&M to mention a few.
6. Canal Walk Mall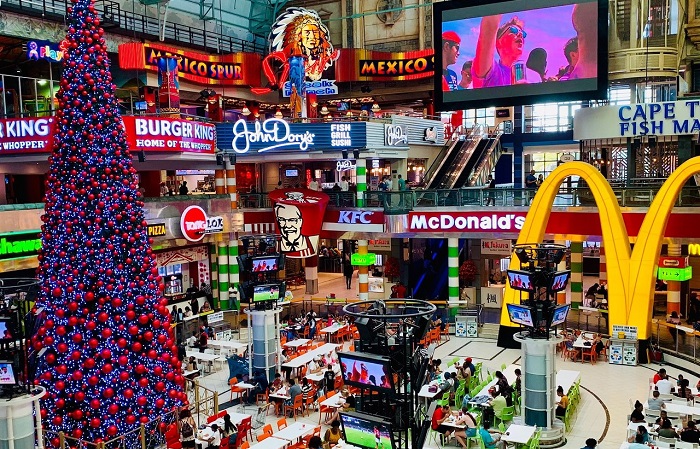 Capacity: 141,000 square meter
Number of stores: 400
Year Built: 2000
Address: Canal Walk, Century Blvd, Century City, Cape Town, 7446, South Africa
Town or City: Cape Town
Opening and Closing Time: 9 am – 9 pm
Canal Walk definitely makes the list as one of the biggest malls in Africa. According to the developers, it is Built-in what is called"Cape Venetian architecture,"  it is adorned with 20 cinemas, 7,000 parking bays, a game arcade plus numerous restaurants.
It has a wide selection of home and luxury products and jewelry. It is surrounded by a vast population living in 300 luxury homes. The landmark is the East and West Towers, offering modern office space. The table Mountains and the famous Robben Island can be clearly seen by tourists.
Canal Walk is the venue for rainy days and emergency gift shopping on Christmas Eve. The layout is expansive with several health and beauty salons primed to keep visitors pampered. Visitors Information Centre services and first aid services are comprehensive. Special events and holiday entertainment are also organized regularly.
7. Mall Of Africa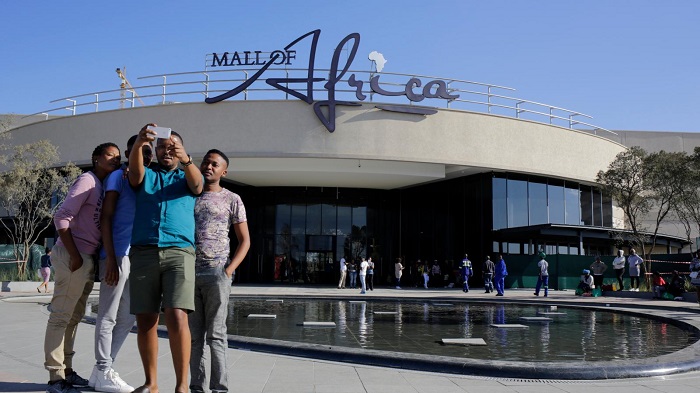 Capacity: 131,000 square meters
Number of stores: 300
Year Built: 2016
Address: Canal Magwa&, Lone Creek Cres, Waterval City, Midrand, 1686, South Africa
Town or City: Midrand
Opening and Closing Time: 9 am – 8 pm 
The Mall of Africa boasts of a 6,500 parking slot. It is located in Waterfall, Midrand, Gauteng. It is rated as the largest single-phase shopping center in Africa. The shopping center is owned by the Atterbury Property group and has a magnificent hotel overlooking the Waterfall City Park. The architectural design was borrowed from geology in Africa, primarily rainforests, minerals, deserts, lakes, and oil. The tenants include familiar names in the world like Woolworth.
The opening of the Mall of Africa resulted in heavy traffic congestion along the N1, N3 highways, and most roads leading towards the Midrand area. Some stores had opening day sales that drew hundreds of shoppers into queues extending around the corners of the shop's entrance, and this led to some shoppers questioning if the shops were prepared for the opening.
8. Tinapa Resort
Capacity:  80,000 square meters
Number of stores: 54
Year Built: 2007
Address: Calabar – Ikang Rd, University Satellite, Cross River, Nigeria.
Town or City: Calabar
Opening and Closing Time: 6 am – 6 pm
Tinapa is a leisure and business resort situated in Calabar, Cross River State, Nigeria. It is situated by the Calabar River, sharing a common boundary with the Calabar Free Trade Zone.
The Tinapa Free Zone & Resort has facilities for retail, wholesale activities, leisure, and entertainment. The entertainment strip contains a mini-amphitheater, casino, children's arcade, pubs, digital cinema, a nightclub, and restaurants. An artificial tidal lake feeds from the Calabar River, a Water Park / Leisure Land, and Parking Space for 4,000 cars.
Tinapa Movie Studio and open exhibition area make up the business facilities found in Tinapa Resort. There is a 243-room international three-star Hotel. The resort also has a truck terminal, and an independent power plant powers it.
9. Two Rivers Mall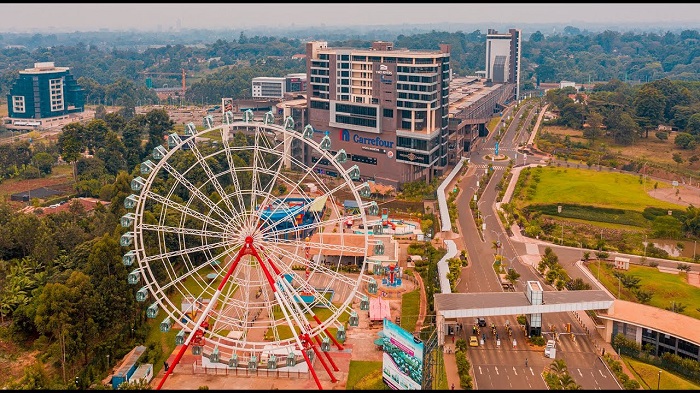 Capacity: 65,000 square meter
Number of stores: 220
Year Built: 2017
Address: Limuru Road Nairobi KE, Kenya
Town or City: Nairobi
Opening and Closing Time: 9 am – 9 pm
Located in Nairobi, Kenya, the shopping mall derives its name from two rivers that run near it. It seats on 1.7 billion square feet of land with modern residential homes, world-class hotels, and a 3,600-seat theater. The shopping center is located just 18 miles from the JomoKenyatta International Airport. It is the largest shopping center in Central and East Africa.
Two Rivers Mall – a monumental shopping center in Nairobi, Kenya, is part of an Sh25.1 billion development by Centum Group, which is majorly owned by billionaire Chris Kirubi.
French retailer Carrefour, which operates more than 12,000 outlets globally, is the anchor tenant at the mall – with LC Waikiki, Woolworths, Hugo Boss, and Nike being among its tenants. Two Rivers Lifestyle Company Ltd. owns The 2 Rivers Mall. It brings together many investors including OMP Africa Investment Company and Centum Group.
10. Dembel City Center
Capacity:  40,000 square meter
Number of stores: 150
Year Built: 2002
Address: Angle Africa Ave, Addis Ababa, Ethiopia
Town or City: Addis Ababa
Opening and Closing Time: 8 am – 8 pm
Dembel City Centre is a beautiful flowery-yellow multi-story building located at Africa Avenue on the road to the Airport. The City Centre, hosts a mosaic of markets and shops in one place, providing almost any service required by visitors at an affordable price. It has a modern and properly secured twin parking space with a capacity to accommodate five hundred vehicles at a time. The Dembel City Centre staff are well-trained, with efficient around-the-clock security guards who are assisted by a surveillance camera.
Dembel City Center is part of a modern development of the city center along Bole Road, also known as Airport Road or Africa Avenue. Like many streets in Addis Ababa, Bole Road is experiencing a construction boom spurred by the growing Ethiopian economy.
11. West Hills Mall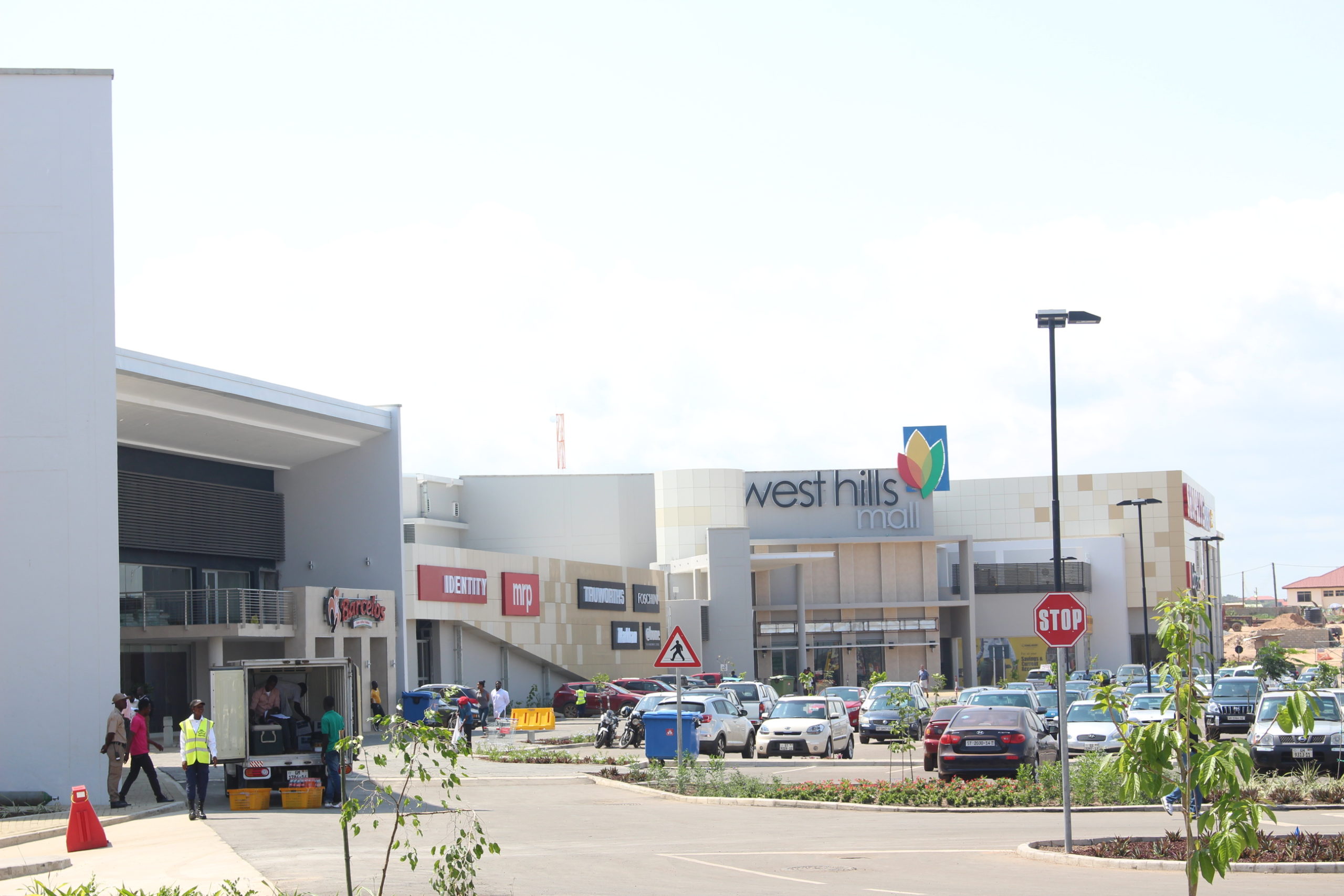 Capacity: 27,700 square meter
Number of stores: 67
Year Built: 2014
Address: West hills mall, Accra, Ghana
Town or City: Accra
Opening and Closing Time: 9 am – 9 pm
West Hills is, without doubt, a leading hangout and shopping spot in Accra, and it's known across the country, with parking for more than 1,500 cars. West Hill is a home for fashion brands like Edgars, Mango, and Identity. There are eight restaurants, six financial institutions, four Health and Beauty services, two major telecommunication services, one cinema, a playground for kids, and one photo store, the West Hills is definitely a must-see in Accra.
West Hills Mall is situated in a rapidly developing middle-class residential area (LSM 5-8), a 30-minute drive from the Accra CBD. It forms the gateway into the Greater Accra Region from Western Ghana. The major retail stores include; Jet, Shoprite, and Edgars, The Palace, Truworths, Foschini Group, Identity, Woolworths and  Game, other brands such as Silverbird Cinemas, NallemClothing, banking services, and various eateries are also available.
12. Le Caudan Waterfront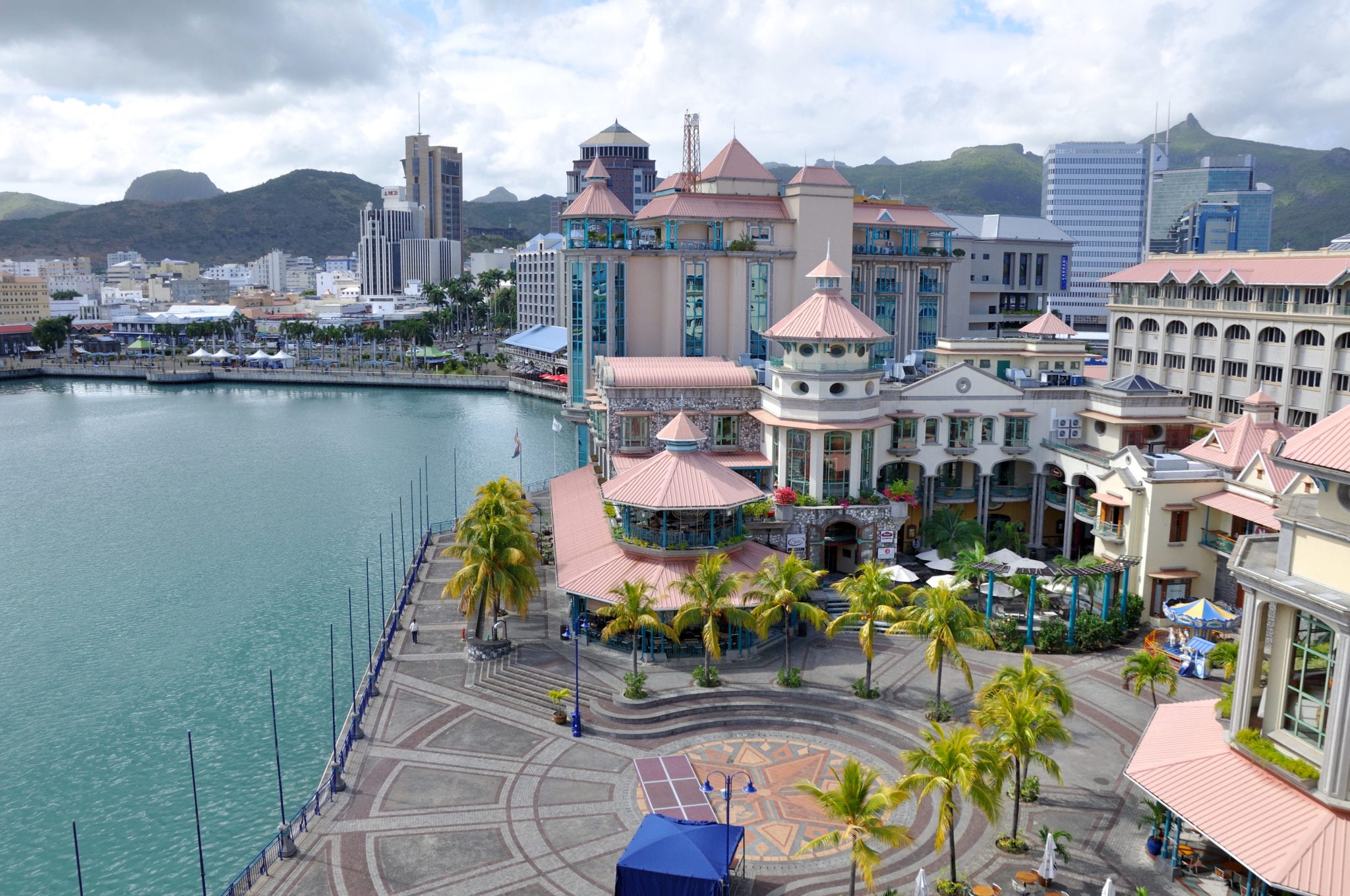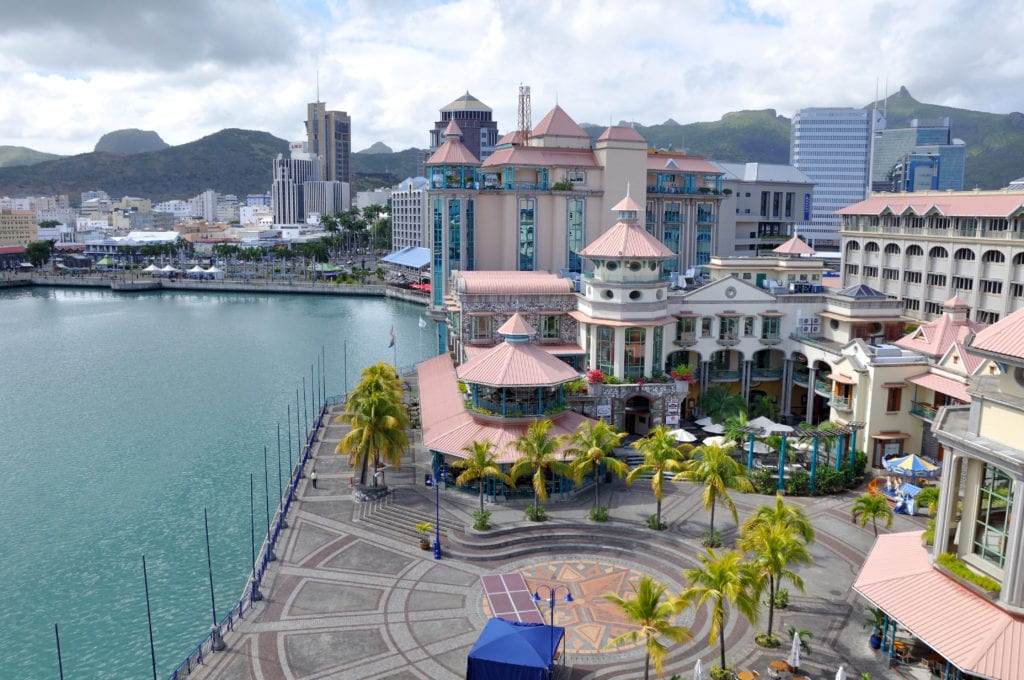 Capacity: Unknown
Number of stores: 170
Year Built: 1996
Address: Marina Quay, Caudan, Port Louis, Mauritius
Town or City: Port Louis
Opening and Closing Times: 9:30am – 5:30pm
Named after the 18th-century French explorer, Jean Dominique Michel de Caudan, the establishment has earned a fine reputation. The Food Court, which once housed the Indian Ocean's first meteorological and astronomical observatory, is a must-see!. Although being the first shopping mall on the island, Caudan has maintained the trends and maintains its allure as a modern waterfront mall.
From its premises, visitors can also admire the workings going on in the port as large containers and cruise ships make their way in and out. The Caudan Arts Centre hosts operas, plays, and conferences in the daytime and it has been a game-changer for Mauritius.
The Growing Popularity Of Shopping Centers In Africa
Like other parts of the world, the shopping malls in Africa are made of spectacular world-class architecture that attracts tourists from all over the world and brings products close to the people of Africa. Moreover, the presence of shopping centers means more business for Africa, which has improved living standards and as investors continue to take advantage of the growing African economy.
The shopping malls are also quite popular with locals who come, especially during the weekends, for various shopping and other fun activities. Shopping malls are slowly becoming the center of attraction in Africa, and we are convinced that with the array of malls in Africa, the economy will continue to be impacted. Even though there are more than hundreds of malls flung across Africa, we have just explored the 12 largest shopping Malls in Africa.
Summary List of Africa's 12 Biggest Shopping Centers/Malls
The Mall Of Arabia – Giza Governorate, Egypt
The Gateway Theater Of Shopping – Umhlanga, Durban South Africa
Sandton City Mall – Sandton, Johannesburg, South Africa
Morocco Mall – Casablanca, Morocco
Cairo Festival City Mall – Governorate, Egypt
Canal Walk Mall – Cape Town, South Africa
Mall Of Africa – Midrand, South Africa
Tinapa Resort – Cross River, Nigeria
Two Rivers Mall – Nairobi, Kenya
Dembel City Center – Addis Ababa, Ethiopia
West Hills Mall – Accra, Ghana
Le Caudan Waterfront – Port Louis, Mauritius