Abdul Khoza's family begins with his parents, Stan Khoza and Lindiwe Khoza, who birthed the actor, his brother Sk Khoza and his sister Sanelisiwe Zuleka. However, his family has grown to include his ex-wife, Baatile Themane, their daughter Morafe, and Azamare, who he had with an ex.
Even before he tested fame, Abdul Khoza's family has always been popular in South Africa. For one, his father Stan Khoza is a known unionist who achieved the exalted position of the Independent Municipal and Allied Trade Union's national president. Before long, his big brother SK Khoza entered the entertainment scene, taking the family name to greater heights. We can say that Abdul rode on the wings of his brother's fame, but he can certainly hold his own in the world of showbiz.
Meet Abdul Khoza's Family Who Have always Been In The Public Eye
Abdul Khoza's family is an above-average one. He shared his childhood with an older brother, a sister, and his parents. Meet the members of the Khoza clan.
Stan Khoza
Stan Khoza is the patriarch of the Khoza household and also the father of Abdul and his two siblings. The older Khoza may have nothing to do with the entertainment industry, however, he is well known for the important work he undertakes in South Africa.
It would not be far from the truth to say that Stan was the first to place the name of their family on the world map through his exalted position as the Independent Municipal and Allied Trade Union's national president – a position which he obviously holds to date. The Durban-based unionist is also said to be a karate sensei, little wonder his two sons are black belt holders.
Lindiwe Khoza
Abdul Khoza's mother has been accurately identified as Lindiwe Khoza. However, the mother of three is quite distinct from her husband and children as she seems to prefer the quiet life, well away from the radar of the press.
Despite the fact that Lindiwe Khoza does not live her life in the public eye, reports have revealed that she supports her children in their different life endeavors and contributed a lot to make her second son Abdul what he is today.
SK Khoza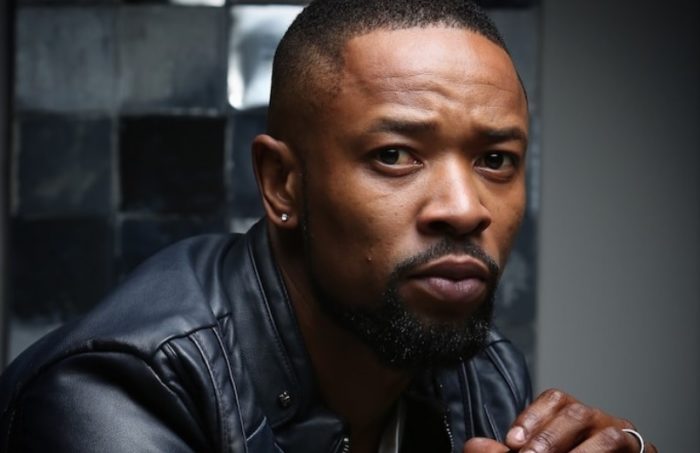 The similarity in the last names of South African actors, Abdul Khoza and Sthembiso Khoza is no coincidence as the two have been revealed to have blood ties. Sthembiso, who is commonly known by the stage name SK Khoza, is a big brother to Abdul. Being born on the 1st of July 1986 makes SK older than Abdul by one year as Abdul's year of birth is recorded as 1987.
Sthembiso Khoza Is Part of the Entertainment Industry
It is obvious that the two are not only connected by blood as they have a lot of things in common. Just like Abdul, Sthembiso is also part of the South African entertainment industry. He is renowned as a competent television host, an experienced radio presenter, and a celebrated actor.
SK Khoza made his acting debut in 2012 when he was featured on the set of iNkaba – the Mzansi Magic telenovela where he breathed life into the character of DJ Teeman. However, he is best known for playing Shaka Khoza in the South African soap opera entitled The Queen.
Apart from his acting gigs which have made him the heartthrob of all South African females below sixty, SK can equally hold his own in television and radio. He did splendidly well on Channel O Family where he functioned as the host of Mzanzi Ridez. The work he did on Goal Diggerz earned him massive recognition, and working as a field reporter, Abdul Khoza's big brother did excellently well on Vuzu's Television Entertainment magazine show, reporting from the field. In 2013, he functioned as host of Mzansi Wethu dance show bounce, returning the next year to host the second season.
SK's radio gigs include working as a voice-over artist and an MC for Trans Africa radio. Remove acting and hosting from SK and the SA entertainer can still boast of another strength, martial arts. He was just 12-year-old when the blossoming actor bagged the black belt by fighting his way up.
His Love Life
SK is known for the good life both on and off the screen, however, he seems to be a bit taciturn with details regarding his personal life. His Instagram handle has revealed a few shout-out messages he sends in appreciation of the mother of his daughters. Though he portrays a thoroughly bad character in The Queen, SK is in reality a doting father.
His Insta Stories also revealed evidence of occasional praises he showers on his baby mama Maddy who is said to be his lover.
Abdul and SK Khoza Have a Good Brotherly Relationship
Abdul Khoza and his big brother appear to share a very close bond. The hot-headed Qaphela on Isibaya and the trigger-happy Shaka on the set of The Queen have been doing things together since childhood. Just like SK became a black-belter at 12, Abdul achieved the same feat before 13 and it goes without saying that he had enough motivation in SK.
Abdul already chose another career path as a firefighter and was doing ok before he was pulled into show biz by big brother. Abdul once had this to say about Sthembiso: "He's real. He says he is famous, but I can still call him".
Needless to say that towing the same career path strengthened the brothers' bond and made them even more unique. When SK had his contract on The Queen terminated on the 17th of November 2021 following allegations of assault, it was Abdul that was tipped to be his replacement.
Sanelisiwe Zuleika
According to reports, the celebrity duo has one sister who goes by the name, Sanelisiwe Zuleika. However, she seems to be just like their mother as her name is rarely mentioned in the public space. Fans have since concluded that Sanelisiwe Zuleika may just be involved in a mundane job, or perhaps, she is the type that values her privacy.
Natasha Thahane
Natasha Thahane is a South African actress best known for the character she portrayed on the set of Skeem Saam. The actress was also featured in popular series like The Queen and recently joined the cast of Blood and Water. Since Natasha became a sensation on social media and started making waves on TV, no one associated her with South African actors, Abdul Khoza, and his brother SK Khoza until recently.
Reports that the celebrity trio might actually share blood ties started making the rounds after Natasha began referring to SK as her big brother. This piece of information sent the media experts digging and from their reports, it is unlikely that Natasha, SK, and Adbul are siblings. Now, we have always known that Natasha is the granddaughter of Noble Prize winner, Archbishop Desmond Tutu. The celebrated minister and his wife, Nomalizo Leah Tutu had four children namely – Trevor Thamsanqa, Naomi Nontombi, Theresa Thandeka, and Mpho Andrea. Natasha happens to be the daughter of Trevor Thamsanqa Tutu and his wife Nomaswazi Mamakoko.
Now, when you consider the fact that Sk and Abdul Khoza's father is Stan Khoza and their mothers' name is Lindiwe Khoza, it will be too difficult to believe that the trio is siblings. Many have since come to the conclusion that the big brother talks may have been generated from the trio's working relationship. However, this has not stopped some sources from going ahead to ship them off as siblings.
This is How Abdul Khoza Met His Wife
Abdul has been long active on the romantic scene before his path crossed with the woman who eventually became Mrs. Abdul Khoza. He was in an interview session with Drum magazine when he let on the adorable moment his eyes first beheld BaatileThemane.
According to the South African actor, he visited a mall in 2018 where he saw his wife for the first time, and on perceiving that Baatile was trying to find a spot to park he assisted her in finding one and they just hit it off. Though it was love at first sight for the duo who commenced dating immediately, they took the conscious decision to keep their dalliance away from prying eyes. The public only got an inkling of what has been going on when Abdul popped the big question and needless to say, the SA actor got an answer in the affirmative as it wasn't long before wedding bells rang for the lovebirds.
Abdul Khoza and BaatileThemane's Wedding Occured in 2019
The duo embarked on a romantic engagement which convinced Abdul Khoza that he has found his missing rib. The cementing of their love happened in a colorful traditional wedding ceremony on the 27th of April 2019 with friends and family in attendance. Their wedding was quite a memorable one and the most significant part of it was that it happened on Freedom Day for the citizens of South Africa.
Speaking in an interview session on his wedding day, Abdul said he celebrated his 2019 Freedom Day by handing his freedom over to the love of his life, Baatile Mary-Anne Theme. He also commented on the surprising amount of support and love they received from friends and family which he said left him completely speechless.
The lovebirds were quite outstanding on their big day, appearing in matching outfits of green and white designed to suit the old Zulu attire. Their wedding adornments were complete with an isicholo hat for the bride and Umqhele headband for the groom. The wedding ceremony was barely over before heartwarming congratulatory messages started purring in huge numbers. Soon, the messages were followed by pictures of the smiling bride and groom as attendees wasted no time in flooding social media with the photos of their nuptials.
Their Wedding was Soon Followed By A Colorful Baby Shower
After the couple's April 2019 wedding, fans, and the general public were really expectant. As it is the norm in the African setting, couples who have fulfilled all the traditional marriage rites are expected to start having children in the nearest future. However, the surprise was on them as Abdul Khoza and his wife achieved this feat within a few months. By July 2019, the South African actor had already taken to Instagram with photos of a pregnant Baatile.
The revelation of a pregnant Baatile in July was followed by a pink-themed baby shower, signifying that it was a baby girl on the way. The Isibaya actor shared a lengthy post through his Insta Story expressing how excited he was to become a second-time father and was full of gratitude to the guests who graced the occasion. Abdul also showered praises on his wife, envisaging how he would hold her hand and walk with her till the end of time. Baatile who was decked out in a blush pink attire was the center of attraction at the colorful baby shower as her apparel was in unison with the pink and white-themed cake and décor
Okuhlekwethu Morafe Khoza Was Born in 2020
Barely one year after their nuptials in 2020, the couple welcomed the first fruit of their union. Baby girl Okuhlekwethu Morafe Khoza came to complete their love and the couple view her as a blessing and calm in many storms. It is true that Abdul Khoza is a man that has been blessed in many spheres of life but he considers Morafe to be the greatest blessing of all.
It is common knowledge that some Mzanzi celebs would choose to hide the identity of their children from the prying eyes of the public but not Abdul. Rather, the celebrity actor chose to give his little girl a head start in life by giving her a shot at fame right from the cradle. He launched Morafe's personal Instagram account, introducing his bundle of joy with the sweet message that reads
"Meet our little princess, Okuhlekwethu Morafe Khoza. You have been our calm in many storms baby. @baby_morafe. Being your daddy has been by far the biggest blessing". Morafe's page is already attracting fans and as at the last count, it could boast of over one thousand followers.
Morafe Is Not Abdul's Only Child
It is important to note that Morafe is not the only child born to Abdul Khoza. Baatile may be his first wife but the entertainer was already active on the love scene before Baatile came into the picture and he sowed some wild oats. One actually germinated leaving him with one child out of wedlock born by his ex-girlfriend.
However, details of the baby's birth are not known to the public. The only known fact about the girl is that she is named Azamare and her mum denied Abdul access to the girl after they went through a bitter separation.
Abdul Khoza's Marriage With Baatile Was Rather Short-lived
Who would have believed that such a union with beautiful beginnings would hit the rock in less than two years? That was exactly what happened to Abdul and his wife Baatile. The couple's union crashed the very next year in 2020 and from what is perceivable, they didn't part amicably. This conclusion was drawn from the fact that they wasted no time in deleting any existing photograph linked to their life together as man and wife. After their wedding, the couple flooded Instagram with their wedding pictures, and needless to say, they all vanished with supersonic speed. All we can say is that it started as a beautiful dream for Abdul Khoza and Baatile but ended on a sad note
Despite their differences, the couple came together to celebrate their daughter's first birthday which was highly commendable. It was through Abdul's Instagram handle that fans got to know about Morafe's birthday as the proud papa couldn't stop gushing about how brilliant his little princess is.