Markiplier's parents are Cliffton Morris Fischbach and Sunok Frank. They met in Korea when his late father, who served in the U.S. Army, was stationed there.
Being a Youtuber is now not only a famous career but a very lucrative one, as can be seen through the success Markiplier is enjoying. In addition to his YouTube career, he is also an online personality and Podcaster. If you are a fan of his, you owe your gratitude to his parents, Clifton M. Fischbach and Sunok Frank, who brought him into this world.
Markiplier is of Mixed Heritage
Markiplier was born Mark Edward Fischbach on the 28th of June 1989 in Hawaii. His father, Cliffton Morris Fischbach Jr., and his mother, Sunok Frank, lived in Honolulu at the time of his birth. Markiplier is of mixed heritage, as he was born to a German-American father and a Korean mother.
Not too long after his birth, Markiplier's parents and the family relocated to a town in Ohio. This was after a few months of moving around the country. In Ohio, Mark spent a significant amount of time in the company of his elder brother, Thomas. The two of them needed to rely on each other greatly as they were the targets of bullies who attacked the two for their partly Korean heritage.
Mark's career as a Youtuber whose major content is gaming can be credited to those early years in his life when he would play video games with his brother to pass the time.
Markiplier's Dad Was A Retired Military Man
Full name: Clifton M. Fischbach
Date of birth: 8 June 1941
Died: 4 July 2008 (aged 67)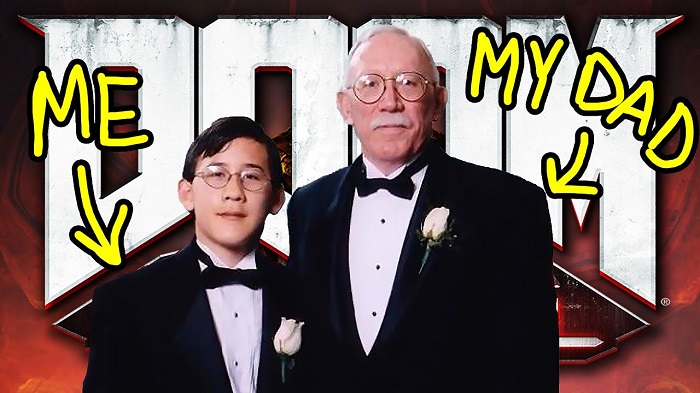 Before his death, Cliffton M. Fischbach was a retired military man who had served in the US Army. He came from a family of people who had worked in the military with a father who had worked in the second World War and the Korean war and a mother who was also a Military officer. This legacy of military service is believed to be one of the things that drove him to chase a career in the military, a career that he spent most of his life doing.
Markiplier's father was in the military for approximately 24 years before he retired. After his retirement, Fischbach went on to become a layout artist for a publishing house. For his job, Markipliers's parents relocated to Ohio with the family, which was where Markiplier spent most of his childhood.
Markiplier's Mother Sunok Frank Is A Retired Nurse
Full name: Sunok Frank
Date of birth: 20 March 1964
Age: 59 years
It's Momiplier! Everyone wish her a wonderful 51st birthday! pic.twitter.com/mghGSDenwQ

— Mark (@markiplier) March 21, 2015
Sunok Frank was born on the 20th of March, 1964, and many of her young formative years were spent in South Korea. Her family is originally from North Korea, but before the outbreak of the Korean war, they relocated to South Korea. There is not much information on her childhood or the type of life she lived. However, it is known that she moved out of South Korea when she was 21 and is believed to have moved to America then.
Moreover, reports suggest Sunok is a retired Korean nurse, but where she got her training and the extent of her nursing career is unknown. While in South Korea, she met the man she would go on to have Markiplier with. Her relocation to America was on this basis.
While she doesn't do much recently, in collaboration with her son, she has written a documentary on some Korean scary stories. The documentary is said to be quite interesting and doing well.
Markiplier's Parents Divorced When He Was Young
Markiplier's father married his mother, a significantly younger woman. This may have been one of the things that contributed to their long-term compatibility as a couple. After the Fischbach family relocated to America, they started to experience a range of problems, from the interpersonal relationship in their marriage to financial difficulties. All these led to the early demise of their marriage.
After their divorce, which happened while their children were still young, the couple decided to sell their house. The goal of this was to help solve the financial problems they were having. It is not clear what age Markiplier was when his parents divorced, but it is known that he was still a child when it happened.
Markiplier's Biggest Fan is His Mother
Markiplier has described his mother as his biggest fan on many occasions, and this is because of the early support that she gave him at the beginning of his career. Markiplier became a Youtuber when it was not the most glamorous or popular career choice, but regardless of this, she supported him.
Markplier is known to speak extensively about this support and how it helped him in his growth. On the type of life his mother led after her marriage, not a lot is known. She is not as popular as her son and maintains a quiet life. Sunok is also known to have eight dogs, a topic Markplier addressed on his channel.
The Popular Youtuber Lost His Father At A Young Age
Markiplier's father had him at an old age. Clifton Fischbach was 48 years old when Markiplier was born, and on the 4th of July, 2008, he died. The Fischbach sons were awoken by the sound of their stepmother's crying and upon rushing to her voice, saw that their father was dead. A year prior, the senior Fischbach had been diagnosed with lung cancer, and after a year-long battle with the disease, he died. Markiplier was only 19 when this happened.
Ironically, it was after his father's death that Markiplier gained fame, and the Youtuber has described his now late father as his greatest hero, this speaks to a good relationship between the two of them.
Markiplier Has a Good Relationship With His Stepmother
After his parent's divorce, Markiplier's father remarried. It is not clear how long he was single before he got a new wife. But his new wife was a woman called Dee. Markplier and his brother grew to become close to her. Dee and Fischbach had no kids together.
From all indications, Markiplier and his stepmother have a great relationship. He has spoken about her on his Youtube channel, and she is also one of his big fans. Dee has also been featured in some episodes on his channel, one of which was where he pranked some people that he was having a baby.
There is not a lot of information available on her, except for the fact that she is also a dog person like his mother.