No matter where you go, the world of sports is always spoken as a universal language. It's become so global that people relocate from their home countries to others and have a chance to dominate the sporting industry there. If you're familiar with the world of baseball, then you've definitely heard of Yu Darvish. If you haven't yet, you'll get to know about him fully in a bit.
Yu Darvish, who signed a super deal for a six-year $126 million with the Chicago Cubs is famous for being known as a Japanese professional baseball starting pitcher. He has had a largely successful career since he began playing professionally in 2012 and has also represented his country, Japan at the international level. Yu pitched for Japan at the Beijing Olympics held in China in 2008 and he also pitched for his country at the 2009 World Baseball Classic. Are you looking for facts about him, like his family, parents and more? Well, here is all the important information regarding the baseballer!
Yu Darvish's Biography
Yu Darvish was born on the 16th of August, 1986 in Habikino, a sparsely populated city located within the prefecture of Osaka, Japan. His birth name is Farid Yu Darvishsefat. His mother, Ikuyo, is Japanese, and according to Japanese law, citizens with dual nationalities must choose a singular nationality before turning 22. Yu chose Japanese, partly so he could play for Japan in the World Baseball Classic. Yu Darvish showed an early talent for baseball, which is the national sport of Japan. From a very young age, he led Habikino's boys' team to high finishes in national and international competitions.
In Japan, you can start a baseball career from high school, which is what Yu Darvish did. There were a lot of choices open to Yu. Eventually, Tohuku High School, which was known for its baseball legacy and was accessible by bullet trains from Habikino, was chosen. By the age of 15, Yu was already acknowledged by the school's baseball coach Masahiro Wako and he always made starting rotation. This was a big deal, particularly at a school with many other baseball talents. At 16, he was instrumental in pitching his team to the National High School Baseball Championship finals in Japan.
Yu Darvish was widely considered to be the best in Japan's baseball league before his arrival in Major League Baseball in 2012. In his first MLB season, he finished third in the American League (AL) Rookie of the Year vote. The next season, he finished second in the AL Cy Young Award vote as he led the Major Leagues in strikeouts with 277 and finished fourth in the AL in earned run average (ERA) at 2.83. On 6 April 2014, Darvish reached the 500-strikeout mark in fewer innings pitched than any starting pitcher in the history of MLB.
See Also: Bode Miller – Biography, Wife, Daughter, Family, Net Worth
Who Are Yu Darvish's Parents?
Yu's parents, Farsad and Ikuyo Darvishsefat, were not only learned but were also active athletes. Yu's grandfather owned a travel agency in Iran and made the decision to send his son Farsad to the United States in 1977 to further his education shortly before the Shah of Iran was deposed. While Farsad was studying in America he frequently participated in sports, particularly soccer and motocross. However, he met Ikuyo at Eckerd College, a liberal arts school in St. Petersburg, where Farsad was playing soccer. They started dating, eventually got married and moved back to Japan.
Facts About His Family, Wife, and Sons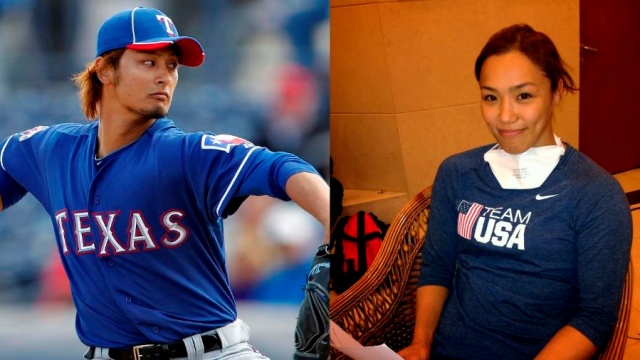 Yu Darvish has 4 kids. In August 2007, he admitted to a relationship with his then-girlfriend Saeko. He publicly made it known that Saeko was pregnant for him. Yu and Saeko tied the knot on the 11th of November, 2007 and their son was born in March 2008. Their second child, a boy, was born in February 2010. During this time, Yu played baseball professionally in Japan. He signed his divorce papers and dissolved his marriage with Saeko on the same day that he officially signed with the Rangers. It was a decision they both agreed to, after 5 years of being married.
After the end of his first marriage to Saeko, Yu Darvish met and married Seiko Yamamoto in 2016. Before her marriage to Yu, she was married to Hideaki Nagashima, a baseball player from 2006 to 2014.
Seiko and Yu are alike in the sense that they are athletes; Seiko is famous as a wrestler. This might be surprising but, she is probably the most famous wrestler in Japan due to the fact that she has won 4 World Championships for the country. After she retired from her sports career, Seiko Darvish switched into wrestling coaching. She has worked as a US Women Junior Wrestling Team coach. Her marriage to Yu has produced two kids.