Over the years, many culinary experts have emerged to the limelight, sweeping loads of prestigious awards. Noticeable among this group is American chef Andrew Zimmern, who seems to have a finger in every pie as a restaurateur, radio personality, TV personality, producer, and director. The expert chef has also functioned as a food critic, entrepreneur, teacher, journalist as well as author. Andrew has earned his due respect in the food world as one of the most flexible and talented personalities.
Andrew Zimmern Started His Career as an In-House Executive Chef
His training as a chef formally started at age 14 while he was still a student at Dalton School. Andrew Zimmern later graduated from Vassar College and worked at several fine dining restaurants in New York. There, he worked as either a general manager or executive chef. He also lectured at The New School for Social Research during this time.
It was not a straight line to stardom for Andrew though. Despite quickly finding his feet as a chef, Zimmern became homeless after suffering from drug and alcohol addiction. He was homeless for a year, lost his job, and survived by stealing pursues.
Thankfully, he checked into an addiction treatment center in Minnesota and recovered. Afterward, he got a job as a dishwasher at Café Un Deux Trois in Minneapolis's Foshay Tower before working his way up to executive chef in 1992. He worked at the restaurant for four and a half years, during which his menus received high praise from various Minnesota and Minneapolis review magazines.
After four and a half years as an executive chef, Andrew Zimmern left daily restaurant operations in 1997. Since then, he has built a life as a media expert, from writing to TV, and become an entrepreneur.
He Has Also Been Involved in Other Endeavors
Radio, Writing, and Owner of Food Works
One of the first things Andrew Zimmern did after he left daily restaurant operations was to become a writer. He has been writing for Mpls. St Paul Magazine, where he is a contributing editor and an award-winning monthly columnist. He is also a senior editor at Delta Sky Magazine.
His writing has featured in various national and international publications. He has also written and published four books. Andrew published the first one, The Bizarre Truth, in 2009. His latest, a grade-level reader series, Alliance of World Explores, Volume 1:AZ, and the Lost City of Ophir, was released in February 2019.
Andrew has published his books under the multimedia company, Food Works, which he founded in 1997. The company has also served as a vehicle for his digital and social initiative projects, including the podcast, Go Fork Yourself. His work as a writer led to radio gigs, and he had an extensive radio career before television. He had shows like Chowhounds, The Andrew Zimmern Show, and Food Court With Andrew Zimmern on local Minnesota radio stations.
Television Host
After radio came television for Andrew Zimmern. He started as a food features reporter for Fox TV, KMSP-TV. He later joined HGTV during its formative years as a contributor to shows like Rebecca's Garden and Tip-cical Mary Ellen. Zimmern also worked as a food and lifestyle features reporter for UPN, working on the show, Everyday Living.
In 2003, while he was working with HGTV, he filmed the pilot of the show that became his anchor to national and international fame, Bizarre Foods. The show, which explored regional cuisines around the world, premiered on November 1, 2006, and aired 147 episodes across 13 seasons until August 2018.
Due to the popularity of the show, spin-offs have since gone on air, like Bizarre Foods America and Andrew Zimmern's Bizarre World and Bizarre Foods: Delicious Destinations. He has hosted other shows like My Hometown with Andrew Zimmern and Dining with Death.
In a non-hosting capacity, Andrew has appeared in shows like Metropolis, All-Star Academy, Ca$h Cab, The Best Thing I Ever Ate, and more.
Owner of the Production Company, Intuitive Content
Aside from being a star on national television, Andrew Zimmern is also quite the media mogul. He founded the production company, Intuitive Content in 2014. Under it, he develops original television and broadcast programs as well as create brand-driven series and web content.
Since it came into existence, Andrew's company has been busy. It has created other shows like How to Survive a Murder, Crash Test World, and Big Food Truck Tip. Other works under the company include the web series, Andrew in the Kitchen, Beats + Bites with the Potash Twins. The former got him a James Beard Award nomination in 2018.
Some of his shows, such as recent projects like The Zimmern List and Driven By Food, have also been produced under the company. In February 2020, in partnership with MSNBC, he began hosting What's Eating America. The show will explore his passion for politics, people, food, and travel. Another show, Family Dinner, is in the works, in partnership with Magnolia Network.
Beyond content created for television, he also makes tailored-made entertainment programs for brands. Through his company, he has worked with Renaissance Hotels to create The Navigator's Table. A partnership with Caribou Coffee led to Behind the 'Bou.

Zimmern's company also takes advantage of his teaching skills to produce instructional cooking classes for web platforms and apps. Intuitive content has created courses for Yummly Pro and the new Food Network Kitchen app as part of its slate of classes from chefs and culinary experts.
Andrew Zimmern Owns a Restaurant and Food Retail Development Company
His days of cooking for a paying clientele every night might be over, but that does not mean Andrew Zimmern is out of the restaurant industry. He founded Passport Hospitality, a restaurant and food retail development company, in 2015. It has served as his vehicle for lucrative partnerships with restaurant founders and his own brick and mortar outlets.
He has a quick service station, Andrew Zimmern's Canteen, at US Bank Stadium and Target Field in Minneapolis. There, he sells globally-inspired takes on familiar food options. In 2018, he opened his first brick and mortar outlet, a Chinese restaurant, Lucky Cricket, in St. Louis Park, Minnesota.
Andrew has also partnered with other entrepreneurs like Robert Montwaid and Gavin Kaysen for various projects. His partnership with Montwaid yielded experiential food halls at Dayton's building in Minneapolis and Atlanta Chattahoochee Food Works. The collaboration with Gavin Kaysen, who is also a chef, resulted in KZ ProVisioning, a unique catering company for sports franchises. So far, the company works with NHL's Minnesota Wild and NBA's Timberwolves.
He is Also a Public Speaker
Aside from writing about food, setting up businesses that make them, or showcasing them on television, Andrew is also a renowned public speaker. He regularly speaks at food events all over the globe in front of professional groups. His career as a speaker has gotten the attention of the American Federation of Chefs and People's Chinese Chefs National Committee.
Andrew Zimmern is also an international spokesman for Travel Leaders and Elite Destination Homes and was SuperTarget's meal adventure guide. He has been invited as a guest chef to various national charity events, food festivals, galas and contributed to segments on news programs. He appears regularly as a contributor for Food Network's Best Of… CNN's Money and Health and NBC's Today Show.
More Than Four Decades in the Food and Media Industry Has Made Andrew Zimmern an $8 Million Net Worth
His beginnings in the food industry may have started in the kitchen, washing dishes. But years of hard work, commitment, and creativity have gotten him to the top and earned him an estimated net worth of $8 million. His significant wealth has come from every venture, as discussed earlier, with television being one of the significant contributors.
According to reports, he earned $35,000 per episode of Bizarre Foods as host. Considering he also worked as a producer on the series and others, there is no doubt he made a lot more for his efforts. Combined with earnings from public speaking, which can be up to $40,000, and other ventures, it is not hard to see how he has built his wealth.
Aside from becoming a multimillionaire, Andrew Zimmern's career in the food industry has also yielded awards and recognition from various bodies. He received a Daytime Emmy nomination in 2020 and has won the James Beard award multiple times. He has won the prestigious award for TV Food Personality, TV Program on Location, and Outstanding Personality/Host.
Zimmern has also been named among the 50 Most Powerful People in Food by The Daily Meal, 30 Most Influential People in Food by Adweek. He has also been named among Fast Company's Most Creative People in Business.
A Lot of His Money Goes to Charity Efforts
When it comes to food and everything surrounding it, Andrew Zimmern is often an open book. He travels the world, exploring other cultures and food in his shows, and he gives speeches to professional chefs. But how he spends the financial benefits of his thriving career largely remains a mystery.
We know he has a house in St. Paul, Minnesota, where he once lived with his ex-wife (more on this later). Based on interviews and photos, it is a pretty big house and might even qualify as a mansion. There is no doubt it set him back a few million. Beyond that, Andrew appears to live a modest life.
One other place Andrew Zimmern appears to spend part of his millions is charity. He serves on City Harvest's Food Council and is part of the International Rescue Committee's Voice for Nutrition.
Since 2020, he has joined the Independent Restaurant Coalition, a group founded to save restaurants affected by the Covid-19 pandemic. Other charity efforts include working with ONE, Food Policy Action Committee, No Kid Hungry, Lovin' Spoonfuls, and the Charlize Theron Africa Outreach Project.
Andrew Zimmern Met His Wife Through Cooking
His journey from drug addiction to a food empire is evidence of how much food and cooking has transformed Andrew's life. But it is not the only thing. It also brought him his only marriage thus far, to Rishia Haas. They met in Minneapolis in 1999, while he was teaching a cooking class at a school that had a store. Rishia was an employee at said store.
After a bit of flirty, Andrew asked her on a date, and they began a relationship shortly after. Three years later, in 2002, they walked the aisle and said, 'I Do', in front of family and friends. Three years after becoming husband and wife, Andrew Zimmern and Rishia Haas welcomed their first and only child, Noah.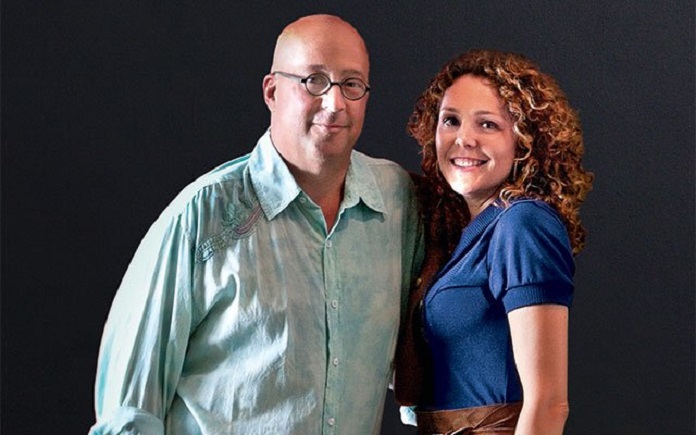 Unlike Andrew, his wife has mostly stayed out of the spotlight. She worked as an Admissions Coordinator at a rehab center, The Retreat Alive with the Spirit of Recovery. She also worked as an administrative assistant at the Hazelden Betty Ford Foundation, another rehab center. Rishia joined the center in 2014 and has been there ever since.
Her brief foray into the media world other than public appearances with her ex-husband includes publishing free recipes on various food blogs like Epicurious. For years, it appeared like Rishia and Andrew were destined for forever after, but in 2018, that turned out to be false.
His Work as a Media Personality Led to His Divorce 
After 16 years of marriage, Andrew and Rishia announced their split in 2018. The divorce, which was completed in March 2020, was amicable, and they have maintained a cordial relationship, not just for their child but in respect of the life they have shared. As for why their marriage ended, it turns out Andrew's success has been a double-edged sword.
In an interview with The New York Times, Andrew said his time-consuming media career was the culprit of their unexpected divorce. According to him, his complete dedication to his work kept him from being there for his family. And while Rishia understood and was forgiving for many times, one time became too many.
So, with Andrew unable to balance his career and its demands with his family life, the couple eventually parted ways. Despite the disappointing nature of their end, Andrew has declared he wants to be a good ex-husband and father regardless. So far, he has been living to the promise, at least on social media.
On Mother's Day 2020, he posted a photo in praise of Rishia on Instagram. He also regularly posts pictures of his son and Rishia, with appreciative and adoring captions.