The former tennis superstar, Andy Roddick made a name for himself in the sport with his extraordinary serve which was known for its power as it traveled around 130-150 mph. Having started playing professionally in 2000, Roddick clinched many titles and awards prior to his retirement in 2012. He was ranked in the year top ten for straight nine years during which he claimed five ATP Tour Masters 1000 tournaments titles. After ending his career professionally, the skilled athlete has dabbled into acting and has equally worked as a sports broadcaster on television and radio stations. Get to learn more about the life and career of the ex-tennis star below.
Who is Andy Roddick?
The International Tennis Hall of Famer was born as Andrew Stephen Roddick in Omaha, Nebraska, the United States on 30th August 1982. He is the third child of Jerry and Blanche Roddick who gave birth to three sons. His father worked as an enterpriser while his mother worked as a school instructor. Andy Roddick's elder brothers, Lawrence and John were tennis players at a young age, which John continued with at a professional level and eventually served as the coach of his younger brother at a certain point in his career. John Roddick is currently the director of tennis and head coach of men's tennis team at the University of Central Florida.
Andy Roddick had part of his childhood experiences in Austin, Texas before moving alongside his brother's to Boca Raton, Florida. There, he went to SEK Boca Prep International School and further had online classes as he studied at the University of Nebraska High School. While playing tennis as a junior, Andy Roddick experienced continuous defeat which made him consider quitting from the sport.  However, following the advice of his then coach, Tarik Benhabiles, he moved on to become World No. 1 Junior player in the year 2000.
During such time, he bagged many titles as a junior including the singles and doubles titles, as well as Australian Open Singles titles. He then turned pro in the same year 2000 and went on defeat the likes of Gustavo Kiersten, Pete Sampras, and Michael Chang when he was 18 years old. Then in 2003, Andy Roddick encountered great success in his career as he won the Queen's Club, his first Masters Series titles and equally became the first American to end a year at the World No. 1 ranking.
Roger Federer however, ended his reign in 2004 when he took over the top spot after claiming the Australian Open that year. Roddick then ended the year at the No. 2 ranking in the world and No. 1 US player, having achieved the most aces of about 2, 017. In the next year, he became victorious at the SAP Open tournament and also at the U.S Men's Clay Court Championships. Other titles Roddick won during his career include Davis Cup which he clinched in 2007. He had a total of 4 doubles titles and 32 singles titles under his belt which included the US Open he won in 2003.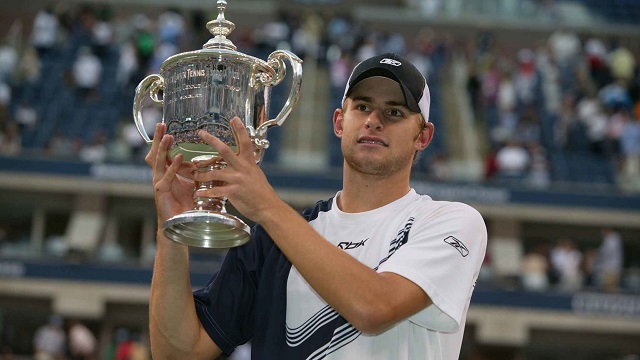 His outstanding records include Fastest Serve of 148 mph in Australian Open, Fastest Serve of 143 mph at the 2011 Wimbledon, Fastest Serve of 155 mph in the history of Davis Cup from 2004 to 2011, among others. Additionally, the apt athlete was awarded Excellence in Sports Performance Yearly Award in 2004 and also the Arthur Ashe Humanitarian Award of the Year as a result of the humanitarian duties he has carried out individually.
Andy Roddick has also made a few appearances on the media as he made a guest appearance on the sitcom, Sabrina The Teenage Witch in 2002. He has appeared in other TV shows such as Jimmy Kimmel Live!, The Ellen DeGeneres Show, Late Night with Conan O'Brien, The Late Late Show with Craig Kilborn, among others. He further made a cameo appearance in the romantic comedy movie, Just Go With It in the year 2011.
See Also: What Is Andy Roddick's Net Worth Now That He Has Retired From Tennis?
Working as a media personality, the ex-tennis star has served as the host of the late-night live television variety show, Saturday Night Live. He hosted Bobby Bones Show alongside Bobby Bones on Fox Sports Radio and additionally co-hosted the sports news TV program, Fox Sports Live in 2013. He has also provided sports commentary on BBC in 2015.
Concerning his personal life, Andy Roddick began dating the top model and actress, Brooklyn Decker in 2007. The pair then got engaged in the following year and later walked down the aisle in April 2009. They had their first child, a son named Hank Roddick in 2015, followed by the birth of their daughter, Stevie three years later.