Annaliza Seagal (born 20th June 1987; Age: 36 years old) is Steven Seagal's daughter with Kelly LeBrock. Her father is an American-born actor, producer, screenwriter and martial artist.
While her life is largely eclipsed by the fame her father has, she is making waves and a name for herself. However, unlike both of her parents, Annaliza has chosen not to work in the entertainment industry. She has tried to keep the important details about her life away from the prying eyes of the media and public.
Annaliza Seagal's Biography Summary
Full name: Annaliza Seagal
Gender: Female
Date of birth: June 20, 1987
Annaliza Seagal's Age: 36 years
Ethnicity: Caucasian
Nationality: American
Zodiac Sign: Gemini
Sexual Orientation: Straight
Religion: Christianity
Marital Status: Single
Annaliza Seagal's Parents: Steven Seagal and Kelly LeBrock
Siblings: Dominic Seagal (brother), Arissa Seagal (sister), Kentaro Seagal (half-brother), Ayako Fujitani (half-sister), Kunzang Seagal (half-brother), Savannah Seagal (half-sister)
Annaliza Seagal's Height in Inches: 5 feet 8 inches
Annaliza Seagal's Height in Centimetres: 172cm
Famous for: Being Steve Seagal's daughter
How Old is Annaliza Seagal?
Annaliza Seagal is 36 years old as she was born on the 20th of June, 1987, in Los Angeles, California. Due to the fact that she was born to the American Kelly LeBrock and the Russian Serbia Steven Seagal, Annalize has multiple citizenships.
Annaliza is the first child of her mother and the 3rd child of her father. Steven Seagal had 2 children with the wife he was married to before he met LeBrock. Prior to meeting LeBrock, Seagal had been living in Japan, and while there, he had gotten married to a Japanese woman, Miyako Fujitani, with who he had 2 children; Kentaro Seagal and Ayoka Fujitani, both of who also work in the entertainment industry.
Steven Seagal moved back to America and almost immediately started an affair with actress Kelly LeBrock. This affair was what led to the end of his marriage to Miyako Fujitani. However, Seagal did not immediately get married to LeBrock, as he had a very short marriage to another woman, actress Adrienne La Russa in 1984. This was a marriage that had to be annulled as he had not finalized his divorce with Fujitani.
In 1987, Seagal and LeBrock got back together, and the two got married in September of that year, 3 months after the birth of Annaliza. Three years after her birth in 1990, her parents gave birth to another child, Dominic, and he was followed by her sister and final child together, Arissa, in 1993.
However, this 3rd marriage of Seagal was shortlived as LeBrock filed for divorce in 1994 on the grounds of irreconcilable differences. Annaliza Seagal was nine when her parent's divorce was finalized.
How Close is Annaliza Seagal to Steven Seagal?
Steven Seagal is a man with many children (seven) from his numerous marriages and relationships. The first two children are from his first wife, while three are from Annaliza's mother. This 6th child is from an affair he had with his children's nanny, and one more from his current wife.
Not all of Segal's children bear his name. His second child from his first wife goes by her mother's name, while his last child from his second wife does the same thing as well. Regardless of all of this, Seagal has managed to develop a good relationship with all his children.
With Annaliza, he would bring her to the set of some of his movies such that even as he worked, the two spent some time together. This happened regardless of the fact that after the divorce, LeBrock moved with the 3 kids away from their family home to Santa Ynez Valley, California. Annaliza and her father were still able to maintain a close relationship.
Moreover, LeBrock's decision to move the kids was hinged on keeping them out of the public's eye, seeing as their father was one of the most popular men in the industry during those years. Ironically, Annaliza has continued to maintain a low profile even after becoming an adult. She has a good relationship with her two parents, and this is in spite of their very public and messy divorce.
What Does Steven Seagal's Daughter Do for a Living?
Of the Seagals, Annaliza is one of the more private ones. She would rather keep information about her private life away from the public. She is believed to be wealthy enough to cater for herself, but the true source of her income remains largely unknown. This is due to the fact that no one knows how she came to be wealthy.
For a person who grew up in a family of very successful and important entertainers, it was expected that she would tow the same line as her parents. Annaliza Seagal's mother was a supermodel who also worked as an actress, while her father was an actor known for acting in mostly action films, some of which he produced. Seagel also worked as a martial arts instructor and had a career in music which saw the release of two widely recognized studio albums.
With Annaliza, this is not the case, as she has not done any work in entertainment. Not even the times she spent on set with her father motivated her to pick up a job in the industry or even in Martial arts like her father. This is unlike her siblings, step-siblings, who all work in entertainment.
The first 2 children of her father are in the entertainment industry, with one working as an actor and the other as a model, while her brother and sister also lead such lives. Her brother, Dominic, is a video game creator, while her sister Arissa is a rising WWE star.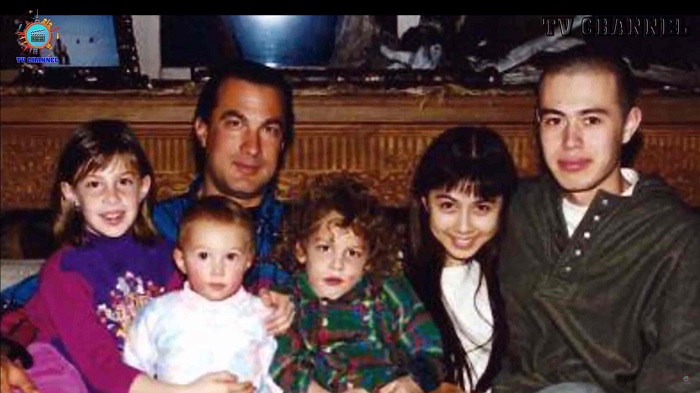 Annaliza Seagal may not work in entertainment, but there are other jobs that she may be partaking in that fund her lifestyle, and because she does not lead a particularly public lifestyle, it is hard to say what exactly she does.
Annaliza Seagal Has Been Single For a Long Time
As a person who keeps away from public scrutiny but is still connected to popular people, it is not unusual that there have been speculations about different aspects of Annaliza Seagal's life. One such aspect is her love life, with people speculating on who she is romantically involved with.
Unlike her father, who is known to have been in love many times and has taken to the altar many times, Annaliza Seagal has never been married, and there is no record of her having kids. As expected, some people have speculated that she is gay, and while this is a possibility, there is no proof of this as she has never spoken about her sexuality.