Annie Martell Denver is the late John Denver's ex-wife. Annie and John were married for 15 years, during which they adopted two children whom they raised. Annie Martell, who previously lived a private life, rose to prominence after the success of her ex-husband – John Denver, who was an American singer, guitarist, actor, composer, environmentalist, and humanitarian. He died in a single fatality crash in 1997.
Annie Martell Denver got together with John when they were relatively young, and John hadn't begun to enjoy much success in his musical career. According to John, that success and his long time on the road during tours and shows ended up breaking up the perfect love story he had with Annie. Despite their divorce, which saw John moving on in his love life, the former couple remained cordial and kept in touch before John Denver's tragic death in 1997.
Summary of Annie Martell Denver's Biography
Full name: Annie Martell Denver
Gender: Female
Date of birth: September 6, 1946
Annie Martell Denver's Age: 77 years old
Ethnicity: White
Nationality: American
Zodiac Sign: Virgo
Sexual Orientation: Straight
Religion: Christianity
Marital Status: Divorced
Annie Martell Denver's Ex-Husband: John Denver
Annie Martell Denver's Children: Zachary John Denver and Anna Kate Denver
Annie Martell Denver's Parents: Jim Martell and Norma Martell
Siblings: Ben Martell, Teri Martell, and Linda Nelson
Famous for: Being formerly married to John Denver
John Denver's Ex-wife, Annie Martell Denver, was Born in Minnesota in 1946
Annie Martell Denver was born in St. Peter Minnesota on the 6th of September 1946. Her parents were Jim Martell and Norma Martell, and Annie was the oldest of their four children. They were raised in a Christian home and Annie Martell attended St. Peter High School where she graduated in 1964.
Upon her graduation from High school, she enrolled at Gustavus Adolphus, a college in her hometown, where she would study Art Education. It was at Gustavus Adolphus College that Annie's life would change drastically.
When she was in her Sophomore year in College, three young men who had a group named "Mitchell Trio" came to the campus to perform. This was when the pretty Annie first caught the attention of John Deutschendorf. According to Annie who was part of the crew who played a little musical, John remembers vividly what she was wearing which was when he fell in love with Annie at first sight.
John wrote her a letter 3 weeks later, hoping that they would see each other again. They did see each other, but it was one year later when John came to Mankato, Minnesota State University, to perform another concert.
Annie Martell Denver and John Denver Got Married in 1967
The charming John Denver did not waste much time when he had the opportunity to see Annie again. They had their first date that very day, and according to Annie, he asked her lots of questions and was very charming. Soon enough, they began to date, and John met Annie's parents, who really loved and accepted him.
After getting the parents' blessing which was very important to Annie, they got engaged just nine months after their first date and walked down the aisle of First Lutheran Church in St. Peter on the 9th of June 1967.
After the wedding, the young couple settled in Chicago. They lived there for a while before moving to Edina in Minnesota to settle and build their family. It is pertinent to point out that John was a young but promising artist when he met and married Annie. They were in Edina from 1968 to 1971, and it was while they were living there that John wrote the songs that made up his first three albums, including "Sunshine on My Shoulders," which ended up being his first No. 1 song.
Annie's very talented John performed all over Minnesota during those years, which gained him some level of recognition. He also played at the inauguration of Gov. Wendell Anderson in 1970, which was how they became friends. Anderson would later be named the godfather to John and Annie's son. The Denver family moved to Aspen in 1971, and John embarked on the journey of his Solo career.
What Led To Their Divorce
Being in the limelight can come with different struggles, and not many people are able to cope with the brouhaha that comes with living out your life in the spotlight. In several interviews, John has referred to Annie as his muse, and she has inspired several of his hit songs but was love really enough to keep their home and marriage from falling apart?
In retrospect, Annie has shared some insights into what led to the breakdown of their marriage. According to her, they were very young (he was 23 and she was 20) when they got married, and she thinks they weren't mature enough to handle the pressure that came with being married and her husband's unprecedented fame.
At first, Annie, who had never left Minnesota, felt that It was incredibly exciting having to travel all around the world and meet many exciting and important people. However, the long days on the road finally took a toll on their marriage and things went sour. They filed for divorce in 1982 after being together for 15 years. Their divorce became complicated and was a public spectacle after John got enraged during the property settlement that he cut their marital bed into two with a chainsaw.
Annie Martell's Ex-Husband was a Musical Icon
He was born Henry John Deutschendorf Jr. on the 31st of December 1943. His passion for music was fanned from a young age after his grandmother gifted him an acoustic guitar at age 11. He began to play at local clubs by the time he got into college. John is credited for making acoustic folk music popular in the 1970s and is considered a cultural icon in American West.
While he was alive, the very versatile John lived voraciously. He was a singer, guitarist, and composer who released and recorded more than 300 songs. His songs topped several charts, including The Billboard Hot 100, Adult Contemporary, and Country Music. He earned twelve gold and four platinum albums with some of his signature songs. By the mid-1970s, Denver was one of America's best-selling performers and was named one of the most beloved entertainers of his era by AllMusic.
Asides from his very robust musical career, he also dived into acting. He appeared in various television specials and films primarily in the 1970s/80s when his career peaked. He was also a humanitarian and environmentalist who lent his voice to environmental issues.
Amongst other hobbies, he was an avid pilot who had several planes. Unfortunately, this love for aircraft was what led to his death. John died in a single-fatality crash on the 12th of October 1997, while testing out one of his newly purchased light planes. He was aged 53 at the time of his death.
Annie Inspired Several of John's Songs
Asides from the chart-topping Annie's song, John was the type of musician to draw inspiration from his life and the things around him. His experience in life and marriage to Annie inspired several of his popular and award-winning songs. This is probably why he referred to Annie as his muse.
Sometime in 1969, just about two years into their marriage, John penned the song "Leaving on a Jet Plane, " his first hit as a songwriter. While many assumed that the song was about a young soldier leaving to serve in the Vietnam War, John later revealed that the hardship he faced when he had to leave Annie and go on the road inspired the song.
The popular Annie song was born after a fight between John and Annie. John was said to have taken off to the Rocky Mountains to clear his head. While he was on a ski lift high above in the snow, the words came to him, and he wrote the song in a few minutes. When he eventually played the song to his wife, she cried and felt honored. According to her, the song still moves her today whenever it comes on the air.
When John was asked how he felt about performing Annie's Song after their divorce, John shared that he loves the song and still loves Annie. Even though they were unhappy living together, he has never stopped loving her. He also shared that even though the song was written for her, it is a beautiful love song that speaks about how he genuinely loves his children, his audience, and life.
Relationships can be very complicated, and even though Annie and John never lacked love in their marriage, maybe it wasn't enough. But years after their divorce, John never forgot his first love and first wife. He still sent her flowers on Mother's Day and her birthdays.
Annie Martell Denver and John Denver Have 2 Children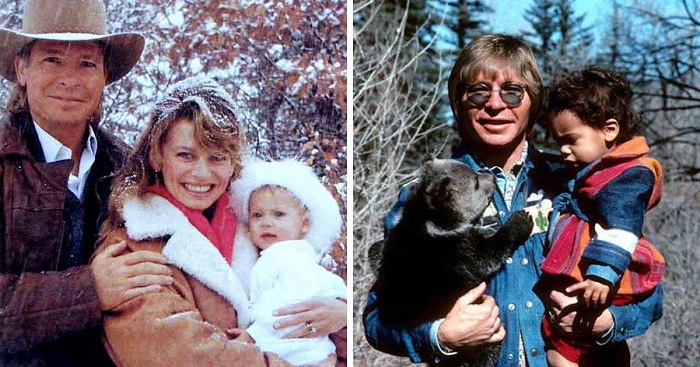 Even though they never spoke about this, Annie and John experienced difficulties while trying to have children. This would have added a lot of pressure to their already pressurized marriage. Through the Children's Home Society of Minnesota, they adopted two children, Zachary John Denver and Anna Kate Denver.
Zachary was born on the 23rd of May 1974, making him 49 year old. Like his mother, Zachary was also the subject of some of his father's songs. In a song titled "A Baby Just Like You", which John wrote for Frank Sinatra, there was a line that said, "Merry Christmas, little Zachary". Zachary has grown to follow a career path that is very different from his father's. He is a politician who is very invested in social work. He is married to Jennifer Deutschendorf with whom he shares a son.
Anna was born in 1976, making her 47. She attended Dartmouth College and is presently married to Jaime Hutter, with whom she has a daughter named Daisy Eloise. Despite their divorce, Annie and John shared custody of their two children and John considers his children one of his greatest achievements.
Who is Annie Martell Married To Now?
Annie Martell Denver is single. She has not married anyone since her divorce from her former husband in 1982. After their divorce, one would think Annie, who was in her mid-thirties, would move on in her love life, but that was never the case. From all indications, she concentrated all her efforts on raising her children and staying away from the fame that trailed her marriage to her famous ex-husband.
Annie was never reported to have been in another relationship. It is hard to imagine that Annie will choose to remain alone after all these years despite her divorce. It is possible that she dated other people after her divorce but chose not to publicize things even though her ex-husband moved on after their divorce.
John Denver Remarried After His Divorce From Annie Martell Denver
In 1988, just about 6 years after his divorce from Annie, John found love again in the arms of Australian actress Cassandra Delany. After a two-year courtship, they got married and settled in Aspen. John and Cassandra had one daughter Jesse Belle who is John's only biological child. Jesse Belle was born on May 18, 1989.
Just two years after the birth of their baby, Denver and Cassandra separated and finally divorced in 1993. Speaking on his second and shortlived marriage to Cassandra, John believes she made a fool of him.
Annie Martell has Lived Her Life Away From the Spotlight After Her Divorce
From all indications, one of the major issues that Annie and John Denver faced in their marriage was the fame that trailed his resounding musical career. With the release of over 300 songs with thirty-three albums and singles certified Gold and Platinum in the United States, that success was unprecedented and overwhelming.
After their divorce, Annie retreated into her shell and hometown, where she choose to lead a simple life. Her ex-husband's demanding career put a lot of pressure on Annie, who had to hold things down in the homefront. Despite all this, Annie found productive ways to engage herself even before her divorce. With lots of time and money at her disposal, Annie became a philanthropist. She began to champion causes and programs that were close to her heart, especially arts programs and world hunger causes.
Annie who moved back to Minnesota after her divorce in 1982 went ahead to serve as the chairwoman for the benefit concert of the Children's Home Society of Minnesota-the same society that facilitated the adoption of her two children.
The now  77 year old Annie is a fulfilled mother and grandmother. She lives her life away from the spotlight of her early life.