Bobrisky (Born 31st August 1991) is a 32 year old Nigerian transgender woman, beauty therapist, entrepreneur, and social media personality who first gained fame as a crossdresser.
Bobrisky gradually went from just dressing like a lady to becoming a lady. She mostly thrives on raising dust on social media platforms through her controversial lifestyle and comments.
Biography and Profile Summary of Bobrisky
Full Name: Okuneye Idris Olanrewaju
Nickname: Bobrisky
Gender: Transgender
Date of Birth: 31st August 1991
Bobrisky's Age: 32 year old
Place of Birth: Ebutta Metta, Lagos
Education: BSc. Accounting from the University of Lagos
Parents: Alhaja Bollington and Alhaji Musibau Okuneye
Occupation: Social Media personality and Entrepreneur
Bobrisky's Net Worth: $3.125 million
Instagram: Bobrisky222
Bobrisky Was Born In Lagos But Has Her Origin In Ogun State
Okuneye Idris Olanrewaju, the first self-identified transgender woman in Nigeria, was born in Lagos but she is actually from Ogun state. This social media sensation and businesswoman has lived in Lagos state all her life. She was born in the Ebute Metta area of Lagos State and this is where she also spent most of her childhood. In 1995, the family relocated to Ejigbo. For secondary school, she attended the prestigious boys-only school King's College and then went on to study Accounting at the University of Lagos, Unilag.
Her Early Days As A Young Man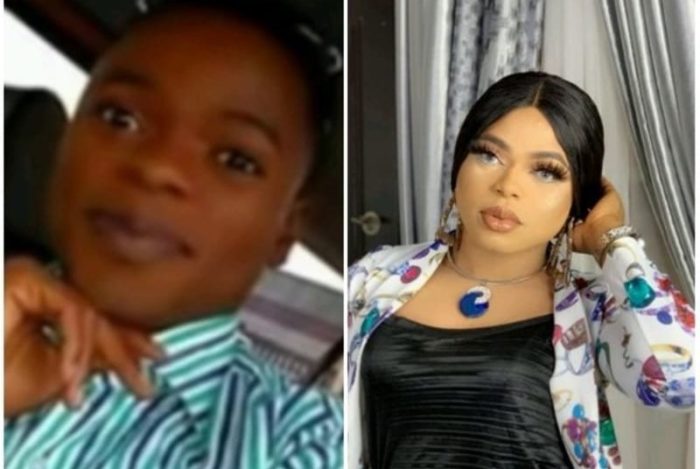 It is no secret that the beautiful social media celebrity used to be a man. Her polygamous family welcomed him as a male, the last child of the family. From an early age, she would dress like a girl and do things that are reserved for the female gender. As expected of African parents, her mother tried to beat sense into her and stop her from doing things like a girl but this didn't work. When her efforts showed no results, she accepted her child the way she was.
According to Bobrisky, crossdressing started early for her, even when she was still identifying as a male. Even in men's clothes, she would style her clothing in a way that it's obvious she is trying to appear girlish. Bleaching her skin came after she became popular on Social media and she documented the whole process.
She Is Still Hoping To Go For Complete Gender Reassignment Surgery
Though speculations say otherwise, Bobrisky is yet to brave the final stage of gender reassignment. She has, however, changed a few things about her body. Bobrisky had liposuction surgery in Dubai in 2019. She has also been taking drugs that can alter hormones and make her more feminine. Face surgeries are part of the adjustments she has made to change her looks but the final stage has not been done.
She is still hopeful that one day, she will have enough money and the courage to go under the knife for gender reassignment. A recent post she shared suggests she is getting ready for the surgery which will be performed by a certain Dr. Philip from Colombia at the cost of $300,000 which is more than N122 million.
What We Know About Bobrisky's Parents
As a person, Bobrisky did not grow up in fame or in a wealthy family. The fame she enjoys now is all as a result of the work that has been done by her. Also, the fame has not spread to her family and as a result, very little is known about the people who raised her.
It is however known that her father is not very comfortable with the life that his child has taken up now. There have been reports that Bobrisky's father, Alhaji Musibau Okuneye is not aware that his son is the first transgender woman in Nigeria. During the celebration of her father's birthday in 2020, Bobrisky attended the event clad as a man.
According to reports from close friends to the family, Bobrisky explained the clothes and makeup to her father as costumes that are needed for his work as an artist and they are solely for theatrical purposes.
When asked about her decision to dress as a man and not a woman to her father's birthday, the entrepreneur simply said that it was done to limit the amount of attention that was brought to her father's birthday. The celebrity received a lot of backlash regarding her decision and when a fan asked on Instagram the motivation for her decision, the above was given by Bobrisky as an explanation. Furthermore, she explained that it was done out of respect to her family and that her folks see her on Instagram so there is nothing for her to hide.
In her family, Bobrisky has claimed that she is the last child of her parents and has an elder brother and two older sisters. Her mother's name is Alhaja Bollington whom she claimed passed on a few years ago but there are rumors that the woman is still alive and owns a provision store in Ikeja, Lagos.
Bobrisky Earns Money As A Social Media Influencer And Entrepreneur
When Bobrisky first became popular, a lot of people wanted to know what she did to make money. There were reports that she had a rich benefactor who bankrolled her life and served as her love. This, to a certain extent, was made clear by her. However, it was not made clear who this person is and how Bobrisky came to know him.
As time went by, Bobrisky established herself as a businesswoman, carving a niche for herself in the market for skin products. This stemmed from the fact that she had completely changed the color of her skin from a lighter shade of brown to becoming completely fair.
She runs a cosmetic business where she sells a line of skin-lightening products on social media. The products include body scrubs, shower gels, and knuckle creams, which she sells in a package and goes for as high as ₦100,000 and above.
This is however not the only thing that Bobrisky does to make money. When she came out in 2016, the number of followers she amassed on the social media platforms – Instagram and Snapchat grew exponentially. Taking advantage of this, Bobrisky also does brand endorsements and promotions which she is paid for.
Some of the brands she promotes include:
Sophie Couture
Aisha Secret
Jenny's Glow
Miwa Signature Palace
Spedy Weight Loss
Best Technology