Tracy Wilhelmy Stevens is simply an exceptional woman. Although she became prominent through the successful coaching career of her husband, she has been with him even before he had any career and has been very supportive of all her husband's endeavors. She is a labor and employment attorney and doubles as her husband's agent.
Tracy has been instrumental in the success of her husband's coaching career. Asides cheering him on at home and on the sidelines, she has also used her expertise in the contract negotiation of one of the biggest moves in his career.
Who is Tracy Wilhelmy Stevens?
Her full name is Teresa Jewe Wilhelmy and she was born on the 7th of October 1976. Her parents Mary Kay and Albert Wilhelmy raised Tracy (as she is fondly called) and her siblings in Rocky River, Ohio. She attended Rocky River High School and graduated in 1995. She then proceeded to DePauw University to study Political science where she ended up meeting her future husband as a freshman.
While in college, Tracy played soccer and was pretty good at it. She served as team captain as a senior and was on the school's first-ever team to make it to the Division III NCAA tournament.
Her relationship with Brad blossomed on their mutual love for sports as their third date was a long drive to watch a high school basketball match.
After college, she was already looking forward to settling down and starting a family with Brad who was then working as a marketing assistant with Eli Lilly (a pharmaceutical company). Brad who has always been passionate about coaching and basketball got an opportunity to volunteer in the Butler Basketball office in Indianapolis. While the opportunity could be life-changing, it depended on lots of probability and he would have to quit his present job. Brad discussed the opportunity with Tracy. He later revealed that she thought about it for two hours then encouraged him to go for it. She also decided to go back to school to get her law degree as a backup plan so that she could get a job if things didn't pan out as expected.
Tracy will later reveal that although she was nervous, she had an inkling that it was the right thing to do especially due to his passion for the sports and she wanted him to be happy. She also realized that the longer he stayed at the marketing job, the harder it became for him to leave.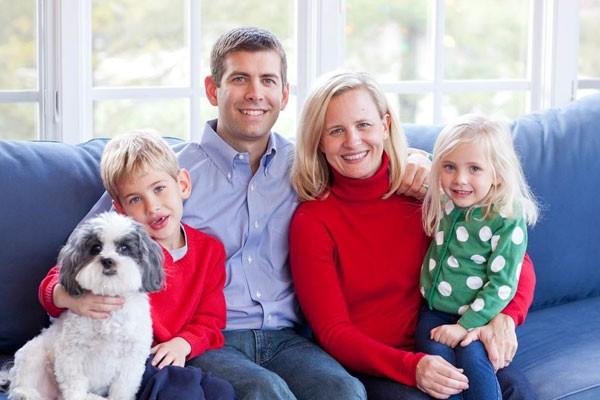 Brad decided to pick up a job at Applebees just to pay the bills but fortunately for him, the coach offered him a job as coordinator of basketball in Butler. While the salary wasn't much, he got to spend more time doing what he loved and learning on the job.
Tracy, true to her words, registered to study law at Case Western Reserve University School of Law, Cleveland. During the ensuing two years, she did a five-hour drive every weekend to be with Brad. During the week, she spent all her free time outside the school with her mom who had been diagnosed with cancer and later died in June 2004.
Brad and Tracy Wilhelmy Stevens finally got married on the 8th of August 2003 at Cuyahoga, Ohio and things began to get better for the young couple especially after Brad got promoted to a full-time assistant coach and consequently became of one the youngest head coach in basketball history.
Tracy who specialized in contract and labor law while in school worked as a labor and employment lawyer for awhile at Bingham Greenebaum Doll LLP. She resigned from her position after she had her daughter to hold down the home front and help her husband concentrate on his coaching career. Although her expertise has been put to good use as she also works as her husband's agent. When Brad was going to pick up the job of the head coach with Boston Celtics. She was in charge of his salary negotiation as this is what she was trained to do. Brad signed a 6-year $22 million contract.
Tracy and her husband are actively involved in the American Cancer Society's Coaches Vs Cancer which might be a result of losing her mother to the deadly disease in 2004.
Read Also: Kiya Winston, Mike Tomlin Wife – 6 Things You Need To Know
Do Brad and Tracy Wilhelmy Stevens Have Kids?
Tracy Wilhelmy Stevens and her husband have welcomed two children during the course of their marriage which has been going strong since 2003. Their first child (son – Brady) was born in 2006 while their second child (daughter – Kinsley) was born in 2009.
Brady is already following his father's footprints in the sports world. He is an active football player in high school in Colorado. The family presently resides in Boston, Massachusetts.