Brandi Padilla was once famous as the gorgeous wife of NBA star, Kevin Garnett. The long-time lovers enjoyed a blissful union during which they welcomed two kids. These days, Padilla and her basketball legend of a husband are locked in a divorce battle which is threatening to turn nasty. So, who really is Brandi Padilla? When did she and her husband tie the knot? How did their love turn sour? All these and more questions are explored below.
Who is Brandi Padilla?
Brandi Alyssa Padilla was born on the 25th of January 1976 in the United States of America. There is a paucity of details with regards to Padilla's early life, educational history or career. It is however not hard to spot that she is well-educated. When it comes to her family background, Padilla hails from a family of four comprising of her father, her mother, Bernadette and a sister named Lisa.
Padilla's sister, Lisa is married to award-winning songwriter and record producer, Jimmy Jam Harris. Harris and his partner, Terry Lewis, have produced multiple-platinum albums for several artists including the likes of Janet Jackson, Gwen Stefani, and Usher. The duo has also received at least 11 Grammy nominations, out of which they have won five. Lisa and Harris tied the knot on the 25th of July 1994. They now have three kids namely Tyler, Max and Bella.
When did the Padilla and Garnett get married?
Brandi Padilla was previously married to NBA great, Kevin Garnett. Popularly known as KG, Garnett was born on the 19th of May 1976 in Greenville, South Carolina. He started playing basketball in high school and was so good that he forwent college and was subsequently drafted into the NBA in 1995. KG would go on to spend a total of 21 years in the league during which he established himself as one of the greatest power forwards of all times. He played for several teams, including The Minnesota Timberwolves and Boston Celtics, and recorded several individual achievements. They include NBA MVP, 15x NBA All-Star, 4x All-NBA first team and NBA defensive player of the year. Garnett also won the NBA championship in 2008.
It is not exactly known how Padilla and her erstwhile husband met. The couple however dated for several years before tying the knot in a private ceremony held in California in July 2004. The couple's nuptials even made Garnett miss the 2004 summer Olympics in Athens. Perhaps if he had been there, his country would have won gold rather than the bronze medal they ended up with. Padilla and her husband were married for a total of 14 years during which they lived in cities such as Massachusetts and Minnesota. The couple also welcomed two beloved daughters namely Kapri (born in 2008) and Kavalli (born in 2013). Padilla and her husband are super protective of their kids and take great care not to show their faces on social media.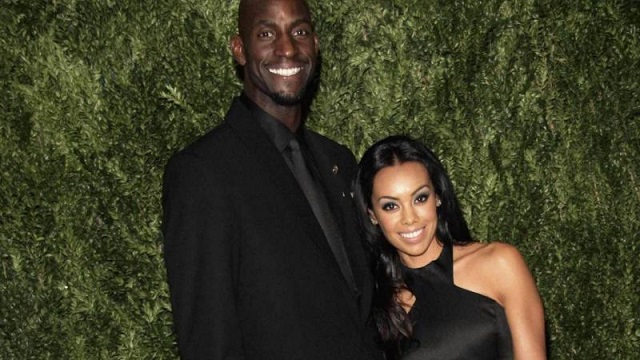 See Also:  Amy Duncan – Bio, Age, Facts about Tim Duncan's Ex-Wife
Divorce
Brandi Padilla filed for divorce from her husband in July 2018. She attributed the split to irreconcilable differences and asked the court for physical custody of her two daughters. She also asked for both spousal and child support with visitation rights for her ex. Garnett on his own part asked for joint legal and physical custody of his daughters. He also requested the court to terminate spousal support for Padilla as they signed a prenup before their July 2014 nuptials. In response to these prenup claims, Padilla stated that she signed the premarital agreement under duress and therefore asked the court not to enforce it.
Padilla's response prompted her erstwhile husband to apply to the court for a trial to be held to determine the enforceability of the prenup. Garnett made it clear that he began playing professional basketball nine years before he got married to Padilla. The power forward also disclosed that he made more than $300 million in career earnings but asked the court to consider the financial difficulties he had recently suffered. Garnett had been swindled by a trusted financial advisor who stole nearly $70 million from his investment and savings account. Brandi Padilla's divorce from Kevin is yet to be finalized. The court has however ordered her ex to pay her $100,000 monthly for child and spousal support. The NBA great was also ordered to cover her legal fees totaling $300,000.