Brandon Flowers is an American music sensation that is popularly known as the lead singer, keyboardist, and bass guitarist of the Las Vegas rock band – The Killers. The versatile artist who sings and writes songs has at least two solo albums to his credit, and five studio albums recorded with his band The Killers. His pop style of music has made him one of the most sought after music acts in the industry. Little wonder he has bagged up to six awards. Additionally, he has been named the most stylish and sexiest man.
Who Is Brandon Flowers (Bio, Age and other Background details)
The 21st day of June 1981 saw the birth of Brandon Richard Flowers in Henderson, Nevada in the United States of America. Richard, alongside his family, dwelled in Henderson when Richard turned eight, his family moved to Payson, Utah, and later to Nephi, Utah. Brandon was raised as a committed Christian and attended the Church of Jesus Christ of Latter-day Saints.
The music icon schooled partly at Juab High School but graduated from Chaparral High School in 1999. It is on record that Richard dropped out of College in order to face his music carer.
The young gifted music star in 2001 got his desired break after he responded to a newspaper advertisement placed by Dave Keuning in Las Vegas, which marked the beginning of the group known today as The Killers.
They were later joined by Mark Stoermer (a bassist) and Ronnie Vannucci (a drummer) then they became an official pop group in August of 2002. The group has recorded four studio albums between 2003 and 2013 Hot Fuss (2004), Sam's Town (2006), Day & Age (2008) and, Battle Born (2012). The albums have recorded unprecedented commercial successes.
Brandon Flowers' prowess in songwriting is seen in popular songs like All These Things That I've Done as well as Mr. Brightside that holds the record for most weeks spent on the UK Singles Chart. The Killers' second album which paid homage to Brandon Flowers' hometown and family; went on to earn the group their first BRIT Awards.
In 2017, they released their fifth studio album titled Wonderful Wonderful which made it to the number one spot on Billboard 200.
The group successfully headlined the "Salute to the Military" US Concert at the White House on July 4, 2010, and went on to sell out one of their biggest shows in the 90,000 capacity Wembley Stadium.
The talented musician had an impressive solo album release for  Flamingo in 2010 and his second solo album The Desired Effect (released 15th May 2015) was not exempted. The album featured many acts and it was eventually voted as the Album of The Year by The Sun and The San Francisco Examiner.
The Henderson native has continued to give nothing but his best in his music career which in turn has earned him about six Awards and several nominations. His earnings both from his band solo albums and concerts have amassed him wealth believed to be in the tune of $20 million.
See Also: Perry Farrell – Bio, Wife, Family, Net Worth, Facts About The Singer-Songwriter
Wife and Family of the Singer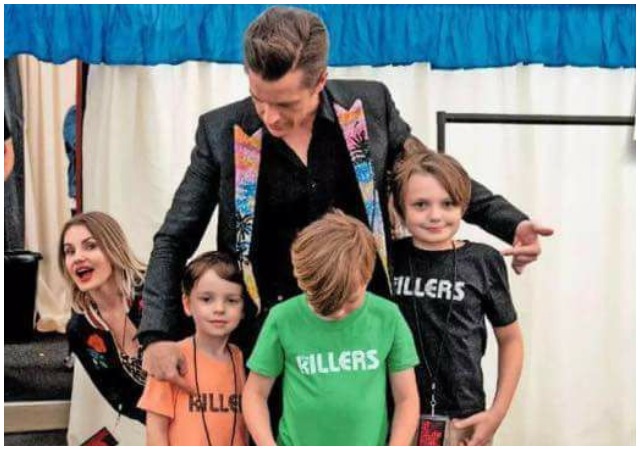 Bradon Flowers is the last child out of the six children birthed by his parents – Jean Yvonne and Terry Austin Flowers. He has one elder brother named Shane Flowers and four older sisters. He revealed that his parents met as teenagers and lived a lovely life worthy of emulation and in appreciation of their love, he dedicated a song to them titled A Dustland Fairytale in 2009 which is a part of the Killer's third studio album. Unfortunately, their mother died in 2010 at the age of 65.
The skilled instrumentalist has his own family with Tana Mundkowsky. Their union was consummated in 2005. Brandon Flowers' genuine love for his wife prompted him to write her a song titled Some Kind of Love during the time his lovely wife was suffered from complex Post-Traumatic stress disorder (PTSD). The ailment was so serious that Tana was said to have contemplated suicide. She seems to have recovered from the ailment. The couple is blessed with three sons: Ammon Richard Flowers (birthed in 2007) Gunner Flowers born in 2009 and followed by Henry Flowers sometime in 2011.
Brandon Flowers' Height
The Most Stylish and Sexiest Man Awards winner no doubt came packaged with good looks, charms, and grandeur. He stands at a height of 5 ft 10 inches (1.78m). Brandon Flowers' frame is supported by his weight of 85 Kilogram.