Brandon Flowers is an American musician who is popularly known as the lead singer and keyboardist of the rock band – The Killers. The work he does with this band is only half of what he has accomplished as a musician as Flowers is also a prolific solo artist who sings, writes songs, and has the ability to play a number of musical instruments.
As a solo artist, he has two solo albums to his name, as well as five studio albums recorded with his band, The Killers. The style of music he makes has been described as New Wave revival and as one of the first people who started this style, he is recognized as the prominent frontman for this sub-genre. The genius of his artistry has been rewarded with no less than six awards.
Brandon Flowers Joined The Killers After Responding To An Ad
In 2001, Dave Keuning put out an ad in the Las Vegas Weekly, calling on musicians. Brandon Flowers, who was two years out of high school and still trying to find his way in life responded to the ad. Shortly after, they were joined by Mark Stoermer and Ronnie Vannucci – a drummer. It was in August of 2002 that The Killers became an official rock band.
The group has recorded 4 studio albums between 2003 and 2017 starting with their debut album 'Hot Fuss' which was released in 2004, 'Sam's Town' came two years after in 2006, followed by 'Day & Age' in 2008. 'Battle Born' was released in 2012 while the last two albums – 'Wonderful Wonderful' and 'Imploding the Mirage' were released in 2017 and 2020 respectively.
All The Band's Albums Have Been Hits
The Killer's debut album's lead single, 'All These Things That I've Done' is unarguably the band's most popular song as it is on the list of 100 greatest songs of all time. Their song 'Mr. Brightside' was also very successful as it holds the record for most weeks spent on the UK Singles Chart despite being an American rock band's production. The second album written in honor of Brandon Flowers' hometown and family, went on to earn the group their first BRIT Awards.
All their five albums have experienced commercial and critical success and have cumulatively spent 1,000 weeks on the UK music charts, a feat achieved by very few artists. The group successfully headlined the "Salute to the Military" US Concert at the White House on July 4, 2010, and went on to sell out one of their biggest shows in the 90,000 capacity Wembley Stadium.
The Killers have also been the recipients of over 100 awards nominations including 7 Grammys and 8 Brit Awards but they have only won 32 of the awards they have been nominated for.
Brandon's Solo Career is as Successful as the one he has with The Killers
Nine years after the creation of The Killers, Flowers decided that he wanted to build a solo career and he did so with the release of 'Flamingo' in 2010. He made his solo career debut in Las Vegas in the Shimmer Showroom on the 15th of August, 2010. A show that was described as one of the best shows of the summer. More so, 'Flamingo' debuted on the top ten charts of all the countries it was released in and in the UK it was at the top of the charts.
Sometime in 2015, the other members of The Killers decided that they wanted to go on a hiatus, it was during this break that Brandon Flowers released his second solo album, 'The Desired Effect'. The album featured many acts such as Tony Levin, Carlos Alomar, and Bruce Hornsby and it was eventually voted as the Album of The Year by The Sun and The San Francisco Examiner. Regardless of the success that Flamingo had, 'The Desired Effect' topped that. Brandon Flowers has also collaborated with a number of other artists such as Alex Cameron, Robbie Williams, New Order, and the now late, Avicii.
Whether as a solo artist or a member of a band, Brandon Flowers has proven himself to be a brilliant musician. His first solo album was the fourth consecutive album on the number 1 spot on the UK charts which featured Flowers. His songwriting and artistry which heavily features influences from his life in Los Angeles is something he has been able to replicate in writing songs for his band and for his solo career. This has been praised as Brandon has showcased his skills as a talented musician across both careers and has gone on to translate his talents into success for himself and the people he works with.
Brandon Flowers and His Wife, Tana Bonded Over Her Dress Sense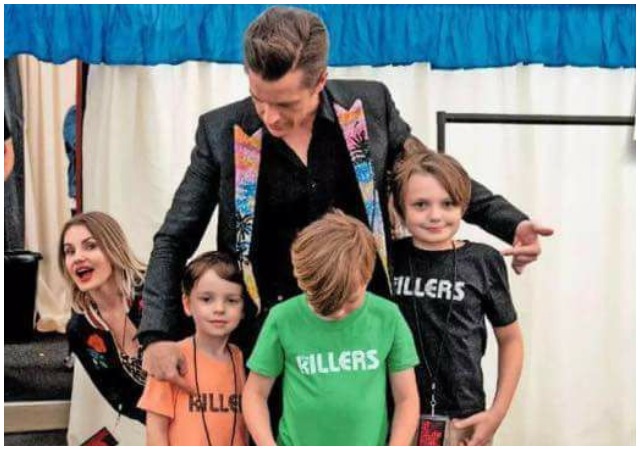 Brandon Flowers met his wife, Tana Mundkowsky in a thrift shop called Buffalo Exchange –  in the same year that he joined The Killers. Flowers was in the shop with Dave, in search of supplies for the band's first live performance and he saw Mundkowsky.
He was initially attracted to what she was wearing and this was fitting because Tana has worked in design. She used to work for Betsey Johnson and then as a manager at an Urban Outfitters outlet.
The two dated for four years before they got married in Hawaii in a very private ceremony. The family has expanded to include their three sons, Ammon, Gunner, and Henry who were born two years apart from each other in 2007, 2009, and 2011 respectively.
Tana Mundkowsky Suffers From A Mental Condition
It is known that Tana Mundkowsky has had a number of The Killers' song dedicated to her, most notably their 2017 song, 'Rut' from their album, 'Wonderful Wonderful'. She suffers from an extreme form of PTSD coupled with depression. The video of the song features a clearly distraught child who maintains her sadness up to adulthood which is the case of Flowers' wife as she has always suffered from depression even as a child.
Over the years, Brandon has had to cancel some of his tours to be with her during her bouts with depression. However, the family of 5 has been able to pull through the darkest of times and they are still tightly knitted. They have two homes, one in Nevada, Park City, and the other in Las Vegas but spend most of their time is spent at their Las Vegas residence.