E-Money (Real Name: Emeka Okonkwo; Born: February 18, 1981) is a 42 year-old Nigerian billionaire businessman, music producer, and philanthropist famous for being the CEO of the Five Star Music record label. His label is responsible for producing big names such as Kcee, Harry Song, and Skibi.
E-money's business interests have seen him invest in the real estate, transportation, and oil and gas industries, making him a key stakeholder in Nigeria's economic growth and development. He is also known for touching the lives of the less privileged in society through his unwavering generosity.
Profile of E-Money (Emeka Okonkwo)
Full Name: Emeka Okonkwo
Nickname: Emoney
Date of Birth: February 18, 1981
Place of Birth: Ajegunle, Lagos
E-Money's Age: 42 years old
Ethnicity: Igbo
Nationality: Nigerian
Education: European-American University
Marital Status: Married
E-Money's Wife: Juliet Okonkwo
Children: 3
Siblings: Kcee
E-Money's Net Worth: $30-$35 million
Instagram: iam_emoney1
Biography of Emeka Okonkwo
Emeka Okonkwo's life is the perfect example of the popular cliché '"from grass to grace." This young Nigerian billionaire was never born with a silver spoon but rather hails from a humble background. Emeka Okonkwo was born on February 18, 1981, at the popular Lagos slum, Ajegunle. He was raised along with his elder brother Kingsley Okonkwo popularly known as (Kcee) in Lagos.
His father was a Disk Jockey and businessman who sold CD plates and video cassettes at the time, while his mother supported him. Nevertheless, the odds turned in their favor; E-money became very rich, and he was able to build a befitting mansion for his parents. The billionaire has given his family the better life which they deserved as he continually lavishes them with all the luxuries of life they had ever desired. 
Many people have widely mistaken e-money being born and brought up in Lagos to be an indigene of Lagos. On the contrary, Emeka Okonkwo has his ancestry traced to Nigeria's eastern part. He is Igbo and a native of Uli village in Anambra state. E-money completed his primary and secondary education while growing up in Lagos.
Regarding his tertiary education, information has it that the business tycoon was awarded an Honorary Doctorate Degree in Business Management and Corporate Governance from The European-American University. This was announced on the Five Star's official Instagram handle.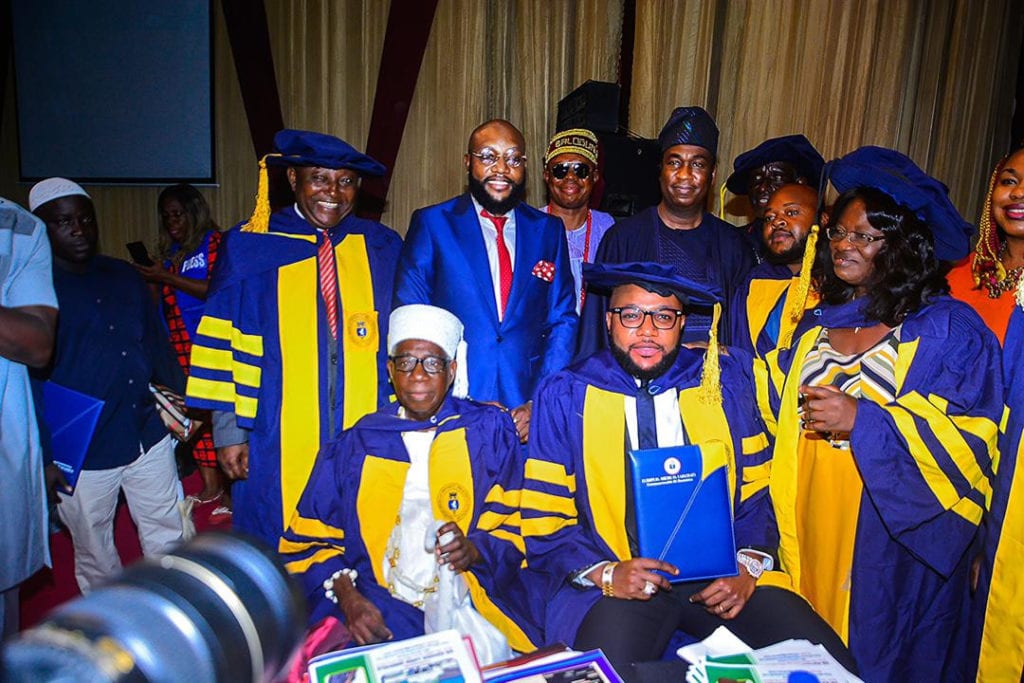 Tracing E-Money's Road To Wealth
It is interesting to know that the billionaire and philanthropist did not have an all rosy beginning as many would think. E-money has been such a hustler right from childhood, as he followed in his father's footsteps, who was a hardworking businessman. He grew up struggling to make ends meet along with his brother Kingsley, who is now popularly known as Kcee, the Limpopo master. At a time, their economic woes took a worse turn to the point of abject penury as they could not afford to offset their house bills, resulting in their eviction from their home.
With this unfortunate situation, the family became a little stranded that they resorted to squatting with relatives and well-wishers. It was gathered that at that time, the family was forced to leave Ajegunle where they lived because they could not pay their rent, which was N70,000 for a three-bedroomed apartment. At the time, his father had to patch up with some people. Meanwhile, their mother was accommodated by one of her sisters. 
Nevertheless, E-money and his sibling Kcee kept forging ahead. They both would often sleep in their car, a car which Kcee won during a Star Quest talent hunt competition. Sadly, the car, which was more of a home to the brothers, later got stolen, leaving them even worse off. To this end, E-Money decided to take up the challenge and became determined in learning to be a freight agent; little did he know that that decision would become a game-changer for him. From there, he started making headway in the work while he was patiently waiting in the wings.  
Fortunately, E-money broke the jinx of poverty in his life and that of his family shortly after his wedding. He received a call informing him that he has been awarded a contract worth $2 million on a faithful day. Fate smiled at him, and once that golden opportunity finally presented itself, he never let it slip from his fingers but maximized it to teeth until he became the young billionaire the world has known him to be today.
E-Money's Sources Of Income
Following the success of his first contract, E-money invested his profits from the contract in various money-spinning businesses, which he painstakingly nurtured until it grew into a great business empire.
Five Star Music Record Label
As an entrepreneur, E-money has created multiple streams of income for himself, some of which include the popular Five Star Music Record Label. This brand has produced and managed popular music stars such as Kcee, Harry song, Xbusta, and Skiibi.
There is also Five Star Oil and Gas, a shipping company he acquired way back in 1997, which is popularly called Emmy Cargoes and Emmy motors.
E-money is also into Real Estate, as he has acquired several multi-million naira mansions and several other properties while having a fleet of costly luxury and sports cars.
He is currently one of the richest entertainment executives in Nigeria. Though his exact current net worth is not really certain, some online sources have estimated it to be around $35million. 
His Philanthropic Deeds
E-money has also written his name in gold in the minds of so many due to his selfless philanthropic activities. He had done several good deeds to many people, both rich and poor starting from when he gave a surprising cash gift of N500,000 to Laura Ikeji, the sister to the famous Nigerian blogger Linda Ikeji. Again popular stars such as MasterKraft and, Duncan Mighty and others were also lucky to be among the recipients of his philanthropic acts.  
At a certain time, the young billionaire turned the fortunes of a shoe rack seller with a brand new car and a whooping N300, 000 cash as a New Year gift. Additionally, E-money has demonstrated beyond doubt that he is a caring boss to his workforce, as he has on countless occasions surprised his staff with car gifts during their birthdays. Going by all these, it may not be out of place to say that E-money is living his best life as far as the display of wealth and luxury in society is concerned. 
The Billionaire Has Only One Brother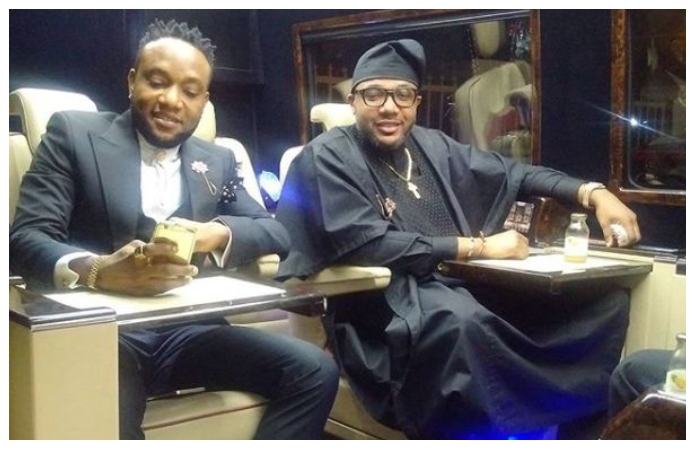 It is true that E-money is very famous in the Nigerian entertainment scene, but not as much as his eldest and only brother Kinsley Chinweike Okonkwo best known as Kcee. Kcee is an award-winning, talented songwriter and dancer. The musician rose to fame after he dropped his hit single "Limpopo" in 2013, which topped most charts on radio and television stations across the country. The track earned him several nominations, awards, and multi-million naira endorsement deals.
At first, he emerged as the Next Rated Artiste of the Headies Awards, the Music of the Year Awards still under the same platform in 2013. Kcee was nominated for the Most Gifted Dance Video Award at the Channel O Music Video Awards in 2013. In 2014 he was appointed Peace Ambassador by the African First Ladies Peace Mission (AFLPM) 
Nevertheless, the success of the music career of Kcee can never be completed without the immeasurably generous contributions of his brother, E-money, who independently finances and produces all his music, as well as giving him moral support needed to pursue his dreams. Today, Kcee is well celebrated and one of the richest Nigerian dance hall music artists with millions of fans across the continent and diaspora. Kcee's estimated net worth is reported to be about $4.5 million. 
E-Money's Wife and Children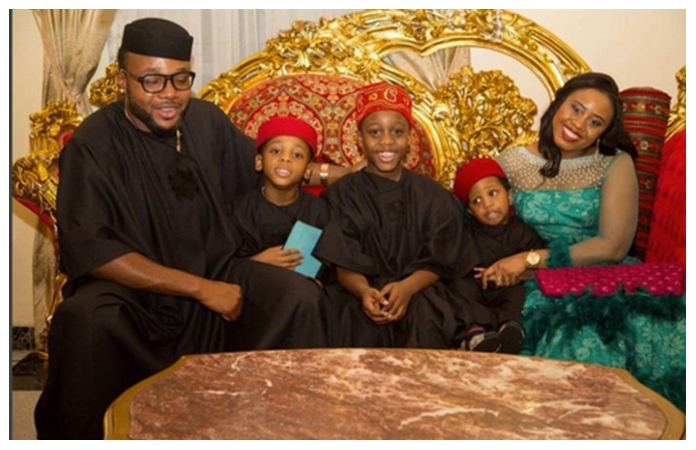 E-money has been happily married to his heartthrob Juliet Okonkwo for a decade now. The couple tied the knot when economic difficulty dwelled in the family as they were living from hand to mouth. Yet they lived happily and still stood for each other through thick and thin. But today, all of that is just but memories as the family now live in so much luxury that they can afford anything money can buy.  
Their union is blessed with 3 amazing children – all boys. E-money's wife and children currently live in the United Kingdom. In contrast, E-money stays back in Nigeria to oversee the family business. However, he wouldn't miss any opportunity to fly abroad and visit his lovely family anytime he felt the need to do so.