As the daughter of an evangelical minister, Lori Petty was far from life in Hollywood philosophically and physically. Yet, she made her way to the industry and has become one of its underground stars. She has appeared in more than 70 films and TV shows.
Out of her extensive filmography are notable starring roles in Free Willy, A League of Their Own and the 1991 Keanu Reeves film, Point Break. They have given her critical recognition, brought her fame, and been bright stars in a career that started in the mid-80s.
Before Becoming an Actress, Lori Petty was a Graphic Designer
She was born on October 14, 1964, in Chattanooga, Tennessee. Lori Petty is the daughter of a Pastor (father) and grew up with two siblings. Her dad's job took him to many parts of the country, and he usually went along with his children, most especially Lori, his eldest child.
Embarking on a lot of tours with her dad presented many difficulties with her academics. Still, Lori discovered her artistic inclination in the process which translated into excellent acting abilities afterward. However, she had no prior aspirations to pursue a career in entertainment.
She attended high school in Iowa, graduating from North High School in Sioux City. Lori Petty was a misfit at school, and it led her to become a loner, further equipping the budding star to better express herself. After leaving school, she looked for employment as a graphic designer, working for some years in Omaha, Nebraska.
However, she became jaded and started searching for a more exciting career. Acting seemed more like it, and she later went over to New York to join the acting school. Lori Petty was unsuccessful in her attempt to apply for Broadway productions and commercials in New York. This informed her decision to relocate to Loss Angeles and start auditioning for roles.
Out of 70+ Credits, She Has At Least Three Standout Roles in Her Career
She came in a small stint on the set of The Twilight Zone in 1986, portraying the character of a teenager with not much action than to look beautiful. By 1987, Lori Petty was already part of many television productions both in series and TV films like Bates Motel, Stingray, Head of the Class, and The Line.
The next year saw her in a short movie known as They Haven't Seen This, but her official movie debut was made with Cadillac Man in 1990. Since then, she has made at least 55 more appearances across both major onscreen acting mediums, with a few stand out roles.
Tyler in 1991's Point Break
When people speak of the 1991 action-crime film, Point Break, Keanu Reaves and Patrick Swayze rightly get a lot of praise for their performances. One other person who came out of the movie with a better reputation was Lori Petty, who starred as Tyler Endicott.
As Tyler, she played an orphaned woman who was the ex-girlfriend of Patrick Swayze and the love interest of Keanu Reaves – who also taught him how to surf. Despite being a supporting character, Lori Petty receives plenty of praise for her portrayal of the character, as an equal to Reeves' Johnny Utah.
The film itself received mixed reviews and earned a modest $83.5 million on a $24 million budget. Since it got released, the film has gained a cult following, solidifying Petty's place in film history.
Kit Keller in A League of Their Own (1992)
A combination of her previous TV roles and breakthrough turn in Point Break earned Lori Petty the reputation of playing misfits with a feisty personality. That reputation was further enhanced about a year after the Keanu/Swayze vehicle in the sports comedy-drama film, A League of Their Own.
In it, she plays Kit Keller, a bratty baseball player, and sister of Geena Davis' character, Dorothy Hinson. The film featured stars like Tom Hanks and Madonna. Playing Geena Davis's sister, Petty's character had a deep rivalry with her sibling, giving her the chance to act against the Oscar-winning actress.
Kit Keller held her own, and so did the rest of the cast. The film was a critical success and has been added to the United States National Film Registry. Commercially, the film was also a moneymaker, earning $132.4 million at the global box office on a $40 million budget.
Tank Girl in Tank Girl
In terms of commercial success, it is not the most successful work of Lori Petty's career. The film lost money, recouping only $6 million of its $25 million budget at the box office. Still, it remains one of the most significant roles of Lori's career, and one of her few roles in a lead role.
After an exhaustive search and the firing of the English actress, Emily Lloyd, Lori Petty got cast in the title role of the film. It is based on the post-apocalyptic comic series written by Alan Martin and Jamie Hewlett. In the story, Lori plays the rebel, Rebecca Buck aka Tank Girl, who goes up against the oppressive corporation, Water & Power.
Lori starred as the lead actress alongside other names like Naomi Watts, Ice-T, and Malcolm McDowell, who played the villain, Kesslee. The film received poor reviews from various critics, and consequently, performed poorly at the box office. Still, the film has developed a cult following. Lori's look remains a popular character at cosplay events, and Avril Lavigne paid homage to her in the song, Rock n Roll.
Lori Petty's Filmography Include Behind the Scenes Roles and Award Recognition
Other notable works in Lori Petty's filmography include Free Willy, and Orange Is the New Black. She played Lolly Whitehill across 24 episodes between the second and seventh seasons. One other major career achievement of the actress which should not be overlooked is her work as a scriptwriter and director for The Poker House.
The movie chronicled her childhood, including her abusive relationship with her dad, the mental and emotional trauma suffered by her mom. It also explored her decision to work as a prostitute to take care of her two daughters after she left her husband. The film starred Jennifer Lawrence, Selma Blair, and Chloe Grace Moretz.
Her career has also included award recognition. So far, in more than three decades as an actress, she has received four award nominations. She received two nominations from Screen Actors Guild Awards as part of the cast of Orange Is the New Black, for Outstanding Performance by an Ensemble in a Comedy Series. She and the cast won two of them.
Lori Petty's award recognitions include nominations from Los Angeles Film Festival for The Poker House and Prism Awards for NYPD Blue. She also has Best Supporting Actress award from Hollywood Reel Independent Film Festival for Fear, Love, and Agoraphobia.
Her Tomboyish Personality and Long-running Single Status Sparked Gay Rumors
A lot of actresses play gay characters, and they do a good enough job that fans believe they are truly gay. However, often, they get in a relationship with the opposite sex in the real world, and the rumor dies. But For fans of Lori, they have not had a real-world relationship involving the actress to cement or dispel their beliefs.
Throughout her career, she has played characters with ambiguous sexuality. Her character in the film, A League of Their Own, had a lesbian subtext. The story was similar in Relax…Its Just Sex, a movie filled with gay and lesbian characters. In Orange Is the New Black, she plays an outright lesbian, and the believability of her performance further escalated the rumors about her sexuality.
This, combined with her tomboyish looks and personality, has led many to believe she is, indeed, gay. Furthermore, Lori Petty is a single woman and has been for a long time. While a lot of actresses her age are married or have a string of past heterosexual relationships, Lori has none, except for a link to David Alan Grier in the 90s.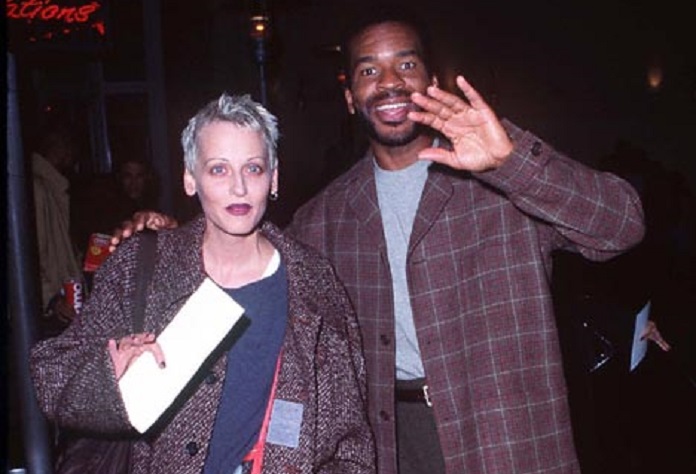 They reportedly dated, with a few public appearances together on the red carpet and outside by paparazzi. Since David, there have been zero links to anyone, and it does not appear there will be. However, it does suggest that the actress is a straight woman.
A Bad Childhood Experience Made Lori Petty Swear Off Marriage
So, if she is straight, why hasn't she gotten married? The answer goes back to her childhood years. Based on the experiences that formed the basis of the film, The Poker House, Lori has chosen to remain unmarried.
She said the abuse and emotional trauma her evangelical father made her mother go through planted an eternal hatred of matrimony in her. Does that explain why she does not have a known partner, seeing as she does not have to marry to be in one? We cannot say, but it appears it is an arrangement Lori is fine with.