Nafiz Modack (Born 1982) is a 41-year-old South African businessman also alleged to be an underworld boss. Nafiz, who is known to operate in and around Cape Town, became infamous as a result of allegations that range from fraud, extortion, intimidation, kidnapping, attempted murder, and murder of detective Charl Kinnear.
Profile Summary of Nafiz Modack
Full Name: Nafiz Modack
Gender: Male
Date of Birth: 1982
Nafiz Modack's Age: 41 years old
Nationality: South Africa
Sexual Orientation: Straight
Marital Status: Married
Nafiz Modack's Wife: Riana
Nafiz Modack's Parents: Ruwaida Modack (mother)
Famous For: Crime – alleged murder of Charl Kinnear
Nafiz Modack Hails From a Family of Alleged Criminals in Cape Town
Modack was born in 1982 to a mother named Ruwaida Modack who has also been in and out of court for different crimes. She was accused of bribing a police officer alongside Modack for favors in 2011. In 2019, Ruwaida was arrested and arraigned in court alongside Nafiz Modack for extortion as related to forcefully taking the club scene of Cape Town. The allegations further claimed that Ruwaida and Nafiz forcefully took control of the security of these clubs as well as restaurants in received payment in exchange. Shortly afterward, however, they were granted bail.
Nafiz's brother, Yaseen Modack, is also no visitor to the courts as a result of criminal charges that include extortion. In early 2021, he was involved in a shoot out which was believed to be an attempt on his life. Fast forward to October 2021, the three family members ended in the nest of the South African police for murder alongside other charges.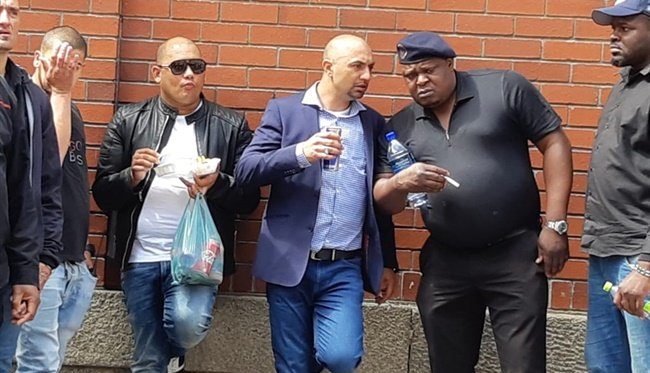 His Father Was a Businessman
Apart from Nafiz's mother and brother who reached the spotlight for their alleged involvement in crime, he has other family members that include his father and stepmother. However, there is limited information about them.
His father nonetheless was a businessman. To enlarge his business, he took a loan with Nafiz as his surety. Things started sailing the wrong way for Nafiz Modack when the company that issued out the loan to his father began asking for it back. When he was unable to pay, his estate and other valuable assets were seized.
Nafiz Gained Fame For Alleged Extortion and Intimidation
Although his name may have been heard for different purposes in Cape Town, such as business, he gained the media's attention when he was called out for extortion and intimidation. Nafiz was further accused of conniving with corrupt policemen. In addition, he was allegedly threatening entertainment places with security. This would lead him to receive huge sums in order to give them the security they wanted.
Modack denied these allegations by calling himself a simple businessman who was only providing security to vulnerable people, including event and entertainment places. On the account that he was teaming up with some corrupt officers of the law, Modack claimed to be receiving information from his community that could be used by the police.
Apart from this, Nafiz was dragged to court in 2018 by a panel beater for purportedly coughing out R1.5 million out of him in a claim that he would get a property. However, the panel beater reportedly neither got his money back nor the property. In retaliation, he would go on to keep a Ferrari that Modack brought to his workshop. This action did not go down well with Modack who according to news turned to threaten the life of the panel beater.
His Involvement In The Murder Of Charl Kinnear
The murder of Charl Kinnear is one of the renowned murders and crimes in South Africa in recent times. Kinnear was a detective for 31 years until he was shot multiple times and killed on September 18, 2020. The motive for the killing is not far-fetched from the claim that Charl intimidated Modack and was at the forefront of bringing his underworld crimes to the open. Prior to that, he survived an assassination attack with a hand grenade that was reportedly linked to Nafiz Modack and Anti-Gang Unit (AGU) head, Andre Lincoln.
Several accusations were laid and Modack's name became the center stage of the case. First, it was reported that the alleged crime lord made a payment of about R12,000 with other gifts to have a grenade planted in Charl Kinnear's home in November 2019. The grenade did not end up killing Kinnear and several arrests were made. The people arrested include Amaal Jantjies, Farez Smith, and Janock Adonis. One of the accused, Amaal Jantjies, claimed that the grenade was arranged by Major-General Andre Lincoln. According to her, she had never met or had any meeting or transaction with Nafiz. The authority thinks otherwise. They claimed that 2 vehicles and R7,000 were given to her by Modack – a claim she again denied.
The denial, however, did not get Modack off the hook of the South African law enforcement agency. He was still regarded as a prime suspect who had masterminded the act and used several people, including police, to bring his crimes to fruition.
All The Evidence Against Nafiz Modack
A witness reportedly told the authorities of a deal with Modack to track cellphones. It was also outlined that Charl Kinnear's phone had been tracked long before his murder.
The authorities traced a Whatsapp message and other contacts between Nafiz and Amaal Jaintjies who is in custody for the attempted murder of Kinnear in 2019.
Other evidence presented in court includes text messages, voice and video recordings that implicate Modack as a suspect.
There was a financial transaction between Modack and Jantjies as claimed in an affidavit. The transaction is said to coincide with the attempt to end the life of Kinnear on 5 different occasions.
The court has its hand of an affidavit created by Captain Edward du Plessis that shows the details of the payment Modack supposedly made to Kilian who is also in custody for murder and attempted murder among other crimes. The payment by Modack to Killian as claimed by the authorities was between 26 February 2020 to 4 September of the same year – shortly before Charl Kinnear was killed.
The authorities claim that between 28 August 2018 to October 1, 2020, Modack made suspicious transactions of about R1.2 million to 4 accounts. The motive is believed to be for crime-related purposes, including the murder of Kinnear.
Is Modack Still in Custody?
There have been proceedings to get Nafiz Modack out on bail but all has so far proven futile. According to the prosecutors, letting the reputed criminal out of prison could lead to his tampering with some of the evidence the state has against him. His attorney, on the other hand, thinks that the evidence that links Modack to the crimes is circumstantial and possibly inadmissible.