Nonkanyiso Conco is a beautiful South African entrepreneur and reality television star who burst into the limelight when it came to light that she was in a relationship with former South African President, Jacob Zuma. Conco, who is also known as LaConco, made so many headlines with regards to her relationship with the former president, especially when it emerged that she had become pregnant for the popular politician.
As expected, the media and curious South Africans made a rush to find out about the woman who had captured their president's heart and Nonkanyiso Conco's life changed forever. The young woman, who had lived away from the limelight all her life, was thrust into immense popularity as her story became a trending matter in the entire country. However, things didn't quite turn out as expected for Conco and her lover.
Nonkanyiso Conco Began To Date Jacob Zuma In 2013
The exact manner in which Nonkanyiso Conco and Jacob Zuma first met is not very clear. This is mainly because Conco, who hails from Thornville, a town in Richmond Local Municipality in the KwaZulu-Natal province of South Africa, has not talked about this part of her love affair with Jacob Zuma, neither has Zuma volunteered to clear the air.
This notwithstanding, we know that their romance dates back to the year 2013. We know this because her very close friends made the revelation. According to Conco's close friends, Conco began to brag about dating Zuma in 2013. At the time, he was still the president of South Africa so it was understandably a very big deal for her.
However, Nonkanyiso Conco only bragged about her relationship with Zuma to her friends as she made sure no one else knew about it. She and the popular politician kept their relationship very secret for a long time before the media caught up with them.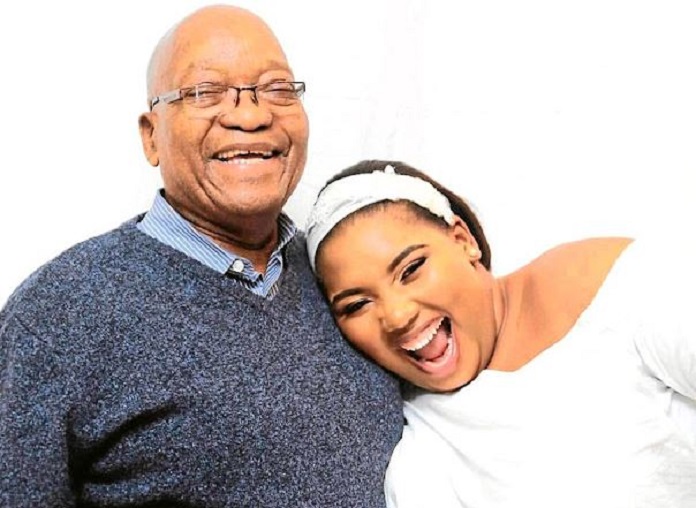 Conco Became Zuma's Fiancee After She Got Pregnant
Nonkanyiso Conco and Jacob Zuma continued their relationship for about five years before it became apparent that they were dating. News about the couple's relationship broke out in 2018 when Jacob Zuma proposed to Conco. She even showed off her engagement ring on Instagram at the time. Zuma also proceeded to pay her bride price 'lobola'. At this time, Zuma had already resigned as president.
According to reports, Zuma proposed to Conco and then paid her bride price after she got pregnant for him. He did this in accordance with a longstanding Nguni tradition, which the Zulu tribe adhered to. Zuma is a Zulu man so he knew it was honorable to pay a woman's bride price before having his child by her.
When the news of their relationship emerged, it quickly shot Nonkanyiso Conco into the limelight. Everyone wanted to know who she was and this got Conco more attention than she had ever gotten in her life.
She Gave Birth On Zuma's Birthday
Nonkanyiso Conco gave birth to Jacob Zuma's baby on April 12, 2018, the former president's birthday. The child is now 4 years old. Zuma was born on 12 April 1942 so he shares the same birthday with his son.
The birth of their baby did a lot to bring more attention to Conco as the general South African public, especially those in Zuma's clan, became curious about whether or not the former president will eventually marry Nonkanyiso Conco.
There Is A Huge Age Gap Between Conco And Zuma
Interestingly, there is a really huge age gap between Nonkanyiso Conco and Jacob Zuma. The former South African president who was born on the 12th of April 1942, is currently 80 years old. It is not clear what day and month Nonkanyiso Conco was born, however, we know she was born in 1994, meaning she is 52 years younger than Jacob Zuma!
It is noteworthy that, at the time the news emerged that they were dating in 2018, Jacob Zuma was 76 years old and Conco was 24. Of course, the age difference between the two caused some tongues to wag as people slammed the former president for dating someone so young. Others slammed Conco, accusing her of being a gold digger who only wanted to milk Zuma of his wealth.
Of course, the backlash did not get to the couple who proceeded with the payment of the bride price ceremony and got the whole country anticipating their wedding ceremony.
The Anticipated Wedding Did Not Happen
Even though it was quite an anticipated event, the wedding between Jacob Zuma and Nonkanyiso Conco did not happen. After the birth of their child, the couple kept a low profile while Jacob Zuma, who was facing several charges of corruption, battled his own problems with the law in court.
Meanwhile, in mid-2020, news emerged that Jacob Zuma had parted ways with Conco. According to the report, Conco's father, Fartescue also confirmed that his daughter had broken up with the former president. He went on to reveal that Conco had left the home that Zuma got for her in Zimbali and moved in with her mother in the Eastern Cape. The main things that caused the breakup between the two remain undisclosed.
If Zuma had tied the knot with Conco, she would have been his seventh wife. She would have also been his youngest partner, considering the age gap between them. Zuma, who is widely known to be a polygamist, already married six wives in the past. However, it is noteworthy that he has been divorced once as his marriage to Nkosazana Dlamini-Zuma ended in 1998. He is also separated from one of his wives, Nompumelelo Ntuli, who was accused of trying to poison him while he was still president. Also, another one of Zuma's wives, Kate Mantso, died in 2000 after allegedly taking her own life.
Nonkanyiso Conco Is Now A Reality TV Star

At the moment, Nonkanyiso Conco is single. She has also gone on to do something with her life after leaving Jacob Zuma. As a matter of fact, she is now a reality TV star. Conco stars in the 1Magic show called The Real Housewives of Durban. She joined the cast of the show in 2021.
During the show, Conco initially introduced herself as someone's 'fiancée', and this raised speculations that she was still engaged to the former president. However, she eventually cleared the air and revealed that she is not dating anyone.
Apart from being a reality star, Conco is also a businesswoman and has her own luxurious skin-care range called LaConco Naturals. Her skin-care products are made with mango and shea butter infused with essential oils. She is also making an impact in her society by hosting seminars for ladies called Women in Conversation with LaConco.