Most children often find it hard living up to the legacies of their parents. However, if there is one person who has not only lived up to, but surpassed his parents' achievements, then it is certainly Richard Marx. The son of two musicians, Marx started singing commercial jingles when he was just five. He has since gone on to establish himself as one of the greatest pop/rock artists of all times. The singer has also sold over 30 million records and remains the only male artist in history to have his first seven singles reach Billboard's top five.
Who is Richard Marx The Singer?
Richard Noel Marx was born on the 16th of September 1963 in Chicago, Illinois. He grew up in Highland Park, Illinois and attended North Shore Country Day School. Marx started singing when he was just a child. Even though his initial efforts were confined to just jingles, his musical talent shone through and many people predicted that he would be a great artist someday. On receiving his high school diploma in 1981, Richard Marx promptly headed out to Los Angeles to pursue his music career. He initially found it difficult landing a record deal and had to content himself with penning lyrics and singing backup for other artists. Marx finally made a breakthrough in 1984 when two of his songs were recorded by famed country artist, Kenny Rogers. Both singles charted on Billboard and by 1985, Marx had bagged a record deal with EMI/Manhattan Records.
Career
Richard Marx dropped his eponymous debut album in 1987. The album was a major success, spurning four charting singles and selling nearly four million copies. The singer did not allow this early taste of fame to get to his head but worked hard and dropped his second album, Repeat Offender, in May 1989. Repeat Offender was even more successful than its predecessor. It not only topped the Billboard album charts but was certified platinum five times. It also spawned some of Marx's unforgettable hits including Right Here Waiting.
Since Repeat Offender, Richard Marx has dropped other successful albums including Rush Street (1991), Paid Vacation (1994), Flesh and Bone (1997), Days in Avalon (2000), and My Own Best Enemy (2004). The Chicago native has also collaborated with other artists including Cher, NSYNC and Luther Vandross. Marx actually co-wrote and co-composed Vandross' evergreen song, Dance with my Father.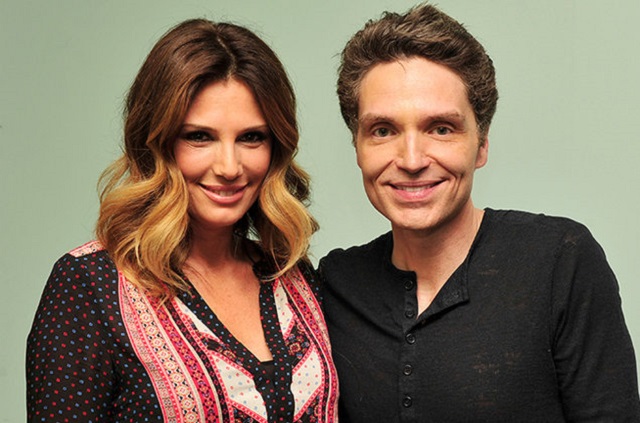 Family
Richard Marx hails from a family of musicians. His father's name was Dick Marx while his mother's name is Ruth nee Guildoo. Dick Marx was an accomplished jazz pianist and arranger. He started out as a piano player in the nightclub circuit before landing a steady gig as the accompanying player for prolific jazz vocalist, Helen Merrill. After a successful stint with Merrill, the senior Dick struck out on his own and started writing commercial jingles. He also composed music for a few movies and TV series, and later passed away in 1997.
Marx's mom, Ruth was also a singer and mostly provided vocals for the jingles that her husband composed. Richard Marx is the only child that his parents had together. The singer, however, has three half-siblings courtesy of his father's previous marriage. They are half-sisters, Nancy and Judy, and half-brother, Jim.
See Also:  Who Is Keith Richards, Is He Still Alive? How Old Is He, How Much Is He Worth?
Who is Richard Marx Married to now as a Wife?
The famed singer has been married on two occasions. His first marriage was to retired actress, dancer, and singer, Cynthia Rhodes. Rhodes is a native of Nashville, Tennessee and started performing as a teenager. She appeared in several dance-themed movies such as Dirty Dancing, Flashdance and Saturday Night Fever, and also danced in several music videos. Marx and Rhodes commenced their relationship in 1985 and tied the knot in January 1989. They were married for 25 years during which they welcomed three sons, Brandon, Lucas, and Jesse. The couple sadly called it quits in 2014.
Marx is now enjoying marital bliss with model, actress, TV host and philanthropist, Daisy Fuentes. Fuentes was born in Cuba on the 17th of November 1966. Her family fled the island nation when she was just a child and later settled in America. Fuentes first found fame as the pioneer Latina VJ on MTV. She has since gone on to become an accomplished actress and model. She also has her own lucrative line of clothes, haircare, fragrances etc. Marx and Fuentes commenced their relationship in 2014 and tied the knot in Aspen, Colorado in 2015.