Most children often find it hard living up to the legacies of their parents. However, if there is one person who has not only lived up to but surpassed his parents' achievements, then it is certainly Richard Marx. The son of two musicians, Marx started singing commercial jingles when he was just five. He subsequently relocated to Los Angeles at the age of 17 to pursue his music dreams and landed his first recording contract by the age of 22. Since then, Marx has gone on to establish himself as one of the greatest pop/rock artists of all time.
He has also sold over 30 million records and remains the only male artist in history to have his first seven singles reach Billboard's top five. Marx has equally built up a reputation as an extraordinary lyricist; penning songs for likes of Kenny Rogers, Luther Vandross, and Keith Urban. To date, the award-winning singer has penned numerous songs out of which 14 have topped various Billboard charts. He now holds the singular distinction of having written songs that have topped the Billboard in the last four decades.
It Was Lionel Richie Who Encouraged Richard Marx to Pursue Music
Richard Noel Marx first started singing when he was just a child growing up in Highland Park, Illinois. His parents noticed his talent and so encouraged him to continue in that direction. His dad went a step ahead to recruit him to sing jingles for his production company. The young Richard, therefore, ended up supplying his voice to ads for companies such as Peter Pan, Peanut Butter, Nestle Crunch, and Arm & Hammer Baking Soda.
Marx continued singing jingles until a collection of his songs eventually wound up in the hands of popular singer and ex-Commodores member, Lionel Richie. Richie was quite impressed with what he heard and encouraged the young boy to keep it up. He assured him that he had the musical talent to make it far but made him no cogent promises. Richie's prediction would later prove to be true but it didn't happen overnight.
On receiving his high school diploma in 1981, Richard Marx promptly headed out to Los Angeles to pursue his music career. He initially found it difficult landing a record deal and had to content himself with penning lyrics and singing backup for other artists. The young lad contributed backup vocals to several songs on Lionel Richie's debut album including All Night Long, You Are, And Running with the Night. He also sang backup for greats such as Whitney Houston, Madonna, and Kenny Rogers.
Whilst singing for Kenny in the year 1984, Marx overheard him saying that he needed some songs to complete his forthcoming album. He immediately dove into action and came up with two songs for the musician namely Crazy and What About Me. Both songs were quite excellent and not only made it into the album but went on to top the Billboard country charts. Despite this feat, Richard Marx still found it hard to score a recording deal himself. This weighed him down but he stuck in there and eventually scored a recording deal with EMI/Manhattan in 1985.
#TBT Backstage in #Miami with @DonJohnson in 1987. #throwback pic.twitter.com/QXozzI4Fa4

— Richard Marx (@richardmarx) February 20, 2020
All of His Hard Work Paid Off with the Resounding Success of his First Two Albums – Richard Marx and Repeat Offender
Having received the long-sought recording deal, Richard Marx immediately got to work on his debut eponymous album. He also sought help and inputs from other musicians, such as Joe Walsh, Timothy Schmidt, Randy Meisner, and Fee Waybill, and the resultant effect was his 1984 eponymous debut album.
The album was a huge success, selling about four million copies. It also spurned four singles, Should've Known Better, Endless Summer Nights, Don't Mean Nothing, and Hold On To The Nights, which all charted in the top 3 of the Billboard Hot 100. This feat saw Marx make history as the first solo male singer to have four singles from his debut album make it to the top 3 on the Billboard Hot 100. He also received a Grammy nomination for best rock vocal performance for Don't Mean Nothing.
Richard Marx did not allow this early taste of fame to get to his head but worked hard and dropped his second album, Repeat Offender, in May 1989. Repeat Offender was even more successful than its predecessor. It not only topped the Billboard 200 album charts but was certified five times platinum. It also spawned some of Marx's unforgettable hits including Right Here Waiting and Satisfied.
Both songs topped the Billboard Hot 100 charts and went on to sell at least a million copies. Right Here Waiting also topped the charts in several countries around the world and fetched Marx his second Grammy nomination, this time for best pop vocal performance male. The song has since become an evergreen hit and has been covered by several popular musicians including R&B singer, Monica, in 1999.
#TBT to performing in 1989. pic.twitter.com/WHmVIkq5Jh

— Richard Marx (@richardmarx) July 19, 2018
Over Three Decades Down the Line, Marx Continues to Soar with Releases Such As Limitless
It has been about three decades since Repeat Offender and Richard Marx continues to be a force to be reckoned with in the music industry. One fact that accounts for his longevity is his industriousness. The Illinois native is not just content to rest on his laurels; performing old hits as well as releasing greatest compilation albums from time to time like some of his peers. He rather drops into the studio regularly to churn out new work and this has seen him drop about 12 studio albums overall.
They include Rush Street (1991), Paid Vacation (1994), Flesh and Bone (1997), Days in Avalon (2000), My Own Best Enemy (2004), Emotional Remains (2008), Sundown (2008), Christmas Spirit (2012), Beautiful Goodbye (2014), and Limitless (2020). Richard Marx does not also bury his head in the sand like the proverbial ostrich. He rather acknowledges that new musical influences are coming up each day and makes efforts to keep up with them. He also reaches out to leading contemporary artists for collaborations and thus benefits from their creativity.
Such an open mind-set accounts for the success of Marx's 12th studio album, Limitless. The 2020 album featured vocal and lyrical contributions from the likes of Sara Bareilles, Jason Wade, Jana Kramer, and Darrell Brown. All of these came together in a five-track work which charted in countries such as Australia, Germany, and Switzerland. It also received good reviews from several sources including Red Guitar Music which described it as a nice record with expertly-crafted songs.
#tbt In the studio with my dear friend, Luther Vandross in 1997. http://t.co/aiSQOQGsmm pic.twitter.com/Gv5LwD0Nxr

— Richard Marx (@richardmarx) July 31, 2014
Richard Marx co-wrote the popular Luther Vandross song, Dance with my Father
Richard Marx may have made it as a musician but that has not stopped him from writing and composing songs for other artists. To date, the Chicago native has penned tracks for dozens of other artists and now holds a record for having about 14 of the songs he wrote/co-wrote top various Billboard charts in four different decades.
They include What About Me – Kenny rogers (topped the Billboard adult contemporary charts in 1984), Crazy – Kenny rogers (topped the country charts in 1985), Don't Mean Nothing (topped the mainstream rock chart in 1985), Hold On To The Nights (topped the Billboard hot 100 in 1988), Satisfied (topped the Billboard hot 100 in 1989), and Right Here Waiting (topped the Hot 100 and adult contemporary charts in 1989).
Others are Keep Coming Back, Hazard, and Now And Forever (which topped the Billboard adult contemporary charts in 1991, 1992, and 1994 respectively. There is also This I Promise You – N'Sync (adult contemporary chart in 2000), To Where You Are – Josh Groban (topped the adult contemporary in 2002), Dance with my Father – Luther Vandross (adult R&B in 2003), Better Life – Keith Urban (country songs 2005), and Long Hot Summer – Keith Urban (topped the country songs in 2011).
The most popular track that Marx has co-written is arguably Luther Vandross' 2003 evergreen hit, Dance with my Father. The song evoked poignant memories of the young Luther, and his mom, dancing with his late dad, and Marx joined hands with the legendary singer to effectively capture these memories. The result was a global hit that charted in the U.K., Australia, Switzerland, and America. It also won two Grammy awards including the award for song of the year (for both Marx and Luther) and best male R&B vocal performance (for Luther).
He has Produced Whole Albums for Musicians Fee Waybill, George Canyon, and Emerson Drive
Need more convincing that Richard Marx is a legend in the music game? Well, the Grammy winner is also an accomplished producer and has produced several of his hit tracks including Right Here Waiting, Your Goodbye, and Hold onto the Nights. Marx has also produced tracks for several other artists including The Last Words You Said – Sarah Brightman, If You Ever Leave Me – Barbra Streisand and Vince gill, This I Promise You – N'Sync, To Where You Are – Josh Groban, and Suddenly – Toni Braxton.
Marx has also done extensive production work for the likes of George Canyon, Fee Waybill, and Canadian country music band, Emerson Drive. For Emerson Drive, he produced all 14 tracks on their fourth studio album, What If?, released in 2004. Some of them are Fishin' in the Dark, You're Like Coming Home, Take It From Me, and Running Back To You. The album made it to No. 12 on the Billboard Country Music Charts as well as No. 2 on the top heatseekers albums charts.
For Canadian country singer, George Canyon, Marx produced all 13 songs on his sixth studio album titled What I Do. The album dropped in 2008 and made waves throughout Canada with singles, such as Just like You, All or Nothing, Betty's Buns, and I Believe in Angels, all charting. In like manner, Richard Marx also served as the primary producer for Fee Waybill in his 2020 album, Fee Waybill Rides Again. The album features about nine tracks, including Faker, How Dare You, Don't Want to Pull the Trigger, and Promise Land, and Marx co-wrote and co-produced every single one of them.
#fbf With my dad and my maternal grandfather on the set of the "Endless Summer Nights" video in downtown LA 1988. #endlesssummernights #80s pic.twitter.com/0StcJY4j3N

— Richard Marx (@richardmarx) January 12, 2018
His Late Dad, Dick Marx, was an Accomplished Jazz Pianist
Richard Marx hails from a family of musicians. His father's name was Dick Marx while his mother's name is Ruth nee Guildoo. Dick Marx was an accomplished jazz pianist and arranger. He started out as a piano player in the nightclub circuit before landing a steady gig as the accompanying player for prolific jazz vocalist, Helen Merrill. After a successful stint with Merrill, the senior Dick struck out on his own and started writing commercial jingles. He also composed music for a few movies and TV series, and later passed away in 1997.
Marx's mom, Ruth was also a singer and mostly provided vocals for the jingles that her husband composed. Richard Marx is the only child that his parents had together. The singer, however, has three half-siblings courtesy of his father's previous marriage. They are half-sisters, Nancy and Judy, and half-brother, Jim.
He and Actress/Dancer, Cynthia Rhodes, Were Married for about 25 Years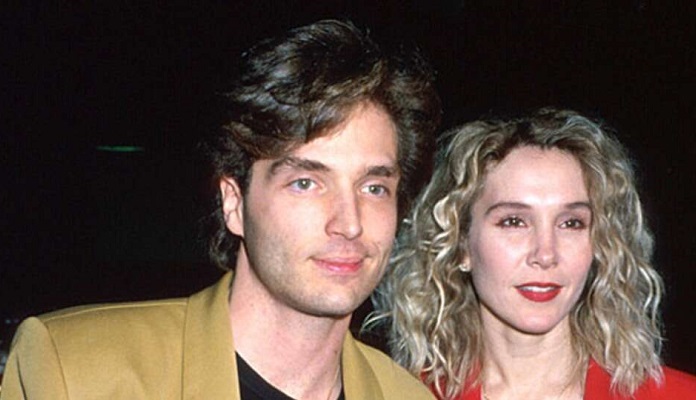 The famous singer has been married on two occasions. His first marriage was to retired actress, dancer, and singer, Cynthia Rhodes. Rhodes is a native of Nashville, Tennessee, and started performing as a teenager. She appeared in several dance-themed movies including Dirty Dancing, Flashdance, staying alive, Curse of the Crystal Eye, and Saturday Night Fever. She also danced in music videos for musicians such as Bee Gees, Toto, and The Tubes.
Marx and Rhodes first crossed paths with each other in 1983 thanks to the film, Staying Alive (Marx did the soundtrack while Rhodes featured in the film). They took a shine to each other but the actress declined any romance as she was concerned that she was much too old for Marx being seven years older. The pair parted as friends but fate brought them together at a party in 1985. This time, they did not hesitate to commence a relationship and tied the knot, four years later, in January 1989.
The couple was married for 25 years during which they welcomed three sons, Brandon, Lucas, and Jesse. They made their home in the Chicago suburb of Lake Bluff and had a smooth relationship. They sadly called things quits in 2014 with the divorce being amicable.
The Grammy Winner is Now Married to Former MTV Vee-jay, Daisy Fuentes
Marx is now enjoying marital bliss with the model, actress, TV host, and philanthropist, Daisy Fuentes. Fuentes was born in Cuba on the 17th of November 1966. Her family fled the island nation when she was just a child and later settled in America. Fuentes first found fame as the pioneer Latina VJ on MTV. She has since gone on to become an accomplished actress and model. She also has her own lucrative line of clothes, haircare, fragrances, etc.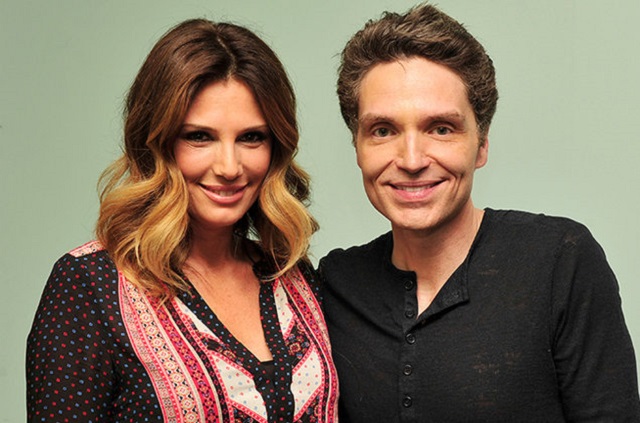 Marx and Fuentes commenced their relationship in 2014 and tied the knot in Aspen, Colorado on the 23rd day of December 2015. The couple remains together to date and Marx has credited his wife with encouraging him to enjoy and celebrate his milestones. The TV personality has also helped her husband with his life's work. She featured in the video for his 2014 single, Beautiful Goodbye. She also contributed lyrics to his 2020 track – Let Go.
Last night all of my sons came over for dinner. We talked about everything from Kanye to the pineal gland. If I've learned anything in my 56 years, it's that at the end of the day all that matters is love and family. I'm so grateful that my sons are my best friends. pic.twitter.com/nitsixv9aE

— Richard Marx (@richardmarx) October 28, 2019
Marx and Fuentes do not have any kids together but the singer has three sons from his first marriage. The boys are all grown now (in their middle and late 20s) and their father describes them as incredibly talented, with good reason. The oldest, Brandon, is into electronic and hip hop music while the youngest, Jesse, is hard-core rock. The middle son, Lucas, is the one that has taken after his father with his love for pop and R&B. The duo collaborated on the 2020 track, Another One Down. They co-wrote the song while Lucas produced it for his dad. Their efforts were rewarded as the track made it to the top 15 of the adult contemporary charts.