Davido has an estimated net worth of $20 million (approximately N8.2 billion) while Wizkid's net worth is pegged at $21 million (approximately N8.6 billion), thus, Wizkid is slightly richer than Davido.
The music history of Nigeria in the 21st century would be incomplete without mentioning two of her brightest musical exports – Wizkid and Davido. These two artists have not only taken Nigeria's music to the world, but they have also attracted a cult following amongst their fans, with some sort of rivalry building up between both artists over the years. Consequently, many have always wanted to know what the net worth of both Wizkid and Davido is and who among the two is more successful financially.
Is Wizkid Richer Than Davido?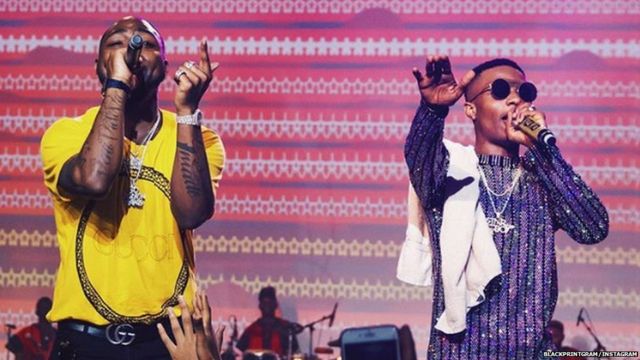 There are several accounts – largely unsubstantiated, about who is the richer artist between Wizkid and Davido, probably for almost a decade now, and it doesn't seem like the furor generated by this comparison would die down anytime soon. One thing is clear; both artists have been very successful in their own rights. They have been hugely rewarded financially for their creativity, but the question still remains – who is richer between Davido and Wizkid?
The net worth of Davido has been put at about $20 million (approximately N8.2 billion) as of the year 2020, while that of Wizkid has been put at $21 million (approximately N8.6 billion). This would mean that Wizkid is slightly richer than Davido by $1 million, which further buttresses the strong and healthy "rivalry" that has existed between both artists over the years.
Income Streams And Endorsement Deals of Wizkid And Davido
The primary sources of income for most musicians in Nigeria are their musical tours, online music streaming services and downloads, personal businesses, and brand endorsement deals, and it's no different for both Wizkid and Davido.
Davido
Davido has always been among the top 5 Nigerian artists on most music streaming sites, and that sure pulls in a lot of revenue for him. Moreover, he has had several sold-out shows and concerts over the past few years, which has added generously to his wealth. His music videos also enjoy millions of likes and views on YouTube – evidenced by one of his songs, Fall, which is enjoying about 207 million views already.
His first major endorsement deal on record was with a major telecommunications company in Nigeria, MTN Nigeria, and he was the face of MTN Pulse in a deal worth ₦30 million. He also signed an endorsement deal with Pepsi, which was rumored to be worth ₦25 million, and another one with Guinness Nigeria, which saw him perform with other musicians at the Guinness World of More concert.
Davido's biggest endorsement deal to date was struck with the Hong Kong-based smartphone manufacturer Infinix Mobile, but the details of the deal are not readily available to the public. He was unveiled as a brand ambassador for Martell Cognac in 2021, and he has endorsement deals with other brands such as 1X Bet, Close Up, and TravelBeta. Endorsement deals constitute a big part of Davido's net worth.
Wizkid
Wizkid's songs have been at the top of most music streaming services and music download sites for a while, and many brands have recognized his popularity and are exploiting it to their advantage. His first major endorsement deal came in 2012 with Pepsi and was worth about $350,000 at the time; the deal was renewed for another 2 years subsequently.
In 2013 he signed a one-year endorsement deal with MTN Nigeria and also with Guinness Nigeria – where he performed with other musicians at the Guinness World of More concert. In 2015, he was signed as a brand ambassador with a telecommunications company, Glo, in a deal worth ₦128 million.
2018 saw him seal a deal with global sportswear manufacturer, Nike, to promote his line of StarBoy Clothing-inspired Nigerian football jerseys – which sold out in about 10 minutes from its launch.
Wizkid's biggest endorsement deal to date came in 2019 when he was signed as a brand ambassador by a Nigerian bank, United Bank for Africa, in a deal worth about $3 million (a whopping ₦1 billion at the time). He also has endorsement deals with Ciroc and the sportswear brand Puma, which he signed in 2020.
Who Is More Accomplished Between Davido And Wizkid – Considering Their Age?
Davido was born on November 22, 1992, which puts his age at 30, while Wizkid, on the other hand, was born on July 16, 1990, putting his age at 32. The measure of who is the more accomplished artist between Wizkid and Davido depends on the perception through which one wants to evaluate the level of their success. One way to measure who is the more accomplished artist between Davido and Wizkid is to look at the number of awards they have garnered to date.
Wizkid, according to information available from reputable sources, is clearly the contemporary Nigerian artist that has received the most awards and international recognition to date. He is one of the few Nigerian artists who has won a Grammy Award and the artist who has received the most awards at The Headies – a record 12. He has 3 awards each from BET and Billboards Music Awards and 2 awards each from Soul Train and MTV EMAs. In all, he has received a total of 65 awards from over 200 nominations.
Davido is also a well-recognized artist, not just in Nigeria alone but all over the world, and while he may not have received as many awards as Wizkid, he is clearly the one with the most followers of the two artists. In terms of awards (of note), he has received 2 awards each from the MTV EMAs, BET, and MTV African Music Awards. He has won awards in Nigeria and Ghana, too, to mention a few to date, and with the way he is going, it's just a matter of time before a lot more honors keep rolling in. In 2019, Davido was mentioned as one of the Top 100 most influential Africans by New African magazine, recognizing his talents in the industry over the years.
Wizkid And Davido Are Involved In Several Other Business Ventures
Fame has brought many opportunities for both Wizkid and Davido, and they are trying to make the best out of what life has got to offer them.
Wizkid Owns A Record Label – StarBoy Worldwide
In 2013, Wizkid floated a record label he called StarBoy Entertainment, through which he intends to help other artists grow and become the very best they were destined to be. At the inception, he had fellow artists like LAX and producer Malek Berry, signed to his label. Three years later, he changed the name of the label to StarBoy Worldwide and signed up artists such as Mr. Eazi, Efya, and R2Bees with the expectations of taking his label global. In 2018, he announced the launch of his clothing line called Star Boy, which saw him collaborating with sportswear manufacturers like Nike and Puma.
Davido Has Also Diversified Into Management And Owns A Record Label – Davido Music Worldwide (DMW)
Davido has enjoyed unprecedented fame and fortune over the last decade and he has made attempts to diversify his talents into management as well. In 2016, he founded a record label called Davido Music Worldwide (DMW) which has become more popularly known as his famous 30 Billion Gang (30 BG).
Though he initially started the label with close family members like B-Red and Shina Rambo, who are upcoming musicians, he has also signed other fast-rising musical acts such as Mayorkun, Peruzzi, Dremo, Ichaba, and Yonda. He is always on the lookout for more talents that he can feather under his wings and mentor to attain global acclaim and recognition just like himself.
Who Is More Popular Between Wizkid And Davido?
Popularity is a relative term/concept, and it may be subject to individual or even collective perception, acceptance, and understanding. As Davido and Wizkid have been two of the most prominent musical artists in Nigeria over the past few years, who both draw very vast followership across the country and the world, the subject of who is the most popular among both of them has been asked almost every time.
The Social Media Statistics Of Both Artists
Youtube: Davido has over 2.54 million subscribers on this platform and more than 904 million video views as of mid-2021, while Wizkid, on the other hand, has over 1.8 million subscribers with more than 577,482 million views at the same time.
Facebook: Davido has over 7.1 million followers on this platform – which really isn't his engagement forte, while Wizkid has 5.9 million followers on this platform – which seems like his preferred means of engagement with his teeming fans.
Instagram: Davido has 20.5 million followers on this multi-media platform and has made over 4,000 posts over the years, while Wizkid has over 12.3 million followers and has just made over 100 posts in about the same period of time.
Twitter: On this platform, Davido has over 9.5 million followers, while Wizkid has about 8.6 million followers as of mid-2021.
Social media statistics cannot be the only criteria to determine the popularity of both artists, as several millions of their followers, especially those who love their music across the entire country are not active on social media and still have their individually preferred artists. Good music cuts across all age, and social class divides, and it may be hard to use just these numbers to measure the popularity of these artists alone.
Lifestyle And Luxuries Wizkid And Davido Indulge In
Both artists have, over the years, always sung their lungs and hearts out about making and spending money as they like buying all the good stuff, and it seems they weren't just singing it; they are actually living it. Many of their supposed "fans" and "frenemies" have actually criticized them for spending lavishly instead of giving more to the needy.
Davido Unashamedly Flaunts His Wealth On Social Media
Davido seems to be the more flashy of both artists, and he sure hugged all the news headlines when he let out a cryptic message that he would be buying a private jet. One shouldn't expect less from the leader of the 30 Billion Gang (30BG) as his crew is called. However, it turned out that his wealthy father was actually the owner of the business jet and not the singer.
Davido most recently took delivery of a 2021 Rolls Royce Cullinan reported worth about $500,000 (an estimated cost price of ₦205 million), and he shared his good news via his social media while thanking his fans for making it happen. He has several other choice cars in his garage, including a Bentley Bentayga 1, Porsche Panamera Turbo S, Range Rover Autobiography, an Audi A8, and two Mercedes Benz SUVs – an AMG GLS 63 and G 63. He also boasts of cars such as a Range Rover Sport Autobiography edition, Rolls Royce Phantom, Ferrari 458, Chevrolet Camaro GS, Toyota Landcruiser, and a few others.
Davido owns two houses in Lagos, Nigeria – one in Lekki valued at about ₦140 million and a more recent one reportedly worth about $1.5 million (approximately ₦615 million) in the prestigious Banana Island part of Lagos. There are rumors that he owns a mansion in Atlanta, Georgia, in the United States of America, reportedly worth about $20 million, but this has not been confirmed. He is known to be very generous to his fans and admirers, often dolling out sizeable sums of money to those who reach out to him in their time of need.
Wizkid Had A Humble Beginning And Has Tried To Stay True To His Roots
Unlike Davido, Wizkid is from very humble beginnings, and those close to him attest to the fact that he is very humble and has not forgotten where he is from. Little wonder why his known house is built in the Surulere area of Lagos State – where he was born and actually grew up.
Moreover, he is rumored to be building or contemplating buying a multi-million dollars mansion in Banana Island, just like most of his celebrity friends. There are also rumors that he owns a multi-million dollars mansion in Los Angeles in the United States of America, but he has never confirmed this to be true.
He is known to love jewelry a lot and recently got some golden (though some say it is diamond-encrusted) teeth grills, which he has flashed several times in his music videos. He is also an admirer of exotic timepieces, gold chains, and even diamond-encrusted earrings.
Wizkid was one of the first Nigerian artists to have purchased a Bentley Continental GT. Other cars in his garage include Porsche Panamera and Cayenne, the 2018 Lamborghini Urus, BMW X6, and a few other choice automobiles. He is known to be very generous to those who started with nothing like him, and he has been seen spraying money on his admirers during shows.
Even though their tastes differ, there is no doubt that Davido and Wizkid enjoy the life of luxury that comes with their celebrity status. They have tried to give back to society, friends, and fans and also spend on their immediate family. Davido and Wizkid make "the money" and know how to spend it.