Rita Edochie is one of the celebrated actresses in the Nigerian acting scene. She commenced her Nollywood career in 1997 after she had put in several years working as a radio presenter at Anambra Broadcasting services (ABS). After her debut in the role of a mother in Waterloo, the actress recorded her breakthrough on the set of the epic movie Igodo and has gone on to become one of the prolific actresses that ever came out of Nollywood. However, Rita's appearance in films seems to be dwindling in recent times and according to the mother of four, it's due to the poor remuneration that entertainers are currently paid.
Away from the acting scene, Rita Edochie seems to be an active member of an Onitsha-based church run by Prophet Chukwuemeka Ohanemere Odumeje. Recently, in 2021, the actress was enmeshed in a scandal involving the man of God and popular comedian Mmesomma Mercy Obi who goes by the stage name "Ada Jesus". The young lady who was 23 before her death released a video claiming that the actress was involved in performing scam miracles with Odumeje. The duo, she said, coarse and pays people to act like they are sick when in actual fact, nothing is wrong with them. This particular video went viral and needless to say, it had a snowballing effect on both Rita and her man of God. But this is just the tip of the iceberg.
Profile Summary Of Rita Edochie
Full Name: Rita Edochie
Date of Birth: 16th of April
Nationality: Nigerian
Education: Nnamdi Azikiwe University
Parents: Unknown
Height: Unknown
Occupation: Actress, movie producer
Years Active: 1997 to date
Net Worth: $600,000
Who is Rita Edochie?
The birth details and family background of Nigerian actress Rita Edochie are not in the public space and we cannot say who her parents and siblings are. However, it is common knowledge that she celebrates her birthday every 16th of April and the records captured the actress' place of birth as Onitsha in Anambra State, Nigeria. In an interview session, Rita, who is of the Igbo extraction revealed how she spent her early years with an uncle of hers Mr. Okaka who was a staff of the Nigerian Railway Corporation. According to the entertainer, she was just two years old when she started staying with Uncle Okaka; this happened immediately after the civil war ended and she was taken there by her mother.

Consequently, Rita completed her elementary education in uncle Okaka's house but when it was time for the actress to enter secondary school, she returned to her place of birth in Onitsha. Rita Edochie narrated how she got married immediately after secondary school but that did not stop her from going for further academic qualifications. She eventually gained admission to study Mass Communication at Nnamdi Azikiwe University Awka, graduating in 1990.
Rita Started Her Career As A Broadcaster
Immediately after she finished from Nnamdi Azikiwe University Awka, Rita Edochie landed her first job at Anambra Broadcasting Services where her husband was already a staff member. At the media outfit, Rita had the opportunity to work as one of their radio presenters and she was good at her job.

The Onitsha-born star stayed with ABS until 1997 when she decided to explore other avenues which took her into the Nigerian acting scene. With her busy schedule in Nollywood, one would think that Rita already resigned from ABS but when quizzed on the issue, the former presenter said she did not really retire. Rita told a tale of her ongoing lawsuit with the Anambra State Government that sent her on compulsory retirement in 2008; this led the actress to sue the authorities to the tune of ₦500 million and the case has been in court for a while.
How She Got Into The Movie Industry
On how she joined the Nigerian movie scene, Rita Edochie narrated that marrying into the family of broadcasters and actors played a huge role in her decision to join Nollywood. According to the actress, she followed the footstep of the legendary Ebubedike of Things Fall Apart, Pete Edochie, who is the older brother of her husband, Tony Edochie.

With that said, the movie star also mentioned that she always had the flair for acting right from her days in primary and secondary school, thus, all the credits do not go to her association with Pete Edochie; though he was a major influence. Acting, Rita said is something that is inborn in her, something she loves so much and has always had the flair for. However, the coincidence of marrying into the family of moviemakers and broadcasters only accelerated her decision to join Nollywood.

On why she choose to hang on to broadcasting while working in Nollywood, the movie star said acting and broadcasting are interlinked and she loves doing both.
Rita Edochie Made Her On-screen Debut in 1997
Rita Edochie was speaking about her early days in Nollywood when the actress narrated how she made her acting debut on the set of the 1997 movie Waterloo. According to Rita, she played the role of a mother in the film, and before long, scored another role in Evil Men, however, it was immediately after her role in the epic movie Igodo that everything sparked off. To date, people regard Igodo as her break-out role while some say it was August Meeting.

During Rita's early days in the Nigerian movie scene, the actress wasn't doing much according to her IMD page. In 1998, she only surfaced in a single movie, Arusi Iyi, 1999 was when she was featured in Chain Reaction but in 2001, the blossoming star surfaced in two productions namely, Onye-Eze and the sequel, Onye-Eze 2. The actress only showed signs of becoming prolific with the advent of 2002 when she graced the screen in six movies – Aka Gum, Evil-Doers, Evil-Doers 2, My Love, Tears & Sorrows, and Tears & Sorrows 2 which was the concluding part.
By 2003, the movie star started surfacing in films in quick succession and it came as no surprise that she recorded all of 18 appearances before the year came to a close.

In 2004, Rita Edochie graced the screen in a total of eight productions and to date, 2005 has remained her most prolific year as the Anambra native scored 23 roles. Rita did 19 movies in 2006 but sadly, her onscreen appearances started reducing by 2006 when she only showed up in six movies.

Between 2006 and 2016, she only made a single appearance in The Storm and presently, the actress led us to believe that she is back in the movie scene again and has one film in post-production titled Mami Water where she will be depicting the character of Mama Efe.
This is Why Rita Edochie is No Longer Very Active in Nollywood
With her reduced appearance in the Nigerian movie scene, fans started speculating that the actress may have resigned but when quizzed, Rita Edochie refuted the claims, saying she is not likely to resign from acting since it is something she can do even in old age. On the reasons for her reduced onscreen appearances, the Anambra native said it was all because of their earnings that have been greatly slashed. A famous artist who used to earn from ₦1 million and above is now offered as low as ₦400, 000. And in worse cases, ₦200, 000.

Absolving the movie producers of all blame, Rita Edochie laid the blame at the doorstep of the pirates whose activities no longer allow the moviemakers to harvest the full potentials of any film they release. On what she has been doing to fill the time, the actress narrated how she has been traveling from the United Kingdom to The Gambia where she spent some time doing business just to ensure her family is well catered for. But Rita is back and presently shooting a video in Enugu.
Rita Is On A Campaign To Create More Igbo Content On TV
In addition to being an actress, Rita Edochie also dabbles in movie production and according to the movie star, she loves the African culture and this is reflected in most of her movies which are epic. Rita expressed regret that the people of Igbo extraction no longer speak Igbo which is fast becoming embarrassing. Unlike the Hausa and Yoruba that have airtime on African Magic as they have produced a good number of movies to create content for their tribe, Igbo is sadly lagging behind. Rita narrated how she went to the Africa Magic office to request airtime for the Igbo tribe where she wants to put her latest epic program that is currently under production, but they refused, saying that Igbos lack content.

Rita, who also agreed that the Igbos lack content has since been moving from one Igbo moviemaker to the other, calling on them to join efforts in creating content for the Igbo tribe. The actress urged them to start making Igbo films and other things like the new yam festival and Ofala that will showcase the common heritage of the Igbos since it's all about culture and tradition in African Magic.
Rita Edochie Has Tidied Up A Few Awards To Show For Her Years Of Hardwork
Rita's hard work and dedication in the Nigerian movie scene has not gone unrewarded as the Onitsha-born actress has bagged a handful of awards in the long run, they include;
Best Actress in Supporting Role from the African Movies Academy
Best Actress in a Leading Role from the Africa Magic Viewers Choice
Universal Peace Federation decorated her with Ambassador For Peace Award in 2016
Inside Rita Edochie's Controversy Involving Comedian Ada Jesus and Prophet Chukwuemeka Odumeje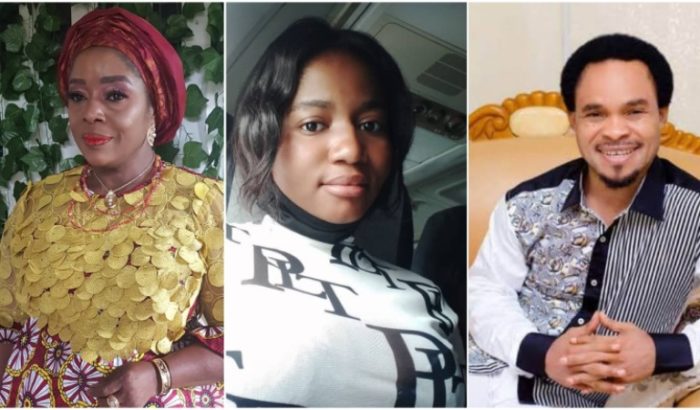 Earlier in 2021, young Nigerian skit maker, Ada Jesus (real name, Mmesome Mercy Obi) came on the internet to accuse a known Onitsha-based pastor Prophet Chukwuemeka Odumeje, AKA Indabosky, of performing fake miracles. According to the comedian, Rita Edochie was heavily involved in the scam as she was among those who organize the fake miracles. Ada Jesus also said Rita would usually coarse and pay people to feign ailments and after the prophet lays hands on them in prayer, they will claim they got healed when in actual fact, there was nothing wrong with them. Going on, the comedian also revealed how she would help the actress get men who would sleep with her.
Following the accusations, Ada Jesus became seriously ill and the ensuing diagnosis read kidney failure. As if that was not enough, she was left paralyzed within a short time as her condition was tagged "medically impossible to treat". Soon, speculations started making the rounds that Ada Jesus' predicament was the resultant effects of the accusations she leveled against Odumeje as many believed the prophet cursed her in anger. Ada was advised to go back to all the people she offended on social media, Rita and Odumeje inclusive to plead for forgiveness.
Edochie and Odumeje's Reactions to Ada Jesus' Plea
Consequently, the comedian's family took her to Prophet Odumeje's church in Onitsha to seek forgiveness from both the man of God and Rita Edochie. Reacting to her pleas, Odumeje refused to accept the skit maker's apologies until she provides believable evidence in support of her claims. The Onitsha-based pastor, while recounting the damages the comedian's video which went viral on social media did to his reputation, asked Ada to go and get the others with her. In his own words, Odumeje asked the people to go fish out those he allegedly does fake miracles with, otherwise, he will start with their generation when he is done with the skit maker. One interesting aspect of this drama was that it happened in the prophet's church in the presence of his congregation who looked on in awe. Besides, it was all caught on camera and the ensuing video went viral with the speed of lightning.

On her own part, Rita Edochie who was present during the whole drama was even laying more curses on the sick girl. Speaking in her native language, Igbo, the Nollywood actress told Ada that she will die from the ailment so other people can learn their lessons.

Despite all her avowals not to forgive Mmesomma, Rita Edochie released an Instagram video on the 11th of April 2021 where she announced that she finally found it in her heart to forgive the skit maker for the false allegations she spread against her. The actress also leveraged the video to advise people to stop heaping insults on men of God, especially Odumeje. Rita also said the reason she has remained with the man of God is that he is good for her and people should stop treating her as an object of mockery for following the prophet. She mentioned that humans tend to do whatever they are comfortable with and she is comfortable with Odumeje, thus, people should leave them alone and look for their own comfort elsewhere.

Prophet Odumeje also came out to say he has forgiven the comedian, donating the sum of ₦1 million to the family to take care of her medical bills. Other well-meaning Nigerians like activist, Harrison Gwamnishu also contributed towards Ada Jesus's medical bills.
The Actress' Reactions After The Death Of Ada Jesus
Even though Rita Edochie came open to say she forgave Ada Jesus before her death which occurred shortly afterward, Nigerians showered her with criticisms on social media for the role she played in the whole drama. Reacting to the criticisms, Rita took to Instagram to share some video clips. The content of the first video was a choir rejoicing and singing, chanting "Jesus is Lord"; she used the chant to caption her post.

The next video which lasted five minutes showed a man of God preaching; she captioned it "Jeeeeesus is Lord forever. Almighty Lord made me a strong woman and that I will remain. The seed can never be killed."
A third video showed a lady singing; Rita captioned it "Lord, have your way in my heart."

The last video for the day surfaced hours later with the caption, "In Jesus, I stand, I pity you that don't know."

There were people who said she would no longer score roles because of the comedian's death and Rita Edochie replayed them with an IG post, saying she is actually on set filming at the moment.

Below are some of the reactions from people;