Sam Harris net worth is estimated at $2 million. He is an American philosopher, neuroscientist, author, and podcast host. 
Most people know Sam Harris as one of the foremost atheists in the world today. Many people also know that the American author and neuroscientist has stirred controversy with some of his views on religion. However, what about Harris' net worth, is he rich? What has he been able to garner for all his troubles? All these and more questions about the media personality are answered below.
Who is Sam Harris?
Samuel Benjamin Harris was born on the 9th of April 1967 in Los Angeles, California. His father's name is Berkeley while his mother's name is Susan. He grew up in California, and his formative years were largely devoid of any religious attachment. Harris initially attended Stanford University and majored in English. During his time in college, he dabbled into ecstasy and these drugs propelled him to new heights of spiritual insight.
Harris sought to recreate these heights but without the influence of drugs. He, therefore, bade farewell to Stanford and traveled to countries such as India and Nepal. Harris spent the next two years soaking up all he could about meditation.
He also did lots of reading, philosophy, and contemplation, and his parents supported him through the period. Sam Harris later returned to Stanford and completed his philosophy degree in the year 2000. The media personality also went on to complete a Ph.D. in cognitive neuroscience at UCLA.
What is Sam Harris' Net Worth?
Sam Harris has been able to gather a decent amount from his thriving career. The hitherto struggling writer was motivated to write his very first book, The End of Faith, after the 9/11 attacks. The End of Faith was a direct response to these attacks; and argued that ideologies, faith or belief systems influence people's actions. The End of Faith spent over 30 weeks on the New York Times bestselling list. It also won the PEN/Martha Albrand Award for best nonfiction.
Since this successful debut, Harris has released several other books including Letter to a Christian Nation (2006), The Moral Landscape: How Science Can Determine Human Values (2010), Lying (2011), Freewill (2012), Waking Up: A Guide To Spirituality Without Religion (2014), Islam and The Future of Tolerance: A Dialogue (co-authored with Maajiid Nawaz – 2015).
These books have all gone on to become New York Times bestsellers and have been translated into more than 20 languages. They have also been dissected in several publications including the New York Times, Time Magazine, Scientific American, Nature, and Rolling Stone.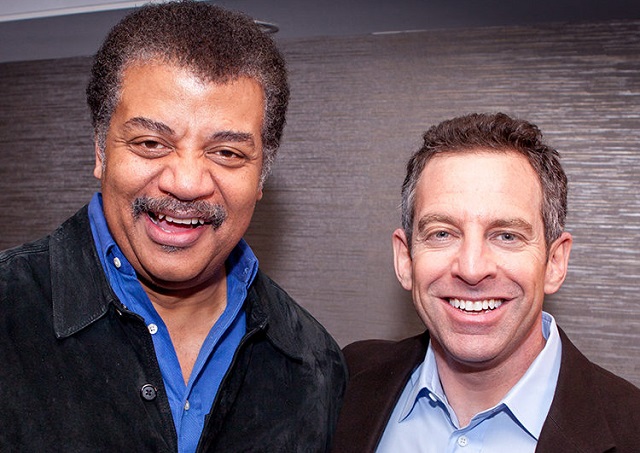 Sam Harris' net worth has been further boosted by his thriving media career. The California native has penned articles for several international publications. He is also a highly sought-after public speaker on matters of philosophy, morality, spirituality, and religion.
Harris is also the host of a successful podcast known as Making Sense (formerly Waking Up). The podcast gives him the opportunity to espouse his views, duel with critics and interact with guests. The Making Sense Podcast has been listed amongst iTunes best while PC Magazine named it amongst the podcasts you should download now. The podcast also won the 2017 Webby Award for best podcast in the science and education category.
Additionally, Harris is the creator of a mediation app known as Waking Up. This initiative stems from his passionate belief that humanity can learn a lot from the traditions of meditation found in Buddhism and Hinduism. According to the author, we are all sleepwalking and meditation helps to break us out of that spell. All the above-mentioned ventures have boosted Sam Harris' net worth to an estimated $2 million.
Sources of Sam Harris Net Worth
Income from his bestselling books, including "The End of Faith," "Letter to a Christian Nation," "The Moral Landscape," "Lying," "Free Will," "Waking Up: A Guide to Spirituality Without Religion," and "Islam and the Future of Tolerance: A Dialogue."
Revenue generated from his podcast, "Waking Up with Sam Harris," which has a large following.
Money earned from his high-profile lectures, public appearances, and debates on various topics, including neuroscience, religion, ethics, politics, terrorism, and artificial intelligence.
Income from his meditation app and other related ventures.
Possibly earnings from his non-profit organization, Project Reason.
Sam Harris' father, Berkeley Harris, was a working actor, and his mother, Susan Harris, is a notable television writer and producer who created "The Golden Girls." While this may not directly contribute to Sam's net worth, it suggests that he may have come from a relatively affluent background, which could have provided him with more opportunities to pursue his interests and build his career.
Controversies
Sam Harris has courted controversy with some of his views on Islam. The author believes that Islamic values are not compatible with secular humanist values and that a lot of mayhem has been waged under its banner. These views have made some to call the California native a racist and Islamophobe.
In October 2014, Harris debated with Hollywood star, Ben Affleck, on an episode of Real Time with Bill Maher. Affleck accused the author of islamophobia and Harris, seemingly intimidated by the actor's physical and celebrity presence, didn't say much.
He, however, fired the last salvo as he and Affleck were walking backstage. Harris informed the movie star that if they were to burn a copy of the bible on live TV, it would cause controversy but will not ruin lives. However, the reverse will be the case if they were to stage a burning of the Quran on live TV.