Sandile Shezi (born 1993) is a 30-year-old South African forex trading wizard who has a net worth of $2.3 million. The trading expert made his money by taking the risk of investing his university tuition fees into forex and dropping out to focus better on his investment. Shezi's investment made him a millionaire at the young age of 23. 
He would go ahead to found the Global Forex Institute, which is geared towards training young people who wish to learn the basics of investing in forex trading. Shezi also set up The Sandile Shezi Foundation to solve the financial, health, and educational needs of the less privileged. Today, he claims to have churned out over 10,000 people, with some of his protégées already telling their success stories.
Profile Summary Of Sandile Shezi
Full Name: Sandile Shezi
Date of Birth: 1993
Nationality: South African
Education: The the Durban University of Technology and Harvard
Parents: N/A
Height: N/A
Occupation: Forex trading
Years Active: N/A
Net Worth: $2.3 million
1. Sandile Shezi Grew Up On The Dusty Streets of Umlazi
There is no inkling of information about the identity of Sandile Shezi's parents, thus, we cannot say who they are, where they come from, and the type of work they are engaged in. In the same vein, absolutely nothing has been said about the young South African millionaire's siblings which makes it difficult to decipher whether he is an only child or not. However, from what we could sieve from reports, Shezi spent a better part of his formative years on the dusty streets of Umlazi – one of the townships located in Southern Durban, South Africa.

The youngster's exact date of birth has never been shared with the public but reports which surfaced in 2019 claimed he was 26 years old at the time, this led several other sources to go ahead and peg his year of birth at 1993. However, they are yet to unravel the exact date his birthday falls on. If the sources are to be believed, it only means that the young millionaire has already hit 28 as of 2021, but his face and physical appearance have made people doubt that age as Shezi looks way younger.
2. Sandile Shezi Came From A Poor Background
One aspect of Shezi's life that is widely known is the fact that he came from humble beginnings. His background has been described as a struggling one, the type that can be found in humble South African neighborhoods. In a bid to change his story, Shezi never allowed the lack that characterized his childhood to deter him from reaching for greater heights. Rather, he converted it into a motivator that propelled him to work up a thirst and quest for a better life. Even at the tender age of 12, his desire to break out from the shackles of poverty was already evident as the youngster already started hawking muffins just to put some extra money in his pocket.

Even when he became an object of ridicule among friends and peers, Sandile Shezi never backed down as he was steadfast in his little business, moving from house to house selling both muffins and clothes. No doubt, his house-to-house clothing sales venture gave him a good understanding of what running a business implied.
3. Shezi Dropped Out of University
Shezi was a university student trying to claw his way up the rungs when he first got wind of forex trading, and as a young entrepreneur with his door-to-door muffin and clothing business, the prospect did sound like the right notes. Sandile's interest was instantly piqued but as an undergraduate heavily dependent on his low-income earning parents, the youngster lacked the substantial funds to invest. Merely funding his tuition and course materials took a lion's share of his education funds and barely anything will be left for his personal upkeep. Seeing forex as something that may herald a turning point for him and left with no other choice, the young hopeful decided to dam all consequences and take a big gamble. Sandile Shezi took all his academic funds and invested in forex which he knew was akin to leaping onto quicksand.

Intermittently, Shezi began to see small funds trickling in which led him to drop out of school in his third year in a bid to have ample time to focus on his new venture; the youngster did this without the knowledge of both parents. Now, this broth could have soured up for Shezi in a hundred different ways but somehow, fate and providence seemed to be smiling on him as he hit the jackpot. The quicksand obviously had mercy on him and the deal ultimately paid off! Thus, he became a millionaire overnight at the tender age of 23. Of course, his parents got mad when they realized he quit school, but a fortune of $2.3 million USD is more than enough to douse any anger.

Despite the young millionaire's remarkable achievements, he deemed it necessary to return to the classroom. Today, Shezi is credited as an alum of the Durban University of Technology with a National Diploma in Public Relations, Advertising, and Applied Communications. Going for further academic qualifications abroad, Shezi joined Harvard where he did a global leadership program. Even though he took the risk of dropping out of school to face forex trading, Shezi is always quick to advise young people to avoid toeing a similar line; his reason is that the forex market tends to be very volatile.
4. He is Solely Involved in Forex Trading and Training
As earlier mentioned, Sandile Shezi has always known he would follow a career path in business and from hawking muffins and cloths, he got into forex trading. This marked the beginning of his journey up the success ladder and today, he has written his name in gold in the global forex scene. Shezi is the founder and chief executive officer of Global Forex Institute – a company that has emerged among the best in the business. With more visible advancements made, Shezi projected himself as one of South Africa's most successful forex traders. His strategy of establishing additional trading centers and learning institutes in SA became highly effective which went on to make Global Forex Institute one of the biggest the country can boast of.

Global Forex Institute has its base in Kwazulu Natal, precisely in the Umhlanga region. We must mention that becoming a millionaire at 23 did not come easy for Shezi. However, the youngman has a mentor in George Van der Riet who has been in the forex trading business for close to two decades. A partnership with George was what gave rise to Global Forex Institute and with a man of Van der Riet's ilk to look up to, it came as no surprise that Shezi has recorded resounding success in a high-risk business at a very young age.

Right from its inception, Global Forex Institute has been steadfast in bringing affordable and effective Forex training to the masses. The company made headlines in 2014 when it emerged winner of the African Forex Expo Award in the category of Best Training and Education Provider.
5. Sandile Shezi is Worth $2.3 Million And Still Counting
The forex wizkid's company Global Forex Institute is the type that loves to go public with all their information. After trading and earning from the forex market, they publish all their results on the website for the benefit of those who are curious to know. The last review of the youngster's fortune pegged it at a handsome $2.3 million which is majorly earned from forex trading.

After scoring those life-changing numbers, Sandile became an instant hit and his forex heroics started trending both in his home country South Africa and beyond. Thanks to his meteoric rise, the SA native become a motivational speaker, a globetrotter, as well as the poster boy for the youngest self-made millionaires on a global scale.
6. Sandile Trains People Through Global Forex Institute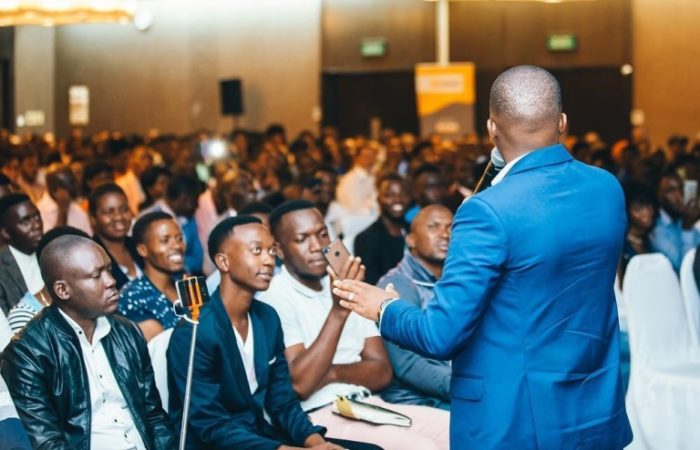 Since Sandile Shezi's decision to invest in the high-risk forex trading market did not mar him, the young millionaire has decided to do his best in giving back to society. Shezi accomplishes this through his company, Global Forex Institute which has created a platform to train young people on the dynamics of forex trading. In collaboration with George, Sandile developed a course that is currently used in the training exercise. Shezi who strongly believes in the forex market as a viable venture is targeting to leverage it in reducing the teeming unemployment rate in South Africa.
Today, Sandile's company is known as the only one in all of SA that offers Forex Training to curb unemployment and not to make income. What's more, all the mentoring and training do not attract charges or fees as everything is done free of charge. What they do at the company's training center is seen as community work; as the trainees learn, they are at liberty to link their individual accounts to that of Global Forex Fund through which they can earn some income while still in training.
Another focus of GFI is creating an enabling environment with an aspect of financial independence/freedom by equipping trainees with the right knowledge necessary for forex trading. So far, the institution has churned out over 10,000 students and some of them are already making headway in the business. Global Forex Institute also offers free webinars and seminars across South Africa and their lectures are staged in designated places like Johannesburg Cape Town, Durban, Pretoria, Richards Bay, and Port Elizabeth.
7. He is Giving Back To Society Through The Sandile Shezi Foundation
Shezi is one South African who truly has the milk of human kindness running in his veins. In addition to giving back to society through free forex training and seminars, the young millionaire still went ahead to establish the Sandile Shezi Foundation. The purpose of the foundation is to help in changing the mindset of South African youths while bringing visible improvements to their lives. Focused on three crucial areas of human existence, wealth, health, and education, Shezi is giving the youths the needed enablement to rise up and take up the onerous responsibility of nation-building.

Sandile Shezi Foundation holds fast to the belief that education is counted among the most essential factors that can influence growth in a nation. They see education as a basic unit that plays a crucial role in a society since it has been established that a learned nation is always well equipped to handle issues that may crop up in the country. Thus, Shezi is looking to boosting education in SA by offering full scholarships and bursaries to 2,500 students by the year 2025. The foundation's Textbook Support Initiative aids the scholarship project by opening up students to places with better opportunities such as urban areas. It is currently running under a program known as The Foundation Rural and Township School Development Programme.

On health, the Sandile Shezi Foundation focuses on the promotion of the well-being of the South African public which will, in turn, boost productivity in the economic sector. He intends to accomplish this arm of the project through fully-funded health seminars and conferences. The conferences are designed to offer general health care services, recovery, and prevention measures to the citizenry.
8. The Forex Wizkid Loves Drones and Supercars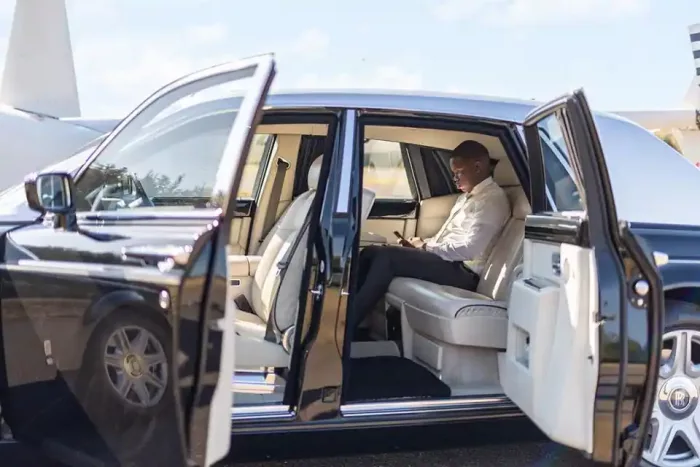 Sandile Shezi is one guy who loves flying, thus, part of his exotic collections include drone, he is equally in love with supercars. The young millionaire is not averse to sharing some of his stuff with fans on social media where he has been severally spotted brandishing luxurious automobiles such as;
Lamborghini
Shezi's Lamborghini comes in black and yellow color. This exotic automobile is said to be worth the sum of R1.7 million and it has some really cool features.
Ferrari California T handling special
The forex wizkid's Ferrari California T handling special happens to be a special edition of the brand. This luxurious car is like a status announcer to its owner and Shezi's own is painted in red.
2017 Range Rover Velar
Reports said that Shezi is the first man of African origin to acquire a 2017 Range Rover Velar. Some of the special features of this vehicle include
A standard automatic emergency braking, including handling, and finishes
An engine rated at 247-hp
2.0- liter four-cylinder turbo engine
A fuel consumption rate estimated at 21 mpg on premium fuel
All-wheel-drive, including an 8-speed automatic transmission
Maserati
Shezi's Maserati was purchased for the whopping sum of R3.5 million and going by what we could sieve from reports, it was the speed of the car that attracted the young SA millionaire.
9. The Young Millionaire's Social Media Photos Suggest That He Lives in an Expensive Abode
Unlike Sandile Shezi's car collection that he is always flaunting on social media platforms, not much has been said about the youngster's landed property. However, we have seen some believable pointers to him owning houses from some of the posts he uploads on the picture-sharing platform.

The SA millionaire has been severally spotted standing in front of some expensive mansion and from the looks of the buildings and their immediate surroundings; one can easily deduce that the interior will be super plush. One of the mansions came complete with a massive swimming pool with its water shimmering in the sun. Shezi's affluent net worth of $2.3 million obviously allows him to live in the lap of luxury, evidenced in his cars, drone, gadgets, and abodes.
10. Sandile Shezi Has Been Sharing Some Photos Of A Lady Suspected To Be His Love Interest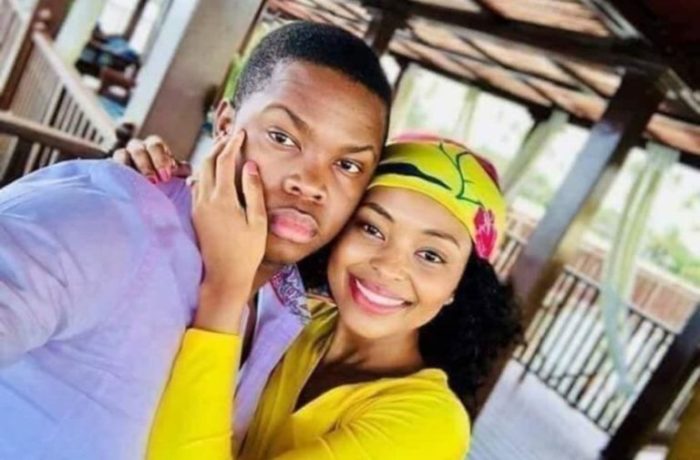 Sandile Shezi is a full-grown man in his late twenties and society naturally expects him to have something doing with the opposite sex. However, the young man does not come across as one who takes details of his personal life to the public space. But recently, he shared the photos of a young woman whom many believe to be his girlfriend or more. Besides, the caption of the posts was a big giveaway as it read their relationship story, and from time to time, the forex millionaire showers the lady with some cool love quotes.