Winnie Mandela had two daughters with Nelson Mandela and they are named Zindzi Mandela and Zenani Mandela-Dlamini. While Zindi died on July 13, 2020, Zenani is still very much alive and active. She is a South African diplomat and traditional aristocrat.
Winnie Mandela was one of the most popular women in Africa. The woman was especially revered in South Africa where her human rights work is hailed by all and sundry. An anti-apartheid activist and politician, Winnie Mandela stood tall during the apartheid era in South Africa and challenged the institutionalized racial segregation and White minority rule in her country.
However, Winnie Mandela's activism and human rights efforts are not all that she is known for. As a matter of fact, some people know her more for being the former wife of world-renowned South African anti-apartheid revolutionary leader, Nelson Mandela and the kind of relationship she had with the man.
All About The Man Who Fathered Winnie Mandela's Children
Winnie Mandela had two children during her lifetime and they were both fathered by none other than Nelson Mandela. As you may have already known, Nelson Mandela was South Africa's anti-apartheid hero who later became the President of the country from 1994 to 1999. When he was elected president, he became the very first black head of state of South Africa as well as the first person to be elected in a fully representative democratic election in that country.
The name Nelson Mandela is widely respected around the world and the man is regarded with reverence as an icon of democracy. He received as many as 250 honors around the world including the prestigious Nobel Peace Prize. In South Africa, he is regarded as the 'Father of the Nation'.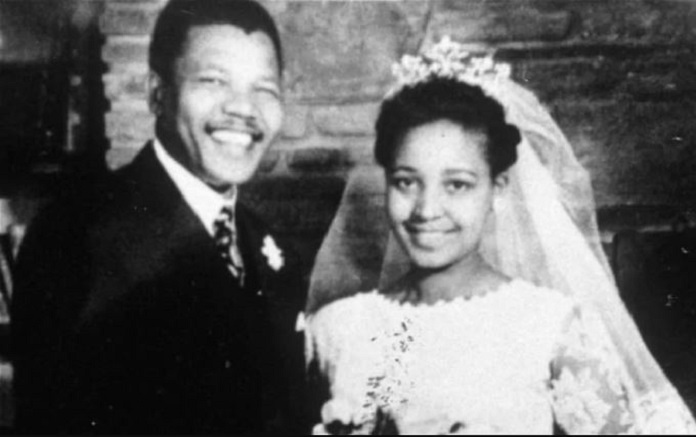 Winnie And Nelson Mandela First Met At A Bus Stop
Winnie and Nelson Mandela first met in 1957 when she was about 22 years old. They met at a bus stop in Soweto and Mandela was so awed by Winnie that he spoke to her and ended up arranging a lunch with her the next week. Interestingly, Mandela was already married to his first wife, Evelyn Ntoko Mase at this time.
Winnie and Mandela soon kickstarted a whirlwind romance – a very passionate one. They were often seen holding hands in public and they also went to jazz clubs together. Finally, in 1958 they got married after Mandela divorced Evelyn Ntoko Mase. Because of Mandela's anti-apartheid struggles and activism, Winnie didn't see too much of her husband especially after 1960 when Mandela constantly got into trouble with authorities and was frequently arrested.
Eventually, in 1964, Nelson Mandela was sentenced to life in prison for 'conspiring to overthrow the state'. He would end up staying in prison for 27 long years. A fearless and bold woman, Winnie continued her husband's struggles and suffered incarceration herself. She was beaten and imprisoned for speaking up against apartheid. She was subjected to house arrest and tortured but kept fighting for her husband's release.
Eventually, during the latter part of Nelson Mandela's incarceration, she burst into prominence as one of the leading opponents of apartheid after she was banished to the town of Brandfort in the Orange Free State by the government. She was soon well known in the Western world for her agitations. She also visited Mandela in prison occasionally while campaigning for his release and against the reign of apartheid rule.
Finally, in 1990, Nelson Mandela was released from prison and he walked out a free man holding Winnie Mandela's hand.
Why Did Winnie Mandela Divorce The Father of Her Children?
Following Nelson Mandela's release from prison, it was supposed that the relationship between Winnie and the anti-apartheid hero would get stronger. However, the opposite was the case. In 1992, barely two years after Mandela's release from prison, and Winnie separated to the shock of everyone. A few years later, in March 1996, they finalized their divorce.
Talking about why they parted ways, Nelson Mandela explained that he found out that Winnie was cheating on him with a younger man. He also complained that Winnie's public behavior greatly contradicted what he stood for.  While he called for reconciliation, she kept pushing for the continuation of the armed struggle in South Africa. All these added to Nelson's disgust for Winnie and led to their eventual divorce.
Winnie Mandela made an attempt to obtain a divorce settlement up to $5 million, which was about half of what Nelson was worth at the time. However, this attempt was dismissed by the court when she failed to show up for a settlement hearing.
Nelson Mandela sadly passed away on 5 December 2013 at the age of 95. Winnie eventually passed away also on 2 April 2018 at the age of 81.
Winnie Mandela's Children Made Their Own Fortunes As Diplomats
Winnie and Nelson Mandela had two children together during their tie together. They had two daughters named Zenani Mandela-Dlamini and Zindzi Mandela who were both born before he went to prison. Their daughters went on to make great strides on their own when they grew up. They both enjoyed a good relationship with their parents.
Zenani Mandela-Dlamini
Zenani Mandela-Dlamini was born on 4 February 1959. Interestingly, she was nearly born in prison because her mother Winnie Mandela was arrested close to her birth in 1959. Because of her father's incarceration, she didn't see him much growing up. Her father was sent to prison when she was just 4 years old and she could not pay him any visit until she was about 15 years old.
For her studies, Mandela-Dlamini schooled at Waterford Kamhlaba United World College of Southern Africa and studied science at Boston University. She would later become the first of Mandela's children to enter public service when she was appointed ambassador for South Africa to Argentina in July 2012. In 2017, she got another appointment as the South African high commissioner to Mauritius. She was later was appointed as the South African Ambassador to South Korea in October 2019.
Zenani Mandela-Dlamini married Prince Thumbumuzi Dlamini in 1973 and the couple had four children. They co-founded the consulting firm, Mandela, Dlamini and Associates.
However, they have since separated. The couple separated in 1990. Mandela-Dlamini is now respected as an established diplomat and traditional aristocrat.
Zindzi Mandela
Zindzi Mandela was born on 23 December 1960. She was born in Soweto in the same year that the African National Congress (ANC) launched its armed wing and in the heat of the pressure on her father by the government. Zindzi was just 18 months old when her father was sentenced to prison. To make matters worse, her mother was also soon incarcerated often at the time so she was often left in the care of her sister Zenani Mandela-Dlamini.
Growing up, Zindzi studied law at the University of Cape Town and graduated with a BA in 1985. Zindzi was a poet. In fact, her work of fine poetry was published in the book Black As I Am in 1978. She was also chosen to read her father's reply to a conditional release offered him by the then-State President, P. W. Botha in 1985.
Just like her sister, Zindzi would also become a diplomat. In 2014, she was appointed South Africa's ambassador to Denmark. She was still serving as an ambassador when she died at the age of 59 on 13 July 2020 at a hospital in Johannesburg.
Before her death, Zindzi was married twice – first to Zwelibanzi Hlongwane and then to Molapo Motlhajwa. She had four children.