Willie McLaughlin (born 13th February 1963; Age: 60 years old) is a retired athlete and the father of Sydney Mclaughlin, the United States sprinter and hurdler who is also an Olympic gold medalist. Asides from having an exceptional sportswoman as a daughter, Willie set several records while he was still active in sports.
Moreover, the McLaughlin family is well known in the United States for the number of athletes in the family, starting from the parents to their kids. Willie McLaughlin, the patriarch of this family, has a long history of athleticism. While it might appear as though his shine has faded for a number of reasons, including a bad injury, his daughter Sydney is still a shining beacon.
Summary of Willie McLaughlin's Biography
Full name: Willie McLaughlin
Nickname: Bill
Gender: Male
Date of birth: February 13, 1963
Willie McLaughlin's Age: 60 years old
Ethnicity: African American
Nationality: American
Zodiac Sign: Aquarius
Sexual Orientation: Straight
Religion: Christianity
Marital Status: Married
Willie McLaughlin's Wife: Mary McLaughlin neé Neumeister
Willie McLaughlin's Children: Morgan McLaughlin (daughter), Taylor McLaughlin (son), Sydney Michelle McLaughlin-Levrone (daughter), Ryan McLaughlin (son)
Willie McLaughlin's Parents: Willie McLaughlin Sr. and Kate McLaughlin
Willie McLaughlin's Siblings: Claudette McLaughlin (sister), Russell McLaughlin (brother)
Willie McLaughlin's Height in Inches: 6 feet 4 inches
Willie McLaughlin's Height in Centimeters: 193 cm
Willie McLaughlin's Weight: 102 kg (225 lbs)
Willie McLaughlin's Net worth: Est. $3 million
Famous for: Being the father of the Tokyo Olympics gold medalist, Sydney McLaughlin
Willie McLaughlin was Born in New Jersey
Willie McLaughlin was born on February 13, 1963, in Dunellen, New Jersey, to Willie McLaughlin Sr. and Kate McLaughlin. He is one of the 3 children that his parents had. Willie, his sister Claudette McLaughlin, and his brother Russell McLaughlin all grew up in New Jersey and for high school, he went to East Orange High School, New Jersey.
There is not a lot of information available on his childhood, but it is known that after graduating from high school, Willie decided to move to the neighboring state of New York for his college. He chose to go to Manhattan College, where he pursued his athletic desires in their field and track teams.
Willie McLaughlin Has Been Married To His Wife Mary Neumeister For Thirty Years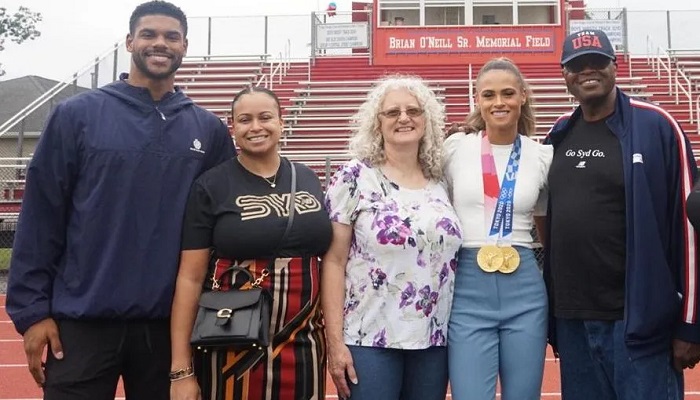 It is believed that Willie McLaughlin met Mary Neumeister when he was young, and it is speculated that this meeting happened while they were at Manhattan College. Mary Neumeister was born to a middle-class family in Springfield, New York, where she also spent her formative years. She is one of the four Neumeister children born to Frank and Helen. For high school, she attended the college preparatory Cardinal O'Hara High School, and right after graduation, she resumed her college education at Manhattan College.
Mary grew up in a time when girls who liked athletics were far and in between, and as such, she had to play on the boy's team at her high school. Upon getting to university, she faced the same problem and had to settle for working in the coaching department at Manhattan College for the Field and Track team, where she worked as the manager of the team that Willie was on, and this is how she met Willie.
Shortly after meeting, the two began a relationship believed to have lasted for 5 years until they got married in 1992.
Willie McLaughlin Has Four Children
Willie and Mary McLaughlin have 4 children, all of who have a life on the track. Sydney McLaughlin is their most famous child, but she is only the 3rd child in the brood.
Morgan McLaughlin
Morgan McLaughlin, born on the 5th of May 1994, is the first McLaughlin child. Like her parents and popular sister, she is also a sprinter and hurdler. Most of her competitive racing was done while she was at St. Peter's University. Regardless of her lower claim to fame, she has still made a name for herself in the track and field community.
Taylor McLaughlin
Taylor McLaughlin is the second McLaughlin child. He was born on the 3rd of August 1997. Like his siblings, he attended Union Catholic Regional high school, and also like his siblings, he was on the track and field team, where he mostly participated in hurdle and sprint.
When he went to the University of Michigan, he majored in Mechanical Engineering but still found time for his sport. In 2016 Taylor McLaughlin took part in the IAAF World U20 Championships 2016. At this event, he won a silver medal in the 400-meter hurdles. He had also tried out for the Olympics and was successfully a part of the US 2016 Olympic team.
Sydney McLaughlin
Sydney McLaughlin, the 3rd and most popular McLaughlin child, was born on 7th August 1999. Of all the McLaughlin kids, she is the most successful in their joint sporting careers, as she is the only one who has gotten to the coveted Olympics and bagged a gold medal.
She grew up in New Jersey and went to the same school as her siblings. When she was 14, her father said that all of his children were talented, but Sydney was special, a fact that she has been able to prove. When she qualified for the Olympics, she was the youngest athlete to qualify for the USA track team, a feat that hadn't happened since 1980.
Ryan McLaughlin
The youngest child of the McLaughlins is Ryan McLaughlin. Just as his siblings have done, he is currently enrolled at Union Catholic High School. Like his siblings, he also participates in track and field events.
Does Willie McLaughlin Have a Relationship with Sydney McLaughlin?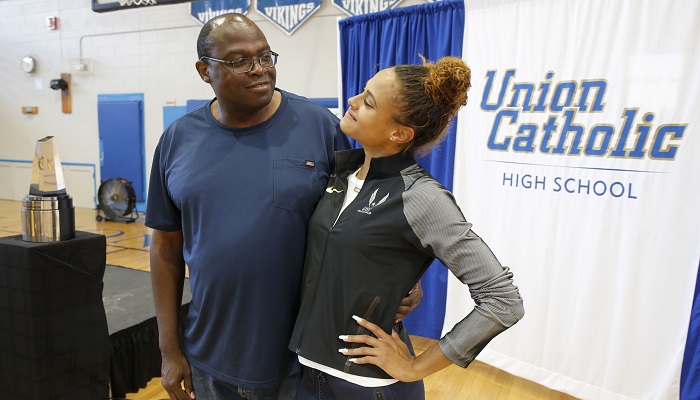 Willie Mclaughlin enjoys a very close relationship with his daughter Sydney. Throughout her life and career, Sydney has enjoyed a good relationship with both of her parents. They are quite supportive. Having two parents who are athletic and have extensive experience in track and field has been very instrumental in the life and career of Sydney McLaughlin, who, by the age of 10, was already racing.
Regardless of this fact, her parents have always been vocal about their unwavering support, ensuring that the star athlete knows that she is under no pressure to perform in ways beyond what she is capable of. The McLaughlins pride themselves on being gentle parents.
Sydney, on the other hand, has always been exceptional. She worked hard all through her formative years such that by the time she was 16, she was qualified to participate in the 2016 Olympics hosted in Rio, which also happened to be her first Olympics. Six more years down the lane, and at 22, she is now an Olympic Gold medalist. A feat that would not have been possible without the guidance of her parents, especially her father.
Willie McLaughlin Beat All Athletic Odds Regardless Of His Medical Conditions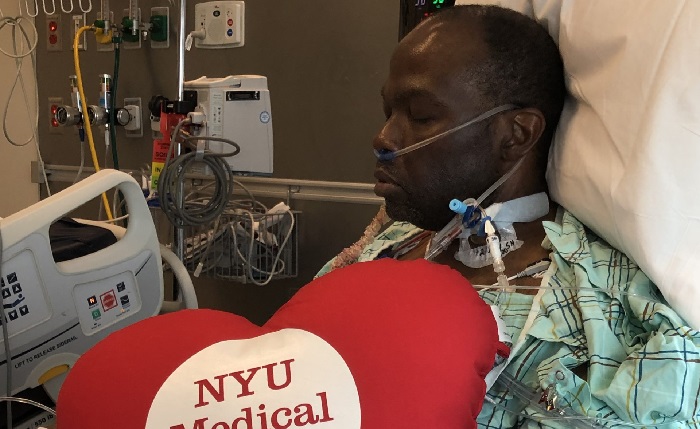 Willie McLaughlin is often applauded for how far he could go in his sporting career, as the odds were stacked against him from birth. McLaughlin was born with a heart disorder, Hypertrophic Cardiomyopathy. This heart disorder is caused by abnormal, defective genes that cause the heart to thicken much more than it needs to.
Regardless of the risks that came with this ailment, McLaughlin still found a way to chase the life of sport, even as far as making it to the semi-finals of the 400m race at the Olympic trials, which in itself is a great feat for him.
His management of the disorder, with medication, somehow made it worse for him and increased the damage to his heart. As a result of this, McLaughlin needed a heart transplant. This only became possible in 2021, when a heart became available, and in February of that year, he got the surgery he needed and now lives a much better life.
Is Willie McLaughlin Retired?
Willie McLaughlin retired from active sports years ago. The actual time of his retirement is unknown, but the father of four has continued to live vicariously through his children and prefers to cheer them from the sidelines. Moreover, the timeline of his sporting career is not very clear, but while he was at Manhattan college, he was on the school's Field and Track team and participated in a number of tournaments for his school and also for the Olympics.
Even as a child, McLaughlin had always shown an interest in sports, including but not limited to track and field events. As a result of his achievements, he was inducted into the Manhattan College Hall of Fame. In 1984, McLaughlin had the rare opportunity to represent the United States in the Olympic trials of that year. He has long taken a step back from Athletics, and the most significant reason for his early demise from sports is medical complications.