Yusuf Buhari (born April 23) is the only son of Nigeria's President Muhammadu Buhari and his wife Aisha Buhari. He caught media attention for his flashy lifestyle after his father assumed office in 2015.  
Yusuf Buhari became a topic of discussion following the bridal shower held in honor of his then-fiance Zarah Ado Bayero, a royal princess from the emirate of Bichi and the daughter of the sitting Emir, Nasir Ado Bayero. Unlike his sister Zahra, Yusuf is not prone to engaging his critics on social media. Besides the luxuries he posts on social media, Yusuf often shies away from the limelight. 
Summary of Yusuf Buhari's Bio
Full Name: Yusuf Buhari
Gender: Male
Date of Birth: 23rd April 1990
Ethnicity: Hausa
State of Origin: Katsina State
Nationality: Nigerian
Zodiac Sign: Aries
Sexual Orientation: Straight
Religion: Islam
Marital Status: Married (2021)
Yusuf Buhari's Wife: Zahra Bayero
Yusuf Buhari's Parents: President Muhammadu and Aisha Buhari
Siblings: 4
Yusuf Buhari's Height in Inches: 5 feet 6 inches
Yusuf Buhari's Net worth: $1 Million
Famous for: Being the son of President Muhammadu Buhari
Twitter: @YusufBuhari
Yusuf Buhari Is The Only Surviving Son Of Muhammadu Buhari
Yusuf Buhari is the only surviving son of President Muhammadu Buhari. He was born to the president and his second wife, Aisha (nee Halilu). Though his exact year of birth is not known, he is believed to have been born in the 1990s and celebrates his birthday every 23rd of April. The president's son grew up alongside four direct siblings – all girls. He has three half-siblings, who are equally all female, from his father's first marriage.
Going by what we could sieve from the records, President Muhammadu Buhari had a son from his first marriage with Safinatu, who gave him a total of five children. However, the boy who was named Musa is now late. Yusuf is originally from Katsina State, Nigeria, and is a Muslim from the Fulani tribe.
Yusuf Buhari shares a close bond with his dad the president, always seen around him. After the president's inauguration into office in 2015, Yusuf tagged along on his first official visit to the United States of America. Yusuf's life can be described as reclusive as he largely avoids public attention, you can only get a glimpse of him from their occasional family portrait and when he attends a public function in the company of the president.
The youngster is equally close to his mother, Aisha Buhari, whom he described as very inquisitive and very involved in her children's lives. Speaking about the mother/son bond that they share, Yusuf mentioned that it is difficult for him to take any action without telling the first lady. And even knowing that she will disagree, he would still let her know before going ahead to take any action. When he is in the wrong, Aisha usually lets him learn the hard way, but without judgment.
Meet Yusuf Buhari's Surviving Siblings
As earlier mentioned, Yusuf Buhari has a total of seven surviving siblings; sisters Halima, Zahra, Noor Amina, Aisha (Hanan), Fatima, Nana-Hadiza, and Safinatu.
1. Fatima Buhari
Fatimah is the second daughter of President Muhammadu Buhari, born on the 7th of March 1975 from his first marriage with his late wife, Hajiya Safinatu. Fatimah began her academic journey in Lagos State, attending Air force Primary School in Victoria Island, Lagos. Going down to the north, she enrolled at Government College, Kaduna for secondary school. Her university education was acquired at Ahmadu Bello University, Zaria. Fatimah's quest for further academic qualifications found satisfaction in the United Kingdom where she did her postgraduate studies at Business Academy, Stratford.
Fatima Buhari has been married twice. She was the wife of a traditional ruler in Katsina State with whom she shares six children. On the 28th of October 2016, she got wedded to Malam Gimba Yau Kumo who served with the Federal Mortgage Bank as its managing director. Fatima is not Kumo's first wife as he was already married with children before their wedding.
2. Nana-Hadiza
Nana-Hadiza Buhari is younger than Fatima by six years and is President Buhari's third daughter. She came into the world on the 23rd of June 1981 and was born to Safinatu Buhari. For her basic education, Yusuf Buhari's sister attended Essence International School. Nana passed through Cobham Hall, Kent, United Kingdom, and attended the University of Buckingham. She did her postgraduate studies at National Teachers Institute, Kaduna. Nana also attended Polytechnic Kaduna. She works with The Nigerian Peace Corps (PCN) and the Africa Support and Empowerment Initiative as a chairperson. She is the wife of Abdulrahman Mamman Kurfi.
3. Safinatu Buhari
Hajiya Safinatu's last child with the president was named after her. The young lady was born on the 13th of October 1983 and like her older sister Nana, she passed through Essence International School and Cobham Hall, Kent, United Kingdom. She is an alum of the University of Plymouth UK.
Safina Buhari is the wife of Abubakar Sama'la Isa and they have been married for over a decade. Their union, which started in 2010, is blessed with children.
4. Halima Buhari Sheriff
Halima Buhari is Aisha and President Mohammadu Buhari's first child, born on the 8th of October 1990. For her academics, she attended International School in Kaduna, British School of Lome, and Bellerby's College, Brighton in the United Kingdom. She later joined the University of Leicester, UK, and came back to Nigeria to attend the Nigeria Law School, Lagos. In 2016, Halima was called to bar in Nigeria. The occasion was witnessed by her mum and two of her siblings; Yusuf and Zahra Buhari. She is currently working as a legal practitioner.
Halima Buhari is a married woman. Her husband is Alhaji Babagana Muhammed Sheriff, one of the most prominent men in Bornu State. Their wedding Fatiha was conducted in president Muhammadu Buhari's presence with dignitaries like Gen. Buba Marwa, Senator Kanti Bello, and governors from different states in attendance. The officiating imam was the Yahaya Road Jumat Mosque's chief imam. Security was really tight at the event as only the male guests were permitted entry.
5. Zahra Buhari
Zahra is Aisha Buhari's second daughter with the president. She was born on the 18th of December 1994. She was a student of Kaduna International School and also attended the British School of Lome, Togo, and Bellerby's College in Brighton, United Kingdom. Zahra was also at the University of Surrey alongside her brother Yusuf Buhari. Despite the fact that Zahra graduated with a first degree in Microbiology, she never pursued a career in the field. Rather, the president's daughter launched a non-governmental organization that focuses on children born with sickle cell anemia. The NGO, which is known as ACE (Assisting, Caring, and Empowering), offers kids proper education, health care, and economic empowerment.
Zahra has long shed the cloak of spinsterhood to embrace matrimony and her husband is a Bornu State indigene named Ahmed Indimi. They tied the knot on the 16th of December 2016 and are already parents.
6. Aisha (Hanan)
Yusuf Buhari's sister Aisha is obviously named after her mother. Born on the 30th of August 1998, she attended Kaduna International School. Aisha is very passionate about photography and has already accumulated several projects which she put on exhibition in Abuja in 2017. The Abuja exhibition that was tagged "Innovation by Hanna" attracted A-listers in the industry as well as top governmental officials who lauded Aisha for her contributions towards changing the long-held perception of photography. Now, photography is no longer for the less-privileged and dropouts in the society, but the highly talented are equally involved.
Like the other daughters of the president, Aisha is also married. Her husband is Mohammed Turad Sha'aban from Zaria whose father, Alhaji Mahmud Sani Sha'aban, was a House Of rep member from 2003 to 2007, representing Zaria.
7. Noor (Amina)
President Buhari's last child with the first lady is named Noor (Amina) and her date of birth is captured as the 14th of November 2004. Like some of her siblings, she attended Kaduna International School.
Yusuf Buhari's Two Late Siblings Are Zulaihat and Musa
1. Zulaihat Junaid
Zulaihat Junaid is Buhari's first daughter with Safinatu. She succumbed to the ravages of sickle cell anemia after childbirth on the 30th of November 2012. Born on the 5th of December 1972, Hajiya Zulaihat Muhammad Buhari grew up in the United States of America where the Buhari family was based as of that time. However, they returned to Nigeria in time for her to graduate from Air Force Military Primary School in Lagos. Though she commenced her secondary education in Queens College, Lagos, Yusuf Buhari's oldest sibling finished from Federal Government College, Kaduna, graduating in 1990.
An alum of Ahmadu Bello University with a .BSc. in Economics, Zulaihat later acquired a Post Graduate Diploma in Management from her alma mater. Her first employer was African Intercontinental Bank (AIB) following which she went to work for the Nigerian government as a staff of the Ministry of Solid Minerals and Steel, Kaduna. Zulaihat remained there until her demise. She is also credited as the founder of Hajiya Safinatu Buhari Foundation (HSB) which was set up in memory of her mother, Hajiya Safinatu Buhari, who died in February 2006 from the ravages of diabetes. HSB catered for the poor people living with diabetes mellitus. Zulaihat also served with the Nigerian Institute of Management (NIM) as its substantial treasurer and worked with several other NGOs, albeit silently.
Hajiya Zulaiha Buhari who had a newborn baby girl as of the time of her death was survived by Captain Junaid Abdullahi, her husband, and two older children namely Muhammad Buhari Junaid and Halima Junaid.
2. Musa Buhari
Musa was the president's first son and like his sister Zulaihat, he also had sickle cell disease which claimed his life in infancy.
Yusuf Buhari Studied in Nigeria and the United Kingdom
On his academics, the only surviving son of Nigeria's president was a student of Kaduna International School where he acquired his early education. Yusuf also passed through the British School of Lomé. On relocating to the United Kingdom, the young man joined Bellerby's College to complete secondary school. Alongside his sister Zahra, Yusuf enrolled at the University of Surrey in Guildford, United Kingdom. Though his course of study is not known, he graduated in 2016; the same time as Zahra.
After his graduation from university, Yusuf went on to acquire a Master's degree from an undisclosed university in the UK. After he acquired his postgraduate degree, the president's son came back to Nigeria in March 2019 to complete the compulsory one-year National Youth Service. Reportedly, Yusuf served at the Abuja orientation camp in Kubwa.
Unlike President Buhari, Yusuf never attended any military training, not that he didn't want to, but according to Muhammadu Buhari, he had to personally put a stop to his son's move to join the military. The youngster is somewhat silent on social media; the Twitter handle under his name shows just 116 tweets and all are quite old. Thus, Nigerians never really knew much about him until his unfortunate power bike accident that nearly claimed his life.
The Power Bike Accident That Almost Claimed His Life
It was a black Tuesday for the first family of Nigeria on the 27th of December 2017 when Yusuf Buhari sustained a head injury in what was described as a ghastly power-bike accident. This gory incident happened in Nigeria's Federal Capital Territory, Abuja, around the Gwarinpa area. Reports soon surfaced claiming that Yusuf was not alone during the accident as the president's only son went power-bike racing in the company of a friend whose identity was never disclosed.
As expected, the accident which marked another page in the biography of Yusuf Buhari threw local publications into a reporting frenzy with all the media outfits scampering to get the inside story. Though the news kept millions of Nigerians glued to their television sets seeking insight into the situation, the presidency treated the issue with the utmost discretion. It only confirmed that Yusuf's head injury is a case of multiple fractures that needed urgent attention.
The ensuing days after the accident were critical ones; thus, Yusuf was admitted into an Abuja hospital, Cedarcrest Hospital. Though the medics did their utmost best to help the situation, Yusuf slipped into a coma that lasted for a long while. He underwent series of surgeries by a team of orthopedic surgeons and neurosurgeons headed by Dr. Felix Ogedegbe – the medical director of Cedarcrest Hospital. When he eventually regained consciousness, other injuries were discovered on his body, including a fractured arm. As the president's son started showing promising signs of recovery after being stabilized for one month, his doctors recommended that he be flown abroad for further medical attention. Thus, Yusuf Buhari was taken to Germany where he made a full recovery.
Returning to Nigeria on the 1st of March 2018, Yusuf has remained reclusive and not much is heard about him.
Aisha Buhari Confirmed Yusuf's Return to Nigeria
Known for his reclusive lifestyle, Nigerian's never expected Yusuf to announce his recovery and return to the public space but the first lady was on hand to fill that gap for her only son. The mother of five took to her account on Twitter to express gratitude to the Nigerian populace for their prayers and well wishes during their trying times.
Dr. Osagie, Nigeria's Minister of Health (State) was on hand to receive Yusuf at the airport and needless to say, Yusuf was embraced by family members who were waiting to receive him at the presidential villa. Apart from family, other well-meaning Nigerians like the Interior Minister and the wife of Professor Osibanjo, Nigeria's Vice President, were also part of the welcome party. According to Aisha Buhari's biography, Yusuf's survival from the accident was a miracle.
Yusuf Buhari Career Path Has Always Been A Subject Of Speculation
Coming to what Yusuf Buhari does for a living, no one really knows as this part of his life has remained a grey area to the public. Though, it is only his close friends and family members that would really know if he forged any career path. However, in recent times, speculations started running rife that the president's only son is the owner of two Abuja hotels and there is a third one yet to be completed located in the United Arad Emirates, precisely in Dubai.
The rumors also made reference to an unidentified affluent American businessman who confirmed Yusuf Buhari was contemplating investing in his high-speed broadband business venture in Nigeria. Another version of the speculation alleged that in a bid to demonstrate his financial ability to the unidentified American, Yusuf had to take the man to his five-star hotel.
When the news of the five-star hotels hit the airwaves, it really caught fire and immediately went viral on the internet space. But surprisingly, the president's son who has always been known for his reclusive way of life kept mute throughout the whole drama. Besides, the rumors have since died down and the Nigerian public has written off the story as a big hoax.
Yusuf Is Engaged To Zarah Ado Bayero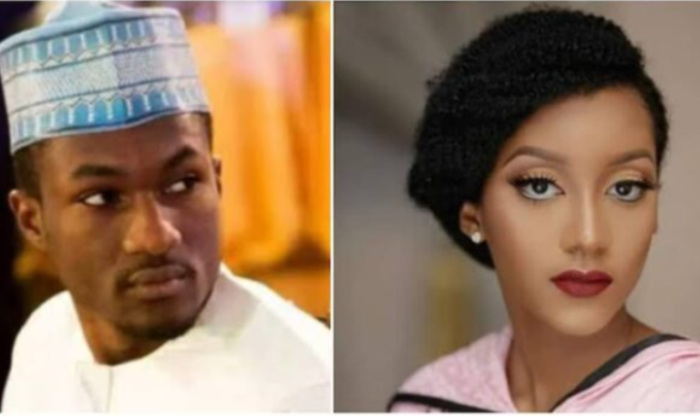 The president's only son is set to wed his love interest, Zarah Ado Bayero, the 19-year-old daughter of Alhaji Dr. Nasir Bayero – the current Emir of Bichi, Kano. Reports said the two met in the UK while undergoing their undergraduate studies. The lovebirds are already engaged and preparations are underway to join them as husband and wife in the Muslim fashion.
A delegation from the president led by Abubakar Badaru – the incumbent Governor of Jigawa State, is currently holding talks with the Emir of Kano on the wedding preparations. They have already visited the Emir's palace once. It was reported that their wedding would have been conducted earlier but was postponed due to the first lady's absence. Aisha Buhari has been in Dubai for a six-month medical trip. The first lady came back to the country for a few weeks during the Muslim holy month of Ramadan, thus the wedding has been fixed to take place following the Salah celebrations. Sources reported the date has been set for the 20th of August 2021.
Zarah Ado Bayero Is A Real-Life Princess
Zarah Ado Bayero comes from a royal background. Her father, Alhaji Nasir Ado Bayero, is an offspring of Alhaji Ado Bayero – the late Emir of Kano. As the fourth child of the late Emir, Nasir Ado Bayero currently sits on the throne as the Emir of Bichi. Before his coronation, Nasir served in Tarauni, Fagge, and Nassarawa Local Government Areas prior to his appointment as a first-class monarch. His emirship came through the administration of the current governor, Abdullahi Ganduje. Nasir is not just an Emir, he is also a heavyweight in the telecoms industry, serving as the Chairman of 9mobile.
On the other hand, Zarah's mother has been identified as Farida Imam, a woman of affluent family background. Farida was born to Mal Abubakar Imam (Imamu Galandanci) – a famous Kano educationist who also served with Afribank Plc as its Executive Director. Farida's biological sister is the wife of Muhammad Saad Abubakar III – the Sultan of Sokoto.
19-year old Zarah is the Emir's second daughter and she is currently a student studying Architecture in one of the universities in the United Kingdom.
Hisbah and Zahrah's Bridal Shower Gown
The wedding Fatiha slated to take place between Yusuf Buhari and his fiancée, Princess Zarah Bayero, on the 20th of August 2021 involved a bridal shower in honor of Zarah. During the plush event which took place in Abuja on a Tuesday, the princess appeared in a white showy gown and within a short time, her photos went viral. While millions of Nigerians showered Zarah with congratulatory messages on her beautiful outfit, others couldn't help but comment on the unusual silence of the Kano arm of the Hisbah police.
To date, Hisbah police which is a body inaugurated to enforce the precepts of Sharia in Kano (on prostitution, alcohol intake, indecent dressing, and more) has remained silent. Nothing has also been heard from #ArewaTwitter that wastes no time in calling out so-called immoral acts amidst those who adhere to the Islamic faith. This has led the populace of Nigerians, especially the Muslims, to voice out their feelings about the religious body Hisbah.