Shona Ferguson (April 1974 – 30 July 2021, Age at Death: 47 years) was a respected Motswana/South African actor, executive producer and co-founder of Ferguson Films.
The name Shona Ferguson rings a very loud bell in the South African entertainment industry today. The reason for this is very simple; the man behind that name was one of the most influential figures in the industry who threw his entire weight behind promoting the reign of true excellence in the country's movie arena. His input in the South African movie industry has been described as 'invaluable' as he, over several years, kept millions of South Africans glued to their television sets with his incredibly thrilling productions.
Apart from being an actor, Shona Ferguson was also an executive producer and a co-founder of the popular film production company, Ferguson Films. As co-owner of Ferguson Films, Shona was behind the creation and production of some of South Africa's most popular films and series, including the Netflix series, Kings of Jo'Burg, The Queen, Rockville, and many others. He won awards for his incredible work and is regarded as one of the most important figures in the South African entertainment industry.
Sadly, Shona Ferguson passed away in July 2021 at the age of 47 in a South African hospital after battling COVID-19 complications. His passing completely shattered his many fans.
Profile Summary of Shona Ferguson
Full Name: Aaron Arthur Ferguson
Nickname: Uncle Sho
Gender: Male
Date of Birth: 30 April 1974
Date of Death: 30 July 2021
Shona Ferguson's Age at Death: 47 years
Place of Birth: Gaborone, Botswana
Ethnicity: Motswana
Nationality: Had dual citizenship (Motswana and South African)
Zodiac Sign: Taurus
Sexual Orientation: Straight
Marital Status: Was married
Shona Ferguson's Wife: Connie Ferguson
Shona Ferguson's Children: Lesedi Matsunyane and Alicia Angel Ferguson

Shona Ferguson's Parents: Peter Harry Ferguson (father)
Siblings: Dominique Ferguson (brother)
Occupation: Actor, Director, Executive Producer, and Businessman
Famous For: Being a talented actor and film producer
Shona Ferguson Was Born In Botswana
Shona Ferguson was born on the 30th day of April 1974 in Gaborone, the capital and largest city of the Southern Africa nation of Botswana. This means he was 47 years old in 2021 when he sadly passed away. It was also in Gaborone that he was raised by his parents.
Very little information is available about his childhood days and what he did as a child growing up. However, we know that he was raised in a Christian home because his parents were ardent Christians. We also know that he was very fond of his mom and dad and often referred to himself as a 'momma's boy'.
His Father Was A Pastor
Like we have mentioned already, Shona Ferguson grew up in a Christian home as both his parents were devout Christians. In fact, Ferguson's father, a man called Peter Harry Ferguson, was actually a pastor. It is not clear what church he pastored, but according to revelations made by Shona Ferguson himself, his father was indeed a pastor. His mother, Mrs. Ferguson was also a devout Christian.
Ferguson was very fond of his father. As a matter of fact, his Instagram page is filled with photos of the older man whom he called his hero. According to Ferguson, his father taught him to be fearless and put God first in all that he does. Sadly, his father died in 2019, a development that devastated Shona Ferguson at the time.
Shona Ferguson was also very close to his mother. He had the woman's photos on his Instagram and showered praise on her especially on occasions like Mother's Day. He often described himself as a 'momma's boy' showing how close he was to his mother. According to Ferguson, his mother gave her full support to her husband and always had his back.
It is not clear if Shona Ferguson had any sibling with whom he grew up in Botswana. This is more so because he never spoke of anyone with whom he shared blood ties. A quick look through his social media accounts produces no record of anyone with whom he shares the same father and mother.
Shona Ferguson Burst Into The Entertainment Scene As A DJ
While growing up in Botswana, Shona Ferguson developed some love for the entertainment business and decided to take a journey into the industry. Consequently, he relocated from Botswana to Lesotho, another country in Southern Africa where he became a disc jockey.
Ferguson started working as a DJ in 1992 when he was about 18 years old. He worked as a club DJ at The Palace Hotel Night Club in Lesotho and excelled in his craft, thrilling club goers every night. Shona Ferguson's love for music was deep and this was what mainly fueled his success as a disc jockey.
Ferguson Worked In IT For 10 Years
After working as a disc jockey for some time in Lesotho, Shona Ferguson returned home to Botswana in order to try his hands on other things. Eventually, he ended up in the IT business. First, Ferguson started out as a salesman then he steadily climbed his way up the ladder of importance in the field and became a respected IT businessman.
Shona Ferguson worked in the IT world for about ten years and, during this time, became so good in the business that he won multiple achievement awards, including the Top Sales Manager Award 1998-99 while working at EDUTECH. However, even though he had his feet firmly rooted in the IT business, Ferguson still had a love for the entertainment business, including music and movies.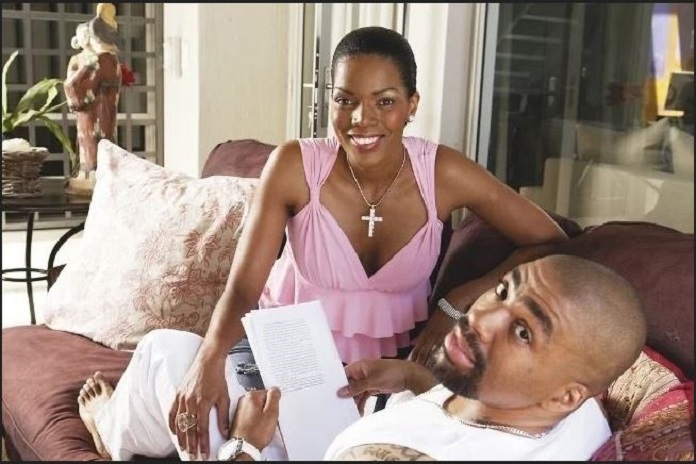 Ferguson's Incredible Exploits In The Film World
Shona Ferguson began his journey into the film world when he relocated to South Africa and got married to South African movie star, Connie Ferguson, in 2001. It would appear that Connie was the one who influenced him to give acting a try and he went on to make a huge name for himself in the industry.
He Was Written Off At First
Before his sad passing, Shona Ferguson became one of the most successful actors and filmmakers in South Africa, and he gave many others a chance to achieve success as well. However, in the beginning, it was very hard for the man to find his footing because he was written off by many people at the start of his career.
In a lengthy note he penned on Instagram in June 2021, Shona Ferguson revealed some 17 years back in 2004, he went for an audition and the Hollywood producer asked him if he had a backup plan because he (Shona) didn't have what it took to become a successful actor. As if that was not enough, an agent told Ferguson that he didn't have 'the right looks' of an actor and so it was going to be hard to find jobs for him.
Ferguson also revealed that a veteran actor as well as many other producers told him that he was not 'memorable' and so would not fit into film productions. In addition to this, some fellow actors also criticized him and even made bets that he would not make it in the film industry. The insults were quite brutal at the time.
He Proved The Naysayers Wrong
However, despite everything that had been said about him, Shona Ferguson went on to prove the naysayers wrong by making a name for himself in the film industry. He kick-started his acting career when he was cast to play the role of Ace on Generations, a South African soap opera that received overwhelmingly positive reviews throughout its long run and was among the most-watched local television shows ever in the country. The show was so popular that it literary gave Ferguson his big break and put his name on many lips. In fact, today, many people know him by the role he played on Generations.
In 2006, Ferguson was cast to play the role of Dr. Leabua on the South African Venda soap opera, Muvhango. The show was also very popular and increased Ferguson's popularity among South Africans. This was mainly because his character endeared many fans of the show to him. Eventually, he left the show in March 2007. He went on to star in other productions, including The Wild, an M-Net soap opera on which he played the role of Itumeleng from 2011 to 2013.
He Co-Owned 'Ferguson Films' With His Wife 
Having become established as movie stars, Shona Ferguson and his wife, Connie Ferguson, decided to launch their own film production company called 'Ferguson Films'. They launched the company in 2010 and quickly went on to establish themselves among South Africa's most successful filmmakers, with several hit flicks to their names. As a matter of fact, some of the most popular South African movies were produced by Ferguson Films.
Both Shona Ferguson and Connie Ferguson starred together in some of their productions. The couple starred together on their production company's first series called Rockville. Shona particularly starred as JB on the series from 2013 to its final episode in 2016. The actor also appeared in the film series, The Gift, which was also produced by the Ferguson Films company in 2014.
In 2016, both Connie and Shona appeared on The Queen, a series produced by Ferguson Films. Connie played Harriet Khoza while Shona portrayed Jerry Maake on the series. Shona Ferguson also starred in Isidingo: The Need, playing the role of Tyson. He was also on Scandal!, one of the most-watched soapies in South Africa, portraying the role of Alex.
In the year 2020, Ferguson Films produced a Netflix six-part series called Kings of Joburg. Shona Ferguson created the series and also starred in it, playing the lead role of Simon 'Vader' Masire. His wife also starred in the series, portraying Masire Mermaid. The series became a big hit and is very popular among South Africans.
Shona Ferguson was also behind the production of other highly talked-about TV series like Igazi, The Throne, The Imposter, and many others establishing him, alongside his wife, as one of the most prolific filmmakers in South Africa. Their production company provides jobs for so many South Africans today.
He Planned To Launch A Film School
In July 2021, news emerged that Shona and Connie Ferguson were about to launch a film school named after them. According to the couple, the film school would be where aspiring actors would be thoroughly trained to acquire the necessary skills needed to excel as actors in the film industry. The announcement sent many fans of the couple into great excitement as many expressed readiness to enroll once the school has been set up.
It was clear without any doubt that Shona Ferguson and his wife had become film royalty in South Africa and they were seen as among the most powerful names in the industry. Shona had become so big that many of the people who said he was not going to make it as an actor were on his payroll. He was often described as a South African television mover and shaker. He was a fulfilled man!
He Has Won Awards
As expected, Shona Ferguson won several awards during his very illustrious career. Some of the awards include the Golden Horn Award for Best Actor in a TV Soap as well as a Golden Horn Award for Best Achievement by a Lead Actor in a Made for TV Movie.
In addition to this, Shona Ferguson was listed as a BET A-List Game Changer alongside his wife Connie.
Shona Ferguson Died Three Months After His 47th Birthday
On 25th July 2021, weeks after the announcement about the plans to launch a film school, news emerged that Shona Ferguson had been admitted to a hospital and that he had undergone heart surgery. The reports further stated that he was in ICU at the Milpark Private Hospital, in Johannesburg, South Africa. The reports said he was fighting for his life and was being closely watched by doctors and nurses.
Sources said that Shona was on a ventilator in the ICU and that his condition had also worsened since the operation was carried out. The reports also said his wife was by his side, tirelessly watching out for him. Another source who was close to the situation explained that the popular actor was actually hale and hearty shortly before he suddenly began to complain about having chest pain. He also reportedly complained that he was not able to breathe properly. He was then rushed to the hospital where he was promptly admitted.
The news came as a huge shock to many fans of the popular actor especially because the man had shown no signs of weakness in his public outings. Soon, prayers began to pour in for the man on social media. Many other expressed confidence that Ferguson was a fighter and that he would pull through the ordeal and continue with the plans to launch his film school.
However, in a very sharp, devastating, and really painful turn of events, news emerged on the 30th day of July 2021 that Shona Ferguson had died. The shocking news rent the air like a tornado and left millions of South Africans completely devastated. The sad event trended heavily on social media in South Africa as many expressed utter disbelief at the tragic development. It is noteworthy that the actor passed away just three months after celebrating his 47th birthday on 30th April.
His Death Was Caused By COVID-19 Complications
Shortly after his passing, Ferguson Films released a press statement confirming the actor's death. In the statement, the company also debunked the reports that the actor died due to heart surgery. It then revealed that Shona Ferguson died from COVID-19 complications and asked that people give the man's family the time to process the painful loss.
The statement sparked renewed sorrow among fans who took to his comment section to express their profound sorrow at the man's untimely passing. It also sparked a conversation about the necessity of observing COVID-19 prevention measures.