Francis Kwame Nkrumah (21 September 1909 – 27 April 1972) was the first Prime Minister and President of Ghana, having led the then Gold Coast to independence from Britain in 1957. He was a Ghanaian politician, political theorist, and revolutionary.
Many Ghanaian presidents have ruled the country and exerted their influence since the nation gained independence from Great Britain many decades ago. The West African nation became an independent country on 6th March 1957, making it the first sub-Saharan country to gain independence from colonial rule.
Since then, different Ghanaians have been elected to become Presidents of Ghana. While some of these leaders have worked towards the prosperity of Ghana, others were considered bad leaders and were known to be wasteful .
It is noteworthy that when Ghana gained independence from colonial rule in 1957, Britain was still commanding a lot of influence on the African nation. This was because, under the 1957 Constitution of Ghana, the Queen of the United Kingdom, Queen Elizabeth II was still the Ghanaian Head of State and was represented in Ghana by a governor-general. However, in 1960, Ghana became a republic and things changed.
On the 1st of July, 1960, a new constitution was adopted in Ghana, changing the West African country from a parliamentary system of government with a prime minister, to a republican form of government which a powerful president heads. Hence the Queen of the United Kingdom and the governor-general were replaced by an executive president. The first President of Ghana was, thereafter, elected.
Kwame Nkrumah was the First President of Ghana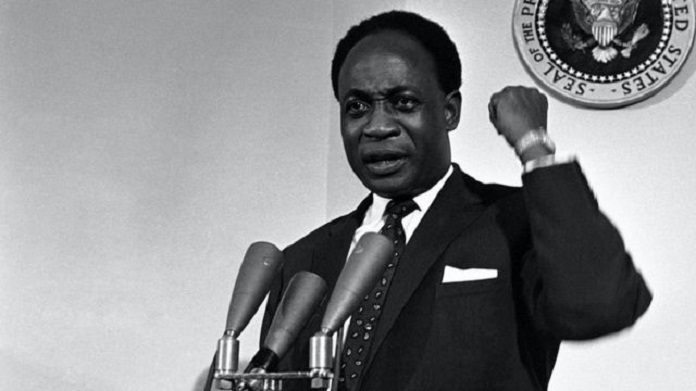 Born: 21 September 1909
Died: 27 April 1972
Year Elected: 1960
Time in Office: 1 July 1960 – 24 February 1966 (5 years, 240 days)
Political Party: Convention People's Party
Ethnicity: Akan
Other Positions: 1st Prime Minister of the Gold Coast, 1st Prime Minister of Ghana, and 3rd Chairperson of the Organisation of African Unity
After Ghana became a republic in 1960, Kwame Nkrumah was elected as the country's first-ever president. Nkrumah, who was a highly respected African nationalist, had been involved in Ghanaian politics long before he became president and was viewed as one of Africa's foremost spokesmen and one of the most popular Ghanaian Presidents ever. But, what exactly was his political journey like?
Nkrumah was born on 21 September 1909 in Nkroful, a small village in the Nzema area, in the far southwest of the Gold Coast (now known as Ghana). He was raised by his mother and was quite carefree as a youngster. However, right from childhood, he always showed there was a lot more to him even with his carefree attitude. He was especially very serious with books when he eventually went to school.
His mother got him enrolled at an elementary school run by a Catholic mission and he soon proved an adept student. In fact, he was so devoted that he actually progressed through the ten-year elementary program in just eight years. Soon, around 1925, he was baptized into the Catholic faith and was already a student-teacher in the school. Before long, he enrolled to train as a teacher at the Government Training College (now known as Achimota School) after being noticed by the principal of the school.
After getting his teacher's certificate, the future Ghanian president became the headmaster of the school at Axim. It was here that he began to get involved in politics. In fact, he got so involved in politics that he founded the Nzima Literary Society.
Nkrumah Studied in the US Before Returning to Serve His People
Before long, Kwame Nkrumah met with Nnamdi Azikiwe, a journalist, and future Nigerian president. Azikiwe's political influence further increased Nkrumah's interest in black nationalism and so he decided to pursue further studies in the United States. Consequently, he sought and got admission into Lincoln University in Pennsylvania in 1935 and graduated in 1939 with a Bachelor of Arts degree in economics and sociology. He went on to obtain a master's degree from Lincoln and from the University of Pennsylvania.
During this period, he became immersed in political work. Soon, he reorganized and went on to become the president of the African Students' Organization of the United States and Canada. He left the United States in May 1945 and went to England where he organized the 5th Pan-African Congress in Manchester.
While Nkrumah was doing all these in England, something else was happening back home in Ghana. J. B. Danquah, who is considered to be one of the founding fathers of Ghana, had formed a political party called the United Gold Coast Convention (UGCC) to work for self-government. Nkrumah was eventually invited to become the general secretary of UGCC. He returned home to Ghana in late 1947 to assume the role.
He Began Playing Party Politics in 1948
When he became general secretary of UGCC, Nkrumah quickly moved into action, addressing meetings throughout the country. He also started getting more people interested in the new movement for independence. Eventually, extensive riots broke out in February 1948, and Nkrumah was arrested by the British briefly alongside other leaders of the UGCC. However, they were soon released.
In 1949, Nkrumah formed a new party called Convention Peoples' Party (CPP) after a split caused a division in the UGCC. The next year in 1950, he organized several campaigns of "positive action," which involved strikes, nonviolent protests, and noncooperation with the British colonial authorities. Another crisis soon broke out and Nkrumah was arrested again. He was sentenced to one year in jail.
While he was in jail, the Gold Coast held its first general election on February 8, 1951, and Nkrumah was elected into the parliament. He was consequently released from prison to serve as the 'Leader of Government Business' in 1951. Shortly after, in 1952, he became the prime minister of the Gold Coast.
Rise To Presidency
On the 6th of March 1957, the Gold Coast gained independence from Britain and became known as Ghana. Nkrumah then became the new nation's first prime minister. His popularity among Ghanaians grew when he built new roads, health facilities, and schools and also ensured that the policy of Africanization created better career opportunities for the people.
Some years later, on 19, 23, and 27 April 1960, presidential elections was held in Ghana. On the same day, a plebiscite on the constitution was held to change Ghana to a republic. Eventually, the constitution was ratified and Nkrumah was elected as the first president of the Republic of Ghana.
Under Kwame Nkrumah, Ghana developed a strong national education system and played a leading role in African international relations during the decolonization period. Nrumha also promoted a pan-Africanist culture. However, he was accused of leading an authoritarian regime in Ghana, as he repressed political opposition. In fact, in 1964, Nkrumah oversaw a constitutional amendment that made Ghana a one-party state with him as the president for life of both the nation and its party. Economic conditions worsened in Ghana soon after this and his popularity declined.
Eventually, on the 24th of February 24, 1966, while he was paying a visit to Beijing, the army and police in Ghana seized power, deposing Nkrumah as president. The former Ghanaian president would go on to live the rest of his life in Guinea, where he was named honorary co-president.
Comprehensive List of All Other Ghanaian Presidents After Nkrumah
Over the years, since Kwame Nkrumah's removal as President of Ghana, many other leaders have risen up to take over the mantle of leadership in the West African nation.
Major-General Joseph Arthur Ankrah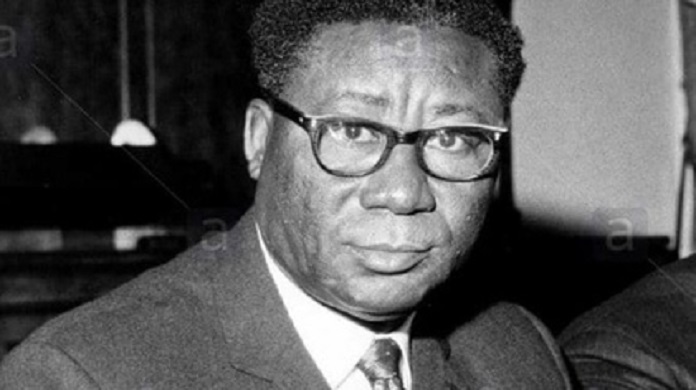 Born: 18 August 1915
Died: 25 November 1992
Year Elected: 1966
Time in Office: 24 February 1966 to 2 April 1969 (3 years, 37 days)
Ethnicity: Ga
Other Positions: First Commander of the Ghana Army, Chairman of the National Liberation Council, Chairperson of the Organisation of African Unity
Major-General Joseph Arthur Ankrah was the General of the army of Ghana who served as the first military Head of State of the West African country. Ankrah was born 18 August 1915 in Accra to Samuel Paul Cofie Ankrah, an overseer for the Christian Missionary Society, and Beatrice Abashie Quaynor, a trader. Right from when he was little, he was renowned for always having a leadership role among his mates and was given the nickname 'Ankrah Patapaa' because of this.
In 1939, Ankrah joined the Gold Coast Regiment and was mobilized into the Royal West African Frontier Force on the outbreak of World War II. He was later transferred to the Record Office in Accra with the rank of Warrant Officer Class II and made second-in-command. He took his career very seriously and went to the Marshfield Officer Cadets Training Unit in the United Kingdom, graduating in February 1947 as the first African officer in the Gold Coast Army.
Ankrah went on to become a lieutenant in 1947, rising to become the very first African camp commandant at the Army Headquarters. He was eventually promoted to Major in 1956, becoming the very first African to command an all-African company, the Charlie Company of the First Battalion at Tamale, Ghana. Years later, Ankrah became Lieutenant Colonel and eventually rose to the rank of colonel by 1960.
When a crisis broke out in the Congo, Ankrah served as the Brigade Commander of the force-based at Luluabourg, Kasai during the United Nations Operation in the Congo. In 1961, he became the only Ghanaian awarded the Military Cross in Leopoldville for acts of unsurpassed gallantry after being awarded the award in Congo. Following his incredible exploits in the Congo, Ankrah was rapidly promoted to Brigadier then Major General. In 1961, he became the first Ghanaian commander of the Ghanaian army. Soon after, he rose to become the Deputy Chief of Defence Staff.
Rise To Seat of Power
Against the run of play, Joseph Ankrah was dismissed from the Ghana Army in July 1965 on the suspicion of involvement in a coup plot to overthrow the government of Kwame Nkrumah. He had no option but to leave the army and do other things with his life.
When Ankrah left the army, he became the head of the National Investment Bank, a state-owned commercial bank in Ghana. Less than a year later, on 24 February 1966, Ghanaian President Kwame Nkrumah was dethroned in a coup, and a council called the National Liberation Council (NLC) was formed to take over the government. Ankrah was invited to become the Head of state and Chairman of the NLC. Ankrah accepted and became the leader of Ghana.
Joseph Ankrah was the Ghanian Head of State from 1966 to 1969. On April 2, 1969, he was forced to resign as Chairman of the NLC and Head of State over a bribery scandal involving a Nigerian businessman.
Akwasi Afrifa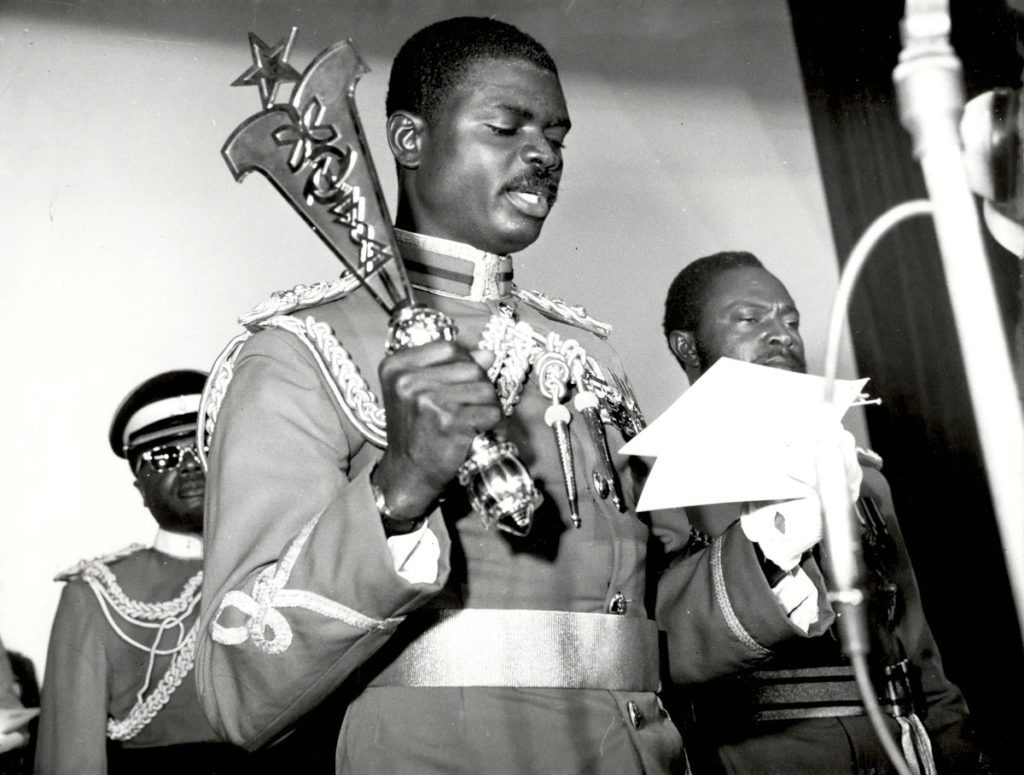 Born: 24 April 1936
Died: 26 June 1979
Year Elected: 1969
Time in Office: 2 April 1969 to 7 August 1970
Ethnicity: Krobo
Other Positions: 1st Chairman of Presidential Commission
Akwasi Afrifa was a Ghanaian soldier who was also a traditional ruler, farmer, and politician. He ruled his nation from 2 April 1969 to 7 August 1970 as the Head of State of Ghana. During his time in the Ghana Army, he rose through the ranks to become a Lieutenant General.
Born on 24 April 1936, Afrifa joined the Ghana Army when he was about 21 years old in 1957. He would go on to complete officer training at the Royal Military Academy, Sandhurst, England after attending the Regular Officer's Special Training School and the Mons Officer Cadet School, Aldershot, England. Afrifa later attended the School of Infantry, Hythe, United Kingdom.
In 1960, when he was about 24 years old, Afrifa was commissioned as a second lieutenant in the Ghana Armed Forces. He then rose through the ranks to become a major. In 1965, he was also a staff officer in charge of army training and operations. On 24 February 1966, the first President of Ghana, Kwame Nkrumah, was dethroned in a coup. Akwasi Afrifa was one of the soldiers who facilitated the coup to topple Nkrumah's government. During the coup, he was able to take over the Broadcasting House after heavy fighting. This was actually the base from which the national radio station broadcast its news and programs.
Rise To Power
After toppling Nkrumah's government, Joseph Arthur Ankrah became the new Head of State and Afrifa became part of the new military government. During the time that the government was in power, Afrifa went through some rapid promotions rising from major to lieutenant general in three years. He also became the commissioner (minister) for Finance and Trade.
In April 1969, Ankrah resigned as Head of State after getting enmeshed in a bribery scandal. He was consequently replaced by Afrifa as head of state. Afrifa served as head of state until he handed over power months later in 1969 to Kofi Abrefa Busia as Prime Minister. But he continued serving as chairman of the Presidential Commission until 1970.
Edward Akufo-Addo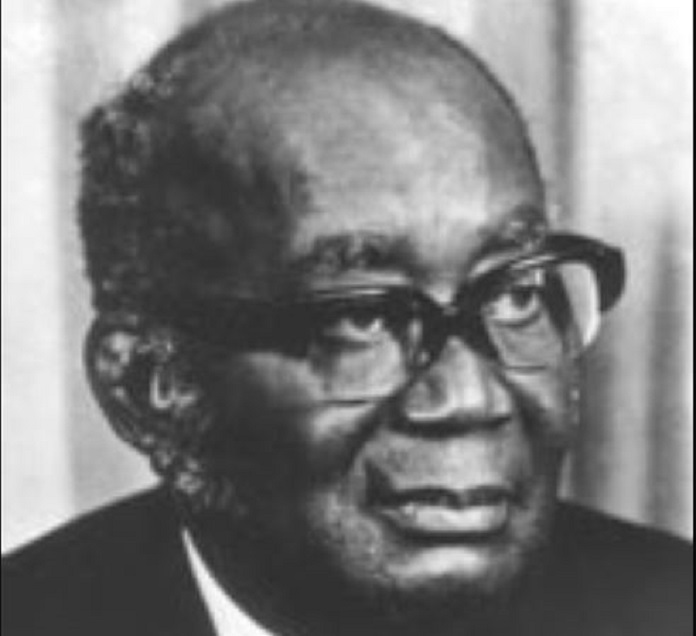 Born: 26 June 1906
Died: 17 July 1979
Year Elected: 1970
Time in Office: 31 August 1970 – 13 January 1972 (1 year, 135 days)
Political Party: Independent
Ethnicity: Dangme
Other Positions: Chief of Justice of Ghana
Edward Akufo-Addo was a politician and lawyer who is widely regarded to be one of the founding fathers of Ghana as he was heavily involved in the fight for Ghana's independence. He was also a member of the "Big Six" leaders of the United Gold Coast Convention (UGCC).
Born on 26 June 1906 at Dodowa in the Greater Accra Region, Akufo-Addo showed signs of brilliance from early and in 1929, when he was about 23 years old, he entered Achimota College, where he won a scholarship to St Peter's College in Oxford, UK from where he graduated with honors in philosophy and politics in 1933. He later returned to Ghana to start a private legal practice in Accra.
Years later, in 1947, Akufo-Addo became a founding member of the United Gold Coast Convention (UGCC) and served as a member of the Gold Coast Legislative Council and the Coussey Constitutional Commission from 1949 to 1950. In 1962, Edward Akufo-Addo became a Supreme Court Judge and served in that capacity till 1964.
Rise To Power
In 1966 Akufo-Addo was appointed Chief Justice by the National Liberation Council (NLC) regime. In 1970, Akufo-Addo was named the President of Ghana in the Second Republic. However, the real political power rested with the Prime Minister, Dr. Kofi Abrefa Busia.
Akufo-Addo served as President of Ghana from 1970 until his government was toppled in a military coup on 13 January 1972.
Ignatius Kutu Acheampong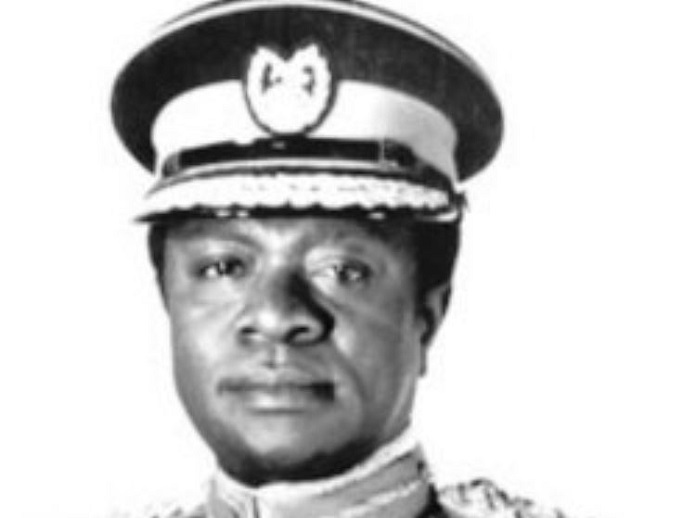 Born: 23 September 1931
Died: 16 June 1979
Year/s Elected: 1972
Time in Office: 13 January 1972 – 5 July 1978 (6 years, 173 days)
Ethnicity: Ashanti
Ignatius Kutu Acheampong was a Ghanaian soldier who seized power and ruled Ghana as a military head of state from 13 January 1972 to 5 July 1978. Born on 23 September 1931, Ignatius Kutu Acheampong grew up in the Ashanti region of Ghana and attended the Roman Catholic schools at Trabuom and the St Peter's school at Kumasi. He later had his college education at the Central College of Commerce at Agona Swedru.
In 1959, when he was about 28 years old, he was commissioned in the Ghana Army. Acheampong grew through the ranks and soon became one of the few influential Akan military officers in the Ghana Armed Forces. He also served as a member of the UN peacekeepers during the Congo Crisis.
Rise To Power
On 13 January 1972, Ignatius Kutu Acheampong, who was not happy with the government of the day, led a bloodless military coup that toppled the Ghanaian Prime Minister, Kofi Busia, and the President, Edward Akufo-Addo. He consequently became the Head of State. He also became the chairman of the National Redemption Council (NRC), which was later transformed into the Supreme Military Council.
Acheampong ruled as the Ghanaian Head of State from 1972 until he was overthrown from power in a palace coup led by Fred Akuffo on July 5, 1978.
Fred Akuffo
Born: 21 March 1937
Died: 26 June 1979
Year Elected: 1978
Time in Office: 5 July 1978 – 4 June 1979 (334 days)
Other positions: Chief of Defence Staff
Fred Akuffo was a Ghanian soldier and politician who served as the country's Head of State from 1978 to 1979. Born on 21 March 1937, Akuffo enlisted in the Ghana Army in 1957 when he was about 20 years old. He then trained at the Royal Military Academy, Sandhurst, the UK among others, and received his commission a few years later in 1960.
Fred Akuffo was very active in the army. Between 1969 and 1970, he served as the commanding officer of the Airborne Training School at Tamale and later the 6th Battalion of Infantry of the Ghana army. Before long, he rose to become the 2nd Brigade Commander. Akuffo was also placed in charge of supervising the change over of traffic flow in Ghana from driving on the left to driving on the right as part of 'Operation Keep Right'.
Rise To Power
In April 1974, Fred Akuffo rose to become the Army Commander. A few years later, in 1976, he became the Chief of Defence Staff. When Ignatius Kutu Acheampong seized power in a coup, Akuffo was appointed a member of the ruling Supreme Military Council government because of his position as the Ghana army commander.
However, Akuffo, who was not happy with the way Acheampong was ruling Ghana, led a palace coup on July 5, 1978, and overthrew the head of state. Akuffo consequently became the Head of State. He started making preparations to return Ghana to constitutional rule, however, this did not happen because his government was overthrown by junior ranks of the Ghana military led by Flight Lieutenant Jerry John Rawlings on 4 June 1979.
Jerry Rawlings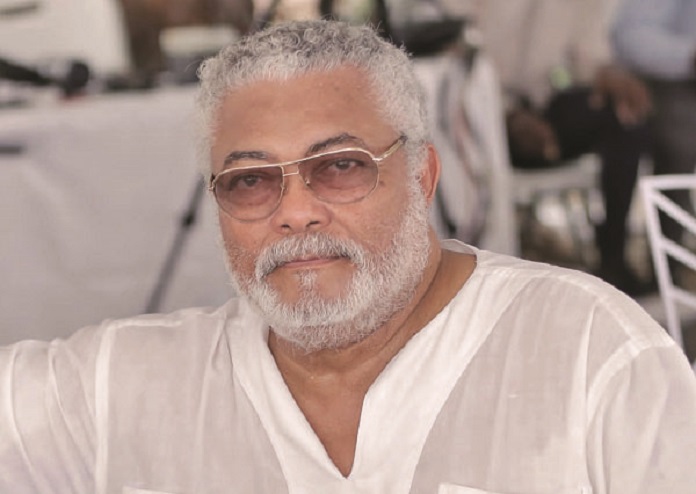 Born: 22 June 1947
Died: 12 November 2020
Year/s Elected: 1979, 1981, 1993
Time in Office: 4 June 1979 – 24 September 1979, 31 December 1981 to 7 January 2001
Political Party: National Democratic Congress
Ethnicity: Ewe
Jerry Rawlings was a Ghanaian military officer and politician who was the longest-serving leader of Ghana, having led the country from 1981 to 2001 straight and also for a brief period in 1979. Born on 22 June 1947 in Accra, Ghana, Jerry Rawlings attended Achimota School and then joined the Ghana Air Force shortly after he finished his secondary education at Achimota College in 1967.
Rawlings was, afterward, posted to Takoradi, in Ghana's Western Region, so that he could continue his studies there. Consequently, he graduated in January 1969 and was commissioned as a pilot officer. During this time, he emerged the winner of the highly coveted "Speed Bird Trophy" as the best cadet in flying the Su-7 ground attack supersonic jet aircraft. This was because he was skilled in aerobatics. Nearly a decade later in 1978, Jerry Rawlings earned the rank of flight lieutenant when he was about 30 years old.
Even as a young man, Rawlings always stood for uprightness and justice, and, during his service with the Ghana Air Force, he started to perceive that there was a deterioration in discipline and morale due to corruption in the Supreme Military Council (SMC). So, he made up his mind to fight it. Over the years, Jerry Rawlings began to grow through the ranks and, as he kept getting promoted, he began to have regular contact with the privileged classes and their social values.
Because of this, his view of the injustices in society toughened and many people in the privileged class and in the government began to look at him with some unease. Eventually, Rawlings was so fed up with what he considered to be deep corruption in the government that he and six other soldiers staged a coup against the government of General Fred Akuffo. However, they failed to overthrow the government so they were arrested by the military. Rawlings was consequently sentenced to death in a General Court Martial and imprisoned.
Rise To Power
While Jerry Rawlings was in prison awaiting his execution, a group of soldiers broke into the prison where he was incarcerated and freed him on 4 June 1979. That same day, he went into action and led the group of soldiers in a coup to overthrow the Akuffo Government and Supreme Military Council. Afterward, he established Armed Forces Revolutionary Council (AFRC) and became its chairman.
Rawlings and the AFRC ruled Ghana for about 112 days, and during this time, arranged the execution of eight military officers, including three former Ghanaian heads of state; Acheampong, Akuffo, and Akwasi Afrifa, by firing squad. Eventually, on 24 September 1979, he handed over power to President Hilla Limann, who had won the presidential elections that year.
In a twist of fate, Rawlings returned two years later on 31 December 1981, and overthrew Limann in a coup d'état, claiming that civilian rule was weak. He went on to rule Ghana as a military man from 1981 until 1992 when he decided to contest elections and try to retain power in a democratic setting. In 1992, he resigned from the military and founded his own political party called the National Democratic Congress (NDC) under which he contested elections.
Rawlings won the presidential elections and was elected President. He thus led Ghana back to multiparty democracy. After finishing his first term, he decided to seek re-election in 1996. He won the re-election and ruled Ghana for another four years before handing over to his successor, John Kufuor in 2001.
John Kufuor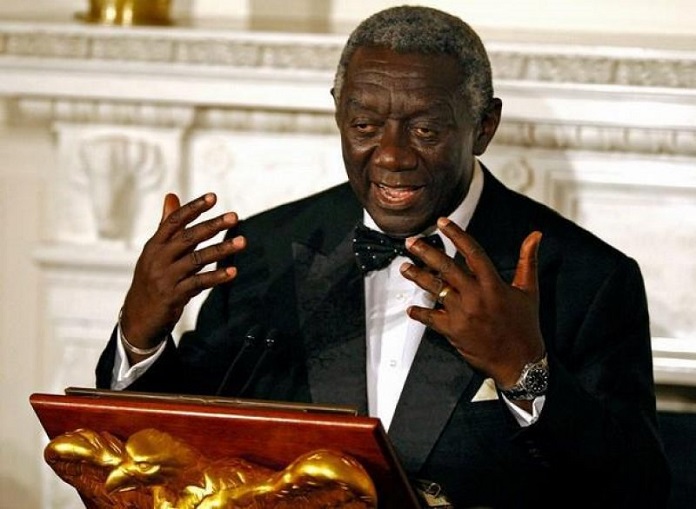 Born: 8 December 1938
Year/s Elected: 2000, 2004
Time in Office: 7 January 2001 to 7 January 2009
Political Party: New Patriotic Party
Other Positions: Member of Parliament for Atwima Nwabiagya
John Kufuor is a Ghanaian politician who rose to power in 2001 and remained in power until 7 January 2009. The politician, who is fondly referred to as the 'Gentle Giant', also served as the Chairperson of the African Union from 2007 to 2008.
Born on 8 December 1938, Kufuor has his primary education at the Kumasi Government School and Osei Tutu Boarding school then proceeded to study at the At Prempeh College from 1954 to 1958. He later relocated to London to study law from 1959 to 61. He eventually became a barrister in one year eight months and was called to the London bar in 1961. He was later called to the bar in Ghana in the following year.
Kufuor also went to Oxford University graduating from Exeter College, in 1964. After working in London for a while, he returned to Ghana where he practiced in the Chambers of Victor Owusu. In 1966, John Kufuor became the town clerk of Kumasi City Council.
Kufuor went into politics soon after and contested for elections to become a lawmaker. He was elected as a Member of Parliament for Atwima Nwabiagya Municipal District in 1969 and served in that capacity until 1972. He served as a Member of Parliament for Atwima Nwabiagya again from 1979 to 1981.
Rise To Power
In 1996, John Kufour decided to run for President of Ghana. However, he was defeated by Jerry Rawlings after polling 39.62% of the popular votes against Rawlings' 57%. He decided to run for President again in the presidential election of December 2000. This time around, he won the elections and was declared President of Ghana.
After serving as President for four years, Kufuor was re-elected in the presidential and parliamentary elections held on 7 December 2004. He served for another four years before handing over to his successor, John Atta Mills in 2009.
John Atta Mills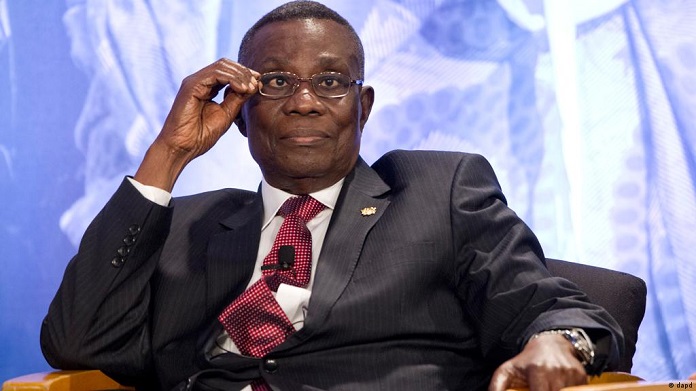 Born: 21 July 1944
Died: 24 July 2012
Year Elected: 2008
Time in Office: 7 January 2009 to 24 July 2012
Political Party: National Democratic Congress
Ethnicity: Fante
Other Positions: Vice President of Ghana
John Atta Mills was a politician and legal scholar who became President of Ghana in 2009 and served in that capacity until 2012. Born on 21 July 1944, Mills schooled at the Komenda Methodist Middle School before proceeding to the prestigious Achimota School for his secondary education. He then gained admission into the University of Ghana, Legon, where he completed a bachelor of a law degree, LLB, and a professional law certificate in 1967. He also studied at the London School of Economics and Political Science where he obtained an LLM in 1968.
John Atta Mills was highly respected as a scholar and was nicknamed The Prof by his supporters because of his long academic career. Before going into politics, Mills spent close to twenty-five years teaching at the University of Ghana and other institutions of higher learning.
From 1988 to 1993, Mills served as the Acting Commissioner of Ghana's Internal Revenue Service under President Jerry John Rawlings. He later served as the substantive Commissioner from 1993 to 1996. In 1996, John Atta Mills was selected to be the running mate of Jerry Rawlings in the presidential elections. They won the election, so Mills served as the Vice President of Ghana from 7 January 1997 to 7 January 2001.
Rise To Power
In 2000, John Atta Mills was chosen to become the candidate of the National Democratic Congress for the 2000 presidential election. However, during the elections, he was defeated by John Kufuor. Mills again contested the seat of presidency in the 2004 presidential election but was defeated by John Kufour again.
Not giving up, Mills stood for election the third time in the 2008 presidential election and emerged victorious this time, beating his closest rival, Nana Akufo-Addo, and becoming President of Ghana. John Atta Mills served as President from his inauguration on 7 January 2009 until he died on 24 July 2012. He became the first Ghanaian president to die in office. John Mahama, his vice president, was sworn in at about 20:00 GMT on the same day.
John Mahama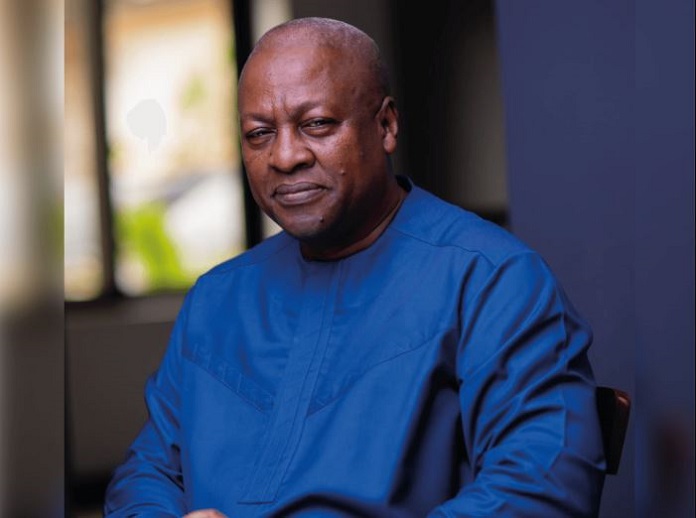 Born: 29 November 1958
Year Elected: 2012
Time in Office: 24 July 2012 – 7 January 2017
Political Party: National Democratic Congress
Ethnicity: Gonja
Other Positions: Vice President of Ghana
John Mahama is a Ghanaian politician who served as President of Ghana from 24 July 2012 to 7 January 2017 and previously served as Vice President before leading the nation. Born on 29 November 1958, Mahama had his primary education at the Accra Newtown Experimental School (ANT1) and the boarding school at Achimota Primary School before going on to complete his secondary school at Ghana Secondary School (Tamale, Northern region).
The future leader later proceeded to attend the University of Ghana, Legon and graduated with a bachelor's degree in history in 1981. In 1986, he bagged a postgraduate diploma in communication studies from the same institution. With a deep zeal for learning, Mahama went on to study at the Institute of Social Sciences in Moscow in the Soviet Union, specializing in social psychology, and, in 1988, graduated with a postgraduate degree.
When Mahama returned from Moscow after studying there, he proceeded to work as the Information, Culture, and Research Officer at the Embassy of Japan in Accra from 1991 to 1995. After that, he worked as the International Relations, Sponsorship Communications, and Grants Manager at the anti-poverty non-governmental organization (NGO) Plan International's Ghana Country Office. Soon after this, he took interest in politics and began to seek elective positions in government.
In 1966, John Mahama was elected to the Parliament of Ghana in the 1996 elections to represent the Bole/Bamboi Constituency for a four-year term. The following year, in April 1997, he got appointed as the Deputy Minister of Communications and was eventually promoted to the post of Minister of Communications in November 1998. He served in this capacity until January 2001. In 2000, he got re-elected for another four-year term as the Member of Parliament. In 2004, Mahama was again re-elected for a third term.
Rise To Power
In 2008, John Mahama was picked to be the running mate of John Atta Mills who was seeling to become president. They eventually won the 2008 Ghana general Elections and, on 7 January 2009, Mahama became the Vice-President of Ghana. He also served as the Chairman of the Armed Forces Council of Ghana, the National Economic Management Team, the Decentralisation and Implementation Committee, and the Police Council of Ghana in this capacity.
Sadly, on 24 July 2012, President John Atta Mills died and Ghana was thrown into turmoil. In line with the constitution of Ghana, Mahama was sworn in as President of Ghana the same day of Mills' death. He became the first Ghanaian president to have served at all levels of political office. At the time he became president, only six months were remaining in Mills' term.
After serving out Mills' tenure, John Mahama sought a full term at the December 2012 general election. He won the election with 50.70% of the total valid votes cast, beating his nearest challenger, Nana Akufo-Addo. Mahama served another four years until 2016 and sought a second full term at the December 2016 general election. However, this time he was defeated by Nana Akufo-Addo who went on to become the President of Ghana.
Nana Akufo-Addo
Born: 29 March 1944
Year/s Elected: 2016, 2020
Time in Office: Incumbent
Political Party: New Patriotic Party
Ethnicity: Dangme
Other Positions: Member of Parliament, Attorney General of Ghana
Nana Akufo-Addo is a Ghanaian politician who has been serving as the president of Ghana since he was sworn in on 7 January 2017. Born on 29 March 1944, Akufo-Addo had his primary education at the Government Boys School, Adabraka, and then proceeded to England to study for his O-Level and A-Level examinations at Lancing College, Sussex. He soon returned to Ghana and later studied economics at the University of Ghana, Legon, in 1964, earning a BSc (Econ) degree in 1967.
Akufo-Addo later developed an interest in law and subsequently joined Middle Temple to train as a lawyer under the apprenticeship system known as the Inns of Court, where no formal law degree was required. After successfully qualifying as a lawyer, he was called to the English Bar (Middle Temple) in July 1971. Some years later in July 1975, he got called to the Ghanaian bar. He then went on to work with the Paris office of the U.S. law firm Coudert Brothers and later co-founded the law firm Prempeh and Co in 1979.
Nana Akufo-Addo's journey into politics began in the late 1970s when he joined the People's Movement for Freedom and Justice (PMFJ), an organization that was formed to oppose the General Acheampong-led military government. Years later, in May 1995, Akufo-Addo joined other elites to form the Alliance for Change, a group that organized demonstrations against the human rights violations of the Rawlings presidency and other neo-liberal policies.
In 1997, he contested and won the election to become a Member of Parliament for Abuakwa constituency and served in this capacity from 7 January 1997 to 6 January 2005. In 2005, he was elected as Member of Parliament for Akim Abuakwa South constituency and served from 7 January 2005 to 6 January 2009.
Rise To Power
Even while serving as a member of parliament, Nana Akufo-Addo was already eyeing the presidency. In October 1998, Nana Akufo-Addo tried to clinch the presidential candidacy of the NPP but lost to John Kufuor, who later won the December 2000 presidential election and became President of Ghana. About 10 years later, in 2008, Akufo-Addo decided to contest for president again. He represented the NPP in a closely contested election against his rival, John Atta Mills of NDC but lost the election to Mills who became president.
Not giving up, Akufo-Addo ran again for president in 2012 as NPP's presidential candidate but lost to NDC's candidate John Mahama, who was the successor to the late Atta Mills. In 2016, Akufo-Addo ran for president for the third time in the 2016 election. This time, he polled 53.83% of the votes to beat John Mahama who has just 44.4% and was declared President of Ghana.
After serving out his first tenure as president in 2020, Akufo-Addo decided to seek re-election and contested the 2020 general elections during which he beat his nearest challenger, John Mahama by polling a majority of 51.59% of the votes cast. Akufo-Addo is still serving as the incumbent President of Ghana. His tenure expires in 2024.