Over the years, there have been mixed opinions about Woody Allen. While it has been held on several quarters that he is a child molester and sexual predator, many have insisted that he's just good old Woody – a victim of bad press and blackmail.
The comedian is also a known movie director, screenplay writer, and actor who might have developed a thick skin and seems impervious to public opinion of him when he made a comment about the scandals surrounding him and his marriage to his foster daughter. Please read on.
Woody Allen's Bio
Woody Allen's original name is Allen Stewart Konigsberg, he was born on December 1st 1935 to Martin and Nettie Konigsberg in Brooklyn New York City borough. His parents were second-generation Jews and his father did various jobs at various times as a waiter, cab driver, jewel engraver and salesman while his mother was a bookkeeper. His younger sister Letty was born in 1943. His father died on 8th January 2001 and his mother followed not long after on January 27, 2002.
The comedian's childhood was not a rosy one as both of his parents had difficulties getting along, his mother's harsh discipline and fiery temper made it even worse for little Woody Allen. In order to preserve the family's Jewish tradition, his parents sent him to study in a Hebrew school for 8 years. He later attended Midwood High School from where he graduated in 1953. Woody Allen played baseball in his high school days and wrote jokes for a few $200 a week as a teenager.
At age 17, the aspiring comedian legally changed his name to Haywood Allen (a name he believes fitted his comedic career). He moved from writing jokes and comedy screenplays to performing his jokes himself as a standup comedian. Although he was very timid at first, over the years, his success grew with his confidence on stage. In 1965, he wrote the script for the film What's New Pussycat for Warren Beatty, a film he also played a minor role in.
In 1966, Woody Allen directed his first film what's up Tiger Lily? He cruised into the big league in 1969 with Take the Money and Run and he followed that up, with Bananas in 1971, Everything You Always wanted to know about sex (But were afraid to ask), Play it again, Sam – both in 1972 and Sleeper in 1973. He also wrote funny short stories for The New Yorker magazine.
The Comedian's major career breakthrough came in 1977 in the movie Annie Hall. The movie starred Diane Keatony and went on to win four Academy Awards. He also directed Manhattan which became a hit in 1979. In 1986, Hannah and Her Sisters gave him an Oscar Award for Best Original Screenplay; it was a box office record breaker.
The award-winning movie director shied away from Hollywood in the '90s producing low key movies like Husband and Wives in 1992, Bullet Over Broadway in 1994 and Sweet Lowdown in 1999. He produced a number of films as well, the movie Blue Jasmine earned him a Best Original Screenplay nomination at the Oscar Awards in 2013.
Like most of our favourite celebrities, Woody Allen has had his own share of controversies trailing his career and personal life, one of such was the sexual assault case brought against him by Mia Farrow and his defamation lawsuit of $1 million, filed by his ex-wife of 3 years, Harlene Rosen, in 1960 and the list goes on.
The entertainer is about 5 feet 5 inches (1.65 m) on standing with his frame neatly complemented by the weight of 50 kilograms (110 lb). With his hazel eyes and grey hair, one can not help but recognize his wealth of experience in the entertainment circle.
His Net Worth
The world-famous award-winning film director has earned quite a lot in his very successful career. He owns a townhouse in upper East side Manhattan worth $22.6 million dollars which he bought in 2006. He sold his penthouse in the 5th avenue in the 90s for almost $14 million. His estimated net worth currently stands at $100 million.
Is Woody Allen Married?
Woody Allen has walked the marital road three times. He first married Harlene Rosen in 1956 but their marriage packed up in 3 years (from 1956 to 1959). He later fell in love with one of his actresses Louise Lasser whom he later married in 1966 but sadly, their marital journey ended in 1970.
From thereon, the comic actor had several relationships, spanning from short to long terms. Most of his affairs rotated among the people he worked with in his films such as Diane Keaton, Mia Farrow, and Stacey Nelkin.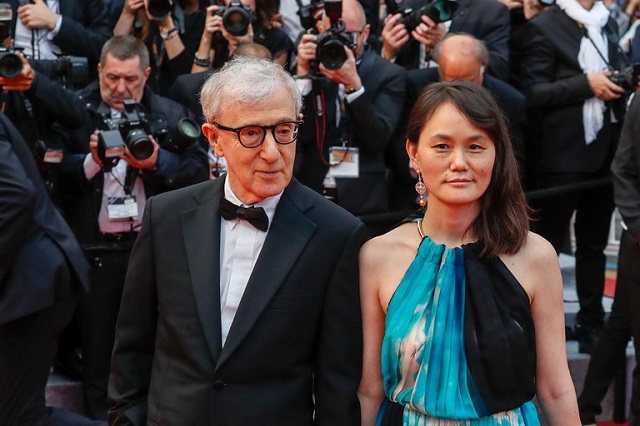 Mia Farrow and Woody Allen stayed together for 12 long years, and they even share a son together. Their relationship fell apart after she discovered that her lover was having an affair with her underage foster daughter. Soon-Yi Previn and Woody Allen's relationship allegedly started after he drove her to school when she suffered an injury in her junior year during a soccer game. Their bond grew stronger from 1991 and throughout her college days in Drew University, New Jersey. Their secret affair subsequently leaked and resulted in back and forth legal battles and sanctions until the case was dropped for lack of evidence.
The veteran actor went ahead to declare his undying love for Soon Yi in August 1992, a declaration that caused quite a lot of media buzz and attracted negative publicity for him. He and Soon-Yi Previn later exchanged marital vows in the city of Vernice, Italy, on 23rd December 1997. The couple has been waxing stronger in their marriage relationship ever since. They adopted 2 daughters and currently reside in Carnegie Hill, Manhattan.
Details of his Daughter and Son
Allen's only biological son is Satchel Farrow (now Ronan). He was born of out of his long affair with Mia Farrow. A journalist and former government advisor, Ronan was born on December 19, 1987. He attended Yale University after graduating from Bard College. However, Woody Allen adopted two more daughters; Bechet Dumaine and Manzie Tio.