Woody Allen movies have continued to make him an integral part of the huge movie industry, which in turn has earned him wealth and several awards like the Academy Awards (four times), BAFTA (ten times) and two Golden Globes, among others.
It is one thing to have a talent and entirely another to be able to showcase it. For the American born Woody Allen, there is no doubt he is creative and putting his rare gifts to good use. His lucidity, austere and out of the world directing, and scripting has rather made him famous for over six decades and counting. Most of Woody Allen movies were either scripted or directed by the screen genius.
Allan Stewart Konigsberg aka Woody Allen's diversified flair does not come as a surprise as he is a talented writer with powerful imaginations. He ventured into movie writing in 1965 and subsequently took to directing and acting in 1969. His first movies are Take the Money and Run after which he wrote and appeared in the 1972 Play it Again, where he portrayed the character, Sam. Following his success, Allen sold himself to the world when he appeared in his very popular movies Annie Hall (1977) and Manhattan (1979).
Woody Allen Movies and TV Shows – Best To Worst
Annie Hall (1977)
IMDB: 8/10
Rotten Tomatoes: 97%
Metacritic: 92%
This movie was directed by Woody Allen and featured Diane Keaton, Tony Roberts, and Carol Kane among others. It was released in 1977 and is centered on romance as many of his other movies. The work is about a comedian named Alvy Singer (Allen) who is trying to comprehend the failure of his romantic affair. Alvy in the movie is a man with failed relationships and even with Annie (Diane Keaton).
The work is one of the most successful works of Woody Allen movies with a good budget of $4 million and a better Box Office earning of $38.3 million with a 97% rating on Rotten Tomatoes.
Manhattan (1979)
IMDB:  7.8/10
Rotten Tomatoes: 94%
Metacritic: 83%
This movie proves to be another successful work of Allen. It is a romantic comedy about a 42-year-old who fell in love with his best friend's mistress even when he was dating a teen. Like many of Woody Allen movies, Manhattan got several award nominations. The casts in this movie include Woody Allen (who also directed the movie), Diane Keaton, Meryl Streep and a host of other actors. The movie had a budget of $9 million and made $39.9 million dollars.
Crimes And Misdemeanours (1989)
IMDB: 7.8/10
Rotten Tomatoes: 92%
Metacritic: 77%
Another one of Woody Allen's successful movies is Crimes and Misdemeanours which has central themes that affect people daily. They include love and death, lust and murder, and religion. The movie was produced by Robert Greenhut and was directed by Woody Allen in 1989. It starred Caroline Aaron, Woody Allen, Claire Bloom, Alan Alda and a host of other talents.
Although the movie had a budget of $19 million dollars, it raked in a miserly $18.3 million in Box Office. However, it received 3 Academy Award nominations for Best Original Screenplay, Best Director and Best Actor in Supporting Role (Martin Landau).
Hannah and Her Sisters (1986)
IMDB: 7.8/10
Rotten Tomatoes: 91%
Metacritic: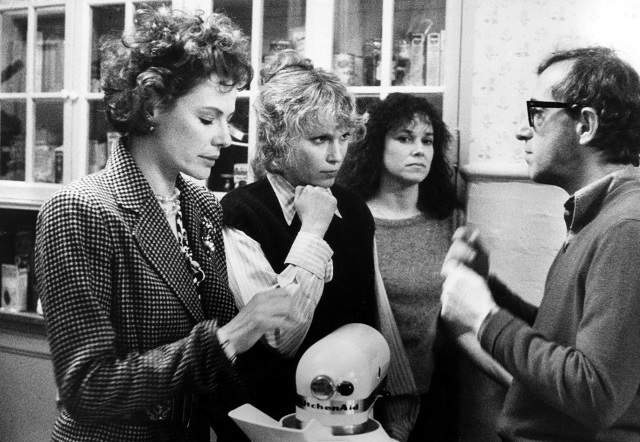 Although old, this is considered to be one of the best movies Woody Allen has made. The movie which was written and directed by Woody Allen was produced in 1986. One of the very unique things about the movie is its ability to organize like a novel with many episodes with each segment starting with a heading or quotation displayed. The movie is about 3 sisters – Hannah, Lee and Holly. The characters in the film were played by Diane West (Holly), Woody Allen (Mickey), Michael Caine (Elliot), Mia Farrow (Hannah) and Barbara Hershey (Lee) among others.
The movie won several awards and nominations which include awards for Best Original Screenplay among others. As to its rating, the movie successfully got a rating of 91% from Rotten Tomatoes.
Everyone Says I Love You (1996)
IMDB:  6.7/10
Rotten Tomatoes: 77%
Metacritic: 56%
This is an American musical comedy film which featured Julia Roberts, Alan Alda, Gaby Hoffman among others and was released in 1996. This Woody Allen movie holds dear to it the message of love and music.
Although it did not do well commercially, it has remained one of the best movies of Allen and a critic went as far as ranking it the best Woody Allen movie. Also, it was able to be applauded with a nomination for Best Motion Picture – Musical or Comedy. The movie got a good rating of 79% rating on Rotten Tomatoes.
Crisis in Six Scenes (2016)
IMDB: 6.6/10
Rotten Tomatoes: 18%
Metacritic: 44%
Crisis in Six Scenes is one of Woody Allen movies with a comic undertone produced in 2016. It was one of Allen's major failed works with the Rotten Tomatoes aggregate site rating the series 17%. The show is about a family who belongs to the middle class visited by a woman with the aim of becoming an FBI agent. The series has several casts of Michael Rapaport, Becky Ann Baker, Margaret Ladd, and Joy Behar among others.
Company Man (2001)
IMDB: 5.2/10
Rotten Tomatoes: 14%
Metacritic: 18%
It was released in 2000 and it is centered on action, comedy, and adventure. The film was however rated 14% by Tomatometer thereby making it the lowest-rated works of his with $146,193 in Box Office.