Recaps of the Olympic games completely overshadowed the fact that August 22nd was World Jollof Rice day! Not to West Africans anyway, to whom every day is World Jollof Rice day.
World Jollof Rice day is a day to celebrate the culturally significant rice meal. The dish which originated among the Wolof people of Gambia/Senegal has been embraced by all Africans, especially Nigerians and Ghanaians who constantly argue over whose jollof rice is better. In fact, the following meme can give you a glimpse into what the 'Jollof Wars' really is like.
SEE ALSO: Did You Know That Dangote Is The Single Largest Investor In Rice Production In Africa?
There is no one way to cook Jollof rice, but West Africans are particular about sticking to the traditional way. In 2014 when British celebrity chef, Jamie Oliver tried his hands at Jollof , he broke the internet — the West African part for recommending the addition of coriander, parsley, and lemon.
Jollof can be cooked with additional vegetables, coleslaw on the inside or with any animal protein to serve.
In hopes that the Jollof warriors do not come for the head of AnswersAfrica, here's a classic recipe for anyone who is willing to try it out.
SEE ALSO: Top 10 Best African Food Recipes
All you need:
Rice – preferably parboiled.
Fresh tomatoes
Tomato paste
Onions
Habanero pepper
Salt
Vegetable oil
Seasoning cubes
Chicken (or fish, beef, mutton)
Preferred spices such as curry, thyme, etc.
Getting everything ready before the real deal.
In no particular order:
Get your chicken ready by washing it, and steaming it with onions, pepper, seasoning cubes, salt, and spices. You will get your stock from here which would be added to the final preparation of the rice. If you wish to fry, do so after draining and setting the water aside.
SEE ALSO: 10 Mouth-Watering African Rice Dishes You Must Try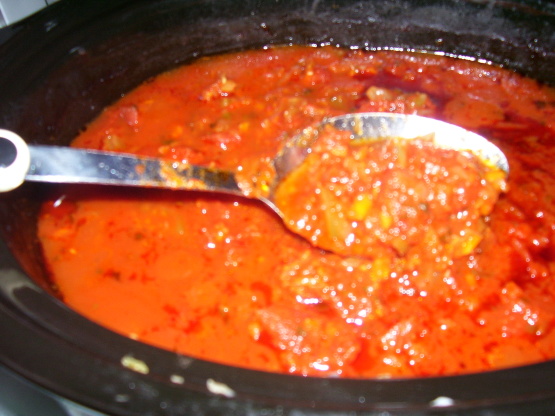 Make a tomato puree. This usually consists of fresh plum tomatoes, onions, pepper, tomato paste (optional, usually used to enhance redness of the rice), garlic and ginger which are also optional. Everything besides the tomato paste is blended and turned into a separate pot. Cook the mixture on low heat and watch until the water is completely dried. When dried, add the tomato paste, chopped onions  and oil and fry until you see the oil clearly streaked in the stew, also taste to know if the raw tomato taste is gone.
Boil your rice. Jollof rice does not allow for the constant addition of water when cooking, as it would lead to it being sticky and more like a rice porridge. Boiling it before cooking helps. So first of all, wash the rice in cold water , drain and turn into a pot and add more water. The water should be higher than the rice. Boil until the rice is neither hard to chew nor soft to chew, but somewhere in-between and drain.
Making the Jollof rice
In the pot containing your tomato puree, add the stock (chicken water) and allow to boil for some minutes.
Add the rice and ensure that the rice and tomato + stock mixture are on the same level. This is so that the rice gets cooked as the water gets dried, without leaving the rice overcooked.
Add salt, spices and seasoning cubes to suit your preference.
Constantly check to see if the water is dried by dipping a knife into the pot. The state of the knife will let you in on how watery or dry the rice is.
When done, allow to cool and serve with your chicken. Yum!
SEE ALSO: 8 Delicious Ghanaian Dishes You Must Try
And that's it, Cést fini! Enjoy your late World Jollof rice day meal.