Some people are thrust into the spotlight due to their own achievements while some others find fame due to familial relationships and attachments. If there is one person who belongs to the latter category, it is Yainee Alonso. Alonso is the sister of the professional baseball player, Yonder Alonso. She is also better known as the wife of MLB star – Manny Machado. Her husband is one of the best fielders in the MLB and is also the beneficiary of one of the richest contracts in American sports history. Want to know more about Yainee Alonso. Then we have got all the details here.
Yainee Alonso Bio
Yainee Alonso was born on the 24th of November 1990 in Havana, Cuba. She spent the first six years of her life in Cuba before her parents made the courageous decision to try and leave the struggling communist country. The entire family embarked on an illegal journey, via a small over-crowded aircraft, and eventually made it safely it to America.
In America, the family settled down in Miami and started rebuilding their lives. They did not have it easy as they basically had to start from scratch. Alonso's parents worked multiple jobs in order to provide their kids with a better life. All their hard work paid off as Alonso not only obtained her high school diploma but went on to study at the University of Miami. She graduated from the institution with a bachelor's degree in psychology in 2012.
Her Family, Husband and Kids
Yainee Alonso hails from a family of four. Her father's name is Luis while her mother's name is Damarys. Her father played professional baseball back in Cuba but had to give it up after defecting to the U.S. Alonso has just one sibling; an elder brother named Yonder Alonso. Yonder is a professional MLB player who plays in the first baseman position. He played three seasons of college baseball at the University of Miami and was drafted seventh overall in the 2008 MLB draft. Since then, he has played for teams such as Cincinnati Reds, San Diego Padres and Seattle Mariners. Yonder received All-Star honours in 2017.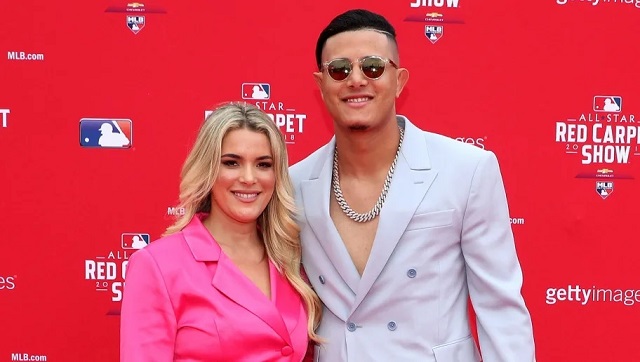 Yainee Alonso is married to baseball star, Manny Machado. Machado was born on the 6th of July 1992 in Miami and has dual Dominican and American nationalities. He played high school baseball at Brito Miami Private School and was so good that he was immediately snapped up by an MLB side in the 2010 draft. Machado spent just one year in the minor leagues before making his MLB debut in 2011. Since then, he has broken several MLB records including most multiple-hit games before the age of 21. He has also received several accolades including two Golden Glove Awards and multiple All-Star honours.
Yannie Alonso first met her future husband through her elder brother, Yonder. The two men are very good friends and Machado often visited their home. His visits, however, became so frequent that Yonder realised that he was now visiting because of his sister. Machado eventually came out and sought his permission to date her. Yonder agreed on the condition that he would always respect her and be there for her. He also assured him that they would always remain friends, even if the relationship does not work out.
Machado eventually asked Alonso out and they started dating in 2011. The couple dated for nearly two years before getting engaged in February 2013. They later tied the knot in November 2014. Since getting married, Yannie Alonso has kept a low profile unlike most WAGs who love showing off their fabulous lives. In fact, it is even her husband who often posts their pictures and lovely tributes on his social media account.
Net Worth
Alonso's net worth is still under review and is not yet available. However her husband has a net worth estimated at $5 million. His fortune stems from endorsement deals with sports gear manufacturers such as Rawlings and Nike. Machado is also the beneficiary of multiple juicy contracts over the years. For instance, in February 2019, he signed a 10-year contract with the San Diego Padres worth a cool $300 million.
See Also:  Nina Altuve – Biography, Age, Height and Facts About Jose Altuve's Wife
Other Facts about Yainee Alonso
She was a member of her school's cheerleading team during her days at the University of Miami.
Her husband received his first career MLB ejection on the 27th of June 2013.
Alonso holds dual Cuban and American nationalities.
She and her husband are big time animal lovers. They have several dogs including one affectionately named Kobe.
Her husband has a tattoo of her portrait on his arm.
Her 2014 wedding ceremony was a destination affair which took place in Paris.