Younes Bendjima may be more known for dating the eldest Kardashian sister – Kourtney Kardashian – but he is an Algerian-American model who is slowly rising through the ranks of his career and attaining success for himself in a profession that he never initially intended.
Younes Bendjima Bio (Age, Ethnicity, Nationality)
Younes Bendjima was born on the 5th of May 1993 in Algeria. Following his parents' separation when he was still quite young, he traveled with his mother to Paris, France. He would, however, visit his father in New York very frequently. Younes is therefore fluent in both English and French as well as Arabic. He is Algerian by birth, but having lived a bulk of his time in America, he is also an American.
While visiting his father in New York, Younes Bendjima began working for him in the traditional Algerian restaurant that he opened there. It was while working in his father's restaurant that he was approached by an agent who offered him a chance at modeling by inviting him for an interview with a modeling agency. Younes ignored this initial opportunity because he had at the time been nursing dreams of being a boxer. He was receiving training for this dream and taking part in boxing competitions. Unfortunately, he failed at a bulk of these competitions and finally accepted to try his hand at modeling.
He signed to Next Model Management and began appearing in print campaigns. By 2013, Younes was walking the runway for the Givenchy Spring/Summer Campaign. He has since appeared on the runway for top brands like Calvin Klein, Ralph Lauren, Hermes and Burberry, and has covered such magazines like Coitus, Vanity Teen, and OOTB. It proved to be a good choice.
Despite the growth in his career, Younes Bendjima is probably most popular for the two high profile relationships that have been his most recent. In May 2015, following their meeting at the Met Gala, Younes Bendjima started dating another high profile British model named Jourdan Dunn. They were a favorite for paparazzi and spent New Year's Eve together in Bali. The two, however, stopped seeing each other in October 2016.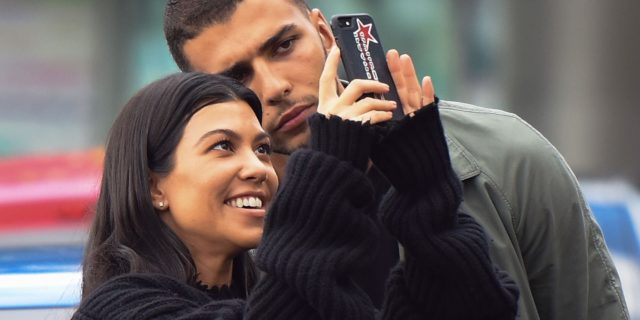 His split from Jourdan Dunn was just in time for him to officially meet Kourtney Kardashian a week later in Paris. It was at the time that Kim Kardashian got robbed in Paris and Younes Bendjima elected to stay behind and help Kourtney Kardashian since he knew how to speak the language.
Although Younes Bendjima is 14 years younger than Kourtney Kardashian, the two began dating and made their relationship official when they took a trip together to the 2017 Cannes Film Festival. In November 2017, they enjoyed a date at a concert in Hollywood where they displayed their affection publicly while the cameras clicked away.
A little spat seemed to have caused a split in March 2018 as the two unfollowed each other on Instagram. He later deleted his Instagram account but recovered it later and posted a lovely message that he addressed to Kourtney. The two are still hanging out a lot although they are meant to be broken up.
See Also: Jourdan Dunn Son Husband, Baby Daddy, Boyfriend, Height, Bio
His Parents
The names of Younes Bendjima parents are not known but they separated when he was still young and while his father moved to New York City, his mother moved to Paris, France.
His father had a young Younes Bendjima working with him in the traditional Algerian restaurant that he opened in New York and Younes Bendjima regularly went to visit his mother in France during vacations.
Younes Bendjima's Net Worth
Younes Bendjima still has a relatively modest net worth of $500,000. Considering where he is coming from, however, it is still an impressive figure. The model has talked about having some difficulty in getting modeling assignments in some parts of the world due to his Arabic heritage, but it is evident that he is still pushing through despite the hardships.
Height – How Tall Is He?
Younes Bedjima is quite tall standing at a height of 6 feet 2 inches. His height has been an asset to him in his modeling career as it helps to set off clothes amazingly especially when he is hitting the runway.