Since time immemorial, Japanese players have made their mark in the MLB. We have seen the likes of Seattle Mariners' legend Ichiro Suzuki and the Godzilla outfielder, Hideki Matsui. If there is one player who is emulating these illustrious footsteps, it is Yu Darvish. He commenced his pro career in his native Japan, winning several trophies and collecting numerous individual accolades. The pitcher joined the MLB in 2012 and has since proved that he is no fluke.
Darvish grew up in Japan and started playing baseball when he was just in the 2nd grade. He would go on to lead his school to a third-place finish at an international tourney, as well as the quarterfinal of a national competition. For his senior high education, Yu attended the famed Tohoku High School located in Sendai. He spent two years at the school during which he led his team to appearances in the national high school baseball invitational tournament, as well as the national high school baseball championships.
He Played in the Pacific League of Nippon Professional Baseball Before Joining MLB
Following his outstanding high school exploits, Darvish unsurprisingly received offers from several Japanese league teams. He also attracted attention from MLB teams such as the Los Angeles Dodgers and the New York Mets. The young man, however, decided to stay back in his native Japan and promptly signed up with the professional league side, Hokkaido Nippon-ham fighters.
Darvish would go on to spend a total of six years with the franchise (2005-2011) during which he broke several league records. He also led his team to many trophies, including the Japan Series (2006), and the Pacific League title (2006, 2007).
Additionally, the pitcher racked up several individual honors, including Pacific League MVP (twice), Pacific League strikeout title (thrice), Asia Series MVP (once), and Mitsui Golden Glove Award (twice). Given all of these feats, there was no doubt he would fare well in the MLB which he joined in 2012.
Yu Darvish Joined MLB Through The Posting System And Played For The Texas Rangers From 2012 To 2017
For the uninitiated, the posting system is a set up between the MLB and Japan's Nippon Professional Baseball to facilitate a smooth and fair transfer of players from the latter to the former.
Through this system, the pitcher joined the MLB before the beginning of the 2012 season. After MLB teams submitted a blind posting bid, the highest bid from Texas Rangers was accepted and it marked the beginning of Yu's MLB career. What followed was a six-year $60 million pact between the starting pitcher and the Rangers.
Yu wasted no time in proving he deserved every bit of the contract he was handed as he made it to the 2012 MLB All-Star Game. The following seasons were as successful as his first. He finished 2013 as an American League strikeout leader and was named to play the 2014 MLB All-Star Game. He suffered a torn UCL that sidelined him throughout the 2015 season as he had to get an ulnar collateral ligament reconstruction.
He returned on the 28th of May 2016 and the season saw him pull off his first MLB career home run. Yu attained this on the 24th of August 2016 in an away game against the Cincinnati Reds.
He Played Briefly For The Los Angeles Dodgers In 2017
The starting pitcher again made the All-Star game in 2017 which was his last season with the Rangers.
It was on the last day of July 2017 that the Rangers traded Yu Darvish to the Los Angeles Dodgers. He was exchanged for three pitching prospects: Brendon Davis, A.J. Alexy, and Willie Calhoun.
In all, the season was a good one for Yu but as fate would have it, his stay with the Dodgers was a very brief one.
The Japanese Starting Pitcher Has Been With The Chicago Cubs Since 2018
Sometime in February 2018, Yu Darvish joined the Chicago Cubs on a six-year deal worth $126 million. He faced several health challenges that season that made him miss most of the games. He only played eight games and attained 40 innings.
Things picked up for him the following seasons as he finished the season as one of the National League pitching leaders. Even though he gave up 33 home runs, the most in the league; and hit 11 batsmen, the third-most; he threw 11 wild pitches which was the second-most.
The COVID-19 pandemic disrupted the 2020 season but Yu was still able to assert himself as he emerged the National League wins leader of the year.
The MLB Star Is A Japanese With Iranian Heritage
Farid Yu Darvishsefat was born on the 16th of August 1986 in Habikino, a city in Osaka prefecture, Japan. His father, Farsad Darvishsefat, is Iranian while his mother, Ikuyo, is Japanese.
Darvish's dad grew up in the United States of America and attended Eckerd College, St Petersburg, Florida. He played college soccer and also met his wife (Ikuyo) at Eckerd.
The couple eventually tied the knot and moved back to Japan in the early 80s. Darvish previously had dual Iranian and Japanese nationalities. He, however, gave up his Iranian side at the age of 21 due to the requirements of Japanese law.
Yu Darvish Is Currently Married To A Japanese Wrestler
Name: Seiko Yamamoto
Date of Birth: August 22, 1980
Ex-Husband: Hideaki Nagashima (2006 to 2014)
Duration of Marriage With Yu: 2016 – Present
No. of Children: Two sons (With Yu)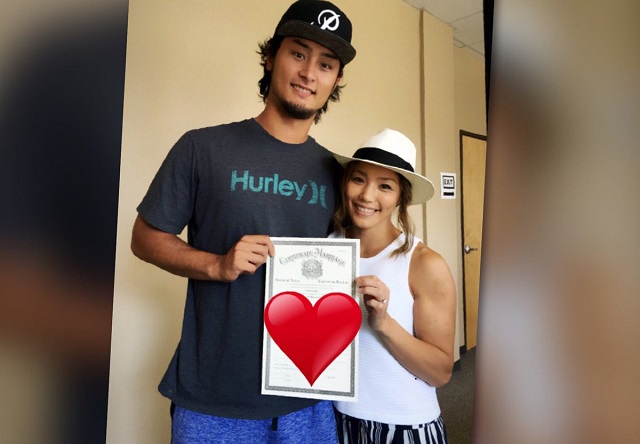 Darvish has been married twice. After his first marriage came to an end, it was clear that finding another lover wouldn't be a big deal for him: he is popular and successful as much as he is handsome. For instance, he was named GQ Man of the Year by the Japanese issue of GQ Magazine in 2012.
Anyway, the end of his first marriage made it possible for the baseball player to commence a relationship with a fellow Japanese named Seiko Yamamoto. She is also a gifted athlete, a professional wrestler who has won two Asian Wrestling Championship titles, as well as four gold medals at the World Wrestling Championships.
It's pretty hard to tell when Yu Darvish and Seiko started dating but it wasn't a long time after his first marriage packed up. This is because they welcomed their first son sometime in July 2015. The couple now has two sons together and has been married since 2016.
His First Wife Is A Popular Entertainer In Japan
Name: Saeko
Date of Birth: November 16, 1986
Occupation: Actress and Model
Years Active: 2001 – Present
Duration of Marriage With Yu: 2007 – 2012
No. of Children: Two Sons (With Yu)
More than being a Japanese actress who has had multiple supporting roles in movies and television dramas, Saeko is a model, TV personality, and would always be described as the first wife of the baseball player.
They got married in November 2007 but their wedding was reportedly hurried due to impending childbirth. Darvish and Saeko welcomed two sons in the course of their union and divorced in 2012. It is said that the divorce was finalized the same day the player officially signed with the Rangers.