A young and promising NBA star, Zach LaVine has been making headlines with his dunking ability and stellar performance on the court since he joined the Minnesota Timberwolves in 2014. It is a journey that Zach has made with the support of his family.
With their help and his dedication to basketball, he went from being a fan to a player in the NBA. Zach now practices in multi-million-dollar facilities, a long way from days of practicing in his family's backyard. Through hard work and dedication, he gradually metamorphosed from a high school and college player to one of the finest NBA stars.
Zach LaVine Started Playing Basketball at Age 5
A Washington native, Zachary LaVine was born on 10th March 1995, in Renton. He was born to athletic parents, a father (Paul) who played in the United States Football League and a mother (CJ) who was a softball player. LaVine was initially inclined to play baseball while growing up, but his dreams changed after watching the 1996 sports comedy Space Jam, which featured NBA star Michael Jordan.
Although Michael Jordan influenced his love for the sport, Kobe Bryant influenced his playing style. With his newfound passion for basketball, Zach watched more of it and fell in love with Kobe's playing style. He became Zach's childhood idol, and in honor of him, the Washington-born point guard modeled his playing style after his hero.
Through hard work and constant practice at the backyard of his house, that playing style began to yield fruit and helped nurture his dreams to reality. He started making headlines at Bothell High School, Washington, where he played point guard for the school's basketball team. The highlight of LaVine's high school career would be in the year 2013 when he was named the Associated Press Washington State Player of the Year, Washington Mr. Basketball. He was also named to First-team Parade All-American.
He Had a Steller College Career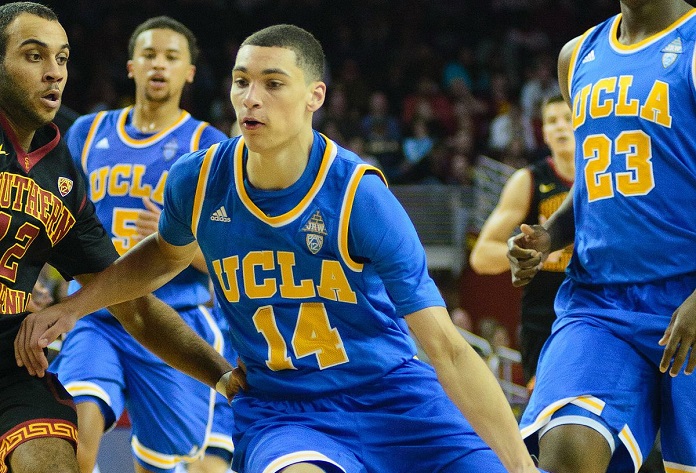 Zach LaVine continued with his stellar performance to the University of California, Los Angeles (U.C.L.A.), where he played for one season. During his collegiate career as the sixth man with the U.C.L.A. Bruins, LaVine also put up outstanding performances, averaging 9.4 points per game. This earned him a spot with the Pac-12 All-Freshman Team.
After only one season at U.C.L.A., LaVine decided to forgo his remaining college years and declare his availability for the 2014 NBA Draft. He was the 13th overall pick and was selected by the Minnesota Timberwolves.
His First NBA Contract Was Worth $4.2 Million
When Zach LaVine achieved the dreams of millions of young men all over America and got drafted by the Minnesota Timberwolves, he became part of the NBA and also a millionaire. He signed a two-year contract with the franchise and it was worth $4.2 million.
The deal earned him an average of $2 million per year. In his first season, he won the Seattle Basketball Pro-Am League slam dunk contest. Although he started in the lower leagues, a combination of fortune and his performances earned him a call to the first team. He played 77 games for the Timberwolves in his rookie season, starting 40 of them. He also averaged 10.1 points per game and recorded 3.6 assists for each.
In his second season, Zach LaVine played 82 games, starting 33 of them. Although he lost his starting role in the team, he averaged more points per game in his sophomore season as he attained 14 points per game. At the expiration of his two-year contract, he signed two additional contracts with the Wolves. Zach signed a $2.24 million one-year deal in 2015 and another one-year deal in 2016 worth $3.2 million.
An Overview of His Deal With The Chicago Bulls
When his days with the Timberwolves came to an end, he was traded to the Chicago Bulls. To keep him a restricted free agent and prevent another team from swooping in, the Bulls extended his deal with a qualifying offer of $4.3 million.
Zach LaVine signed a proper contract with the Bulls in June 2018, making it his second major contract. The four-year contract was worth $78 million. Via the deal, Zach earns an average of $19.5 million per season. Although still in the second year of his four-year contract, Zach has made $48.6 million since he joined the league.
LaVine is a young player with years to go as a professional basketball player. However, having made almost $50 million since the Timberwolves drafted him, he has amassed a considerable net worth. The point guard is believed to be worth $3 million at the moment.
With a few million to his name, Zach has splashed his money on cars and other luxury items. He bought a Lakeview mansion in Chicago after he signed his $78 million contract in 2018.
Meet Zach Lavine's Family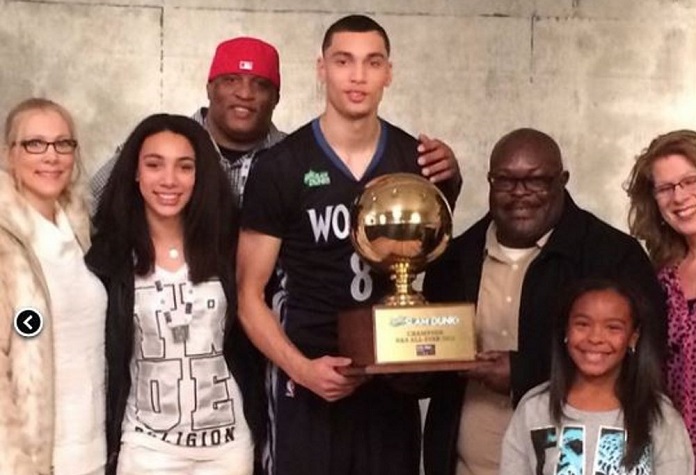 Zach is the son of Paul and Cheryl Johnson LaVine. He has a multicultural background as his father is African-American and his mother a Caucasian. The NBA star inherited his athleticism and work ethic from his parents.
Zach's father was a pro-athlete, a former NFL and USFL star while his mother Cheryl played softball. Although they are a quieter part of Zach's story in the media, the shooting guard has three siblings, all of whom are women. They are Camryn, Chandi, and Linda.
How His Father Influenced His Career
Paul regularly credits his father for his career, and a look into their relationship shows why. According to Zach, his father was the first to notice his potentials in basketball. He bought cheap swimming pools and different ball types for Zach to practice his shooting.
Not only did his father improve his shooting; he also trained him on media relations. After every game in Little League, his father would interview him and coach him on the right responses.
He and his father also trained together, performing routines like explosion drills, quickness drills, and morning runs. The early start to professional drills helped Zach become an impressive high school player, which in turn, got him a college basketball scholarship and ultimately, into the NBA.
Zach Is Engaged To Hunter Mar
Off the court, Zach LaVine has a quiet life. He doesn't have plenty of friends, but he does have a girlfriend named Hunter Mar. They have been together since they were juniors in high school. Hunter Mar, like Zach, is also an athlete. She played soccer in college for Seattle University.
After dating for more than eight years since high school, Hunter Mar was practically family. But Zach took steps towards making things official in April 2020 when he proposed to the former college soccer star. The couple is expected to get married sometime soon.