Lea Michele's husband is Zandy Reich, an American fashion designer and entrepreneur who owns the fashion outfit All Year Round (AYR). The Philadelphia native, who was born on the 23rd of January 1983 and is 40 years old, churns out classic styles for women.
Lea Michele and Zandy Reich got married in March 2019, and welcomed their first child in August 2020
Reich had a fantastic run as an athlete in his college days but is now fully concentrated on his business and family. He got engaged to the actress on April 28, 2018, and they were married on March 9, 2019, in Napa, California. They have one child.
Zandy Reich Profile Summary
Full Name: Zandy Reich
Gender: Male
Date of Birth: 23rd of January 1983
Zandy Reich Age: 40 years old
Zodiac Sign: Aquarius
Place of Origin: Philadelphia
Religion: Christian
Sexual Orientation: Straight
Marital Status: Married
Zandy Reich's Wife: Lea Michele
Children: One (Ever Leo Reich)
Parents: Abraham Reich and Sherri Reich (née Engleman)
Zandy Reich's Height in Inches: 5 feet 9 inches
Zandy Reich's Height in Centimeters: 175 cm
Zandy Reich's Net Worth: $12 million
Who Is Zandy Reich?
Zandy Reich, the long-time friend turned husband of actress Lee Michele, was birthed on the 23rd of January 1983, in Philadephia. Not much is known about his childhood other than that he was an athletic student in his schooling days, participating heavily in baseball until his sixth grade when his school's Lacrosse coach introduced him to the sport.
Reich became so good at Lacrosse that right from his high school to his days in college, he favored the sport to others. Interestingly, he played the game at the University of Pennsylvania and even got to be a captain of the Lacrosse men's team from 2004 to 2005. He later bagged a degree in Finance in 2005 and became an associate of the multinational investment bank and financial house, Golden Sachs Group Incorporated. He also later worked for Renaissance Capital.
Interesting Facts About Lea Michele's Husband
1. He Is A Boss of Himself
Zandy Reich took a liking to fashion and designing and founded his own fashion outfit called All Year Round (AYR) in 2014. The company is situated in New York City and their apparels range from denim bottoms to stylish evening wears and smart casuals. They also have other branches in other cities across the U.S and an online shop.
It is worth knowing that the fashion designer previously worked for about three years as a business development officer for Theory, a fashion company from 2012 to 2015 before he went ahead to establish his own fashion label.
2. Net Worth
There is no doubt that the Philadephia born entrepreneur is well paid for his work. Having worked in high profile financial institutes in the past before entering into the female fashion business, it is no surprise to see that a few reports have estimated his net worth to be in the range of $12 million, a figure that is coincidently the same as that of his wife Lea Michele.
3. Zandy Reich Has No Functional Social Media Platform
Although the businessman is now a public figure by the virtue of his marriage with Michele, he does not have an open social media handle. His Instagram account is set on private and it has a sizable following but only just a few uploads. That notwithstanding, he readily strikes a pose whenever his darling wife so wishes to include his face on her Instagram uploads.
4. He Proposed To Lea With a Four Karat Diamond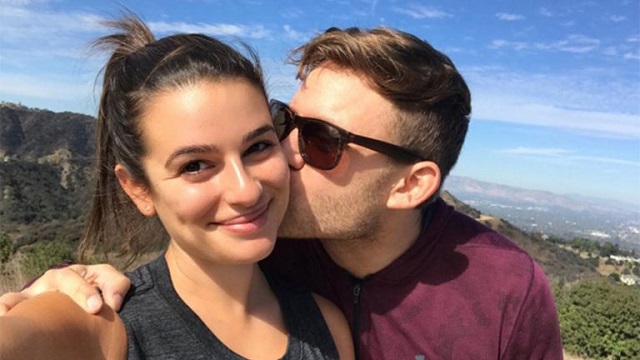 Lea Michele and Zandy Reich got engaged on the 28th of April 2018. He had after two years of intentional courtship popped the question to his woman on a beach in Hamptons with a beautiful four karat diamond ring. The ring is said to have been designed by a Las Vegas Jeweler and Leor Yerushalmi.
5. How He Met The Glee Actress
As the story goes, their initial meeting was at their respective best friends wedding. After running into each other several times in other events of their mutual friends, the pair were eventually introduced to one another by a mutual friend named Stephanie Levinson.
6. The Couple's Wedding Day
The couple's wedding was a private ceremony that held in Carneros Resort center located in Northern California on the 9th of March 2019. The couple had a live band to entertain their guests that comprised of family members, close friends, and associates.
Their wedding ceremony was then officiated by Lea Michele's mentor, Ryan Patrick Murphy, the producer of Glee and Screen Queens.
7. Height and Body Measurements
Zandy Reich is as attractive as they come. While it is known that he stands at a height of 5 feet 9 inches (1.75m), details about his actual weight and other body measurements are not public knowledge.