Zion Williamson is a basketball prodigy who has taken America by storm. He plays in the small forward and power forward positions and is renowned for his slam dunk skills. Even though he is still in his first year of college and not yet a pro, Williamson has been so outstanding that sports pundit has run out of superlatives with which to describe him. Some have dubbed him a once-in-a-generation player while others have likened him to basketball greats such as LeBron James and Michael Jordan.
Amazingly, his excellent performances have drawn him praise and several honors. He has received shoutouts from celebrities such as Drake, as well as NBA stars, Kevin Durant and Steph Curry. Read on to find out more about the wunderkind including his bio, career, injury update, height, and weight below.
Bio – Who exactly is Zion Williamson?
Zion Lateef Williamson was born on the 7th day of July 2000 in Salisbury, South Carolina. He hails from an athletically gifted family. His mother's name is Sharonda Sampson while his father's name is Lateef Williamson. His mom ran track in her heydays and later studied to become a physical and health teacher. She played a pivotal role in Williamson's life as she was the one who trained him during his elementary school and high school. His dad, on the other hand, played football in high school and college. Williamson's parents divorced when he was five and his mother later remarried.
The basketballer grew up with his mom and stepdad, Lee Anderson. His stepdad also played college basketball and imparted in Williamson, the skills necessary for being an exceptional point guard. Williamson is named after the biblical Mount Zion and looking at his stature, one cannot help but agree that the name certainly suits him. He has a brother named Noah. Noah is 13 years his junior.
Career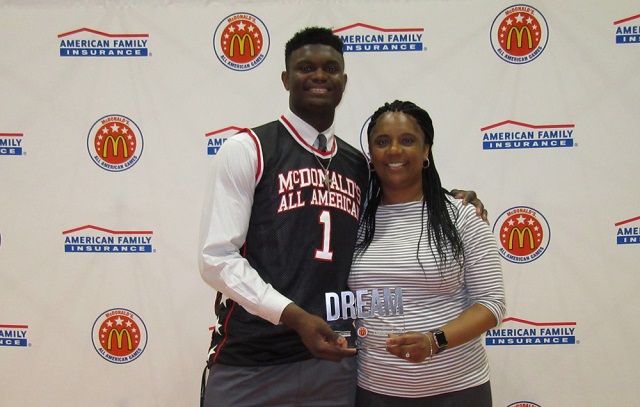 Williamson became passionate about sports from a very young age. He played both football and soccer but ultimately decided to focus on basketball. He was coached by his parents and led his school, Johnakin Middle School, to a state title in his final year. For his high school education, Zion Williamson attended the Spartanburg Day School where he continued his impressive form. He played four seasons at the school (2014 to 2017) and led his school to the SCISA regional 1-2A championship on three occasions; 2015, 2016 and 2017.
In doing this, he scored a total of 3202 points, 1131 rebounds, and 298 assists, averaging 3.0 assists, 32.0 points and 11.3 rebounds per game. Williamson received several honors as a high school senior including Mr. Basketball in South Carolina. He finished 2nd on Mr. Basketball USA and was named to the USA Today first team. Prior to college, Zion Williamson received scholarships from no less than 15 colleges. This was not surprising given his high school exploits. He chose to attend Duke University and made his debut for them on the 6th of November 2018. In his first 26 games for Duke, he scored 561 points (21.6 per game), 229 rebounds and 57 assists.
Injury Update
Zion Williamson was expected to lead The Blue Devils against their fierce city rivals, North Carolina, on the 20th of February 2019. The match was so highly anticipated that tickets were sold above $3,000, higher than that of The Super Bowl. This was chiefly due to the impact of Williamson as many wanted to see him in action. Things, however, went awry as the boy wonder split his shoe and suffered a knee injury less than a minute into the match (33 seconds to be exact). The injury caused some bad PR for Nike, the company that manufactured his gear.
As a result, the company's stock lost a good amount of value on the stock exchange. The company, however, put out a statement maintaining that the incident was an isolated one and that they would investigate the same. Williamson's injury was not a serious one and the player received get-well messages from personalities such as former U.S. President, Barack Obama and basketball legend, LeBron James. Many fans have urged him not to play college football again but instead, wait for his NBA draft.
See Also:  Who is Cedi Osman of NBA? Here's Everything You Need To Know
Height and Weight
Williamson is one giant of a man. He is 6 feet 7 inches tall (2.01m) and weighs 285 lbs (129kg). Despite his big size, he boasts of an uncharacteristic speed, stamina, and agility. These attributes have made some to describe him as a freak of nature. Barring any injury issues, Williamson is on track to becoming an NBA star. Even though he is yet to play Pro basketball, Forbes has already estimated that he can make as much as a billion dollars in his career. Other sports stars that were able to achieve this feat are few and include legendary golfer, Tiger Woods; legendary basketball player, Michael Jordan and boxer, Floyd Mayweather Jr.