For every aspect of life that requires a certain skill, there are people who are outliers. This deviation from the norm is what usually accounts for their success. In the case of Zion Williamson, he is a basketball prodigy who has taken the NBA by storm. He plays in the small forward and power forward positions and is widely recognized for his slam dunk skills.
The hyper-visibility of Williamson can be traced to when he was still a high school student who was leading his teams in victory and as he has grown, his skills have not dimmed. Zion Williamson has been likened to a once-in-a-generation player such as LeBron James and Michael Jordan. In a non-surprising twist, his excellent performances have drawn him praise and several honours.
Zion Williamson Broke Duke's Record Of Total Scores By One Player During His Debut Game
Williamson recorded very impressive stats as a high school student and by the time he was in his senior year, he had scored a total of 3202 points, 1131 rebounds, and 298 assists, averaging 3.0 assists, 32.0 points, and 11.3 rebounds per game. All the success he accrued in high school made it hard for him to be missed by college scouts and even as a junior, he was already getting sports scholarship offers and by his senior year, he had scholarship offers from no less than 15 colleges.
He eventually chose to attend Duke University and made his debut on the 6th of November 2018. In this game, he broke the school's record of total scores by one player. By the second game he played in, he became the second person in the history of Duke University to have a mix of 25 points, 15 rebounds, and 5 blocks, all in one game. The last time this had been done at Duke University was in 1992 by Christain Laettner.
He Won The ACC Freshman Of The Week Honors In 2019
After the winter break, it was clear that Williamson was not slowing down and the ACC Freshman of the Week honours he had gotten for the second game he played in was bestowed upon him in February of 2019, an award he won more than five times while he played on the school's team.
He only managed to play a total of 33 games, all of which he started, but that was enough to create a buzz around him. In the 33 games he played, Zion Williamson became the only freshman in the history of college basketball to have 500 points, 50 blocks and 50 steals in one season.
Williamson Joined The NBA In His Freshman Year
It is not a common practice for college basketball players to join the NBA draft in their freshman year but for a once in a generation player, a term Kevin Durant described him with, there is usually a deviation from the norm. Zion Williamson joined the draft on the 15th of April in 2019 and the New Orleans Pelicans were able to win him in the draft lottery, he was also the first pick in that year's draft. He officially signed to the team on the 1st of July in 2019 after the team picked him on June 20.
However, he did not start playing until the following year in January. The reason for this was the injury to his meniscus which he suffered on 13th October 2019. In his first game, his team lost, but in true Zion Williamson style, he managed to set a record. He only played in the game for 18 minutes but in that time, he won 17 shots consecutively and a total of 22 points with 7 rebounds. This made him the first teenager in the NBA to have more than 20 points in 10 games that happened consecutively.
One of the things that stands out the most for Zion Williamson is his slam dunks, a skill he perfected while he was playing in high school. He is left-handed but is ambidextrous when it comes to the game and is known for being able to play in any position, despite being a power forward.
A Breakdown Of His Rookie Contract
As the first pick of the NBA draft for the year, Zion Williamson's eligibility comes with its own perks, one of which is the hefty contract that he signed with the New Orleans Pelicans. The contract is for 2 years and is set at $20,002,92. Under this same contract, he is eligible for an annual salary of $10,001,460. The annual salary is set to increase in subsequent years and it is higher than the salary most rookies make in the NBA.
Interestingly, Williamson's present contract is not the only mega-deal he has signed in his career. In 2019, Williamson signed a seven-year $75 million deal with Nike and is estimated to be paid $10.7 million per year in the contract. He is the second athlete to have such a high ranking deal with Nike after LeBron James' $90 million deal.
His Family Is A Sports Oriented One
Zion Williamson comes from a family of athletes. His mother, Sharonda Sampson was an athlete who ran track and studied to become a physical and health teacher. She played a pivotal role in Williamson's life as she was the one who trained him during his elementary school and high school. On the other hand, his dad Lateef Williamson played football in high school and college.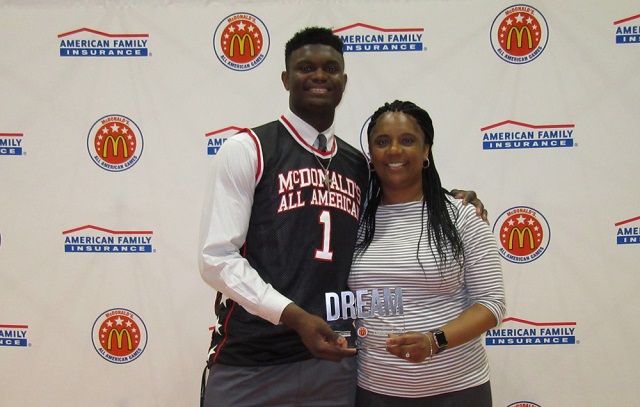 However, Williamson's parents divorced when he was five, and his mother later remarried. The man she got remarried to, Lee Anderson, was also pivotal in his career growth. Anderson had played college basketball and coached Williamson on the skills necessary for being an exceptional point guard throughout his high school and even while he was at Duke University. As his passion for basketball grew, his step-father and mother worked with his gym teachers to make him the player he is today and he owes all of his earliest training to them.