The mention of the name Zsa Zsa Gabor in the entertainment industry readily brings to mind a Hungarian-American woman so glamorous, life loving, charming and beautiful with an exquisite taste. She was a newsmaker, scandal-prone actress, and one of the greatest socialist that ever lived in her time.
Over the years, she managed to remain relevant and mine her way into the spotlight which increased her fan base in a time social media was unknown. Zsa Zsa had words for every question, with a sense of humor and grace to lace it all, this probably explains why she was loved by many. Here, you will learn more about her life including her net worth as one of the greatest entertainers of her time.
Zsa Zsa Gabor's Early Life
Gabor (Sari Gabor) was born to Vilmos Gábor and Jolie Gabo who were of Jewish ancestry in Budapest, Hungary on the 6th of February 1917. She however naturalized as an American where she lived in till her death at 99 years old.
Zsa Zsa Gabor grew up in a home that encouraged she and her siblings to venture into the show business early in life – her mother encouraged all her three daughters into the stage acting trade as she herself had was an actress. Zsa Zsa and her sisters (Magda and Eva) heeded to the advice of their mum and learned the rudiments of acting pretty well and fast.
She first started out as a stage actress in Vienna in 1934 when she was discovered by operatic tenor Richard Tauber, who then featured her in Theater an der Wien drama sketch titled the Singing Dream where she sang the soubrette. Being confident of her abilities and unique beauty, she applied and contested for a Miss Hungary beauty pageant in 1936, which she won and was crowned the Miss Hungary 1936.
In 1941, she and her family, comprising mainly of her sister and mother emigrated to the USA, to join her Sister Eva who was already in the USA living with her husband and acting in Hollywood. After they had arrived and settled down, in 1944, she sprang into action, penning down a fictional story about her life experiences entitled Every Man For Himself which she co-authored with Victoria Wolf. This book was eventually bought over by an American magazine which further thrust her into the limelight.
More so, in 1952 and 1953 she got herself film roles as supporting and a minor leading cast, in the Hollywood musical film titled Lovely to Look At and the Academy Award-nominated Films; the Moulin Rouge,  and The Story of Three Loves, which were rated as her best works out of all her works in the Hollywood film industry.
Other movies and films Zsa Zsa Gabor appeared in from 1953 to the early 1990s include; We're Not Married, Lili, Marilena; Spanish-French drama, Love in a Hot Climate, Mata Hari; a British comedy, Up the Front, Won Ton Ton, The Dog Who Saved Hollywood, Every Girl Should Have One, A Nightmare on Elm Street 3: Dream Warriors, and The Naked Gun 2½: The Smell of Fear to mention but a few.
What To Know About Her Sisters
Zsa Zsa Gabor had a close relationship with her two beautiful sisters who as mentioned earlier were actresses.
Magda Gabor the oldest of the Gabor sisters was two years older than Zsa Zsa. She was more reserved, led a quiet life and had her fair share of marital turmoils. She married 6 times and was divorced 3 times before her death at the ripe age of 81 as a result of renal failure.
Eva Gabor the youngest of the three in addition to acting was also a businesswoman. She was equally glamorous and outgoing as her immediate elder sister and featured in commercially successful films like Forced landing and a sitcom movies Green Acre. Eva married 5 times but had no children.
Zsa Zsa's Spouse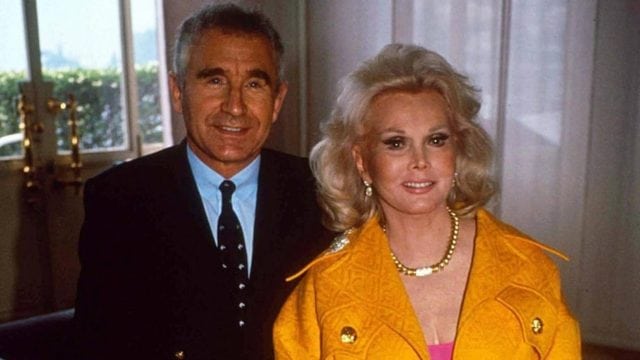 Zsa Zsa Gabor, the graceful, beautiful blond, had a lot of male attention around her some of which were from rich and famous men, such as Prince Aly Khan, billionaire J. Paul Getty and actor Richard Burton, to mention but a few.
She loved the attention her myriad relationships got her such that being famous as one of the most prolific figures with the highest numbers of husbands in the Hollywood in her days was no big issue for her.
More so Zsa Zsa Gabor held the record of the shortest marriage ever which lasted just 24 hours. The marriage was annulled on the basis that her previous one which went the way of divorce was not finalized, thus the later marriage was quickly annulled no sooner than it happened. Her response when asked why she married so many times was "a woman should marry for love, so she must keep marrying till she finds love." Zsa Zsa lived by this as she effortlessly kept changing spouses like she had all the men in the world to herself. Outlined below are her husbands and dates they parted ways
Burhan Asaf Belge was her first husband whom she divorced before moving down to the USA in 1941 shortly before the Nazi occupation.

Conrad Hilton, a man twice her age, she is reported as saying that she married him for his money, her only child was for him, and this relationship linked her closely to Paris Hilton, the marriage packed up in 1947.

Actor George Sanders became her next husband in 1949 but she divorced him after 5 years of marriage because she claimed he wanted to turn her to a traditional housewife, though she referred to him as the love of her life. George Sanders later married her elder sister Magda but committed suicide in 1972.

Next came Herbert Hutner in 1962 but she divorced him in 1966 because he did not allow her work as an actress.

Jack Ryan from 1975 to 1976.

Michael O'Hara beginning in 1976 then divorced in 1983.

Felipe de Alba on 13th April 1983 but her marriage was annulled within 24 hours because her previous marriage divorce processes had not been concluded.

She was married to Frédéric Prinz von Anhalt in 1986 till her demise.
Her Daughter and Other Adopted Children
Her one and only biological child's name was Constance Francesca Hilton, born on the 10th of March 1947. A pregnancy she alleged resulted from rape by Conrad Hilton her then-husband. Francesca Hilton grew to become an actress, photographer and stand-up comedian. Zsa Zsa Gabor was the only one out of the three sisters who gave birth to a child.
She equally had several adopted children (adults) with her last husband, top on the list is Marcus Prinz Von Anhalt, Michael Prinz Von Anhalt, and Oliver Prinz Von Anhalt, all of whom paid $2 million to be adopted by Gabor and Frédéric Prinz Von Anhalt. Frédéric Prinz von Anhalt himself at the adult age of 36 years had persuaded and paid Princess Marie-Auguste of Anhalt who was a former wife of a German Emperor Wilhelm II  to adopt him so he could inherit the title attached to her. He was originally given the name Hans George Robert Lichtenberg which changed after his adoption.
Legal Battles 
Zsa Zsa Gabor like any high-flying socialite of her time also had her low moments, and legal contentions,  one of such was when she was alleged to have slapped a police officer in Beverly Hills named Paul Kramer who pulled her up, this suit landed her in court and she had to part with about $12,937 as fine and also served a 3 days jail term.
She also got slammed by fellow actress Elke Sommer with a Libel suit which ran into $3.3 million which she was made to pay to the German-born Actress.
Health Struggles and Eventual Death
After her unfortunate, near-fatal accident in 2002, in Los Angeles,  which saw her in a coma for days and eventually left her with a broken hip and partially paralyzed legs. She was confined to using a wheelchair. She was in and out of the hospital for hip replacement, breathing corrections, surgeries, amputation of her legs which became infectious after her release from the hospital and another surgery to insert and remove her feeding tube. All these health challenges gradually scooped up her finances of which her then-husband Frédéric Prinz von Anhalt complained bitterly about and had to put up one of Zsa Zsa Gabor's houses; Bel-Air Mansion for sale in order to meet up with her bills.
The state of things with Zsa Zsa Gabor gave her daughter, a huge concern which gave rise to her suing her step-father in court in order to get information and update as regards her mother's health and wealth as she suspected her stepfather was using her mother's health as a publicity stunt to obtain financial benefits.
Following her many health challenges, she died on December 18, 2016, at the age of 99 from a cardiac arrest which resulted to a coma. On December 30, 2016, Zsa Zsa had her funeral at the Church of the Good Shepherd in Beverly Hills following which her ashes were interred at Westwood Village Memorial Park Cemetery.
What Was Her Net Worth?
Zsa Zsa Gabor is estimated to be worth $40 million, which we have not ascertained to be exact because of her many financial losses owing to her being sued, swindled, health challenges, high tastes in fashion and extravagant partying.
Zsa Zsa Gabor's Body Measurement
Zsa Zsa Gabor was born with beautiful alluring green eyes, standing at about 5 Feet, 4 inches in height with a supportive weight of 55kg. Her bust is said to be 36C, her shoe size is 8, narrow waist of 26 inches with well-contoured hips of 36 inches.