Focalistic is unmarried and has never been married in the past. However, he is rumored to be in a relationship with DBN Gogo even though they have done their best to keep it away from the media and their fans. Interestingly, the rapper's dating history has some interesting big celebrity names on it including rumored and real relationships. 
The talented artist has been linked with several beautiful South African women, especially celebrities but he has never openly denied or confirmed the relationship rumors that seem to mill around him. He was rumored to be in a relationship with the beautiful singer and dancer Kamo Mphela in 2020 and this rumor kept making the rounds until Kamo herself shut it down. Focalistic's talents, celebrity status, and good looks have made fans curious about who his girlfriend could be.
Focalistic Has Been Tight-lipped About His Love Life
Born Lethabo Sebetso, but widely known by the name Focalistic, this talented young man is a well-celebrated rapper of South African origin who belongs to the new generation of rappers to look out for. The graduate of Political Science from the University of Pretoria, South Africa ventured into music after his graduation without the blessings of his mother. Growing up, Focalistic had mad football skills which earned him the nickname 'Maradona' but he fell in love with rap music after listening to several international music artists, including Lil Wayne.
Several aspects of his life, including who his girlfriend is have been kept from the media for reasons known to him. Focalistic has actually been in the entertainment industry since 2017, and several things about him remain unknown especially when it comes to who he has dated in the past and who he is currently dating.
Focalistic is quite active on social media especially Instagram but scrolling through his page, he has made it a point of duty not to post or flaunt pictures of any lady so as not to let the cat out of the bag or mislead his fans. Nevertheless, it would be wrong to state categorically that he doesn't have a woman in his life because he has chosen not to share her with the public. So we are keeping our fingers crossed until he reveals that special someone in his life.
He Was Rumored To Have Been in A Relationship with Kamo Mphela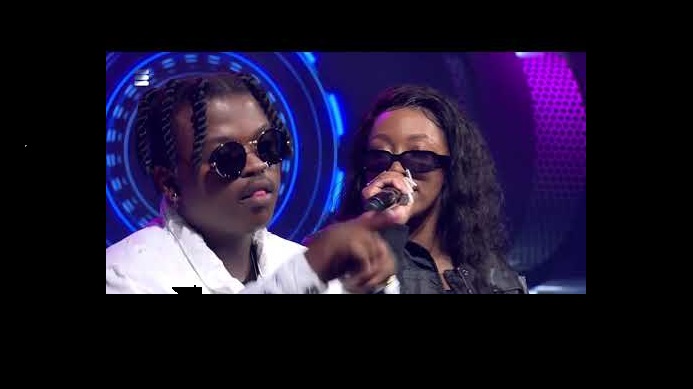 Focalistic has done more than enough to keep his private life away from the public but being a celebrity doesn't make it easy. Just by the virtue of association, it began to make the rounds that he was in a relationship with Amapiano dancer and singer, Kamo Mphela.
The Durban-born South African dancer and musician who is only 23-year-old is one of the celebrities in the entertainment industry who gained popularity through social media.
Kamo and Focalistic got really close and she was fond of posting pictures of them on social media. Before long, fans began to tag them as a couple hoping they would be the next South African power couple. It might have been a publicity stunt as none of them came out to openly refute or confirm the rumors for a long time.
During a Truth Or Drink Challenge with a friend on YouTube, a question about Focalistic came up and Kamo used the opportunity to clear the air. According to her, the relationship she has with Focalistic is that of a brother to a sister and nothing more. She also shared that he is a solid friend who has had her back on several occasions. She even went ahead to add that Focalistic is a nice person and any girl who wins his heart will be lucky. Really sweet right?
Focalistic Has Also Been Linked To Singer Makhadzi
It's yet to be known whether the relationship rumors surrounding Focalistic is true or not but what can be said about him for sure is that he likes to be around people of like minds. Asides from Kamo Mphela, South African singer Makhadzi is another celebrity who has been rumored to be Focalistic's girlfriend.
After Makhadzi's very public relationship and break up with Master KG, it appeared that she was going to take a break from the dating scene but in December 2020, after she posted a picture of herself and Focalistic on social media with a heartwarming caption, their fans began to speculate that something was going on between the duo. Focalistic, as usual, has kept quiet again about this rumored relationship. Nothing had been heard from Makhadzi's end too so it is safe to say that there is nothing going on between them.
Focalistic's Relationship History Remains A Mystery 
While fans of the rapper might be quick to judge him and accuse him of hoarding information about his private life which they feel they ought to be privy to, this is just not his style. From the very start of his career and before he achieved this level of popularity, Focalistic has always been careful about revealing details of his private life. He probably might have learned early that the media and public have a way of ruining relationships knowingly or unknowingly. So he uses the media to his advantage by projecting his career for everyone to see but has been secretive about who his past and current girlfriend are.
The talented rapper must have dated some women in the past but nothing is known about any one of them. He has never been associated with a bitter ex-girlfriend or baby mama drama. When it comes to his relationships, he does not joke about being discrete.
Ironically, he has shared some aspects of his life especially his relationship with his mother; how he completed his political science degree just for her, and how she was not happy with him for choosing to pursue music after school. But with how successful he has become? What mother won't be proud?
With these celebrities, one can never say never. Maybe Focalistic has chosen not to count his eggs before it hatches or he is just bidding his time until he meets the right person, time will tell. While we wait for him to share with us who the love of his life could possibly be, it's okay to continue to enjoy his music as it appears that he just wants to make music and enjoy the celebrity lifestyle.