Rossana Maiorca (23rd February 1960 – 7th January 2005) was a well-known and very successful freediver. The daughter of Enzo Maiorca was born in Venice and spent much of her life with her father, who is also a celebrity freediver.
Maiorca's death by cancer was a huge loss to the family and the freedivers community but her family and fans have ensured that her legacy is preserved.
Rossana Maiorca's Biography Summary
Full name: Rossana Maiorca
Gender: Female
Rossana Maiorca's Date of Birth: 23rd February 1960
Rossana Maiorca's Age at Death: 45 years old
Ethnicity: Sicilian
Nationality: Italian
Zodiac Sign: Pisces
Sexual Orientation: Straight
Religion: Christianity
Marital Status: Single
Parents: Enzo Maiorca (father)
Siblings: Patrizia Maiorca
Famous for: Being a renowned record-holding freediving athlete.
Rossana Maiorca's Died of Cancer in 2005
Throughout her lifetime and even in death, Rossana Maiorca remains a legend of freediving. Unfortunately, she died in Mestre, Venice, Italy at age 45. She drew her last breath on the 7th of January, 2005 (forty-seven days to her birthday) as a result of cancer.
Despite being a known fact that she died of cancer, no additional information has been received on the type of cancer she died of.
Her death came as a rude shock to her family, friends, and fans. From how her career progressed, she definitely would have made it far in free diving, and emotions ran high as she never completed her dream.
To crown all her efforts with honor, a golden statue of Rossana Maiorca referred to as "Mermaid of Sicily" was made by sculptor Pietro Marchese in the year 2008 in Gli Archi in honor of the avid swimmer. The sculptor remains a major attraction to free divers to date as they gladly take pictures of themselves posing beside the statue.
Rossana Maiorca was Born in Italy in 1960
The award-winning diver was born on the 23rd of February, 1960, in Venice, Italy. Rossana Maiorca spent most part of her childhood, formative years, and life with her father, Enzo, and sister, Patrizia, in Venice.
Ironically, no one seems to know much about Rossana's mother, unlike her father, who is quite popular and renowned as a celebrity freediver. Moreover, it is no news that her father, Enzo was married to a woman named Maria Giblo all through his lifespan.
It is unknown if she is the mother of Enzo's daughters, as this is one of the things the family has chosen not to disclose to the general public.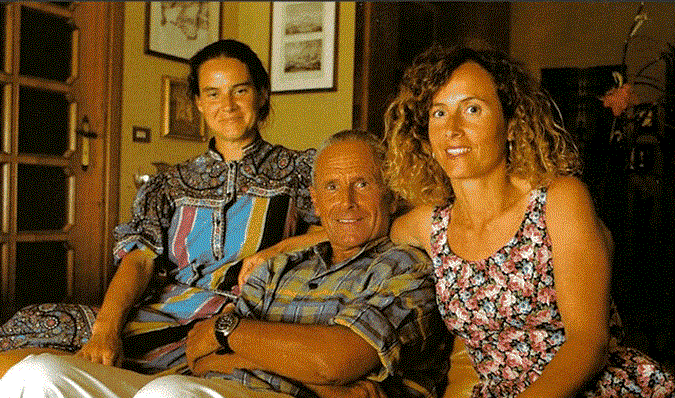 Rossana Maiorca's Childhood was a Peaceful One
Rossana Maiorca had a peaceful childhood. She spent most of her life with her immediate family, particularly her father, who was her role model. Based on available records and information, it is presumed that Rossana had only one sibling Patrizia Maiorca, who is younger than Rossana.
The gene for the love of freediving seems to be apparent in all family members. The patriarch of their family – Enzo Maiorca, is a well-renowned celebrity freediver who is referred to as the "Lord of the deep." His daughters must have admired his passion for swimming and his dedication to it which made him become their role model with respect to their career life.
Rossana Maiorca, Like Her Father, Started Free Diving at a Tender Age
It's important to reiterate that Rossana Maiorca led a private life and hardly shared any information about her personal life. Still, from what has been gathered, her interest in free diving started at a tender age, just like her father (who began free diving at age 4), which was obviously due to her father's illustrious free diving career.
She was said to have been highly invested in water sports while growing up and even in school. This was how she was able to develop her passion for the sport.
Rossana Maiorca Made a Name For Herself in Free Diving Asides From Being Enzo Maiorca's Daughter
Despite the fact that the indigene of Sicily, Rossana Maiorca, may have been born to Enzo Maiorca, one of the well-renowned celebrity freedivers, she has, on her own, created a name for herself. She became someone who made a hobby out of breaking freediving records.
Rossana came into the sport and in no space of time became a renowned and respected woman in freediving that even after her demise in 2005, her name has remained evergreen and would not go extinct any time soon.
Some of her achievements include:
A 1996 record of 125 meters covered dynamic apnea in Italy and
A -55m in constant weight in Syracuse in 1990.
In addition, in 1989, she held the world record for freediving immersion and was named the first person to achieve the single fin world record in Syracuse. Rossana also carved a niche among the list of names to reckon with as far as holding their breath in swimming is concerned.
Although she was well-known and respected, she attracted even more attention from her fans after she saved a pregnant dolphin with the aid of her father, and this, with so many other great acts of Rossana, earned her the love of her fans and the name, Mermaid of Sicily.
Even though she was already loved, she solidified her place in the hearts of many when she and her father saved that pregnant dolphin and became an ocean hero.
Meet Other Divers in Rossana Maiorca's Family
Enzo Maiorca
Enzo Maiorca (born June 21, 1931 – died November 13, 2016) is the father of Rossana Maiorca and Patrizia Maiorca, who is also an avid swimmer. It is assumed that Enzo was a source of inspiration for his daughters to follow. He was skilled, experienced, and dedicated to freediving. These overall attributes earned him the name "Lord of the Deep."
In 1960, Enzo defeated the Brazilian Amerigo Santarelli by reaching 45 meters underwater. He beat him again at a rematch, reaching 49 meters. Amongst his fiercest rival throughout his career was the Frenchman Jacques Mayol, who he competed against the most times for the world record. The friendship and rivalry between Maiorca and Mayol were depicted in the heavily fictionalized film 'Le Grand Bleu' by French director Luc Besson in 1988.
Enzo Maiorca quit the competition in 1976, but returned to diving after some years, spurred on by his two daughters, Patrizia and Rossana. During the course of his life and career, the great diver used his sporting celebrity status to spread the 'culture of the sea.' He promoted the cause of safeguarding the sea and raising awareness of current issues. He threw himself into the service of the common good without ever forgetting his roots in Siracusa.
Following his successful diving career, Rossana's father, Enzo Maiorca, became involved in politics and was even elected to the Senate from 1994 to 1996 for the Alleanza Nazionale party. Enzo died on the 13th of November, 2016.
Patrizia Maiorca
Rossana's sister, Patrizia Maiorca, is also an avid swimmer and an activist for the sea and its cratures. She is also a supporter of the protection of wildlife. She is the only surviving member of the Maiorca clan.