Melanie Leis is the ex-wife of Kelly McGillis, an American actress. Melanie worked as a bartender in a restaurant owned by Kelly before they began dating and got married. They entered into a civil union in 2010, but unfortunately, their relationship ended the following year.
Kelly McGillis's ex-wife, who has Scots-Irish and German ancestry, was born on the 7th of July 1967 and is 56 years old in 2023. She is a former bartender, theatre artist, musician, and businesswoman from the United States.
Summary of Melanie Leis's Biography
Full Name: Melanie Leis
Gender: Female
Date of Birth: 7th of July 1967
Melanie Leis's Age: 56 year old
Ethnicity: Caucasian
Nationality: American
Zodiac Sign: Cancer
Sexual Orientation: Lesbian
Marital Status: Divorced
Melanie Leis' Ex-Wife: Kelly McGillis
Melanie Leis' Height in Inches: 5 feet 3 inches
Melanie Leis' Height in Centimetres: 160 cm
Melanie Leis' Weight: 56 kg
Body measurements in Inches: 34-26-34 (bust, waist, and hips)
Body measurements in Centimetres: 86- 66-86
Famous For: Being Kelly McGillis' Wife
Melanie Leis Was Born in 1967
Melanie Leis, who is currently 56 years old, was born on 7th July 1967 in Philadelphia City, Pennsylvania, USA. Melanie Leis' father's ancestry is Scots-Irish, and her mother is German. Her parents have sadly passed away, and she has a younger sister named Malinda Leis Jones.
While not much is known about her upbringing, Melanie attended a local high school in her hometown of Philadelphia. Following high school, she pursued education at the Berklee School of Music, although specific details about her educational accomplishments or level of engagement are not confirmed. It is known that she did not pursue a music career.
How Did Melanie Leis Become Kelly McGillis' Wife?
Melanie Leis and Kelly McGillis met in a bar where Melanie worked as a bartender. This bar was owned by Kelly McGillis and her then-husband, Fred Tillman. Their initial meeting in 2000 was uneventful as they barely noticed each other, especially since Kelly was still married at the time and focused on her family. However, fate brought them together again later in life, and that's when a spark ignited between them.
By then, Kelly was no longer married, creating an opportunity for their connection to flourish. Kelly McGillis, a renowned actress, made her debut in the entertainment industry on the set of "Reuben" and has since become well-known for her roles in notable productions such as "Witness," "Top Gun," "Private Session," and "One Life To Live," among others.
How Many Kids Do Kelly McGillis and Melanie Leis Have?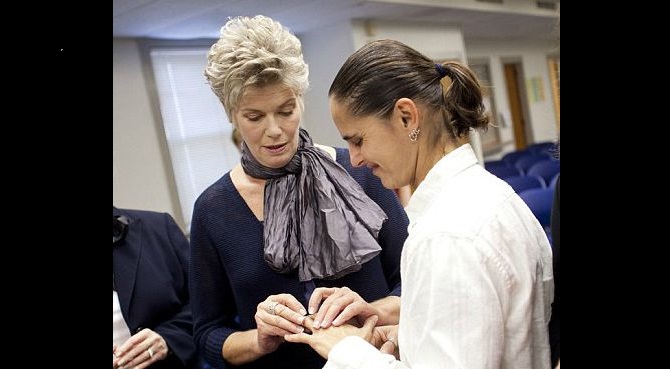 Kelly McGillis and Melanie Leis have no kids together. It is worth mentioning that Melanie Leis did not have any children with her ex-partner, Kelly McGillis. As for Melanie's stance on motherhood or any plans regarding children, no information has been disclosed.
On the other hand, Kelly McGillis is a proud mother of two children whom she shares with her second husband, Fred Tillman. The couple have two daughters. Their first daughter, Kelsey Lauren, was born in 1990. Sonora Ashley is their second child, and she was born in 1993.
Why Did Kelly Mcgillis And Melanie Leis Split?
The exact reason for Kelly McGillis and Melanie Leis' split remains largely unknown. However, during their marriage, there were rumors about Kelly and Melanie struggling with alcohol and substance abuse. Melanie, who had initially worked as a salesgirl, sought help from multiple rehabilitation centers to regain control of her life.
However, their marriage was short-lived, and they parted ways within a year. In 2012, their divorce was finalized, marking the end of their relationship.
Melanie Leis' Net Worth
Melanie Leis's net worth has been estimated to be around $600k. It is pertinent to note that the figure stated above has not been confirmed by Melanie like many other individuals, she has chosen to keep her financial details private, making it difficult to find confirmed information on her net worth.
For individuals in the public eye, such as celebrities or high-profile figures, their net worth may sometimes be estimated based on their known sources of income, endorsements, business ventures, and other visible assets. However, these estimates are often just that – estimates – and may not represent the true financial situation of the person in question.
In the case of Melani Leis, if there is no confirmed information available on her net worth, it's likely because she has chosen to keep her financial matters private. It's important to respect an individual's privacy and not make assumptions about their financial standing based on speculation or rumors.
Before marrying McGillis, Leis worked as a regional sales executive in Philadelphia. She did sales for Independence Communications, a company that provided Muzak to businesses. When she met her wife, she was bartending at a restaurant that McGillis owned with her ex-husband.
Frequently Asked Questions About Melanie Leis
Is Kelly McGillis Married?
No, Kelly McGillis is not currently married. After her divorce from Melanie Leis, the actress remained single. Before she got married, she had been married twice. The first time was for two years to Boyd Black, whom she met while she was at Julliard. They divorced in 1981. Then, in 1989, McGillis married Fred Tillman, and they were married for 13 years before they got divorced in 2002.
Who is Kelly McGillis' Wife?
Kelly McGillis does not have a wife. Her ex-wife is Melanie Leis. However, the two are no longer together and have since gone their separate ways. After their separation, it seems that Kelly McGillis has remained single and has not been romantically linked with any other person. As for Melanie Leis, since she's not widely known or in the public eye, there is limited information available about her post-separation life.
Is Kelly McGillis Gay?
Yes, Kelly McGillis is Gay. In 2009, a year before her marriage to Melanie Leis, she came out as gay. This happened during an interview where she was asked if she was looking to get into a relationship with either a man or a woman, and McGillis said, "Definitely a woman". She spoke at length about her struggle with being in the closet and said that she had known she was gay since she was 12. She came out when she was 51 and told the world that she was done hiding and being with men.