Matt Rife is not gay, and neither is he married. He is, however, currently in a relationship with Jessica Lord, an English actress and dancer. Rife confirmed the relationship by describing Lord as smart, intelligent, caring, and a calming influence on his life.
Rumors about Matt being gay began sometime in 2021 when he tweeted that folks who do not like gay people are probably out of shape. People took that as his way of supporting gay folks and identifying as one, but he cleared the air that he was not gay and liked women a lot. He had dated English actress Kate Beckinsale in an on-and-off relationship for some time, while his other public relationship was with American actress and singer Lucy Hale.
Is Matt Rife Gay?
Matt Rife is not gay and there is no shred of evidence that supports the rumor that he is gay in any conceivable way and manner. Matt Rife's relationship status has always been a subject of great interest from his fans and followers over the years, with many folks interpreting his lack of publicized relationship as a basis to insinuate that he is gay.
Rumors of Matt being gay began sometime in 2021 when he tweeted on his official Twitter (now known simply as X) handle that if you don't like gay people, you're probably out of shape. Many people took this to mean that he was not only pro-gay but probably a homosexual himself. He, however, addressed the rumors during one of his comedy shows, clearing the air that he is not gay.
Is Matt Rife Married or Single?  
Matt Rife is not married but he is also not single. He is currently in a relationship with actress and dancer Jessica Lord, although he has decided to keep their relationship secret for now. His relationship with the actress is still relatively new, as it just began midway through 2023. It is also worth noting that Matt has never been married or in a long-term relationship.
Who is Matt Rife Dating?
Matt Rife is dating English actress and dancer Jessica Lord. He revealed that they had known each other for about a year and a half but they only just began dating a few months ago. He seems to be very happy with his newfound relationship and talks about it regularly.
Around June 2023, fans noticed that Matt Rife began sending flirty messages on Jessica Lord's Instagram handle, and they began wondering what was going on between them. Two months later, while on the "Good Morning America show" and asked about his relationship status, he told them that he was no longer single but was now in a relationship.
A month later, Page Six reported about the rumors making the rounds between Matt Rife and Jessica Lord, and when he was interviewed by Elle the same month, he did confirm that they were indeed dating. He revealed that she was a calming influence on his chaotic lifestyle and helps ensure that he eats regularly and finds time to rest after his hectic schedule.
It is still early days for them, and time will tell if their relationship will last and develop into something tangible, but for now, they both seem to be very happy and crazy in love with each other. During another interview, when he was asked how his girlfriend handles the attention he gets from the ladies, he responded that she was very secure and not jealous at all.
Matt Rife Relationships: Past and Present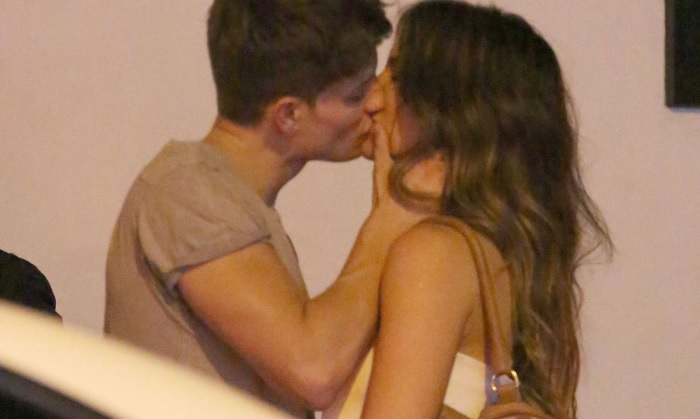 Matt Rife's relationships have always been done in secret, except for two, which became quite popular, and we know that he has been in lots of good and bad relationships because he revealed this himself. His most publicized relationship was with English actress Kate Beckinsale, whose duration is not expressly clear due to conflicting dates and periods.
Some reports have it that Matt and Kate dated between 2017 and 2019, while a few other reports have it that the relationship started in January 2019 and finally broke up in April of the same year. Matt and Kate were seen in public several times and even pictured exchanging kisses while out and about. It is said that all her friends liked him a lot.
Their relationship was not a smooth sailing one, as it was reported to have been on and off throughout the time they dated. The reason(s) they broke up is unknown to the public. However, after they broke up and he learned that she was not dating comedian and actor Pete Davidson, Matt advised him to enjoy the relationship while it lasted and run. When asked whether he would ever consider dating Kate again, his answer was an emphatic No.
The only other relationship that Matt Rife was involved in publicly was the one he had with American singer and actress Lucy Hale. Matt's relationship with Lucy did not last very long, as it is believed that they began seeing each other around January 2023, and it lasted for just a few short months. The duration of his romance with Lucy was considered a fling by many of his fans.
Who Is Matt Rife's Girlfriend?
Matt Rife's current girlfriend is Jessica Lord. They began dating around the middle of 2023 and have only been together for a few months now. Their love is still blossoming and developing, but from all that we have heard Matt say about Jessica, he seems to be really into her and cherishes her presence in his life a lot.
Are Matt Rife and Zendaya Dating?
Matt Rife and Zendaya are not dating. The rumors about Matt Rife dating Zendaya began sometime in 2017 when they were both guests on Season 7 of Nick Canon's Wild N Out show. Things got interesting between Matt and Zendaya during the show's Talkin' Spit segment.
The whole point of the segment was to get Zendaya to spit out the water in her mouth, and when it got to Matt's turn, he told her, You're mixed, I want to be Black; let's make this lifestyle work. When Zendaya was not budging, he held her by the chin and told her to spit the water out so he could get her number. Zendaya waved a No-No finger at him to complete her public rejection of his offer.
The summary of that episode with Zendaya was that he publicly shot his shot with her, and she quickly shut his shot down in a jiffy. Whether he liked Zendaya and wanted a relationship with her or was simply acting out a script for the television show they were on is unknown. So, Matt Rife and Zendaya have never dated at all and possibly never will.