JJ Da Boss is a reality TV star who he became popular through the Discovery Channel's Street Outlaws: Memphis. Often described as the leader of the Memphis racing family and the fastest man on the street, Jonathan Day has always had a strong passion for high-performance cars (muscle cars). He loves them so much that he built his career around it and owns a collection of several exotic racing cars.
What JJ does for a living made him popular and this has rubbed off on his family. For as much as people follow his career, they have also pried on his personal life, wondering if it has been as fruitful as his profession.
JJ Da Boss Is a Street Racer Who Refurbishes Old Cars
JJ started street racing at the young age of 10. According to various reports, he was raised around street racing; for instance, when he was a toddler, his mother carried him along to watch his father and uncle compete in street racing.
Unsurprisingly, JJ Da Boss became part of his family business quite early on. He used the earnings from the business to build up his car refurbishing, repairs, and racing career. He never gave up cruising the tracks as he engaged in locally organized races with one of his redesigned cars, a "66" Chevrolet II Nova.
JJ Da Boss' love for street racing pushed him into the street in order to partake in races. It was during this period that he made several bad choices that landed him in Federal Prison for about eight years and a month. With his time done, Da Boss came home to his family with the same passion for cars and car races but in a reformed manner. He started by repairing and selling old cars once again. He was able to work up enough money to own a car lot and of course, finance the car races he loved so much.
Being an adrenaline junky, JJ took on races with all kinds of tactics to make sure he won. One of his strategies was to speed off on two instead of three during the countdown for the race to begin. This earned him his "Off Witcha Head" title. His notoriety on the tracks made many street racers avoid racing with him during the earlier years of his career. Notwithstanding, he won admirers for his diehard rough driving. As Boss ensured he won most of his races, it was only a matter of time before he gained a strong reputation for himself in streetcar racing.
He Also Makes Living As A Television Actor
JJ Da Boss gained fame when he featured in an episode of the TV show Street Outlaws on the 26th of December 2016. This show gave its viewers a sneak peek into the rough-riding world of street racing, thereby building a fan base for the fastest man of the track – JJ Da Boss.
Two years later, on the 15th of January 2018, he began a reality TV show, Street Outlaws: Memphis on Discovery Channel; this is a spin-off of the aforementioned Street Outlaws show. The cast members are Ryan Martin, Big Chief, Daddy Dave, Chuck Seitsinger, Doc, Shane, Dominator, Monza, Jeff Lutz, Murder Nova, Kye Kelley, Lizzy Musi, Alisa Monte, Precious Cooper, and Bobby Ducote.
He owns cars like a Zip tie, Ole Heavy, and Heifer. His net worth has been estimated at around $1 and $2 million on various platforms.
He Has Had His Fair Share of Bad Luck
In a sad turn of events, JJ Da Boss was involved in a car accident that not only badly damaged his "66" Chevy but he also sustained several injuries including a broken right arm; thankfully, Jonathan Day is left-handed. His travail did not end there as he was slammed with a lawsuit by a certain racer named Chad Larkin and his wife, Genny.
Based on what was reported, Larkin claimed that JJ and his crew assaulted him to the point that he feared for his life. JJ got arrested after one month but was released after he paid a bond worth $30,000.
Boss' Wife is the Popular Street Racer, Tricia Day (Midget)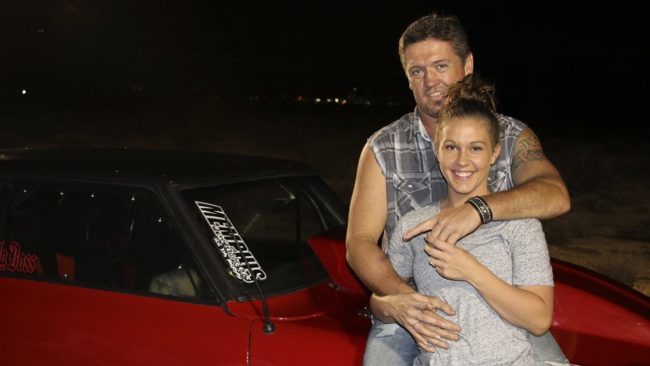 Beyond being the wife of a popular street racer, Patricia (Tricia) Day is also a street racer and that's not the only thing she has in common with her husband. Like JJ Da Boss, she began racing at a tender age.
Known as Midget in the racing community, Tricia is reputed as the street racing queen. It has always been delightful to watch her team up with her husband, and alongside Precious Cooper, they make a formidable team, deserving of their own series.
While they are popular figures, JJ Da Boss and his wife keep their personal life private, as much as possible. Because of this, it is hard to tell how they met; when they began dating, and even when they got married. But then, although the exact date of their marriage is not known, it is known that they have been married for over a decade.
Da Boss Has Fathered Eleven Children, Four With Tricia
Having grown up as an only child, Jonathan probably got lost in a quest to ensure his offspring had siblings. Jonathan Day – better known as JJ Da Boss – was an only child who grew up in the small city called Joiner in Mississippi County, Arkansas. Jonathan Day's parents were known as construction workers with a particular interest in roofing houses. However, their names and other details about them are unavailable except the fact that his mother was a Pentecostal.
Born in Memphis, Tennessee on the 10th of August 1973,  Da Boss has fathered eleven children and it is no secret he had four of these children with his wife, Tricia.
There is limited information available about his other children and it is hard to tell what they are up to, apart from one of his sons.
Josh Day (Doughboy) Is His Most Popular Child
It is easy to tell that Josh Day, better known as Doughboy, is JJ's son. Doughboy has been street racing for only a couple of years but has bagged many wins that hints at his intent to dominate the world in the nearest future.
his father, he is married to a fellow racer named Chelsea Day and they are parents to at least two kids. This means JJ is a grandfather; he has no fewer than five grandkids.