Owen Wilson is one of the popular faces in Hollywood, loved by all who were fans of the Shanghai movie series. The famed actor's voice has persevered in entertaining the younger generations through the popular Cars franchise. Owen has been featured on several productions on both the big screen and the small screen. Notable among them is the Wedding Crasher where he played a starring role. In this article, we will find out more Owen Wilsons' girlfriend (if any) and all other stories around his love life as well as the children he has fathered in the past.
Does Owen Wilson Have A Wife, Girlfriend or Children?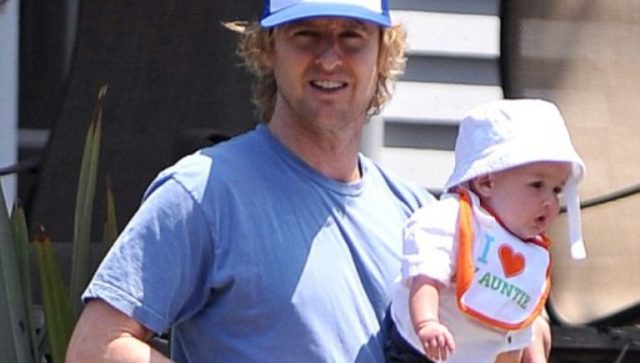 Fans that are looking forward to seeing the legal wife of Owen Wilson will only get disappointed as the Hollywood star has never exchanged marriage vows with any woman in the past, and even till date. However, Owen Wilson has had girlfriends with whom has fathered quite a few kids.
As a Hollywood celeb, Wilson has lived up to expectations as he has undoubtedly had his fair share of romance all through his acting career.
Wilson was previously an item with Sheryl Crow which gave her the inspiration to record a song about their dalliance in her album that came to light in 2002. Kate Hudson became part of his life in 2008, but their love did not last long as it came to an end the next year.
The actor really seemed like a man in search of a stable love life as he still went ahead to date Jade Duell who presented him with a baby boy named Robert. Regrettably, the bond of fathering a child was not even strong enough to hold him down as the couple called it quits before the end of January 2014.
Owen Wilson's second son came from his personal trainer Caroline Lindqvist who was still a married woman at that time. Eventually, Lindqvist secured a divorce from her then-husband and went into a full relationship with Wilson. However, their dalliance still ended in the same way as others before it. As of this writing, Owen Wilson remains single but has gone on to father a third child with Varunie Vongsvirates making it his third child.
Owen Wilson's child with Varunie is a daughter named Lyla she is his third child and first daughter. However, the Hollywood dude has blatantly refused to meet the baby. According to reports from the US Weekly, Owen went as far as checking the no visitation box while in court in June 2018. He obviously doesn't wish to pay her any visits in the future neither does he want to have any form of custody of the baby.
Nevertheless, baby Lyla is her father's spitting image, according to sources. The girl is exactly like Owen Wilson – she was born with natural blond hair, very fair skin as well as beautiful blue eyes.
The source also revealed that the famed actor is yet to contact his baby mama number three since she put to bed, neither did he contact her while she was still expecting the baby, in spite of the fact that their dalliance lasted for nearly five years. It is not as if Owen Wilson did not know that his girlfriend of over four years was pregnant. In fact, Varunie informed him when the pregnancy was just four weeks old as they both returned from a trip to Hawaii.
Read Also: What Happened To Matt Hardy And Is He Leaving WWE? 
It would seem that Owen Wilson initially doubted that he was responsible for Varunie's pregnancy because the Hollywood star went for a paternity test immediately after he heard the news of his impending fatherhood for the third time.
Reports from sources at that time led people to believe that if the paternity test proves positive, then Owen Wilson will have no choice but do right by his daughter, but how wrong could they be.
Owen Wilson's Relationship with His Sons
It would appear as if the reverse is the case with the actor's two older children – Robert from his ex Jade Duell and Finn whom he had with Caroline Lindqvist. He seems so devoted to the boys even though his romance with their mothers ended a long time ago, he still maintains a close warm relationship with his first two baby mamas. He was even proud to speak about both boys on The Ellen DeGeneres Show when he made an appearance in 2017.